Amazon Best Sellers Rank
If you have products for sale on Amazon, you are naturally going to want to know how they are doing. You need to know what the Amazon Best Sellers Rank is all about and how you can make use of it. You also need to know the difference between your rankings and your actual sales. Read on for the relevant details.
Join our newsletter and get 18 discounts
Join now!
What is the Amazon Best Sellers Rank?
The first thing that you should about the Amazon Best Sellers Rank is that it isn't quite what it appears to be at first glance. Mastering this concept is no one's idea of rocket science. However, there is a definite learning curve to be mastered. What it comes down to is knowing what the term really does stand for.
To be brief, the Best Sellers Rank is a number that is assigned to a product once a sale has been made. The number can therefore be a very handy and reliable indicator of how well that product is selling. If sales are low, you have a high BSR. If they are high, your BSR will be lower. A lower number means more sales.
Keep in mind that a low BSR doesn't always mean it's the best selling item in its category. This number may be low in connection with other products in your category. But it has no relation to BSR numbers for products that are similar but not exact. Your BSR is accurate but needs to be understood in full context.
TIP: if you want to find the number, it's next to your ASINs on the PDP (Product Detail Page).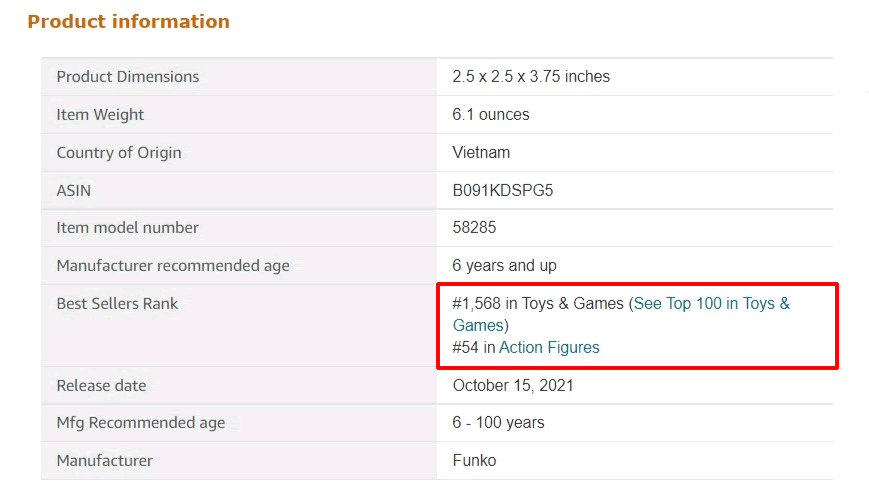 TIP: Also, using tools such as the Helium 10 Chrome Extension, you can easily find the BSR next to the products: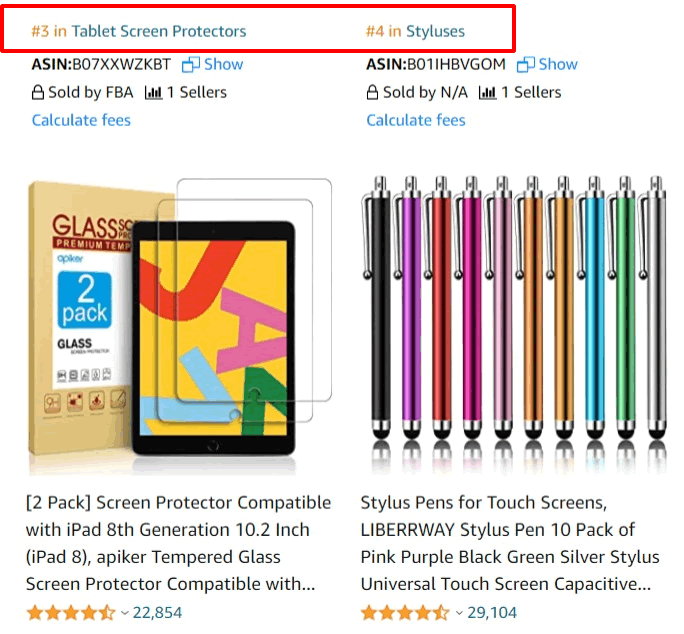 TIP: if you want to know which products are trending, therefore, gaining traction / BSR in the last 24 hours, check the "Movers and Shakers" section for every category.
How is the Amazon Best Sellers Rank Calculated?
The exact way that Amazon tabulates its Best Sellers Rank is similar to the way that Google conceives of its algorithm: It's a secret for them to know now and you never. However, there are a few handy metrics that you can piece together in order to get a good idea of how this particular rank can safely be arrived at.
The leading theory advanced by experts in the field is one that takes in the following possible standards of measurement:
Your level of sales, in the past as well as the present
Changes in price, most likely including changes based on sales and various promotions
Sales of products that are similar to your own
What is a Good Amazon BSR?
Calculating your good, better, and est Amazon BSR can be a bit on the trick side. This has to do with the fact that your basic BSR will differ according to the category or, in some cases, categories that your product may be placed in.
For example, a BSR of 400 may be considered a good one in Hardware, it may be terrible in the Home Supplies section. This is because products in Home Supplies may be selling at a much lower volume. If you move enough products to get to 400 in Home Supplies, you're doing better than the number by itself implies.
You also need to keep in mind that Amazon lists and sells millions of different products. This means that any product that ranks lower than 2,000 is very likely going to be an item in some considerable demand. Your goal should therefore be to do all in your power to crack the top 2,000 and build upward from there.
What's the Difference Between Amazon Best Sellers Rank and Organic Rank
One of the most confusing things to come to grips with is the fact that a very low BSR number doesn't always mean that your item is selling through the roof. In fact, this figure can sometimes signify that your product is merely the quickest seller out of a whole slew of spectacularly low selling items.
Your organic rank can therefore be completely different than your BSR. The two actually have very little to do with each other. Organic rank relates more to the keywords that you use and where they enable your product to place in the search rankings.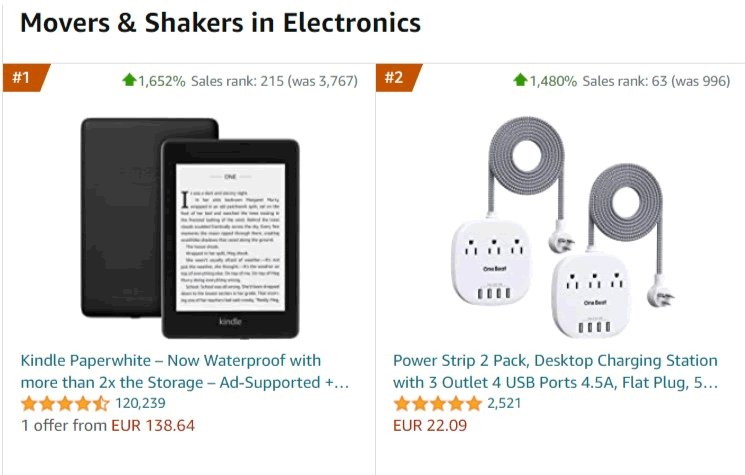 Keywords are the various SEO phrases, such as "Tomato slicer" and "5 cycle dishwasher" that customers use to search for the goods they are interested in. You want to be able to include the best and most relevant keywords in your product description so as to match up with as many customer searches as you can.
Your BSR and organic ranks link up in the end. This is because you need plenty of organic searches to lead to clicks on to your product page. The more of these searches that lead there, the higher your organic ranking will be. The more sales that get completed due to these searches, the higher your BSR will be.
Some Ways Sellers Can Use Amazon Best Sellers Rank Information
There are many ways that a seller on Amazon can use the BSR rank info that they receive. For a start, you can use it to research the type of products that you intend to sell on Amazon. If you do a search and find that items similar to the ones you propose to sell have a low number, you can assume they're in demand.
You can also use the BSR to determine how well your rivals in the industry are doing with products of their own. If the number is low, they're doing well. If it's uncommonly high, you can conclude they are striking out. You can learn from these figures when making the choice as to which products of your own to sell.
The most crucial info that you can get from the BSR is determine how well your sales are proceeding. You can tally up the figure you get from this week against the ones from last week, last month, last year, and so on. Keeping track of this figure will let you know if certain items are rising and others are fading out.
How Can I Improve My Amazon Best Sellers Rank?
There are several things that you can do to improve your ultimate BSR on Amazon. These may include, but will not be limited to, the following:
Keep your prices competive
Optimize your bullet points to be as descriptive and enticing as possible
Make sure your product title is fully optimized
Use plenty of images to illustrate the items that you have for sale
Make full use of Amazon Prime and Amazon FBA
How Can I Track Amazon Best Sellers Rank
There are a number of tools available on the world wide web that you can use to track your Amazon Best Sellers Rank. These include products such as:
It's a good idea to keep in mind that, since Amazon keeps its ranking style secret, they can't be exact.
However, you can use these tools to get a much better grip on what your numbers are versus how well you are really doing sales-wise. This will help keep you on your toes when it comes to improving your method of advertising your products. You should also remember to keep your organic rankings just as firmly in mind.
It's Time to Get Your Product Ranked
Now that you have a better idea of what the Amazon Best Sellers Ranking system is all about, it's time to put this info to use. You can maximize your level of exposure on Amazon to generate sales. You can also use the rankings to cultivate interest in the many other products that you have to offer to the public.
More posts
I work as an independent eCommerce and Amazon consultant.
Clients
Estrella Damm, Intersport, Bella Aurora, Lladró, Textura Interiors, Nice Things Palomas, Castañer, Due-Home and many other clients.
Lecturer & Teacher
I teach and have been a speaker at: Meet Magento, Prestashop, Prestashop Day, SEMRush, Cambra de Comerç Barcelona, ​​ClinicSEO, Ecommbeers, Ecommbrunch, Ecommercetour.com, Ecommfest, EOI, ESIC-ICEMD, Foxize, Generalitat de Catalunya, Inesdi, Quondos and The Valley. In addition, I have done in-company trainings for brands such as Orange and Adidas.
Writer
I collaborate writing articles for Helium 10 blog, Shopify, SEMRush, La Vanguardia, eCommerce-news.es, Marketing4ecommerce...
Partner
Helium 10, Jungle Scout, Avask, Sellzone, Helium 10 Seller Solutions Hub Partner
Social
LinkedIn, Twitter, Wikipedia, Youtube, Quora, ISNI 0000000513224289, About Jordi Ordonez