As an Amazon Seller myself there always comes a time when you can't manage any more tasks.
There are 24 hours in a day and you only have 2 hands. Therefore, it is time to delegate. It's a hard time, because you may not want/be able to trust anyone. NO one will treat your business the way you do yourself. But, if you want to scale your business or want to start having a life beyond 14 or 16 hours a day of work, it is important that you look for outsourcing and the best way to do it is to hire an Amazon FBA virtual assistant.
Join our newsletter and get 18 discounts
Join now!
It's not an easy task, as you'll have to look for a qualified person to take care of tasks. Some of them will be easy-peasy but others may require a higher level of skills or, simply, being patient enough to deal with customers in a 100% polite and Amazon-compilant way. And, believe, that last one is not an easy job.
On the other hand, a bad virtual assistant can make the work more forced and be a cause of frustration and displeasure or, even, customer complaints and damage your Seller account's performance.
The world of commerce has its challenges, selling online means for many having to adapt to a fast pace in a changing landscape. Have you considered the idea of hiring a virtual assistant? Well, you'll be glad to know that doing so will bring you many advantages. Let's take a look at the do's and don'ts plus ups and downs of hiring an Amazon FBA Virtual Assistant.
By the way, you may wanna check out our ranking of the Best Amazon Virtual Assistant providers
What does an Amazon FBA virtual assistant do?
An Amazon Virtual Assistant (VA) is a professional equipped with a specific set of skills to meet the needs of Amazon FBA sellers. Most of them are Amazon Sellers themselves or exAmazon Sellers and they know the Seller Central environment.
Unlike traditional assistants who may operate within physical confines, VAs function remotely, often from different parts of the world, being India and Pakistan the 2 countries with a higher amount of Amazon FBA Virtual Assistants. They are the multitaskers and can help you from mundane / redundant administrative tasks to strategic business / inventory planning.
But, let's be honest, most of the tasks they'll perform are those you wouldn't want to do yourself so you can focus on other more important stuff like strategy or scaling your Amazon business.
How does an Amazon FBA VA help reduce costs?
An Amazon FBA Virtual Assitant can be an easier expense to cover than hiring a full-time staff member because they also have qualities that make them a good fit for the job. Virtual assistants can work with various businesses both brick-and-mortar and click-supported businesses. Remember that time is of much more value than money and that is something you understand not only because you are an entrepreneur but because you are human.
When you are solely responsible for your business, you must set priorities and select what things to devote more time and energy to as the business becomes more productive. As you achieve more experience as an entrepreneur, you will understand that to achieve success sometimes it is not possible to do it without help. It is possible that because of your increased investment, two results will follow:
You have to keep sacrificing time that you used to spend on other things until you achieve a balance between work and your personal life.
You end up spending too much time on your business when the real goal is to grow it.
Either way, you will end up tired and frustrated. The result will be that your business will suffer and so will your performance. Therefore, your last option would be to turn to a Business Helper, who can help you alleviate all the workload you have or continue to overextend yourself until you collapse.
So, long story short, Amazon FBA VAs encapsulate multiple roles into one, offering flexibility and expertise without the heavy price tag.
Instead of salaries, benefits, and training expenses, you pay only for the job done.
What can an Amazon FBA Virtual Assistant do for you?
If your job is within a digital commerce platform like Amazon, keep in mind that you can hire a variety of experts. Doing so will help you a lot especially in setting up and optimizing your store. You can hire an assistant who is qualified in the following specialties:

Catalogue and SEO
Write or optimize your Amazon listings
Upload your listing information to Seller Central
Conduct keyword product research
Product photography
Expand new products and markets
Arbitrage product tracking
Private label product researchers
Source profitable products for you
Conduct product research
Help your business expand to new marketplaces (Amazon or non-Amazon related)
Amazon Seller account maintenance
Set up your seller account
Keep an eye on your performance
Deal with customers
Answer customer questions and messages
Manage the entire FBA business
Help you with your numbers and VATs
Invoice Amazon clients
Bookkeeping
Product returns
Deal with reimbursements
Inventory tasks
Handle logistics and FBA shipments
Prepare inventory planning based on data
Look for FBA reimbursements and file FBA cases for you
Fix stranded inventory issues
Fix inventory problems for you
Order fulfillment
3rd-Party Fulfillment.
Prep & Inspection (this requires "a man on the ground")
Create dropshipping strategies for some of your portfolio
Decide wether to ask for your inventory back to the warehouse or destroy it
Amazon Marketing tasks
Manage your PPC campaigns
Audio and video effects editors
Sponsored Brands video creation
Graphic design work for your product images or A+ content
Create promotions, lighting deals, flash sales…
Create external advertising campaigns to your Amazon listings using Amazon Attribution
Remember that no one person with the above specialties can handle all of them at the same time. That's correct, not even you.
A mistake that many contractors make is that they forget that they are hiring a person and not a robot, so you have to take into consideration their limitations and accept that each employee will be in charge of a specific role. Forget about 360º experts, AI powered one man band and renaissance men. Hire trustable people experts in a single area.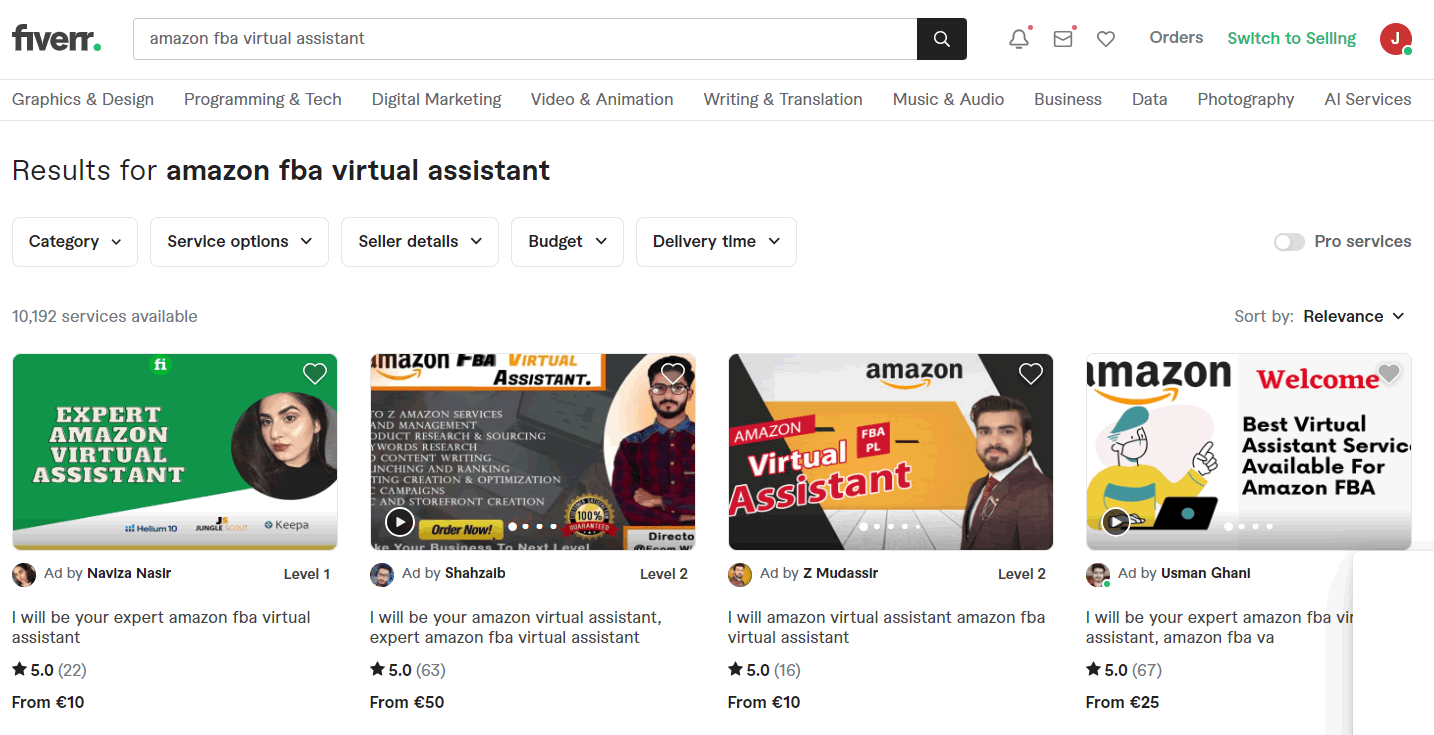 How to hire an Amazon FBA virtual assistant?
The process of finding the perfect VA begins with self-reflection.
Understand your needs, your budget, and the tasks you want to outsource. Once you have clarity, you can either search independently, leveraging your networks or social media, or use premium recruitment services that vet potential VAs for you.
My process
There's no magic here, sometimes is all about try and error so, what I do, is first hire them for easy / not high level tasks and see how they perform.
If the result looks great or promising I'm going to give them a more complicated task next time.
Also, if I'm going to stick with the guy for a while (meaning, he's giving me results) I usually train them in some of the tasks so that they know how I want them to be done. I don't limit myself to giving them a document where I detail the tasks, but I explain them to them via Zoom or Skype 1 on 1 as if I were mentoring a student.
Want a free advice? Don't just rely on their reviews. Prepare a mini quiz with some "killer questions". Just the ones you would ask for a guy who's applying for a job. Always ask them if they have a running Amazon business, look at the Seller profile, check the Seller feedback, check their numbers using Helium 10 X Ray and, please, avoid any Virtual Assistants that can be potential competitors of your products. Always make them sign an NDA
Amazon FBA VA Hiring Process
I'd say, follow this 4 points and you'll be good to go:
Write a detailed job description
Beyond skills, ensure cultural and communication compatibility
Offer short-term projects to check their efficiency and reliability
Once hired, provide resources, set expectations, and establish communication channels aka onboarding
Where to Find the Right Virtual Assistant?
This are the best places to hire an Amazon FBA Virtual Assistant or, at least, what has worked for me in the past.
Upwork: Global talent pool with varied price ranges.
Fiverr: Task-specific gigs with transparent pricing.
Freelancer & Toptal: Diverse expertise levels, catering to varied budgets.
Amazon FBA Virtual Assistants specialized companies
Yes, you have also vertical services to hire Amazon FBA VAs, let's check'em out:

Join our newsletter and get 18 discounts
Join now!
Pros And Cons Of Amazon Virtual Assistant
Pros:
Cost efficiency, as you can access specialized skills without heavy investment
Flexibility, because you pay as you go and tailor their services based on fluctuating needs
One VA can often handle multiple roles, from research to customer service
Cons:
Sharing sensitive information with remote workers can be risky, always make them sign an NDA and keep an eye on them
Time zone differences might hinder real-time communication
Cultural and language differents are important to
Conclusions
If you don't need an Amazon Virtual Assistant now you will in the future. Remember, outsourcing is not equal to lose control,
While the journey to find the perfect VA may be long, the resulting synergy can power your business and help you scalate. So, have them on your scope, hire them and watch your Amazon FBA business sales explode.
More posts
I work as an independent eCommerce and Amazon consultant.
Clients
Estrella Damm, Intersport, Bella Aurora, Lladró, Textura Interiors, Nice Things Palomas, Castañer, Due-Home and many other clients.
Lecturer & Teacher
I teach and have been a speaker at: Meet Magento, Prestashop, Prestashop Day, SEMRush, Cambra de Comerç Barcelona, ​​ClinicSEO, Ecommbeers, Ecommbrunch, Ecommercetour.com, Ecommfest, EOI, ESIC-ICEMD, Foxize, Generalitat de Catalunya, Inesdi, Quondos and The Valley. In addition, I have done in-company trainings for brands such as Orange and Adidas.
Writer
I collaborate writing articles for Helium 10 blog, Shopify, SEMRush, La Vanguardia, eCommerce-news.es, Marketing4ecommerce...
Partner
Helium 10, Jungle Scout, Avask, Sellzone, Helium 10 Seller Solutions Hub Partner
Social
LinkedIn, Twitter, Wikipedia, Youtube, Quora, ISNI 0000000513224289, About Jordi Ordonez