Launching a new product on Amazon is always a challenge. For new sellers, getting out of the sandbox where A9 (Amazon's ranking algorithm) puts us is complicated.
In addition, we know that one of the requirements to get out of that sandbox, to get good organic rankings and to get reviews are sales and Sales Velocity, that is, the speed with which we get that number of sales.
In this post we will explain the steps to launch a product on Amazon and how you can use the Rebaid for Sellers tool to help make the launch a success.
You may also like the post "An Impactful Product Launch", by Kamaljit Singh
Checklist for launching a product on Amazon
Before launching a new product on Amazon, I like to use this checklist to see if I have everything ready:
Listing optimized for SEO and for conversion: good title, bullet points, A+ page created (ideally with a video), backend keywords entered, images optimized.
Stocks sent to FBA and ready for shipment
Amazon Prime badge earned
Buy Box earned: if you are a new seller, this will take some time. Remember you will not be able to run ad campaigns until you have earned the Buy Box)
Sponsored Products and Sponsored Ads campaigns created and on pause
At least 5 positive reviews on the product page from friends / colleagues / work mates. This makes a big difference in the Conversion Rate you will achieve with the launch.
Break even of the launch. Together with the Cost of acquisition it is one of the most important metrics to define if you are losing money or not.
Breakdown or P&L of all the expenses that a sale may involve: advertising cost, Amazon sales fee, storage in FBA, shipping in FBA, returns, refunds, promotions, taxes, gift wrapping cost…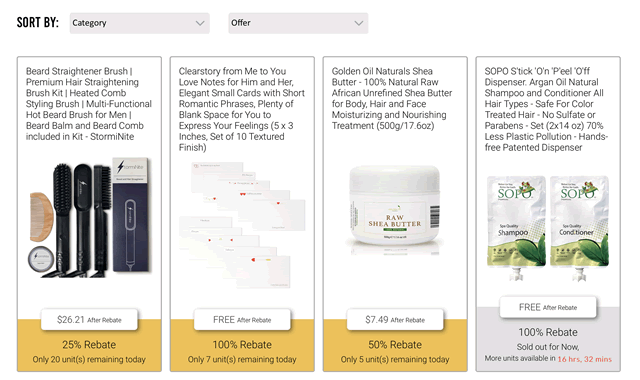 In addition, I ask myself the following questions:
Do I have a discount or promotion associated with the launch? You better have it to maximize sales
Do I have landing pages created to send traffic from Google Ads, Facebook / Instagram Ads / Pinterest Ads / Youtube?
Do I have an optimal price compared to the competition?
Can I access influencers in my product vertical to generate branding and sales?
Do I have my external pages ready? Brand domain with information and brand philosophy, profiles on social networks, email and telephone contact?
Of course, you need a trademark and the brand registered on Amazon's Brand Registry
And, above all, remember that Amazon grants us the "honey moon period", that is, it gives an extra boost to our rankings and our product during the first 30/45 days of the launch, so we must take advantage of it.
How Rebaid can help us
Rebaid is a tool used by Amazon Sellers to launch thousands of products monthly.
It is arebate service for customers. The way it works is easy. The customer buys the product on Amazon and then goes to Rebaid to get their money back. By doing this externally, the sale counts as a full price sale within Amazon and the end customer gets the product for free.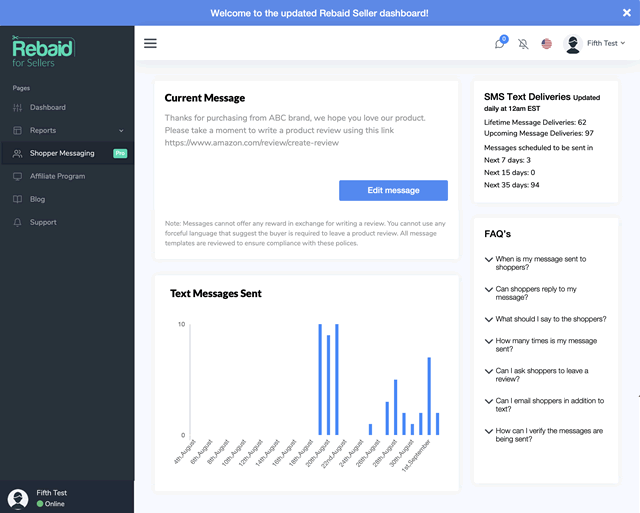 How to create a launch on Rebaid
Creating a launch on Rebaid is very easy:
Create the campaign: enter basic information about your product such as the title, description, price and the cashback value we will offer.
Enter the link to your listing: easy through the link on the product sheet or with the ASIN.
Financing and launch: as a Seller, you finance the rebates offered to buyers from day one and the promotion is activated and launched on the Rebaid platform.
Buyers purchase your product at full price and then go to Rebaid to confirm the order. Once confirmed, Rebaid sends them the rebates.
In addition, you can ask buyers to leave you a review, even via SMS!
Let's say you are launching a product worth $25. You could invest $2,000 in advertising campaigns on Amazon and external advertising campaigns to get sales.
Or you could invest $1,000 in advertising and $1,000 more in Rebaid, which would ensure you 40 sales on the go and the possibility of directly contacting those 40 customers by SMS to ask them for a review which, obviously, they will do since the product has been given to them for free.
Note, this is important, you do not have to finance 100% of the sale, you can offer a % of compensation lower than 100%. In other words, you have Rebate campaigns and Discount campaigns.
Taking this into account, you can launch advertising campaigns a few hours or a few days after the launch on Rebaid to maximize the results of the product launch on Amazon. Easy, isn't it?
Naturalize sales for A9 with Rebaid SFB
In addition, you can use Rebaid to "naturalize" the buying behavior of the customer who is going to get the free product. You know that A9 will be suspicious of sales coming through a direct link and, although it will take them into account, they will sound strange.
Well, Rebaid offers you the possibility to create a Search / Find / Buy Campaign (SFB). In this way, you can define customer behavior before they buy, for example:
Enter Amazon.co.uk and search for the keyword "tires".
Click on the first two results, but don't buy.
Click on my result and buy
In this way, the signal we send to A9 is infinitely better than a direct purchase because what comes into play:
a natural user shopping and browsing behavior
seeing two product detail pages and going back to the results (high Bounce Rate for competitors)
a third direct click to our product page that will end up being purchased and, in addition, that purchase will be associated with search keywords, so the purchase will compute better for the rankings of these keywords.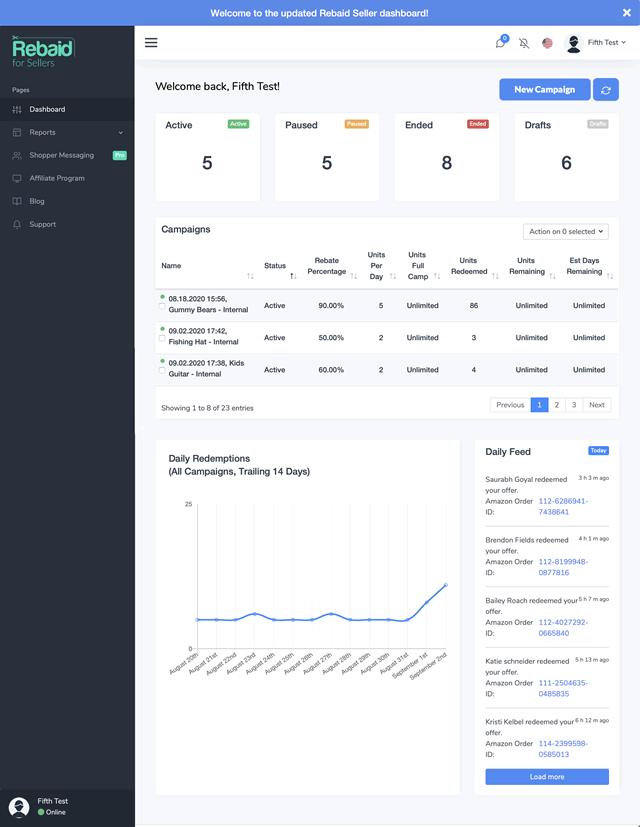 Where can I create campaigns with Rebaid
Rebaid works for:
And it has a database of over 150,000 active buyers on these platforms.
What are you waiting to try it out?
More posts