Sponsored Products is the TOP advertising format on Amazon Advertising. The one that gets more sales, more visibility and converts better.
This post focuses on an advertising program that is intended to promote products that a merchant lists on Amazon. In this program, you have the opportunity to choose the items you want to give an ad to, the keywords you want to assign to them, and determine the cost-per-click offer.
Let's think for a moment about the audience. A potential buyer will enter in the search engine a query, if it matches one of your keywords, then your ad will be displayed at the same time as the results. The instant the user clicks on your ad, the buyer will be redirected to the page that gives the details of your offer, all in exchange for a fee that you will have to pay.
As we can see today, most of the queries on Amazon return, at least 4 Sponsored Products placements on top. Plus, you get more Sponsored Products placements if you scroll down.

Should you use sponsored products?
Before making a decision, let's talk a little about their advantages. Sponsored products give the seller more control over the trading of items within Amazon. Thanks to targeted ads the products you promote gain more visibility, which in turn contributes to increased sales. In addition, you do not have to pay for advertising, only when the ad is clicked, this would represent an income for you if the visitor decides to buy.
If you have already decided to use it, your ads will be displayed in several locations on Amazon. These locations will appear next to the search results. You can advertise in various categories from electronics and video games to pet supplies. Of course, you should be clear that the only ads that are eligible for display are those whose product listings are in the Buy Box. So if your offer is not in the Buy Box then it will not be displayed.
Sponsored Products are open to every seller if you:
Have a Professional Account (not an individual one)
Have the Buy Box for the product
Even if you don't have your brand registered on Amazon's Brand Registry
How sponsored products are paid for
Sponsored products are subject to a specific pricing model based on cost-per-click auctions. However, you will be the one to decide the maximum cost you intend to pay each time someone clicks on an ad for your products. If your offer is competitive enough, you can assume that the ad will be displayed when a user enters one of the keywords you have chosen.
When enabling your seller account to use Sponsored Products you should be aware that one of the requirements is to provide a credit card. Amazon will charge your account for the amount that corresponds to the clicks that are made on the advertisements. The charges will be described with a reference to Amazon Sponsored Products.
This is a postpaid program, which means that clicks on your ads will accumulate as a balance on your account. You will need to set the terms of how often you will be charged using your credit card based on the activity your account will generate. We recommend that you set a realistic daily budget.
We could say that it works like Google Ads or Facebook Ads. Plus, you can also pay on a CPM (Cost Per Mille) base.
How to set the daily budget
It is necessary that, for each campaign that is intended to show your ads, you set a daily budget; at this point we want you to pay a little more attention. When entering an amount, you should consider that these digits should correspond to the average amount you will be willing to pray daily for a whole month.
You must make calculations so that at the end of the month, the value of the average does not exceed the investment you plan to make each day. You should consider this because while an average day may only bring you a few clicks, the next day may be very different. One day you will likely spend less than your daily budget and another day you may spend much more.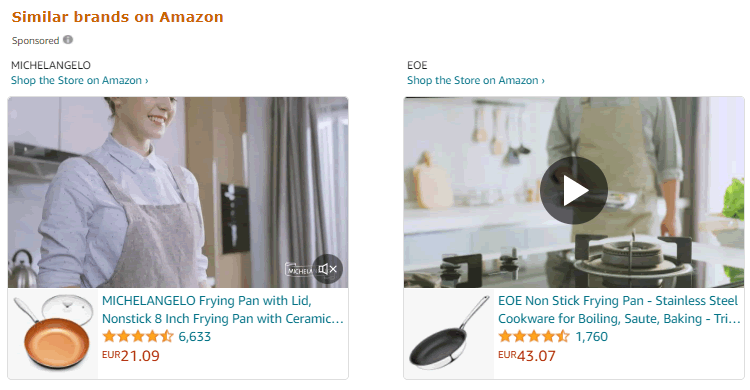 How to create ads for products
With the program, you will only have to follow a series of very simple steps. Start by selecting the products from your listings that you want to advertise on Amazon. Then assign keywords to each item and set your unique cost-per-click bid. Using Campaign Manager organize your ads in the form of a campaign after going to the "Advertising" section located in Seller Central.
In case you have any doubts about which products to select from the list, you don't have to worry too much. Simply choose those items that you want to promote based on which you have imposed a special offer or that you simply want to display when someone enters a keyword in the search engine. You need to know that some things are not eligible for this type of advertising such as:
Products for an adult audience
Used items
Books
Classical music and MP3s
Redesigned items
Kindle Store
When a user clicks on the ad they will be redirected to the Amazon detail page where they will have more information on the product you decided to promote. We want to emphasize that only the products and offers listed within the detail page of the shopping cart are the ones that will get the ads. This also means that if you publish your product listing you will not automatically earn the Buy Box.
More posts
I work as an independent eCommerce and Amazon consultant.
Clients
Estrella Damm, Intersport, Bella Aurora, Lladró, Textura Interiors, Nice Things Palomas, Castañer, Due-Home and many other clients.
Lecturer & Teacher
I teach and have been a speaker at: Meet Magento, Prestashop, Prestashop Day, SEMRush, Cambra de Comerç Barcelona, ​​ClinicSEO, Ecommbeers, Ecommbrunch, Ecommercetour.com, Ecommfest, EOI, ESIC-ICEMD, Foxize, Generalitat de Catalunya, Inesdi, Quondos and The Valley. In addition, I have done in-company trainings for brands such as Orange and Adidas.
Writer
I collaborate writing articles for Helium 10 blog, Shopify, SEMRush, La Vanguardia, eCommerce-news.es, Marketing4ecommerce...
Partner
Helium 10, Jungle Scout, Avask, Sellzone, Helium 10 Seller Solutions Hub Partner
Social
LinkedIn, Twitter, Wikipedia, Youtube, Quora, ISNI 0000000513224289, About Jordi Ordonez