Welcome to best multi-channel inventory management software ranking in which we will be analyzing 10 top tools for inventory management in different sales channels.
Of course, our main /starting channel will de Amazon and the rest of the sales channels will be marketplace oriented, without missing the owned channels (your own ecommerce platform: Shopify, Magento, Prestashop…).
All the tools on the ranking will help you efficiently manage your inventory across multiple channels and more stuff, as most of this tools also include a Listing / PIM manager, order manager, shipping labels manager and other features.
These tools goal is to help you manage your daily operations, ensuring accurate stock tracking, effective order management and integrate them with various marketplaces such as Amazon Seller, Amazon Vendor, Walmart, eBay, Newegg, Mirakl and other platforms.
I have personally spent years reviewing numerous tools in my directory (I started it back in 2013) so I can feature the best in the business. If you're looking to upgrade your inventory management system, this post will guide you through some of the most effective solutions available.
Enough talk! Let's do it
SKU Grid
SKU Grid is a software focusing on repricing and and inventory management. It actively monitors changes from your suppliers and adjusts your listings and pricings on major marketplaces accordingly.
Offering a diverse range of features like marketplace listing, automated price and stock monitoring plus support for over 600+ suppliers, SKUGrid stands out for its versatility and customer support.
It offers eight pricing plans for different business sizes: from newbies at $14.99 monthly to unlimited item monitoring for CEOs at $699.99 monthly.
SKU Grid's strength lies in its ability to monitor suppliers every hour and adjust your items as per your exact specifications, alongside its capability for creating split range formulas for different price ranges of items.
SKU Grid sales channels integrations
Review

Finale Inventory
Finale Inventory is a tool to help you with barcoding, serial numbers and multi-channel e-commerce management. It's particularly suitable for small to medium-sized businesses needing a robust stock control and order management system.
This tool includes features for warehouse management, inventory control and order picking, among others. Its pricing starts from $99 per month so, yeah, it's for small bizs too.
Finale Inventory sales channels integrations
More than 40 integrations: Marketplaces, ecommerce platforms, shipping couriers, Point Of Sales, EDI… as we cannot list them all, we'll list the most important and you can check out the entire list here.
Review
StoreFeeder
StoreFeeder is an all-in-one warehouse, inventory, order, listing, shipping and dispatch management software. It's ideal for Amazon Sellers looking to optimize cross-channel operations.
The tool offers integrated features with over 50 marketplaces, sales channels, and couriers including European Marketplaces and Mirakl integration. Key functionalities include smart warehouse management, order management with barcode validation and automated shipping rules. Its pricing is based on your monthly turnover, with an example rate of £350 per month for businesses with a £1 million monthly revenue.
StoreFeeder stands out for its wide integration system, efficiency-enhancing features and scalable pricing model.

StoreFeeder sales channels integrations
Again, we will only list the main ones, and you can check out the whole list here
Review
TradeGecko
TradeGecko is a cloud-based inventory and order management software and is part of Intuit, which means it has direct integration with Quickbooks and a huge company behind it.
Its features list is amazingly wide and includes automated inventory management, sales order synchronization, multi-currency readiness, intelligent insights for business performance tracking, inventory optimization, inventory reports, order fulfillment, order management, price lists, purchase prder management, shipping, warehouse management and more.
TradeGecko offers a 14-day trial and has pricing tiers ranging from $39 to $999 per month, making it suitable for businesses at different growth stages.
Tradegecko sales channels integrations
Review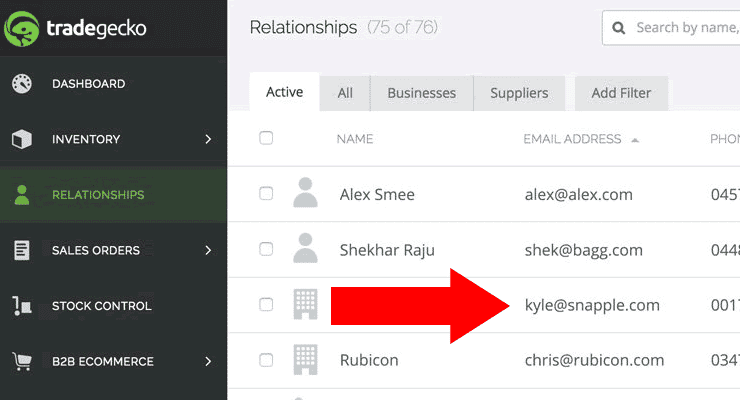 Zentail
Zentail is a multichannel platform that excels in catalog and order management. It enables Amazon Sellers to cross-list products on platforms like Walmart, Target+, eBay, Shopify, and BigCommerce.
The platform offers +50 channels management with direct integration, product information management, listing management, pricing and repricing central and a whole inventory manager  app, among other features.
Zentail's pricing is based on your off-Amazon Gross Merchandise Value (GMV), with an example rate of $375 per month for a 500,000 annual GMV on Amazon.
While it is not the cheapest option, it stands out for its extensive feature range and integrations but faces competition from far cheaper alternatives.
Zentail sales channels integrations
You can check the whole +50 integrations list here
Review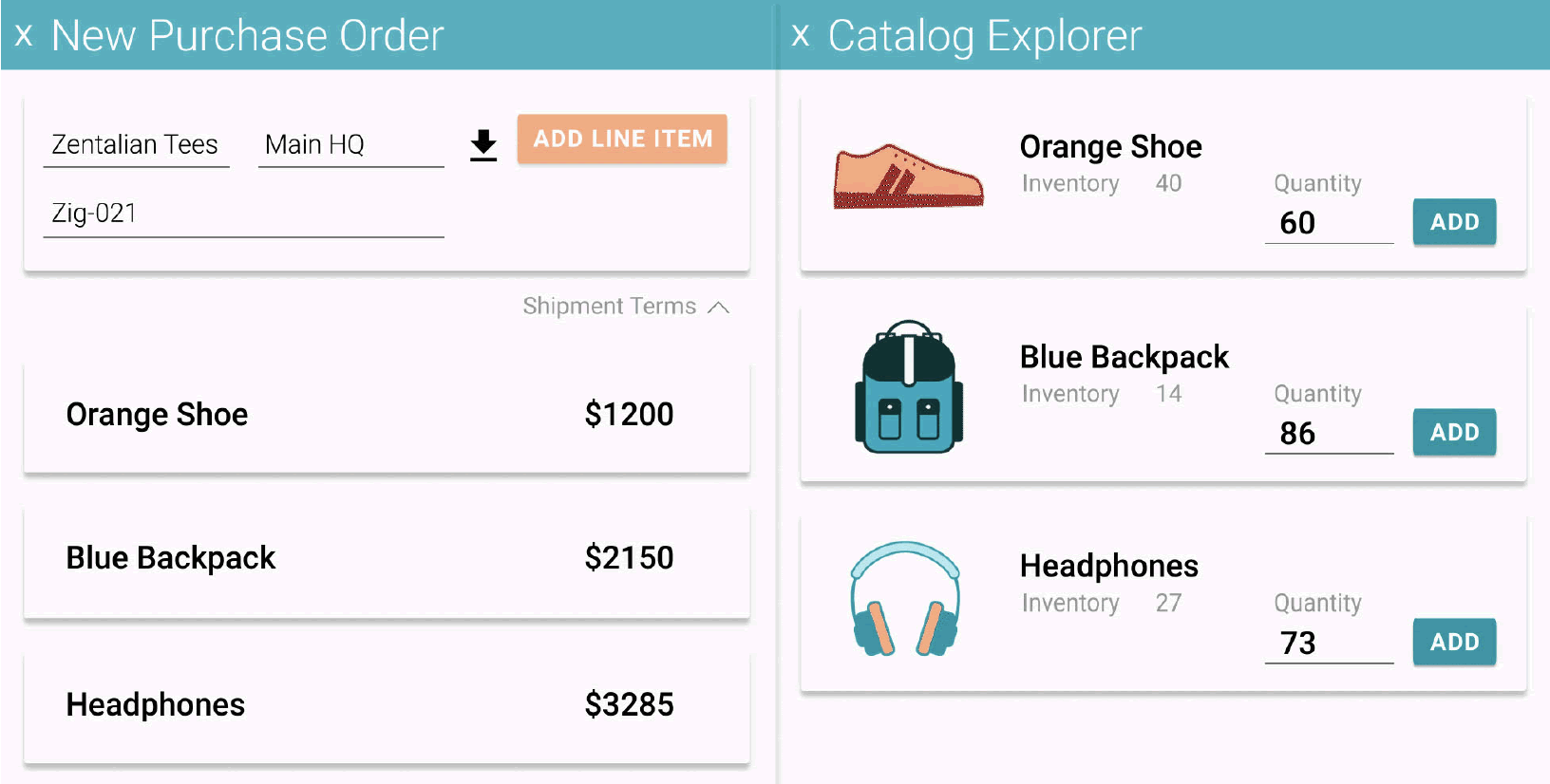 Ordoro
Ordoro is a classic on the multi channel inventory management niche. It's set of features go beyond inventory management and fulfillment, offering shipping, dropshipping, order tracking and supplier integration. It integrates with major shippers and postal services and other tools (+40): shopping platforms, Marketplaces, fulfillment services, suppliers, accounting software, PoS…
Ordoro has three pricing plans: Express starting at $59 per month, Pro at $499 per month, and Enterprise, which requires a custom quote.
It's main pros are the excellent customer service and it's wide range of integrations, although there is a downside, the number of features available in basic plans.
Ordoro sales channels integrations
Review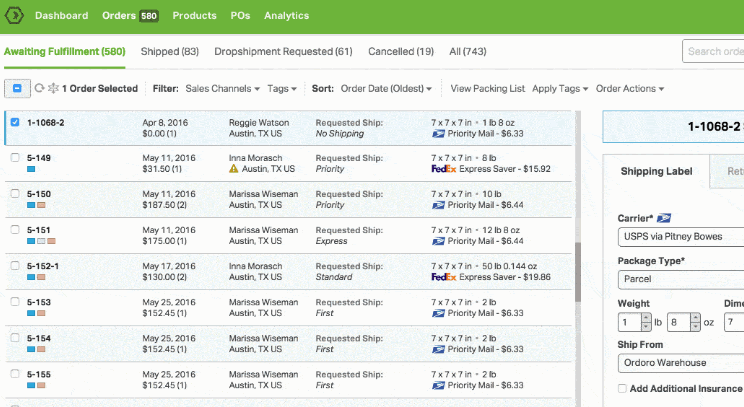 Listing Mirror
Listing Mirror is an all-in-one solution for multi-channel operations management, from cross listing, to repricing and inventory management. It actually IS the tool if you cross-sell on Amazon, eBay and Etsy. Long story short: simplifies the process of managing product listings across channels, reducing manual data entry and improving visibility​​.
Other key features include product information management, listing management, inventory forecasting, inventory management, warehouse management and others. Pricing starts at $99 to $249 depending on the number of features and sales channels you need.
Listing Mirror sales channels integrations
Review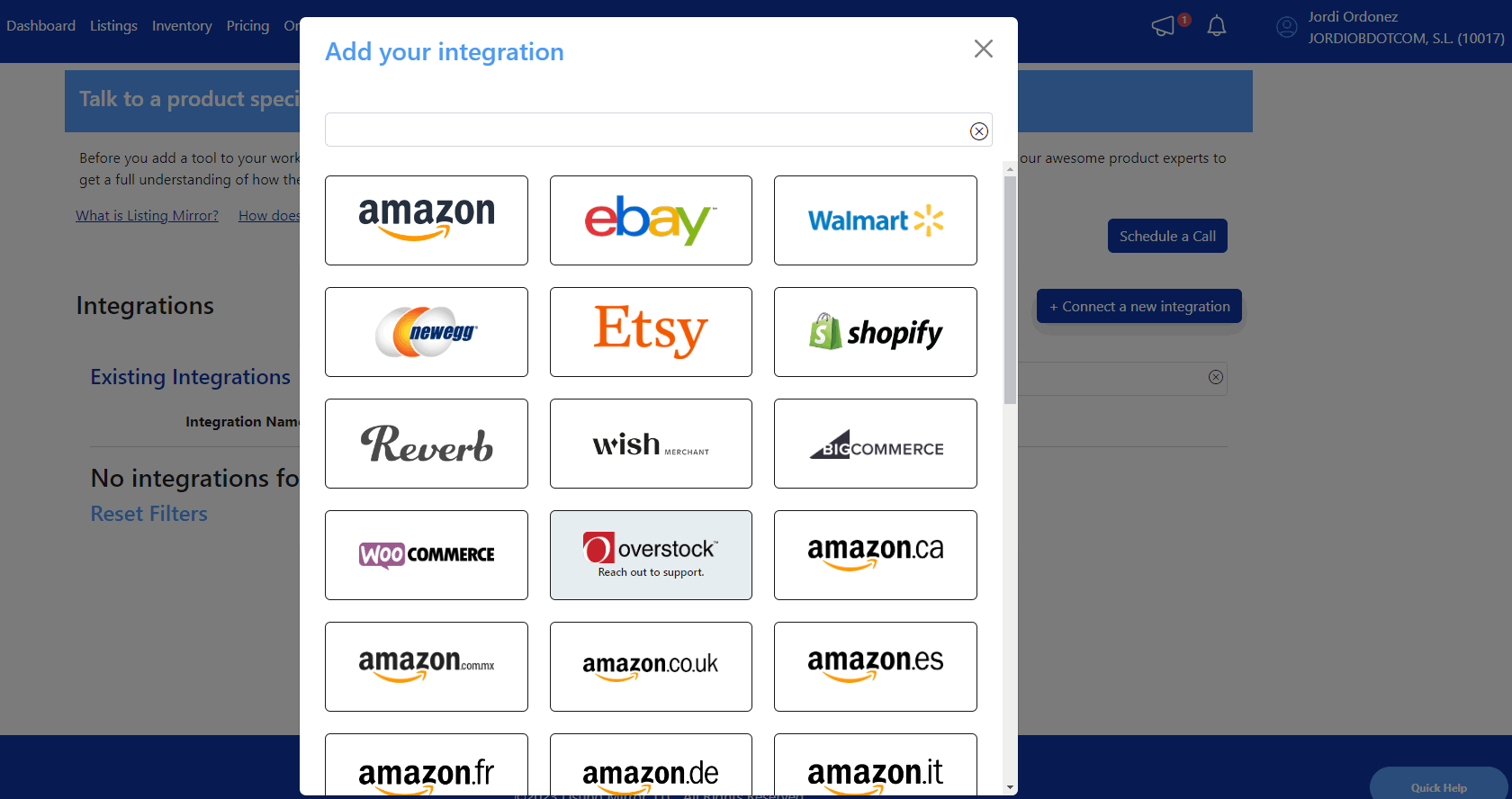 Selleractive
Selleractive offers inventory management, automated repricing, centralized order management and order fulfillment​​. Its integration with a range of marketplaces and e-commerce platforms  (+20) makes it an adaptable option for diverse business needs.
The platform is known for its user-friendly interface and efficient customer support. Pricing plans depend on the Seller's GMV. From $99/month for $10k GMV to $549/month for a $250k GMV. The repricer is not included.
Selleractive sales channels integrations
Review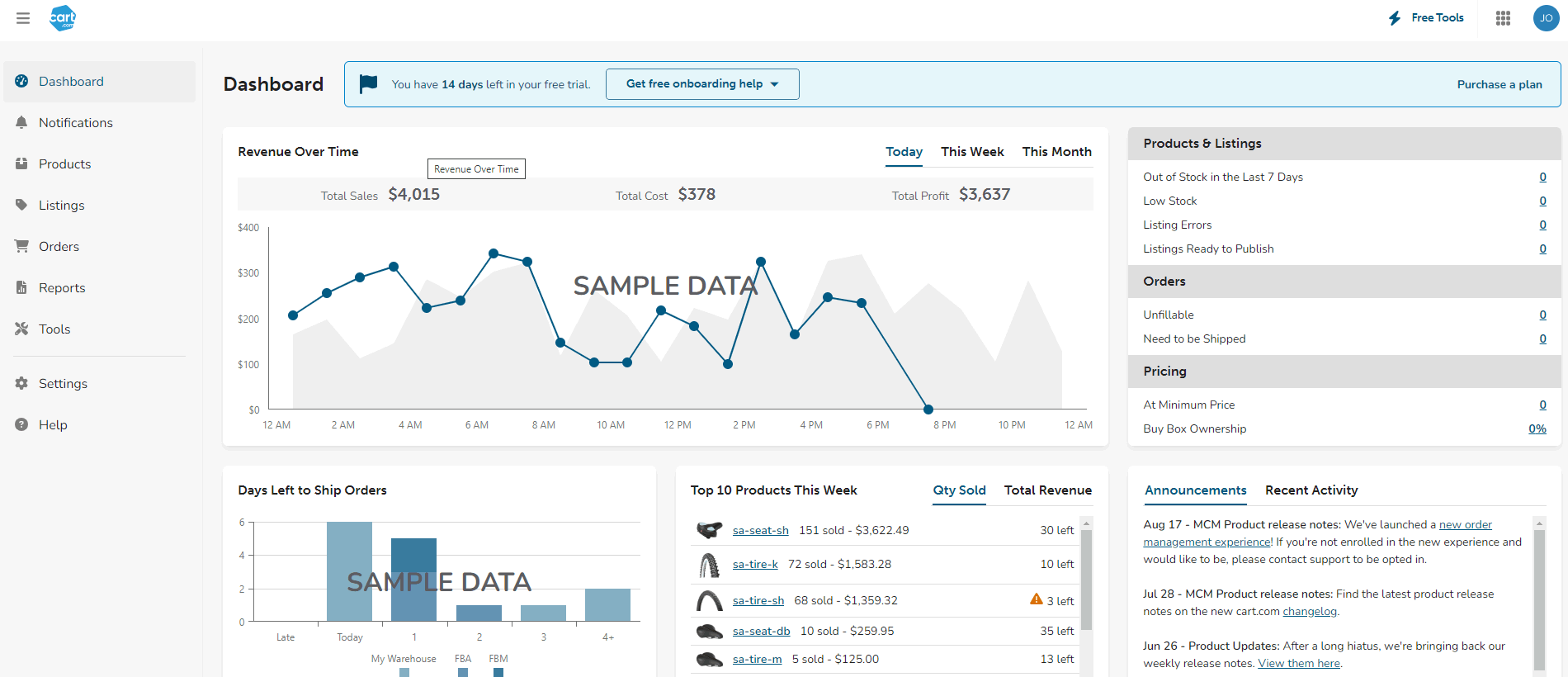 SKUVault
SKUVault (now a part of the LinnWorks suite of tools), is the number one tool when it comes to integrations: over 100, including Mirakl and European Marketplaces. As it's part of Linnworks, a much bigger suite of tools, it's direct partner ecosystem has no rival in the niche.
SKUVault features inventory and warehouse management, pick-pack-shipping, SKU and catalogue management, purchase order manager, reporting, quality control for shipments, barcode scanning… it goes far beyond the features of the rest of the tools. Also, the platform's merger with LinnWorks expands its features, offering a more robust and scalable solution for businesses looking to optimize their multi-channel selling strategies.
However, pricing is not public, but we know that there's the inventory management solution and the warehouse solutions and inventory forecasting tool are not included.
SKUVault sales channels integrations
Over 100 integrations, which can be found here
Review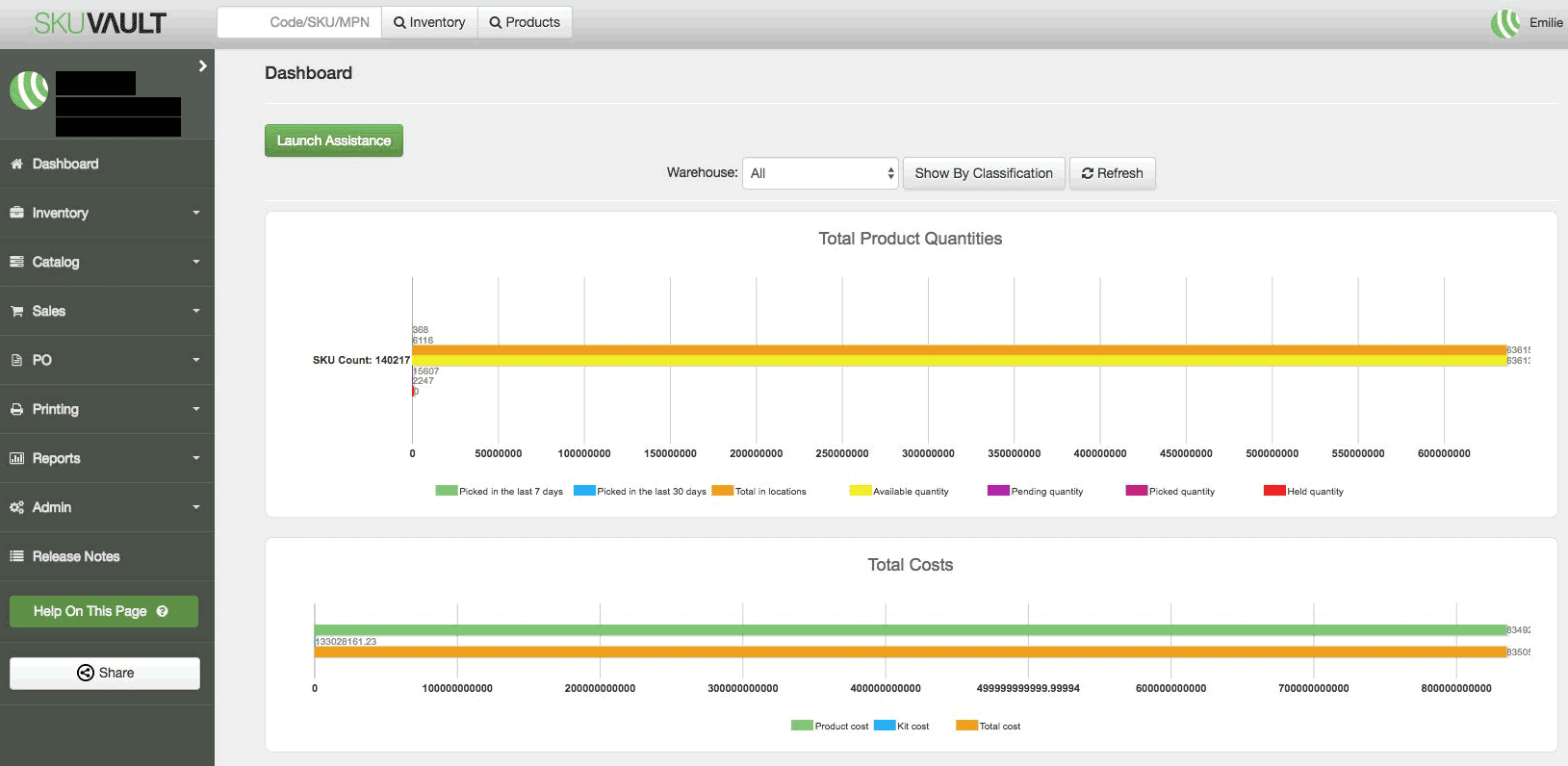 SKULabs
Last, but not least, SKULabs, an inventory management and WMS with AI features for multi-channel retailers. It offers a suite of tools for order fulfillment, inventory tracking, barcode scanning, pick-pack-shipping, shipping labels printing with discount and more. The platform's integrations with +50 platforms allow real-time synchronization of inventory and orders across channels.
SKULabs pricing goes from $299/month to $1,999/month, depending on the number of features you need and the monthly orders (from 1,000 to 50,000)
SKULabs sales channels integrations
Review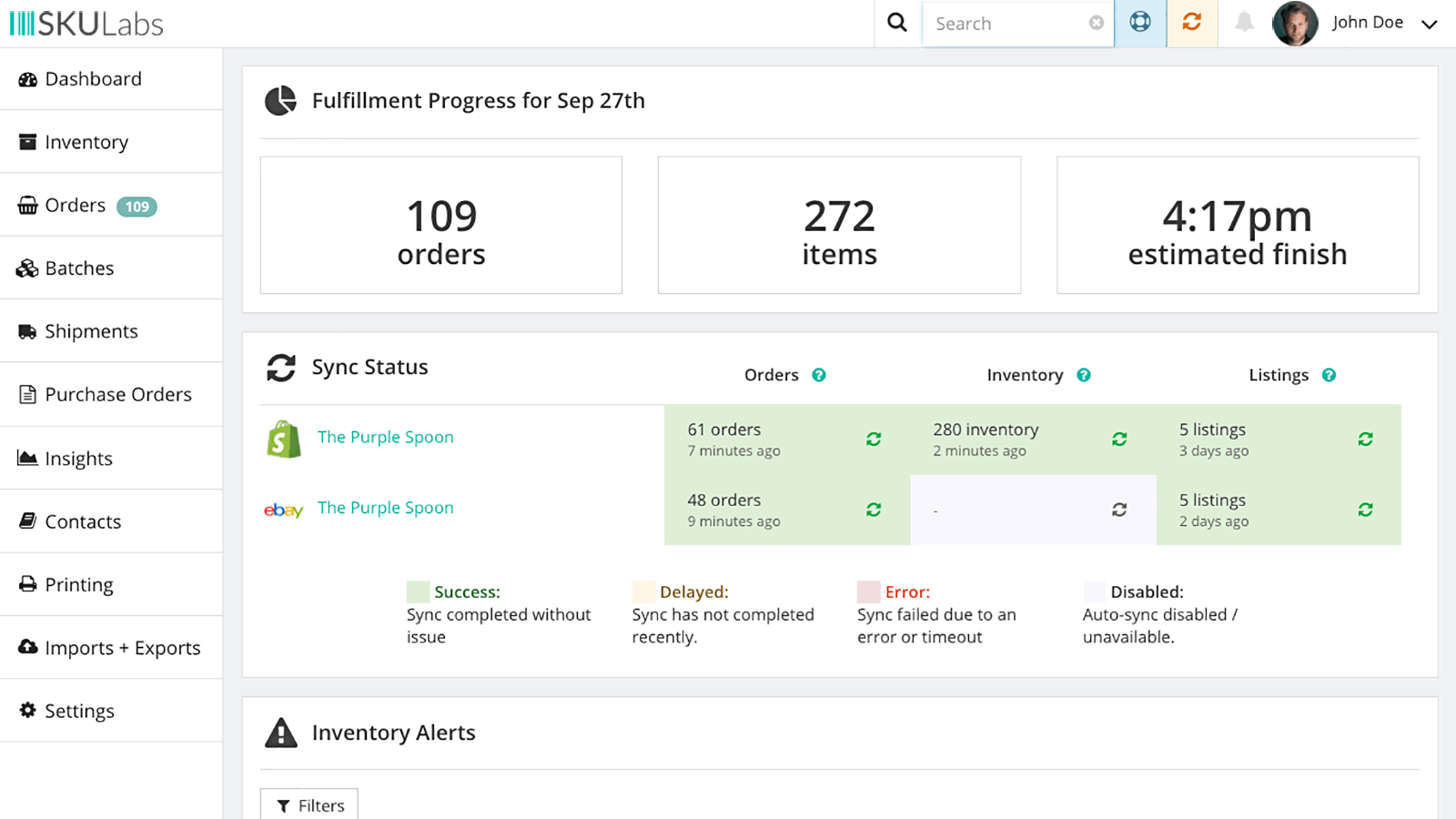 Conclusions
Here are the main features and pros for every software analysed
SKU Grid: wide range of features including marketplace listing and automated price/stock monitoring. Prices range from $14.99 to $699.99 monthly. It's notable for its hourly supplier monitoring and split range formulas.
Finale Inventory: for small to medium businesses with features for warehouse management and order picking. Starts at $99 per month. More than 40 integrations.
StoreFeeder: all-in-one solution with a focus on Amazon Sellers. Integrates with over 50 marketplaces and couriers, including European Marketplaces. Pricing is scalable based on monthly turnover.
TradeGecko: Cloud-based with a wide feature list and extensive integrations. 14-day trial with pricing from $39 to $999 per month. Good for businesses at different stages.
Zentail: focuses on catalog and order management with over 50 channel integrations. Priced based on off-Amazon GMV. Not the cheapest but offers extensive features.
Ordoro: beyond inventory management, includes shipping and dropshipping. Pricing starts at $59 per month. Known for excellent customer service and wide range of integrations.
Listing Mirror: specializes in cross-listing, repricing and inventory management. Pricing starts at $99 per month. Ideal for cross-selling on platforms like Amazon, eBay, and Etsy.
Selleractive: offers inventory management and automated repricing. Integrates with over 20 marketplaces. Pricing depends on the Seller's GMV, starting from $99/month.
SKUVault: offering over 100 integrations including Mirakl and European Marketplaces. Pricing is not public but known for a wide feature set.
SKULabs: AI-featured WMS for multi-channel retailers. Prices range from $299 to $1,999 monthly. Integrates with over 50 platforms for real-time synchronization.
So… what is the best Multi-Channel Inventory Management Software?
If you ask me SKUVault is the winner.
For the pricing, numer of features and the extensive integrations, including European Marketplaces and lots of different platforms. Why? Because, being part of Linnworks, it's environment is much bigger than the rest of the competitors.
Yes, Tradegecko "plays on the same league", as it's part of Intuit / Quickbooks, meaning lots of integrations and a solid enterprise ecosystem behind it. The problem? At least, form me, as an Amazon Seller, it doesn't have support for European Marketplaces beyond Amazon.
Plus, there another PRO on SKUVault. It has direct integration from Listing Mirror and SellerActive. Means that it doesn't have a repricer, but you can use the Listing Mirror one.
But, don't take my word, test all them out and decide for yourself. Spoiler: you'll choose SKUVault xD
Frequently Asked Questions
What is the cheapest Multi-Channel Inventory Management Software?
SKU Grid with plans starting at $14.99/month.
What is the Multi-Channel Inventory Management Software with more integrations?
SKUVault, with over 100 integrations.
What is the Inventory Management Software with more features for the pricing?
TradeGecko and SKUVault stand out for their extensive range of features.
What is the best Multi-Channel Inventory Management Software for European sellers?
StoreFeeder and SKUVault have notable coverage of European Marketplaces, including Mirakl integrations, which means that you can integrate with Carrefour, Leroy Merlin, El Corte Ingles, Decathlon and other EU Marketplaces.
More posts