Whether you are not having as many sales as you expected, you suffered one of Amazon Seller accounts suspensions, you have multiple seller accounts or you just want to take a break from all the business that Amazon sellers have, no matter what your reason is, you are looking for a way to delete your seller account. And the truth is that it is very simple, but to do it there are several steps that you must take into account.
Please keep on reading, as we will will analyze in detail the steps to follow and the alternative solutions if they do not work. Pay close attention below.
Steps to delete your Amazon seller account
How do I cancel my Amazon seller account? The process is simple: process your pending orders, remove your products, complete all transactions, clear your balande, wait 90 days and then close the account. For a more detailed explanation follow this steps to delete your Amazon account the right way.
Make sure you have processed all the orders you have pending in your Amazon Professional Seller account, wether you sell on the Amazon Marketplace or on Amazon Business.
You have to wait a minimum of 90 days for your account to finish the AZ claim period to also ensure that your account balance is zero.
Take the time to complete all transactions for your buyers.
It is important to make sure that Amazon has all your current bank account details up to date so that you can receive the final payment from Amazon.
Check well and if you have any inventors left, send a request to get rid of them or return them before you close your Amazon seller account.
Once you have completed the above steps to the letter, you can now click on the "Contact Us" page.
Now select the "Close your account" tab, fill out the form you will be shown and submit the request.
Once you submit the request to cancel your account, you will receive confirmation from the Amazon team via email. If a problem arises, the company will send you an email explaining why your account cannot be canceled and will specify the necessary actions to take to solve the problem.
More information on this post under Amazon Help.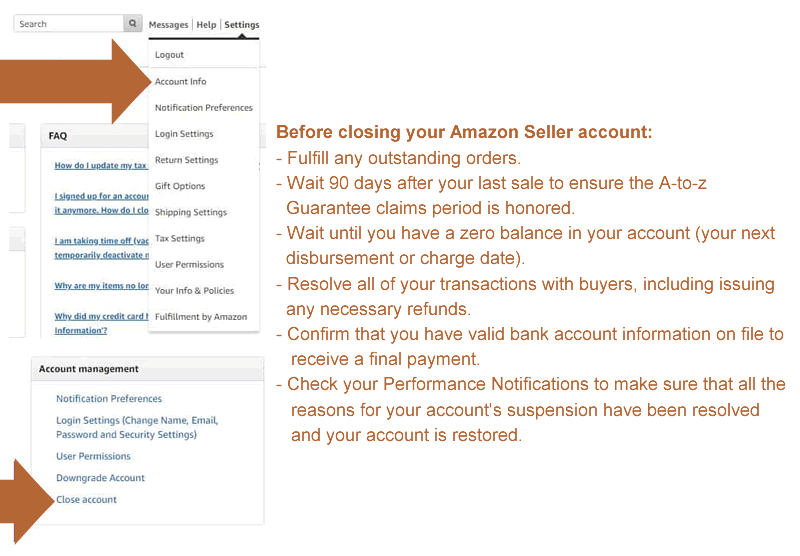 Now, what happens after I close my Amazon seller account?
When closing your Amazon Account you'll realise the Amazon Account deactivation is absolutely immediate, so you must handle this information even before closing it because once you close it you will no longer be able to avail yourself of the following benefits:
Deleting your account will also delete your listings. Therefore, there will no longer be any reviews, comments, or images displayed on Amazon associated with your products.
Long story short: you will loose all your Amazon content
You will no longer be able to process returns or refunds on closed accounts.
You will pay no more Amazon fees, Amazon FBA charges, etc
All of your Amazon account histories will be completely deleted.
You will not be able to access your Amazon gift card or credit balance after your account has been deleted.
You won't be able to contact Amazon seller support on Amazon Seller Central, nor your seller account manager
How to pause an Amazon Seller account
Once you have closed your Amazon account, there's no turning back. You will not be able to reactivate your Amazon seller account. In addition to this, you will not be able to re-open an account with the same business name.
Now let's say you don't want to close business for good but, instead, you want to temporarily deactivate amazon seller account.
If you just want to take a break and not permanently cancel your seller account, you can instead opt for the following alternative options to pause the account.
How To DELETE AMAZON SELLER ACCOUNT Permanently 2023 🔥 Amazon Seller Account Close Kaise Kare
Downgrade the account to individual
To pause you Amazon Seller account using this method, simply downgrade the account to a Personal Seller Account (individual selling plan) under your account plan settings, on your Seller Central Settings.  Long story short, this is the method to stop paying for your Amazon Seller account.
How to downgrade an Amazon Seller Pro account to individual
Log in to your Seller Central Account
Go to Settings > Account Info
Under "account management" click on the link "Downgrade Account"
You can always switch to the PRO account again in the future.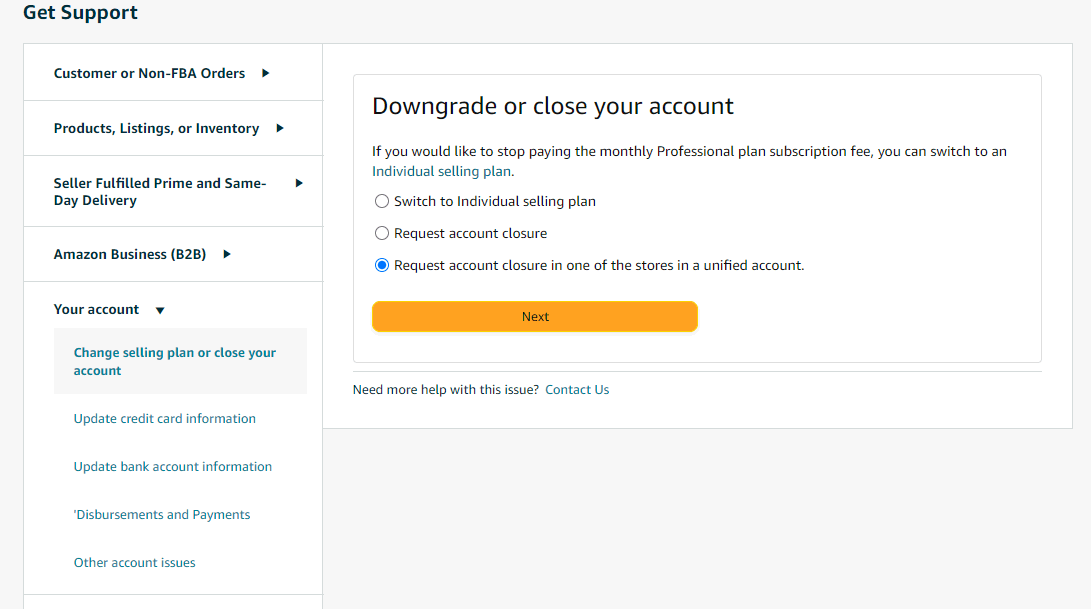 Switch to vacation mode
If you want to pause you Amazon Seller account, Amazon's vacation mode is an excellent option for sellers who want to take a break from work. This tool allows you to deactivate your ads for a predetermined period. This way sellers will be able to protect themselves from negative comments that users might write to them for not responding. Amazon's vacation mode works in two ways:
If you are the one who handles all the orders on your account, Amazon's vacation mode allows you to deactivate your ad. This usually requires 36 hours for it to be removed from the list of websites, and you can reactivate your account whenever you wish.
If it is Amazon that is responsible for fulfilling your orders, vacation mode allows you to keep your listing active, so your product will continue to sell and generate revenue while you enjoy your break away. However, you will still need to take the time to check your performance and customer messages to make sure everything is working accordingly.
How to start vacation mode on Amazon
Visit Seller Central, go to settings, and then select "Account Information."
Click on the Holiday settings, select "Inactive" and submit the request.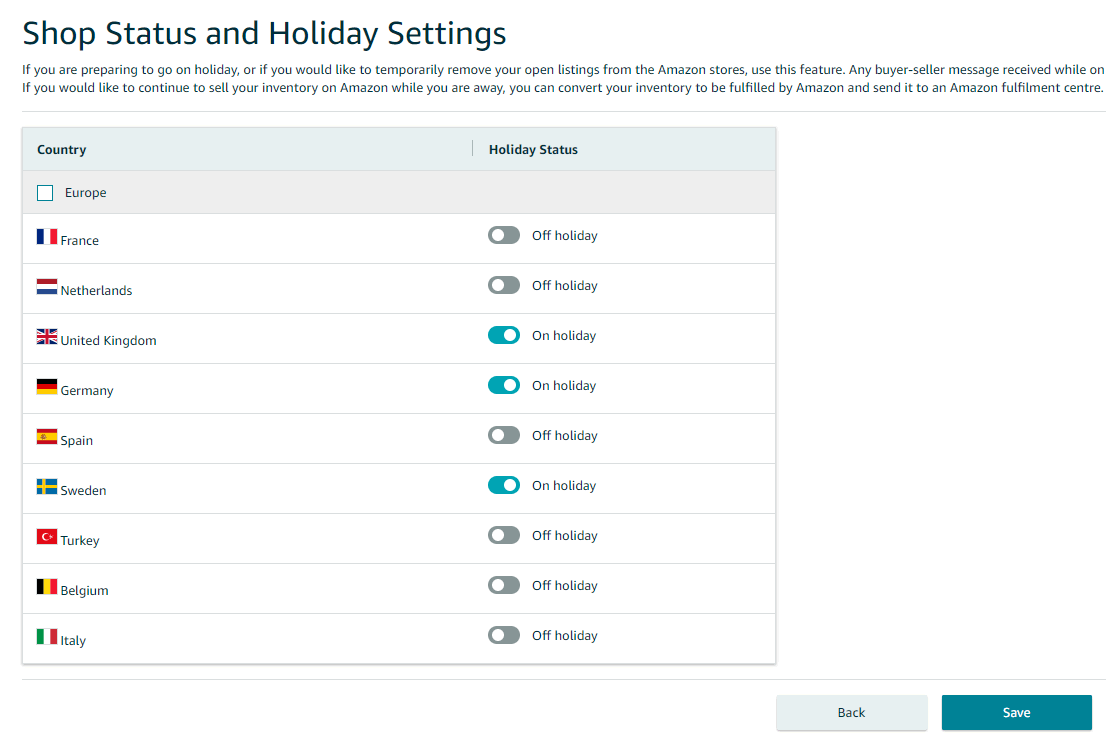 Close your Amazon listings
If the case is that you are unable to fulfill the order due to lack of product supply or any technical issues you are having, instead of canceling your account, you can simply close the Amazon listing. This is what will allow you to give you time to resolve technical issues or find new suppliers for your products without losing your Amazon seller account. To close your listing, follow the steps below.
How to close your Amazon listings
Visit the Seller Central page
Select the products you would like to stop listing.
Click on the "Action" menu and from there select "Closed Listings".
Deleting your Amazon product listings
If you now have some products that you no longer wish to sell or make changes to the title, you can delete those product listings. To delete the product listing follow the steps below.
How to delete your Amazon Seller product listings
Visit Seller Central and click on "Inventory". Now select the products you want to edit.
Click on the "Edit" menu and, in the drop-down menu, select the option "Delete products and listings".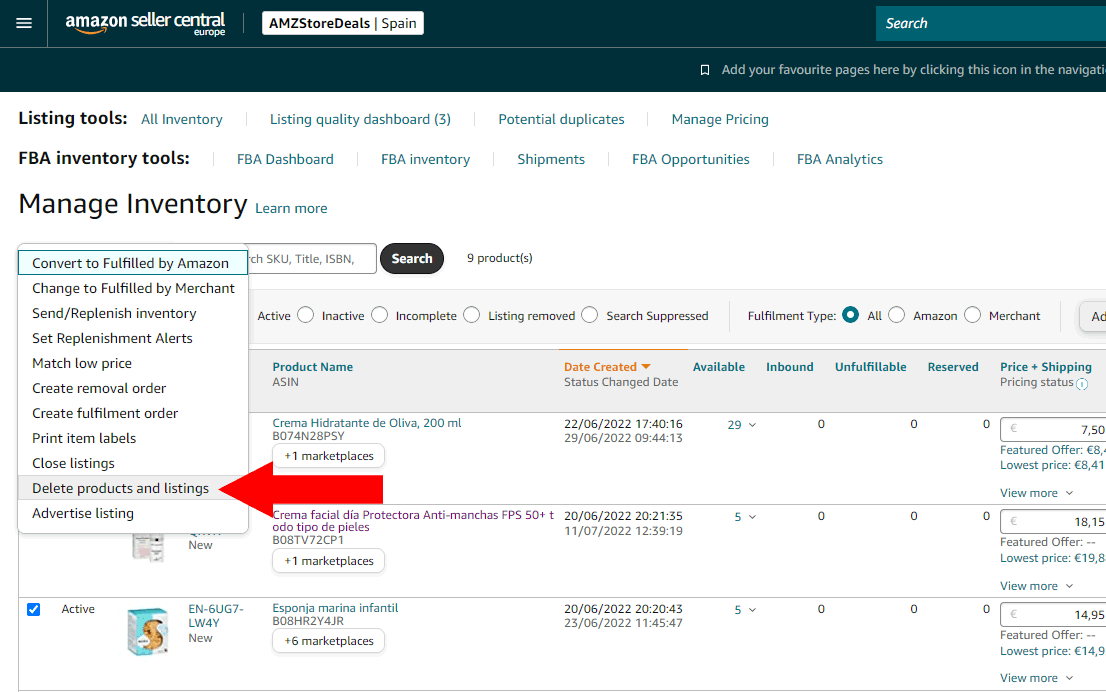 Some related questions you may have
Can I delete my Amazon account and make a new one with the same email?
Absolutely not. Not just with the same email, you can't use the same address, name, business name, business legal data or the same bank account. You can't use even the same IP.
Can you permanently delete an Amazon seller account?
Yes you can, but be aware that your information, historical sales info, orders info and ASIN contents will be lost.
Does Amazon delete inactive seller accounts?
Not always. If your account is inactive you will be able to recover / restart selling on it anytime. But, if your account is suspicious or is linked to another account, both will be suspended and, probably, deleted
Can I make a new Amazon seller account?
Yes you can, as long as you don't use any of the old account's data.
Can you make another Amazon seller account after being banned?
Yes you can, again, as long as you don't use any of the old account's data. If Amazon finds any data that they can link to the old banned account, 9 out of 10 times the new account will be automaticaly banned.
How do I cancel my Amazon seller account and get a refund?
Log in to your Amazon seller account: Visit the Amazon Seller Central website and sign in using your seller account credentials.
Navigate to the Settings section: Once logged in, locate the "Settings" tab or option on the top-right corner of the page and click on it.
Access the Account Info page: From the Settings menu, select "Account Info" or a similar option. This will take you to a page that provides an overview of your seller account details.
Locate the "Close Account" option: On the Account Info page, search for the "Close Account" or "Close Seller Account" link. It is usually located towards the bottom of the page.
Follow the closure process: Click on the "Close Account" link, and Amazon will guide you through a step-by-step process to close your seller account. You may be asked to confirm your decision and provide additional information or feedback.
Resolve any outstanding issues: Before your account can be closed, Amazon may require you to resolve any outstanding issues, such as pending orders, returns, or customer inquiries. Make sure to address these matters before proceeding with the account closure.
Request a refund (if applicable): If you have any remaining balance in your seller account, you can request a refund. Amazon will review your account and determine if you are eligible for a refund based on their policies. The refund process and eligibility may vary, so it's recommended to carefully review Amazon's guidelines or contact their seller support for specific instructions.
Follow up and confirm closure: After initiating the account closure, monitor your email for any communication from Amazon regarding the closure process. They may request additional information or provide further instructions. Respond promptly and follow any necessary steps to confirm the closure.
It's important to note that the refund process may not be applicable in all cases, especially if your seller account has an outstanding balance or if there are any contractual obligations or fees that need to be settled. Amazon's policies and procedures can change over time, so it's advisable to refer to their official documentation or contact their seller support for the most accurate and up-to-date information regarding account closure and refunds.
More posts
I work as an independent eCommerce and Amazon consultant.
Clients
Estrella Damm, Intersport, Bella Aurora, Lladró, Textura Interiors, Nice Things Palomas, Castañer, Due-Home and many other clients.
Lecturer & Teacher
I teach and have been a speaker at: Meet Magento, Prestashop, Prestashop Day, SEMRush, Cambra de Comerç Barcelona, ​​ClinicSEO, Ecommbeers, Ecommbrunch, Ecommercetour.com, Ecommfest, EOI, ESIC-ICEMD, Foxize, Generalitat de Catalunya, Inesdi, Quondos and The Valley. In addition, I have done in-company trainings for brands such as Orange and Adidas.
Writer
I collaborate writing articles for Helium 10 blog, Shopify, SEMRush, La Vanguardia, eCommerce-news.es, Marketing4ecommerce...
Partner
Helium 10, Jungle Scout, Avask, Sellzone, Helium 10 Seller Solutions Hub Partner
Social
LinkedIn, Twitter, Wikipedia, Youtube, Quora, ISNI 0000000513224289, About Jordi Ordonez