GETIDA is one of the best Amazon FBA auditing and reimbursement solutions for Amazon sellers. It is a resource that has a direct impact on the profitability of any 3rd party Amazon seller.
Unlike other Amazon tools, GETIDA is synonymous with hyper-specialization. It is not an all-in-one tool that carries out multiple functions; rather than that, it is absolutely focused on a single goal: to not miss a single FBA reimbursement that you are entitled to.
Amazon sellers' day-to-day routine is usually really stressful. Sellers live with the urgency of keeping customers satisfied, controlling the Buy Box, keeping their listings optimized, competitors, pricing… so many things.
The result is that Amazon sellers prioritize continuing selling over getting their money back by auditing and recovering FBA reimbursements –money that comes from situations such as:
Lost inventory: when shipping to Amazon's warehouses, some units may be misplaced or lost.
Damaged Inventory: during handling in the FBA centers, some damage may occur to your FBA inventory.
Incomplete Returns/Refunds: Amazon handles returns for FBA orders, but sometimes not effectively. This often results in product loss: these units are neither returned nor added back to your FBA inventory despite the refund.
Inventory Replacements: it happens when two products are sent but the customer has only ordered one. Usually, the customer does not return the extra FBA unit.
Overcharges of FBA Fees: Amazon may overcharge sellers with FBA fulfillment fees. This happens when Amazon uses incorrect ASIN data that needs to be updated.
How much do these discrepancies affect FBA sellers? Well, according to GETIDA's statistical data, it can range between 1% and 3% of your yearly FBA sales revenue.
$600 Discount
GETIDA Features
Now, you already know that GETIDA is a super-specific FBA auditing and reimbursement solution, so it stands out for its efficiency in maximizing FBA reimbursements. Everything you can find in GETIDA is 100% focused on maximizing your account's FBA reimbursement rate.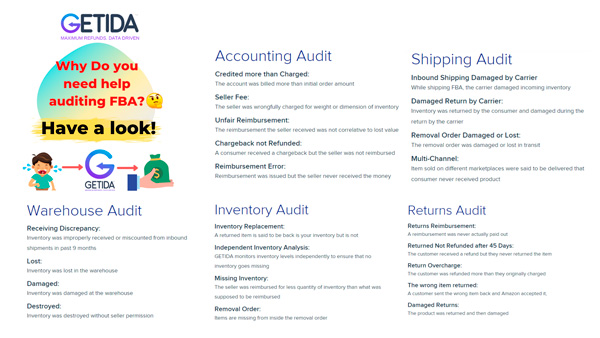 Easy to Integrate
You do not need anything else other than giving GETIDA access to your Amazon account. Forget about complex deployments: any Amazon FBA seller can use GETIDA without any coding knowledge. GETIDA does all the heavy lifting for the seller.
Real-Time Dashboard
GETIDA's award winning dashboard shows you your FBA reimbursement rate and the amount that you could recover. In addition, you can track and monitor the progress that GETIDA is making on your FBA reimbursements in real-time.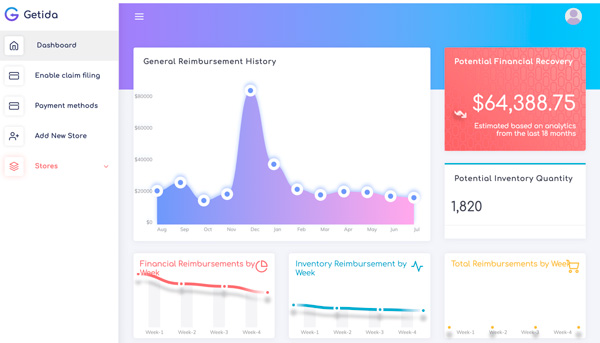 18 Months
As per Amazon's terms of service (TOS), you are allowed to claim back inventory-related discrepancies as far as 18 months back. GETIDA's initial audit consists of an 18-month lookback period, where they locate any missed FBA reimbursement opportunities. Afterwards, GETIDA runs an ongoing monthly audit.
Highest Level of Experience
GETIDA team members are trained professionals. Their dedicated case management team understands the process to correctly send a reimbursement request on your behalf with a very high success rate of recovery.
The case management team not only knows all regulations and requirements: they file and handle the claims on your behalf. This way, the seller can really focus on growing their company, while GETIDA focuses on the FBA recovery of funds.
Signing Up is 100% Free
Although it may sound surprising, it is absolutely true: you will not have to pay a penny to have full access to GETIDA. And, of course, with your initial registration GETIDA will begin recording funds on your behalf and you will only pay for FBA reimbursements that they successfully recovered.
You don't have to pay anything for joining. Not a penny. Plus the first $600 in FBA reimbursements will be completely free. Just use Promo Code – JORDI600
GETIDA Pricing
The fact that it is free does not imply that GETIDA doesn't have a cost. What happens is that the solution charges a recovery fee for its service.
They charge a 25% recovery success fee, but only when they have got the reimbursement from Amazon. All rejected FBA reimbursements will have no cost regardless of the time invested by GETIDA to solve them.
GETIDA Reviews
We always find it very interesting when an Amazon service has a direct positive impact on your income statements. And there is no doubt that GETIDA is one of those.
The company's philosophy is very appealing because it is based on the notion of simplifying administrative tasks in order to free up strategic resources and a great deal of time for you to smoothly run your FBA business.
Finally, let's not forget that the solution is successful, and that you will have a huge peace of mind by not paying for anything that doesn't work. You have nothing to lose by trying GETIDA.
GETIDA Tutorial
Get to know GETIDA a little better with our FBA reimbursements video:
Our score
Alternatives to GETIDA