Helloprofit is an amazing data tool focused on Seller Analytics and Amazon Ads. It's a kind of a mix between a CRM and a Business Intelligence software, tailored to Seller accounts.
Helloprofit features
6 powerful features to help you analyze data and take decisions on your Amazon seller account:
Merchant dashboard
Find all you sales & profit data from multiple seller accounts and multiple country marketplaces in only one dashboard. Find exactly what you're looking for and compare periods. Filter datasets by merchant, marketplace and date and also find the data available for every product title or SKU. The data available is amazing:
Revenue
Tax
Amazon withheld tax
Shipping
Gift wrap
Reinbursement
FBA fees
Refer fees
Promo value
Product refunds
Refund credits

Amazon FBM postage
Estimated payout
Product & Shipping costs
Return product credits
3rd party postage
Sponsored Ads
Total VAT
Profit
Margin
Product dashboard
Will let you see aggregated stats on every product or grouping by products (you can define your own groups) plus filter data by the 20 features available on the dashboard + marketplace, merchant and data.
PPC Manager
This feature is THE TOOL for every Amazon PPC Manager. Find opportunities based on your performance and follow Helloprofit's recomendations on ACoS, bids, keywords, new keywords, negative keywords, campaigns and budgets. Data is really drillable allowing you to have detailed views: campaign, ad group, product ad, keyword and search term level.
Customers and orders
This is thea kind of Amazon CRM. Based on your Seller Dashboard data you will see, at a glance, how often  your customers are repeating an order and also monitor your refunds plus returned vs reimbursed products.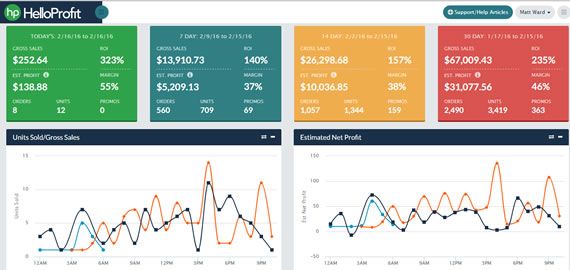 Payout reporting
Aggregated reports by SKU or ASIN to see, at a glance, your most profitable products. Of course you can check all the data available on the 20 datasets and it's net profit, ROI, margin and units. The income and expenses are grouped, so you can see where do you need your focus in.
Instant notifications
A profitability snitch, gives you access to real time email notifications based on your maximum/minimum daily and hourly sales velocity and lost Buy Box. Never miss a sale because of your stock.
Pricing
It has one only pricing option: 97$ a month.
Trial
You can try Helloprofit during 21 days for just 1$
Helloprofit review
Helloprofit is the perfect partner for those who are looking for an Amazon business intelligence tool at an affordable cost. Helloprofit grabs your merchant data, process it using it's algorithm and fits the perfect tips to grow your merchant account and your Amazon PPC campaigns.
If I had to find just a con to the tool it would be the learning curve. It has soooo many data that it will take you several days to get the big picture on what's ahead of you.
This tool will save you tons of hours of Excel spreadsheet processing and will allow you to see your account performance at a glance in user-friendly charts. Totally worth the money.
Video review
Our score
Alternatives to Helloprofit