If you've been thinking about selling on Amazon, you're probably asking yourself "is it really profitable?" To show you just how much potential there is with this business model we spoke to Amazon seller Matt Bailey.
Starting in 2011, Matt quickly began growing his business into a multi-million dollar venture. His most successful product, a water dispenser, generated $1.5 million in 2018.
So what's it like to experience that level of success?
"It quickly becomes very addicting when you start to see all the sales that you get," says Matt. "There is immediate gratification and there's nothing like it." 
We interviewed Matt and asked him everything about his Amazon journey, from how he first got started to what advice he has for new sellers.
Getting Started on Amazon
Matt had been selling a variety of products around the world for many years, and in 2011 he saw an opportunity to expand his business.
According to Matt, "we started selling on Amazon because frankly, it is very very difficult to sell to national retailers just because of the kind of buying power that they possess. And we found that the Internet was the great way to get our message to the consumer."
He realized that online marketplaces like Amazon would allow him to sell directly to the consumer, so he took the plunge and started selling some of his merchandise on their platform.
Discovering a Profitable Niche
Matt's Amazon business was going well, but he was always on the lookout for his next big product. Unfortunately, tools like AMZScout weren't available so this was often difficult.
By chance, one of his suppliers offered water dispensers, and on a whim he and his team decided to look into the niche a little more.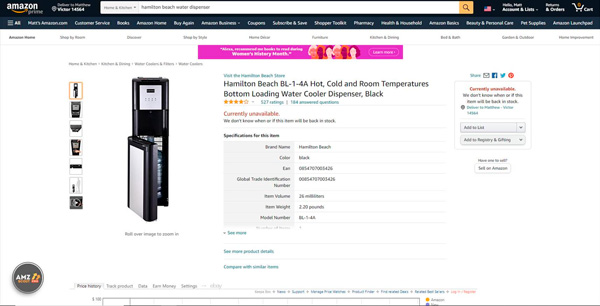 "We started to do some research in the category and we realized that people were getting tired of buying the single-use water bottles," he says. "It's expensive and it's not good for the environment, so the number of water dispensers sold in the US and Canada and Mexico had been increasing."
Without the tools and software that are available now, it took months to come up with this information. There was a lot of manual research involved, but once he identified that this was a profitable niche he started working on turning it into a real business opportunity.
The Problems
Running an Amazon business wasn't as easy as it is today. We already talked about the difficulties of finding a strong niche, but there were also other obstacles Matt had to overcome.
This included:
Performing Marketing Research: There wasn't easy access to information like monthly sales, review numbers, price history, sales margins, and competition levels.
Finding a Supplier: Choosing a supplier usually involves meetings, attending expos, and leveraging contacts.
Promoting Your Product: There wasn't the same kind of information on Amazon keywords as there is now, so it was much more difficult to figure out which terms were the best ones to target.
Matt would have to be resourceful if he was going to solve all these problems without the tools we take for granted today.
The Solution
 Matt used his business connections to identify potential factories. He also attended the Canton Fair in Guangdong in order to meet with suppliers in person. After talking to a lot of suppliers he finally settled on three vendors that he felt could deliver what he wanted.
But that was just the start of his journey. Once his product was live on Amazon he also had to go about promoting it.
"That was very difficult because this was before AMZScout came into the picture,'' says Matt.
In order to find the right keywords for his listings and ads he had to use Amazon's internal tools, which weren't as easy to figure out. It took a lot of trial and error, but Matt and his team were finally able to optimize their marketing and start driving traffic to the listing.
How These Problems Could Have Been Solved by AMZScout
Of course, as we already discussed Matt's product went on to generate millions in profit. But as you can see it wasn't always smooth sailing.
As Matt puts it, AMZScout "would've helped us identify niche categories much quicker. Which categories are growing, where there are sophisticated sellers, where there are people maybe that don't have strong market positions, where the sales are fragmented across multiple providers. That information took us months. Now it takes minutes."
So how exactly would AMZScout have made things easier?
When researching his niche, Matt could have used the AMZScout PRO Extension. He could have seen estimated monthly sales, sales history, the level of competition, and his potential profit margins. This information could have been uncovered in just a few clicks.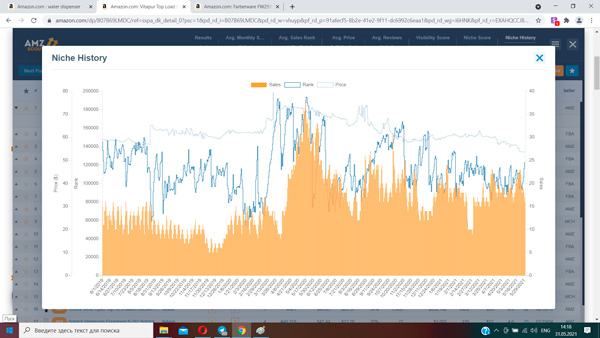 Once Matt decided he wanted to sell water dispensers he could have simply clicked the "Local and Global Suppliers on Alibaba.com" button within the PRO Extension. Here he could have seen all the available suppliers for that niche and compared them based on price, rating, and business activity.
When developing his listing and PPC ads, Matt could have used AMZScout's Keyword Search and Reverse ASIN Lookup Tool to find related keywords with the highest amount of monthly search volume. This would have saved valuable time and allowed him to optimize his marketing strategies much quicker.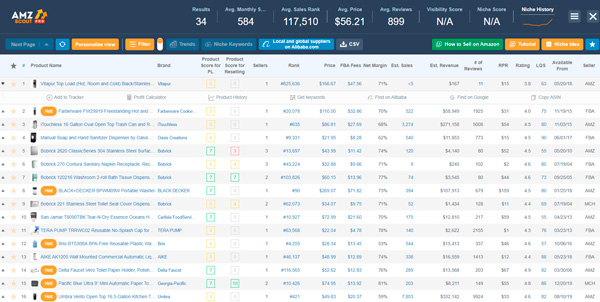 Matt and his team have now adopted AMZScout, and as a result they're able to make better choices about what products to sell, find suppliers quicker, and choose the most profitable keywords.
Tips for New Sellers
So what advice does Matt have for beginners?
When it comes to how much money you need to get started, Matt recommends budgeting 40% of your final product sale price for expenses. This includes product costs, shipping, and promotion expenses. However, he says this can eventually be reduced since your advertising costs go down over time. You'll need to promote your products heavily in the beginning, but once they're established you can potentially get your costs down to 8% – 10% of sales.
For those who are wondering whether they should give Amazon a try, Matt says just go for it. As he puts it, "it's great to be your own boss, right?" Start it as a hobby or a second form of income if you have to. Once you start getting sales you'll be inspired to keep going.
Conclusion
We'd like to thank Matt for taking the time to tell us his story. We hope it inspires you and many other new sellers to start their own business and make their dreams a reality.
And if you do decide to sell on Amazon, give AMZScout's tools a try. We help a wide variety of sellers build their businesses, from experienced sellers like Matt to people who are just getting started.
With the drive to succeed, and the right tools, anything is possible.
More posts
I work as an independent eCommerce and Amazon consultant.
Clients
Estrella Damm, Intersport, Bella Aurora, Lladró, Textura Interiors, Nice Things Palomas, Castañer, Due-Home and many other clients.
Lecturer & Teacher
I teach and have been a speaker at: Meet Magento, Prestashop, Prestashop Day, SEMRush, Cambra de Comerç Barcelona, ​​ClinicSEO, Ecommbeers, Ecommbrunch, Ecommercetour.com, Ecommfest, EOI, ESIC-ICEMD, Foxize, Generalitat de Catalunya, Inesdi, Quondos and The Valley. In addition, I have done in-company trainings for brands such as Orange and Adidas.
Writer
I collaborate writing articles for Helium 10 blog, Shopify, SEMRush, La Vanguardia, eCommerce-news.es, Marketing4ecommerce...
Partner
Helium 10, Jungle Scout, Avask, Sellzone, Helium 10 Seller Solutions Hub Partner
Social
LinkedIn, Twitter, Wikipedia, Youtube, Quora, ISNI 0000000513224289, About Jordi Ordonez