When it comes to selling on Amazon, being well informed about Intellectual Property (IP) violations is a huge benefit. If you find yourself the subject of a notification concerning an IP infringement, it can lead to the removal of listings or even a suspension from the site. Sometimes these can take weeks to resolve, severely hampering the businesses concerned.
Believe me, it's better to be safe than sorry. Getting back your account can tike time and dollars. We explain everything on how to recover an Amazon suspended account here.
So, how can you protect your listings from an IP violation? That is where IP Alerts can help Amazon Sellers. IP Alerts provides monitoring of businesses' listings 24 hours a day, seven days a week, and alerts them as soon as any of their ASINs are flagged as "high risk" and could lead to suspension.
Once those businesses receive an alert that stating that their ASIN has been flagged as a high risk, they can then take the appropriate action, putting them ahead of the game in terms of avoiding a possible suspension. If the business has the necessary permission to sell the item in question, they should then have it to hand to forward to Amazon should it be requested. If they don't possess that permission, it may be advisable to remove the listing.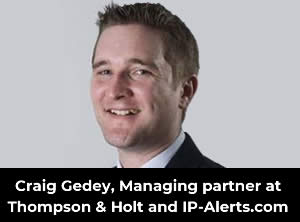 IP Alerts director Craig Gedey explains the key benefits of the system.
The software we use checks all the listing information for brands including the title, photos, description and bullet points

IP Alerts will automatically alert you about any of your listings that may be at risk, and then continues to monitor your items. Our central database is updated daily with new brands that are causing issues elsewhere for Amazon Sellers. We have over 3,000 brands in our database which are connected to 450,000 product listings making it a comprehensive service.
How does it work?
The software checks all the listing information for brands including the title, photos, description and bullet points. If you have items at risk within your listings then our sophisticated software will alert you informing you which need attention and why. You can then put measures in place to ensure that the situation doesn't lead to a potentially damaging suspension.
What the service also does is provide significant peace of mind for users that their ASINs are being constantly monitored, and you can also customise the system to decide which member of staff receives the alerts. We are the only service that will monitor your Amazon listing, while you sleep, without the need to connect to your Amazon Seller Account.
Covers 11 Amazon marketplaces
In terms of Amazon marketplaces, we currently cover Amazon.com, Amazon.ca, Amazon.com.mx, Amazon.com.br, Amazon.co.uk, Amazon.de, Amazon.fr, Amazon.it, Amazon.es, Amazon.com.tr, and Amazon.nl, with more set to be added in the near future."
Value for money
IP Alerts director Gedey also believes the service provides excellent value for money with the level of coverage it provides – alongside a flexibility that means Amazon Sellers are not tied into long term contracts to continue using the Antler Software deployed by the company.
Pricing
The service is £25 per month on a pay-as-you-go basis, and there is no contract, which means that should you wish to cancel, then you can do so at any time. IP Alerts covers unlimited ASINs – meaning no restrictions on how many products you want to be monitored constantly – and can be used across all marketplaces. It also covers both existing and new ASINs.
IP-alerts.com reviews
"What we hear from our customers is that the service takes a considerable weight off their minds when selling on Amazon. If you're a company that deals with high risk brands – companies who have already taken action against sellers for listing their items without the required permission – or has a wide-ranging product listing, it can be difficult to constantly monitor everything to ensure you avoid the risk of a potentially costly suspension. IP Alerts takes that worry away and ensures that you are one step ahead of any situations that could put your ability to sell on Amazon at risk.", says Gedey
"As a former Amazon Seller myself, I'm fully aware of the stresses involved in ensuring that your business follows all the relevant guidelines and regulations on the site, and notifications from major companies threatening action agains you can be extremely daunting, especially for those relatively new to the platform.
That's why I wanted to be involved in something that can take that worry away and at an affordable cost, allowing Amazon Sellers to stay online rather than fall foul of suspensions that can prove particularly damaging."
More posts
I work as an independent eCommerce and Amazon consultant.
Clients
Estrella Damm, Intersport, Bella Aurora, Lladró, Textura Interiors, Nice Things Palomas, Castañer, Due-Home and many other clients.
Lecturer & Teacher
I teach and have been a speaker at: Meet Magento, Prestashop, Prestashop Day, SEMRush, Cambra de Comerç Barcelona, ​​ClinicSEO, Ecommbeers, Ecommbrunch, Ecommercetour.com, Ecommfest, EOI, ESIC-ICEMD, Foxize, Generalitat de Catalunya, Inesdi, Quondos and The Valley. In addition, I have done in-company trainings for brands such as Orange and Adidas.
Writer
I collaborate writing articles for Helium 10 blog, Shopify, SEMRush, La Vanguardia, eCommerce-news.es, Marketing4ecommerce...
Partner
Helium 10, Jungle Scout, Avask, Sellzone, Helium 10 Seller Solutions Hub Partner
Social
LinkedIn, Twitter, Wikipedia, Youtube, Quora, ISNI 0000000513224289, About Jordi Ordonez