Brandon works at AMZHive.com, a tool for Amazon sellers to optimize your sales, marketing, and service with super charged business intelligence.
Brandon has been kind enough to answer some of my questions about selling on Amazon and, of course, about his software 🙂
Join our newsletter and get 18 discounts
Join now!
How much does a good reporting and an efficient dashboard help making decisions? Do you think it's crucial to have one?
Reporting and various curated dashboards are vital to any eCommerce business, but especially to anyone selling on Amazon.
The reports and dashboards provided by Amazon directly are very limited, not intuitive at all, and don't provide a clear picture of your business' performance.
Using a platform like ours allows businesses to actually understand their sales, their product performance, and even their customers.
Being able to breakdown sales and profit per product allows you to actually see if a product isn't worth keeping, and to learn which products are worthy of more investment, increasing the one thing that matters: your bottom line.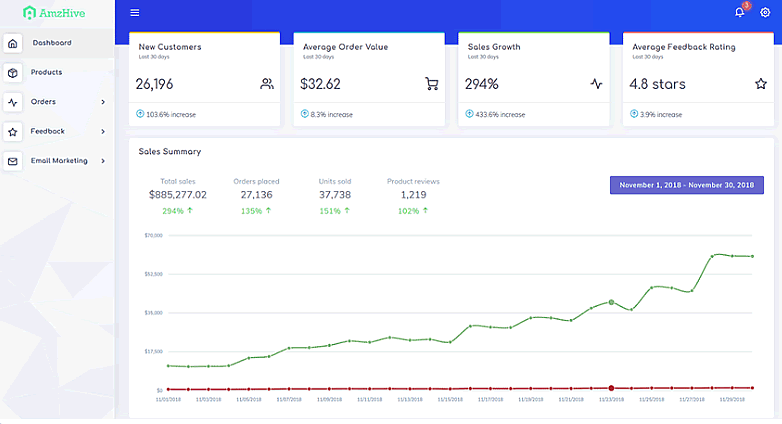 I think every seller should be using a reporting platform like ours, it's absolutely crucial.
Something that I find really interesting about AmzHive is the ability to measure the impact of advertising and events on sales. How does the Advertising and Event Insights functionality work?
Our Advertising and Event Insight tools are separate, but connected in many ways. Our advertising performance tool allows a business to understand how their Amazon promotions and coupons are performing, and what effect they have on their bottom line.
The Event Insight tool is really powerful and exciting because Amazon doesn't provide sales attribution information to their sellers. This means you can never know how a non-Amazon advertising campaign for example is affecting your sales.
Our platform allows adding customized events using a name and a date, and includes these in all of our platform's dashboards and reports, letting you actually see how your events are affecting sales.
While it can't attribute sales directly to a specific event, it's a major leap for anyone familiar with selling on Amazon and is just another example of how we at AmzHive are always thinking about our users.
On some occasions products are hijacked by other sellers, how can this be avoided?
Product hijackings are extremely common for Amazon sellers, and are something that can wreak havoc on your business if you don't catch these hijackings early.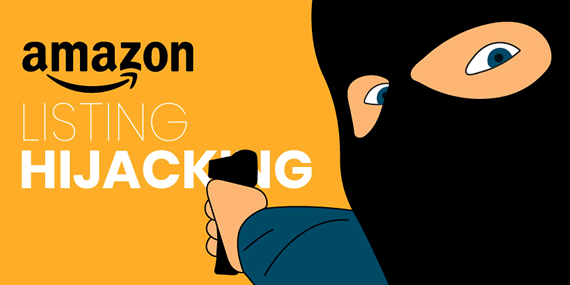 There are only really two ways to minimize your risk:
Use Amazon's Brand Registry to register your brand name, which requires an active trademark
Monitor each of your listings to ensure these hijackers aren't changing or taking your product over
Amazon's Brand Registry is a great way to mitigate hijackers, but trademarks take 9-12 months to be issued, and attorney costs can be expensive.
Manually checking your listings is also very time consuming, but utilizing automated software like our platform allows you to focus on your business while we monitor your listings. The minute something changes, we can alert you using either email or SMS messages, making sure you're aware of the potential issue.
After being alerted, you're able to reach out to Amazon immediately and quickly resolve the problem. It's far easier for Amazon to prove you're the owner of the listing when the changes are minimal and recent, after the listing is completely taken over (new images, title, description, etc) it's almost impossible to get the product page back.
More posts
I work as an independent eCommerce and Amazon consultant.
Clients
Estrella Damm, Intersport, Bella Aurora, Lladró, Textura Interiors, Nice Things Palomas, Castañer, Due-Home and many other clients.
Lecturer & Teacher
I teach and have been a speaker at: Meet Magento, Prestashop, Prestashop Day, SEMRush, Cambra de Comerç Barcelona, ​​ClinicSEO, Ecommbeers, Ecommbrunch, Ecommercetour.com, Ecommfest, EOI, ESIC-ICEMD, Foxize, Generalitat de Catalunya, Inesdi, Quondos and The Valley. In addition, I have done in-company trainings for brands such as Orange and Adidas.
Writer
I collaborate writing articles for Helium 10 blog, Shopify, SEMRush, La Vanguardia, eCommerce-news.es, Marketing4ecommerce...
Partner
Helium 10, Jungle Scout, Avask, Sellzone, Helium 10 Seller Solutions Hub Partner
Social
LinkedIn, Twitter, Wikipedia, Youtube, Quora, ISNI 0000000513224289, About Jordi Ordonez