A few weeks ago I discovered Zon.Tools, a complete Amazon PPC Management software and I'm totally in love with it. So I decided to interview it's CEO, Stefano Starkel, who has been managing Google Adwords PPC accounts since 2011 and been an Amazon Seller since 2014.
Here we go!
What do you think is the optimal structure for Amazon advertising campaigns?
In my opinion, the optimal structure is one set of campaigns per product:
Exact
Phrase
Broad
Auto
PAT [Product Targeting]
The reason why I prefer this over the more "common" one campaign per product and several match ad-group within it is because the latter is very limited in scaling capabilities.
First of all, there is a limit of 1,000 negative terms at Ad-Group level, while the same limit for campaign negatives is 10,000
Additionally, a campaign/match structure will allow you to set a specific budget for each match type
Lastly, the newest Amazon features (like bid placement and Bid automation) are available only at the Campaign level
A Campaign-match structure allows you more control and scale while being eaiser to scale and test with (keep negative centralized at the campaign level, and expand adgroups as you please within it)
What are (usually) the least optimized points in a PPC campaign?
The search terms.
Advertisers usually do not understand the power of the data within a search term report, nor how to properly manage it and act upon.
It is also the most complex part of the advertising to control and the most labor intensive to attend to.
Are the short tail keywords still performing better than the long tails?
It's important to define "better". If "better" is more search volume, impressions, and clicks, they certainly are.
If "better" is an higher Conversion Rate,   generally are not.
You see, the longer the "tail", the higher the buyer intent behind the search.
If somebody is searching for "silicon spatula" they might know what "SOLUTION" they want, but not yet what specific product.
So the ad might get a click, but the buyers have not entirely made up his mind yet and will also check alternative products
On the other hand, if somebody searches for "silicon spatula with bamboo handle" they know EXACTLY what they want.
SO if your ad gets clicked, you have a very high chance of converting (unless your offer/listing is poor)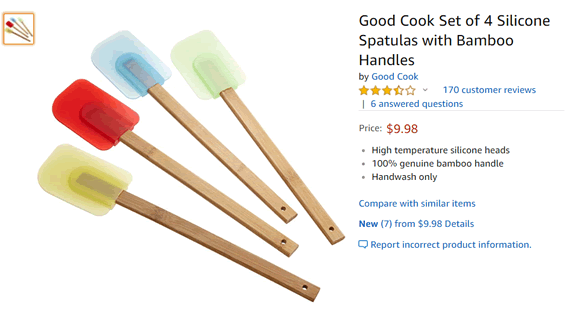 How can Zon.Tools help me optimize my campaigns?
We take care of the monotonous, boring and time-consuming tasks that need to be repeated over and over again in order to have your campaign perform better and better over time.
Zon.Tools will create the above product/campaign structure with just the click of a button, and work for you over time to keep optimizing it based on the data you buy with your bids and the ACoS goal you set within our system.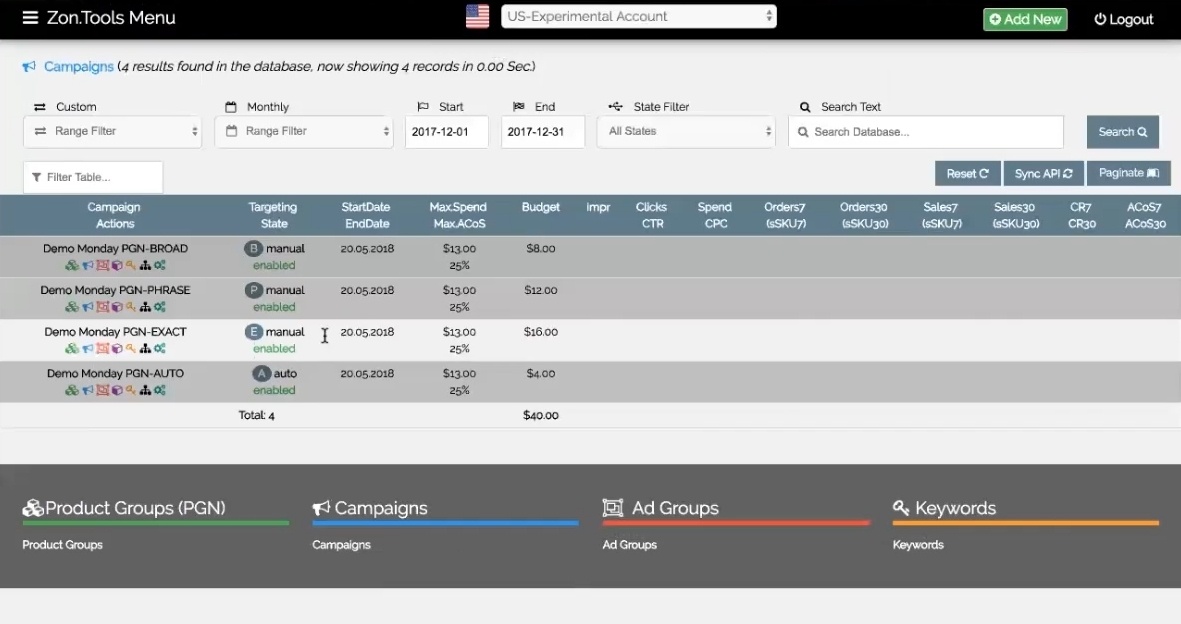 Zon.Tools smart algorithms will:
Edit your bids on the fly
Pause no sale Keywords
Identify low performing search terms and negate them
Identify well-performing search terms and bid on them at Keyword level
Do the same on the new Product Targetings
Grow your campaign organically with a databased approach, 24/7, 7 days a week
In short, it works into automatically identifying wasted spend, stopping it and moving that spend/budget on profitable areas of your campaigns.
If you were an Amazon PPC Manager, would you rely just on automation on your daily basis?
NO.
An Automation is like a performance car. It is designed to perform the best on a racetrack.
Every part of the car works in unison (traction control, brakes, ignition, electronics, aerodynamics) just to do that, so you can (and should) focus just on driving.
As a manager, driving means understanding the market you are in, your competition, and tweaking the software based on this knowledge.
How many times a day do you think we should be updating our campaigns?
Depends on your budget an how you are scaling the campaigns.
If you are really aggressive with bids and targeting a wide range of new Keywords every day, maintenance should be done daily, as it is very easy for the spend to get out of control and for high volume terms to suck your budget dry if not properly addressed.
If on the other hand, you are more conservative, or in a different product stage (maintenance vs scaling) you might want to run your checks once a week, or even once every 2 weeks.
The beauty of an automation software is that you can do not need to do this "updating" soc often, and you can just focus on the bigger picture, the "driving".

Talking about Strategy, how would you determine what's your ideal budget considering your competitors and how would you spy on their campaigns?
In my opinion, a healthy daily PPC budget for Amazon seller is between 10% to 15% of the product daily sales.
For instance, if your product is selling $1,000/day, I would budget about $150 for it. This is a moving target and the more you sell, the more you should advertise in order to increase your market share and drive competitors out of the market.
Now, if your budget is $150/day, and you PPC converts on average 10% (one sale every 10 clicks), and Amazon suggested bids (for your Keywords) average $1,5, I would start with only 10 highly relevant and high volume Keywords
The logic: $150 buys you 100 clicks. 100 clicks will get you 10 sales → start with 10 KWs and aim to make 1 sale/day on them
You can expand from here and add a few more each day or each week.
This will allow you to keep your budget focused and under control an scale well.
Once more, an automation tool like Zon.Tools can do this for you in full automation.
More posts
I work as an independent eCommerce and Amazon consultant.
Clients
Estrella Damm, Intersport, Bella Aurora, Lladró, Textura Interiors, Nice Things Palomas, Castañer, Due-Home and many other clients.
Lecturer & Teacher
I teach and have been a speaker at: Meet Magento, Prestashop, Prestashop Day, SEMRush, Cambra de Comerç Barcelona, ​​ClinicSEO, Ecommbeers, Ecommbrunch, Ecommercetour.com, Ecommfest, EOI, ESIC-ICEMD, Foxize, Generalitat de Catalunya, Inesdi, Quondos and The Valley. In addition, I have done in-company trainings for brands such as Orange and Adidas.
Writer
I collaborate writing articles for Helium 10 blog, Shopify, SEMRush, La Vanguardia, eCommerce-news.es, Marketing4ecommerce...
Partner
Helium 10, Jungle Scout, Avask, Sellzone, Helium 10 Seller Solutions Hub Partner
Social
LinkedIn, Twitter, Wikipedia, Youtube, Quora, ISNI 0000000513224289, About Jordi Ordonez