ioscout.io is an Amazon-centered tool for Sellers & Private Labelers. It will help you boost your sales by transforming what and how you're selling on the marketplace.
The different utilities and functions within this software will make your listings much better optimized by using the best keywords. Not just that, but it will also help you detect market trends to find new niches and suppliers and, last but not least, to track where the products are ranking.
If, as they say, you want to become an Amazon ninja, this tool is a weapon to be reckoned with. After all, it covers most of the needs that arise both strategically and operationally in the day-to-day life of the seller.
IO Scout features
As it happens with this kind of suite tools, Ioscout.io has a lot of features to explore. They are grouped in 8 different tools with specific functions.
Product finder
Basically, we are talking about a search engine that uses its own index (with 200 million products) for you to make queries based on the criteria and filters that interest you.
With product finder you can analyze which products have a better margin and reasonable competition. Just what any seller needs to carry out an economically viable strategy.
It is also useful to search the categories you are exploiting to see who does it best and what is the best strategy to unseat them.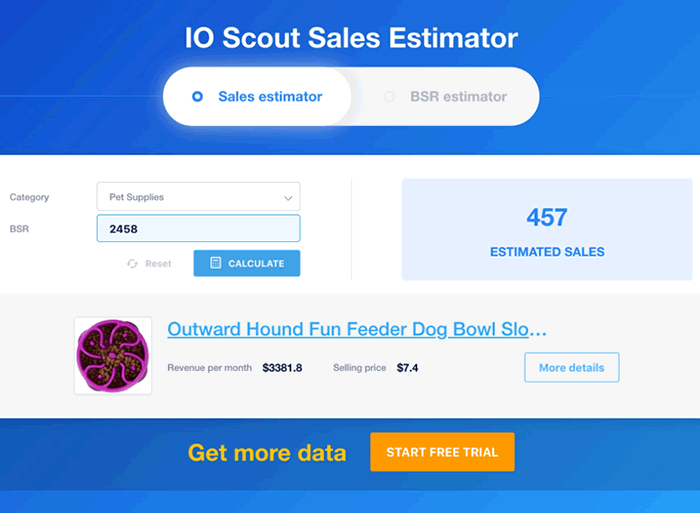 Product tracker
Control the visibility of your products and those of your competitors almost in real-time. The product tracker data is updated every hour so that you don't miss any judgments at any time.
The tracking options are enormous as they range from seasonality or reviews of each product to other advanced aspects such as the pricing strategy being carried out by each competitor.
You can store all the products you are interested in groups to make it easier to track them and, if you decide you want to sell any of them, you can access the supplier directly (perfect for FBA)
Trends and history
Thanks to Ioscout's interactive graphics you will get a historical view of the performance of each monitored product (both your own and your competitors').
This includes aspects such as price fluctuations in a given period and the detection of market trends that are on the rise. Ideal for measuring the steps to be taken.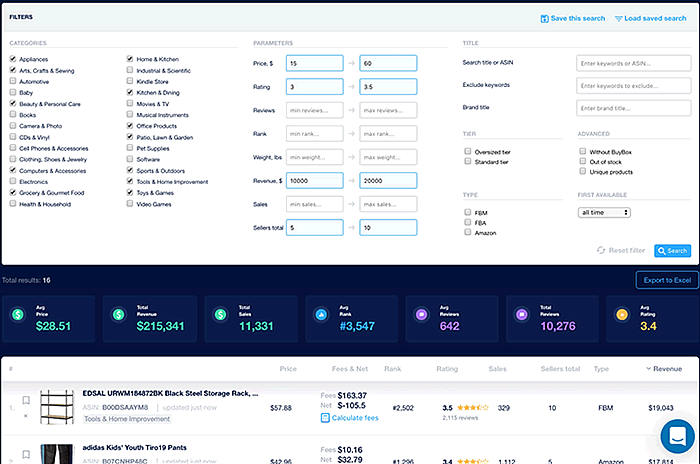 Keyword scout
A really powerful tool to find those keywords that have a higher monthly search volume. This way we can optimize the titles and descriptions of the products in our listings.
Chrome extension
All the features you need to see quickly directly in your browser. With this extension, the experience of browsing Amazon becomes a way to continue exploring possibilities.
Check sales and margins, calculate what FBA fees would cost you, check historical data, and validate your business ideas without leaving the web at all.
FBA Calculator and sales estimator
As you may know, Amazon charges us different fees depending on various factors such as weight and the cubic meters of warehouse space occupied by the product. So that you know exactly what your margins are, this simple application calculates them for you almost automatically.
Similarly, you can get a sales projection based on the BSR (product sales ratio). Simple and fast.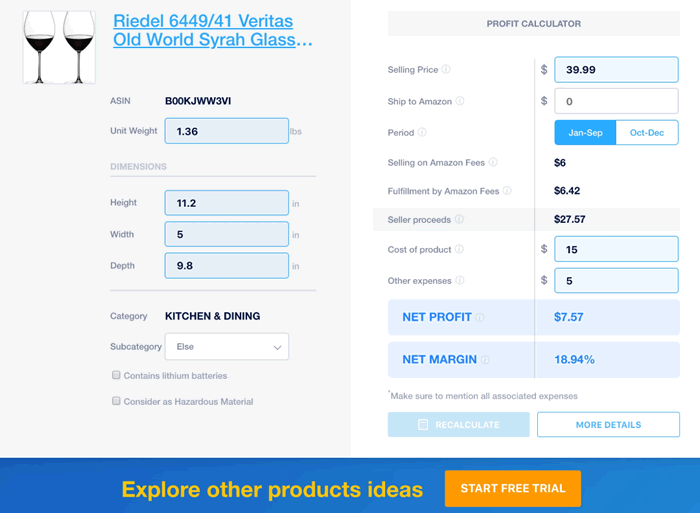 Listing builder
In order to have perfectly optimized listings, a lot of work is needed. You can reduce it considerably by using this Ioscout feature that allows you to work point by point and even recommends keywords in real-time.
Pricing
Depending on the number of products and keywords to monitor, IO Scout has three different price plans:
Start-up plan: $45 per month
For 25 products and 25 keywords (does not include the Google Chrome extension)
Seller plan: $65 per month
For 45 products and 45 keywords
Business plan: $85 per month
For 85 products and 85 keywords
Trial
You have a 14-day money-back guarantee.
IO Scout review
Other tools from Amazon are not as good value for money. For the amount of features it offers it is really competitive in that respect.
In addition to the options, it offers to detect niches and monitor the performance of our presence in the marketplace, some resources such as calculators and the fact of locating directly in AliBaba suppliers for FBA or dropshipping are very useful.
Intuitive and easy to use, it has its own index of sufficient dimensions so that any seller can find many opportunities.
Our score
Alternatives to ioscout.io