The best time to start was yesterday.
The next best time is now.
Let's see what our guest author Michael Joyce at Viral Launch thinks about it:
In short, yes – starting an Amazon business is still worth starting in 2021.
Make no mistake; starting an Amazon business isn't for everyone. Just like any business, it will take work, time, money and knowledge. But the advanced strategies and opportunities that have set Amazon apart from other business options in the past are still present today and will continue to be as the years go on.
With the right product and strategy, the sky's the limit. In fact, the potential for success is higher than ever as Amazon continues to expand its reach.
While many industries experienced persistent turbulence due to COVID-19, e-commerce and Amazon FBA businesses skyrocketed in 2020. Traditional retailers have been losing ground to e-commerce for years, and the pandemic only accelerated the shift in how customers consume.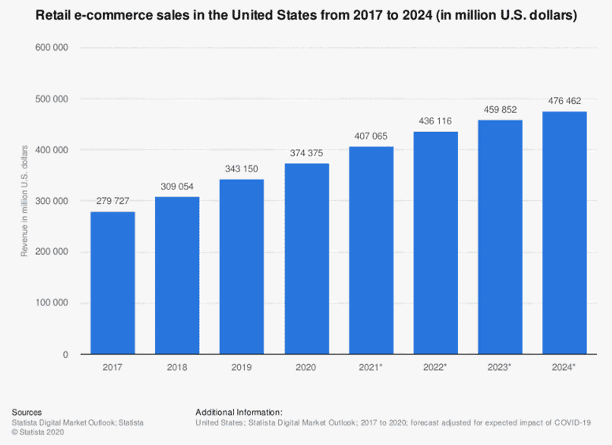 While the pandemic disrupted many industries, few if any were on the upward trajectory of retail e-commerce. Unlike other industries that experienced a dramatic bump or decline as we dealt with the pandemic, the past few decades and future forecasting all pointed to sustainable, continuous growth.
But What About Shopify, Walmart, or other Ecommerce Platforms?
Amazon wasn't the only big winner of 2020. After years of climbing, Shopify emerged as a powerful alternative to Amazon. For prospective sellers, the allure of Shopify is easy to see. Shopify sellers have a wide range of eCommerce tools at their disposal and much freedom to create your brand.
Walmart, the largest multi-channel retailer, leaped forward in 2020, becoming a significant player in eCommerce. For years, Walmart has looked to expand its dominant brick-and-mortar retail presence online for third-party sellers. In 2020, they surpassed eBay for market share in eCommerce, marking a landmark achievement for their growth.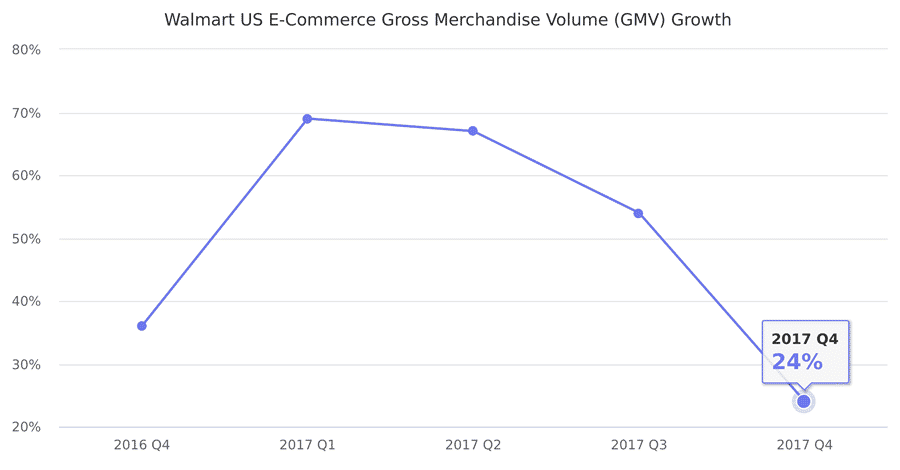 Source: Marketplacepulse
In July, Walmart and Shopify announced a partnership aimed at bringing 1,200 Shopify sellers to Walmart's marketplace by the end of the year.
Undoubtedly, a powerhouse retailer like Walmart cannot be ignored, and it would be foolish to downplay their interest in eCommerce. The opportunity to build your brand on Shopify and gain access to a growing seller platform by a business behemoth in Walmart is an incredibly appealing one.
And in the long run, it would be wise to make your store accessible to everyone across as many platforms as possible.
But right away, the startup costs to sell on all platforms can be implausible, intimidating, or too much of a risk for a beginner.
Being cognizant of the decisions you'll have to make when starting your entrepreneurial journey, Amazon FBA still reigns supreme when starting your online business.
As we wait for reporting for the fourth quarter of 2020, Amazon was responsible for 52.4% of the eCommerce market share in 2019. In 2016, Amazon owned only 38.3% of the eCommerce market, rising roughly 5% each year since.
Although Shopify and Walmart are buzzing right now and show promise for the future, Amazon is king right now. While publications that focus on industry statistics tout Amazon vs. Shopify vs. Walmart as The eCommerce War, it's not much of a battle at the moment, as Amazon continues to dominate the online marketplace.
Amazon in 2020, by the Numbers
63% of consumers worldwide use Amazon to start searching for products, leading the next closest source by 15%, per a 2020 survey by Statista
$96.1 billion: Amazon's reported Q3 revenue, a 37% increase over Q3 2019, and projected growth between 28% and 38% for Q4 2020
54% The percentage of paid units on Amazon sold by third-party (3P) sellers, independent merchants who sell either FBM or FBA. Even as more major brands enter the marketplace, independent sellers like you are responsible for over half the sales on Amazon.
153 million: Amazon Prime members projected in 2022
213 million: Unique visitors in July 2020 alone to Amazon sites
Thanks to Amazon's immense marketplace and the platform's ease of starting an online business, people from all over the world have found prosperity through FBA.
In addition to being the dominant eCommerce engine, Amazon FBA selling has become a favorite for entrepreneurial rookies thanks to the systems in place that simplify the selling experience.
While Shopify requires expensive add-ons and extensive marketing to lure customers to your site, Amazon's Seller Central is a portal included that allows plenty of capabilities and data at no additional cost.
Shopify and Walmart are intriguing opportunities for sellers with plenty of long-term potential. The eCommerce industry has never been stronger, and there is room for more than one giant. While each seller has a unique background and journey, it would stand to reason that the majority of sellers would benefit from beginning with Amazon FBA before rolling out to additional platforms.
And the beauty of Amazon FBA is that just about anyone can do it! There's no required education, background, or entrepreneurial experience necessary to sign up. Quitting your job, being your own boss, and raking in cash might sound too good to be true. But we've seen it and helped make it a reality time and time again.
Mitigating The Risk
However, starting an online business, or any business, comes with inherent risk. There is no guarantee of success and no silver bullet to ensure your first or next product is a home run. If there weren't any risk, we'd all be doing it.
Especially as more prospective eCommerce entrepreneurs join, the field of competition may be crowded. The millions of shoppers on Amazon make it possible for thousands and thousands of sellers to have success and make life-changing profits, but not everyone will be so fortunate.
But risk is something to be aware of, not necessarily something to avoid entirely. In place of a silver bullet, there are tactical, calculated steps you can take that one-by-one, incrementally mitigate risk and tilt the odds in your favor.
Although Amazon provides a uniformed, universal experience, there are plenty of ways to separate your store and listings from the competition. Some of these can be found in the basics when: filling a void in a product market, optimizing your listing with photos and copy, being efficient with inventory to save money on fees without sacrificing sales are just a few ways you can enhance your selling experience.
As you progress as a seller, the importance of learning techniques and tactics to stand out from your competitors gets underlined. Advanced, more sophisticated methods such as advertising, driving external traffic, and ways to leverage data into sales  Amazon is continuously changing, and sellers who don't stay up-to-date risk being left behind.
In Summary
Again, it's far from too late to begin selling on Amazon in 2021. The stakes have never been higher, and the sellers who perform their due diligence are likely to reap the spoils of their hard work.
With so many key performance indicators forecasting the strength of eCommerce and the robust presence of Amazon within the industry, all signals point toward Amazon FBA being a no-brainer for those considering leaping into entrepreneurship.
What are you waiting for? Get started with your product research today to find your first product on the path to financial freedom!
More posts
I work as an independent eCommerce and Amazon consultant.
Clients
Estrella Damm, Intersport, Bella Aurora, Lladró, Textura Interiors, Nice Things Palomas, Castañer, Due-Home and many other clients.
Lecturer & Teacher
I teach and have been a speaker at: Meet Magento, Prestashop, Prestashop Day, SEMRush, Cambra de Comerç Barcelona, ​​ClinicSEO, Ecommbeers, Ecommbrunch, Ecommercetour.com, Ecommfest, EOI, ESIC-ICEMD, Foxize, Generalitat de Catalunya, Inesdi, Quondos and The Valley. In addition, I have done in-company trainings for brands such as Orange and Adidas.
Writer
I collaborate writing articles for Helium 10 blog, Shopify, SEMRush, La Vanguardia, eCommerce-news.es, Marketing4ecommerce...
Partner
Helium 10, Jungle Scout, Avask, Sellzone, Helium 10 Seller Solutions Hub Partner
Social
LinkedIn, Twitter, Wikipedia, Youtube, Quora, ISNI 0000000513224289, About Jordi Ordonez