Looking for a great Amazon product launch tool? We have just what you were looking for. Jungle Scout and Viral Launch are the best tools on the market to release a new product to Amazon.
Why? because they both have an Amazon customer marketplace where you can promote your products and get sales at the speed of light. As you may know, Sales Velocity is one of the most important ranking factors on Amazon.
While most of their features are similar, Jungle Scout is more focused on the "before you sell" phase, while Viral Launch has more tools for the daily post launch phase.
Both tools have features that the other one doesn't have, so here's a break down of what you can find:
Find a supplier
A complete supplier directory to help you find a manufacturer or distributor for your products. Most of them are from China, of course.

Split testing
Although this is done via an external site property of Viral Launch (Listing Dojo), is a great tool to A/B test your titles, bullet points, images and pricings. Listing Dojo will learn from your tests performance to improve sales.
Kinetic PPC
Jungle Scout doesn't have a PPC management tool and Kinetic is pretty awesome if you ask me. Why? Because it has customized rules for automation (automatic bidding, pause low-performance keywords…), an awesome data dashboard containing PPC vs organic sales for example, and because it has researching tools incorporated, so it's easier to check if a certain keyword is low or high competed.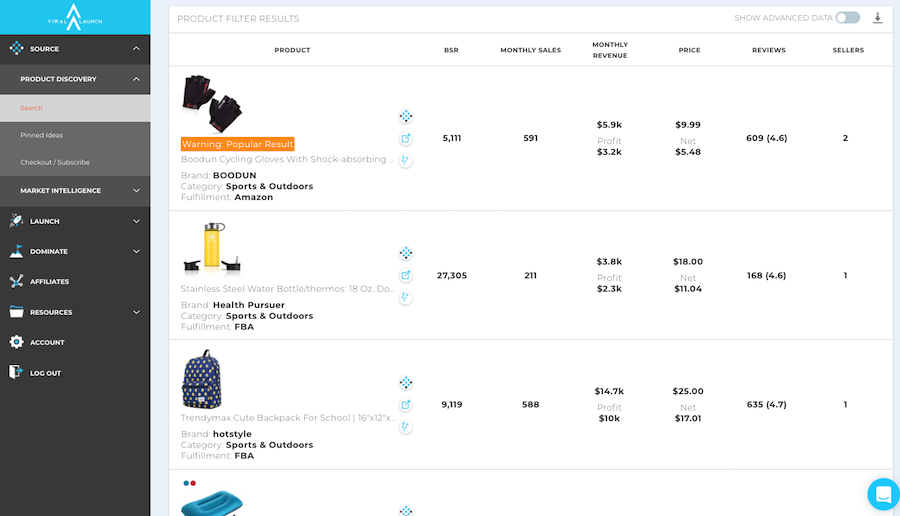 Pricing
Both tools have a similar pricing but Viral Launch is offering less features for nearly the same price:
Pricing:
Minimum plan: $47/month
Minimum plan: $50/month
Both tools have discounts to buy them:
Jungle Scout discount
Get the coupon
Viral Launch discount
Get the coupon
Trial version
Jungle Scout hasn't got a free version, but they have a 14-day money-back guarantee.
Viral Launch has a 14 day free trial. You don't need your credit card info.
Ease of use
After been a using both tools for a long time, I can say that both of them are user friendly and really easy to use. Jungle Scout is easier to use if you are using a Mobile phone but, come on, how' scouting products or creating PPC campaigns from the phone?
Full feature comparison
Viral Launch
11 (USA, CA, UK, DE, SP, IT, FR, MX, BR, IN, JP)
Jungle Scout
8 (USA, UK, DE, SP, IT, FR, MX, CA)
PRODUCT SEASONALITY CHECKER
PRODUCT NICHE OPPORTUNITY SCORE
PRODUCT NICHE LISTING OPTIMIZATION SCORE
BULK KEYWORD RESEARCH PROCESSOR
Viral Launch
$50 to $166
Jungle Scout
$39 to $69
Conclusion
I honestly think this two tools are the best ones to launch products on Amazon. Well, let's also say that they're the only product launchers for Amazon that I know too.
Both of them have a great Amazon customers database to launch your products (with a mandatory discount).
But I would stick to Jungle Scout, because it has more features and because the pricing for the "full equip" is far cheaper than Viral Launch's most expensive plan. The fact that Jungle Scout has a supplier database is a win too, because in case you use Viral Launch for the product research, you will need to find a manufacturer o a distributor anyway.
So, in conclusion, I would tip the scales to Jungle Scout.