Listing Mirror is a multi-channel operations management software for Amazon Sellers. It allows sellers to easily create and edit product listings, synchronize inventory levels, manage order fulfillment across various marketplaces and more. Let's break down the features, as usual.
📆 Review updated on November 2023: all pricing plans come now with a 1:1 onboarding
How to Sell More with Multi-Channel Software
Features
Listing Mirror offers a serious range of features. Let's first check the list and, then, break them down:
Listing creation and management
Pricing Management
Amazon FBA and MCF
Inventory syncing
Kitting and bundling
Marketplace Rules
Inventory Forecasting
Multi-warehouse capabilities
Managing purchase orders
User-based permissions
Order routing and splitting
Dashboard and reporting
Listing creation and management
Create, update and manage your product listings on multiple marketplaces simultaneously: Amazon (international), Walmart, eBay, Wish, Bigcommerce, Shopify and more.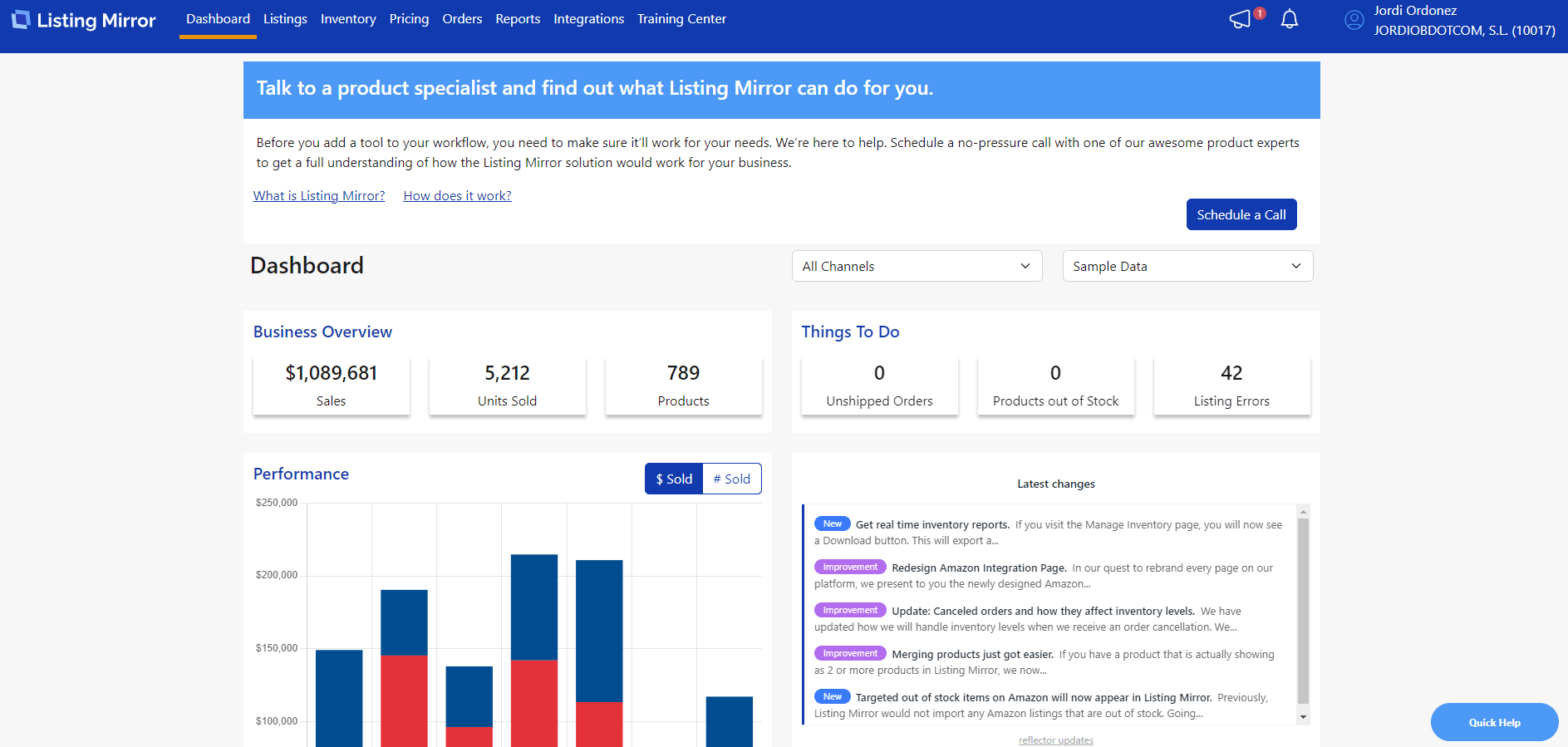 Pricing Management
Pricing sync for multi channels plus create custom pricing rules and automatically reprice your listings. All-in-one.
Amazon FBA and MCF
Amazon Logistics Cross Channel Fulfillment integrating Amazon FBA and Amazon Multi Channel Fulfillment. You can automate your orders and, also, sync with 3PL for the MCF network.
Inventory syncing
Kind of self explanatory. Sync your inventory accross multiple channels with real time inventory tracking, multiwarehouse management, FBA integration, vendor catalog, inventory forecasting and more.

Kitting and bundling
Wanna increase sales volume, reduce surplus inventory, garner brand loyalty…? Then you can create kits and bundles directly from the listing management tool. You can create the bundles and integrate them with Amazon MCF, Deliverr, ShipStation or any other 3PL you're using.
Marketplace Rules
Create different Listing, Pricing, Category mapping and Shipping rules per Marketplace and country.
Inventory Forecasting
Manage your inventory forecasting and place your Purchase Orders directly from Listing Mirror. The tool will analyse the data across all of the sales channels to prevent out-of-stocks and send replenishment alerts.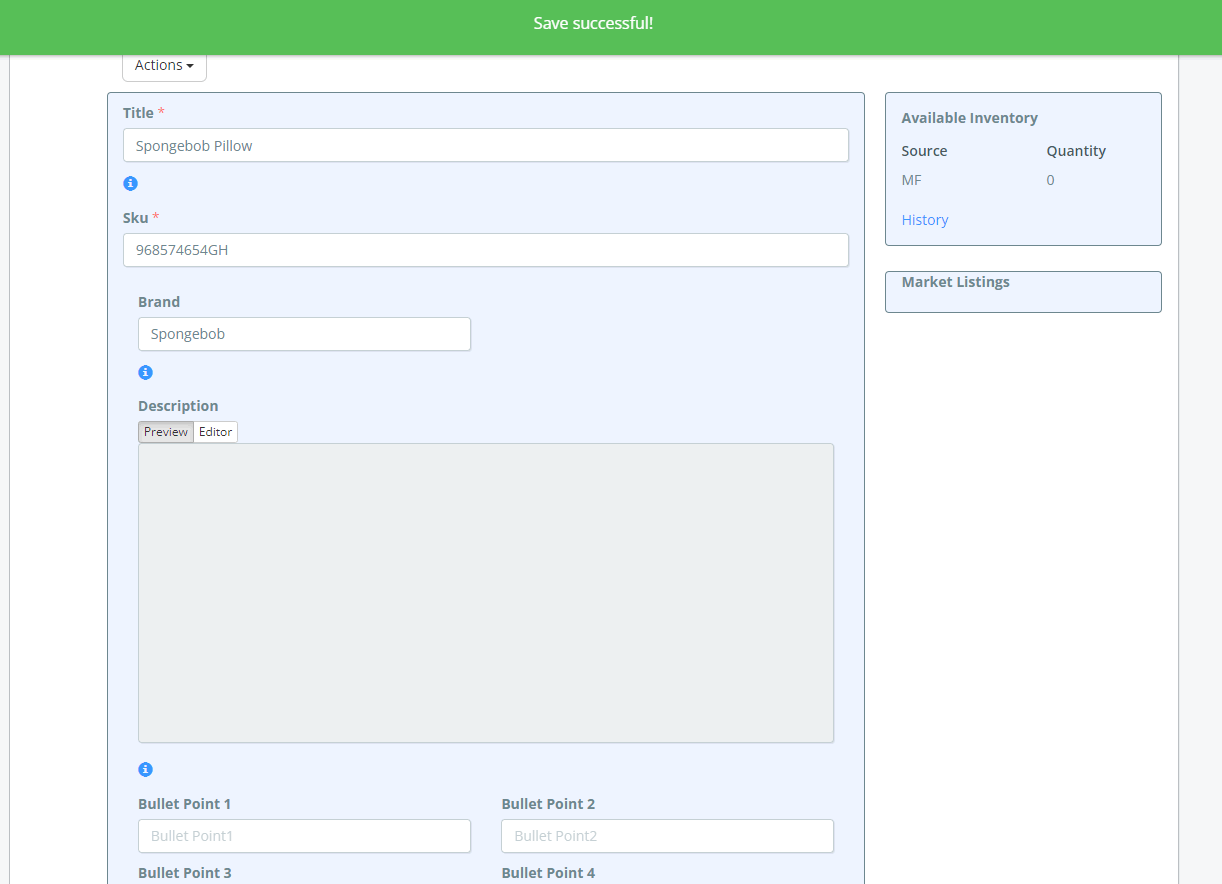 Multi-warehouse capabilities
Connect any warehouse on your network to Listing Mirror, create order routings, order splittings and more.
Managing purchase orders
One dashboard to rule them all. Aggregate your order data from any sales channel and manage those orthers directly from LM, plus, send PO's to suppliers, receive PO's on the dashboard and more.
User-based permissions
Create user-based permissions per sales channel, feature, country and more.
Integrations
As usual, this is when a multi chanel management tool gets serious. Native and pre-built integrations are a completely must when it comes to this kind of software and Listing Mirror has a bunch of them. Some of the integrations available include:
Adobe Commerce
Amazon (international)
Bigcommerce
Desktop Shipper
Eagle Business Software
eBay
Etsy
Flexport
Flowspace
Magento
NewEgg
Oracle Netsuite
Overstock
Quickbooks
Reverb
Shipnetwork
Shipstation
Shopify
Walmart
Wish
Woocommerce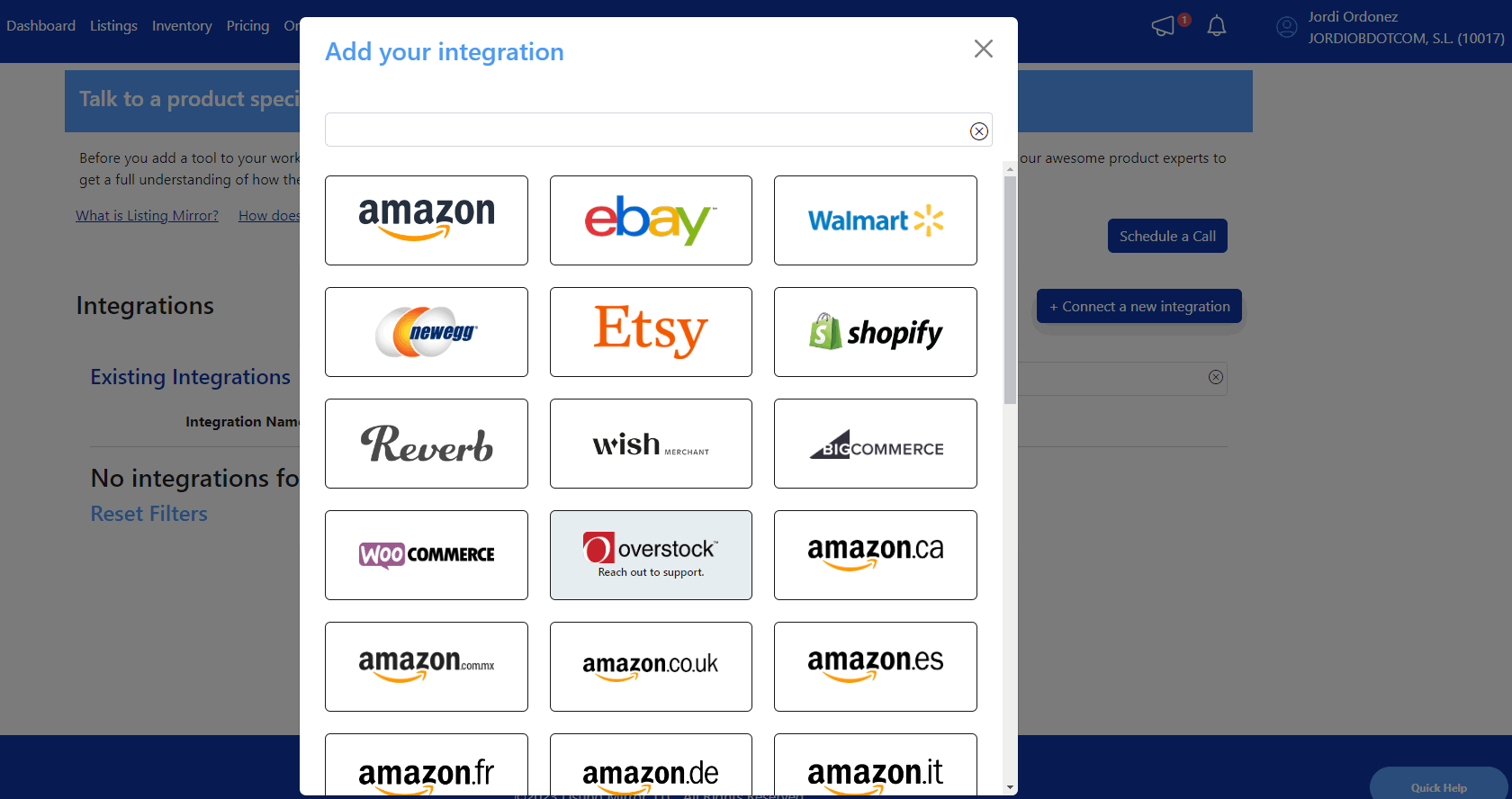 Pricing
Listing Mirror offers a straightforward pricing structure with no hidden fees. The pricing plans are divided per modules and start at $99 per month, billed monthly, and include features like listing creation and management, inventory syncing, and order routing and splitting.
All plans come with a 30-day money-back guarantee and a complimentary onboarding manager to ensure success ($500 value) for FREE.
Starter module  – $99/month
Includes:
1 User
3 Integrations
500 Orders
1:1 onboarding
Listing module – $159/month
Includes:
Create & Edit
Pricing Automation
Product Catalog
1:1 onboarding
Inventory module- $159/month
Includes:
Quantity Updates
Order Routing/MCF
Purchase Orders
1:1 onboarding
Full plan – Listing, Inventory, & Orders – $249/month
Includes:
All Features
API Access
Unlimited Users
1:1 onboarding
Review
LListing Mirror has, over the years, positioned as one of the main all-in-one tools Amazon + eBay Sellers use to manage their listings and orders. With the incorporation of Walmart and Walmart Seller Central integration, it has become one of the most powerful tools for Sellers selling on the 3 main US Marketplaces competing directly against 3D Sellers and SellerActive, another all-in-one tools for Amazon, eBay Sellers and Walmart Sellers.
So, basically, if you are one of this old school eBay sellers (started selling there long before Amazon was a thing in the US) and want to import your listings to other sales channels or you simply want to manage your listings, pricings, orders and shippings from a single tool to multiple channels, Listing Mirror might be for you.
As I also discussed on SellerActive, my experience with all-in-one tools is that "if you cover a lot, you don't squeeze much". Meaning that if you're looking for a complex repricer with lots of pre-built repricing strategies and using AI, you may want to check a proper repricer such as SellerSnap. If you need a 100% personalized shipping software, you may wanna check Aftership, Shipbob and similar tools. This, as usual, doesn't mean Listing Mirror tools are not great, it's just that it may be short for your needs if you're looking for a more personalized solution.
The main features (and also pros) I find on Listing Mirror is that:
It's an all in one solution. If you don't need a more complex tool, you can use Listing Mirror as your swiss army knife for selling on different sales channels
Amazon FBA & MCF Integration, which is a must for shipping purposes
Unlimited warehouses and inventory synchronization for real-time inventory tracking
Kitting and bundling from the tool, which saves time, although it's not magic and you know, sometimes, Amazon will kill your bundles before they hit the Seller Central
Variation support is another time saver. Try uploading variations to Amazon Seller Central using the Excel file. It's a pain in the ass
Our score
Number of features

Pricing

Learning curve

User friendly
Comments Rating
( reviews)
Alternatives to Listing Mirror
Here you can find the top Listing Mirrors alternatives