If you think your graphic designs are wearable, why not turn that talent into a profitable business? Most likely, it's because you believe you're a creative individual with no clue about managing finances, maintaining stocks, or handling customer service.
Now, if you had the opportunity to just focus on selling your designs without having to do little or nothing of mundane administrative tasks, would you grab it?
Let us tell you, it's not only probable but also possible, thanks to Merch By Amazon where independent designers like you meet big brands like Disney, Marvel, Cartoon Network, Dr. Seuss or Fortnite selling their custom designs.
Become an Amazon Merch on Demand Content Creator
Through the Amazon Merch program, you can design, create, and sell custom t-shirts, hoodies, and more without worrying about inventory, shipping, or customer returns. It's kinda of an online arbitrage or Amazon dropshipping method, because you don't have any stock, as it's "printed on demand", but it's just for merchandising. The best part? You can grow your catalogue as much as you want with infinite designs. And there's also room for "real time marketing". For example, a new meme comes out Twitter, you can be the first to create a t-shirt using the meme.
In this Merch By Amazon complete guide for beginners, we'll break down everything you need to know about the platform's innovative program, from how it works to getting started and ultimately succeeding. As usual: go go go!
First Things First: What Is Merch By Amazon?
In simple terms, Merch By Amazon is a print-on-demand service that offers artists, designers, and entrepreneurs a unique opportunity to create and sell their own merchandise on Amazon.
As a seller, you upload your designs onto various products like sweatshirts, popsockets, and pillowcases. When a customer purchases an item with your design, Amazon handles the production, packaging, shipping, and customer service on your behalf.
Without the hassle of dealing with inventory management or fulfillment, you can focus on what you do best — creating unique and appealing graphics. It also gives you time to promote your designs. As we already discussed, it's kind of an arbitrage / dropshipping business model, because you don't need any stock, just virtual designs that are printed on demand once an order is placed.
And speaking of promotions, one of the key benefits of Merch By Amazon is that you get to enjoy the vast customer reach of the e-commerce giant. With millions of customers shopping on the platform every day, your designs have the potential to be seen and purchased by a wide audience. This exposure can help you grow your brand and accelerate your sales.

How Does Merch By Amazon Work?
Merch By Amazon provides a streamlined and efficient process for sellers. To get started, all you need is an Amazon seller account and a good understanding of the program's guidelines and policies.
The best part? You don't need to invest in any upfront costs or hold any inventory. Amazon produces your items only when an order is placed, ensuring zero waste or excess stock.
Here's a short rundown of the Merch By Amazon process on your end:
Set up a Merch By Amazon account.
Create product listings.
Upload designs.
Set prices.
Submit listings and designs to Amazon for approval.
When customers start purchasing your designs, the magic of Amazon Merch begins. With each order, Amazon handles everything — from production to customer service.
This is what happens on their end:
Amazon prints your designs onto the products, ensuring the quality is top-notch.
They handle the packaging and shipping, seeing to it that your merchandise reaches your buyers on time.
If there are any customer issues or questions, Amazon's representatives will also address those.
They pay your royalties.
In short, Merch By Amazon simplifies the process of selling your own merchandise online. If you are familiar with Kindle Direct Publishing (KDP), it works the same way. You get a comission for every online book or print on demand book you sell.
We'll discuss each step's details below, but before that, you need to know how to become a Mercher (Amazon Merch Seller).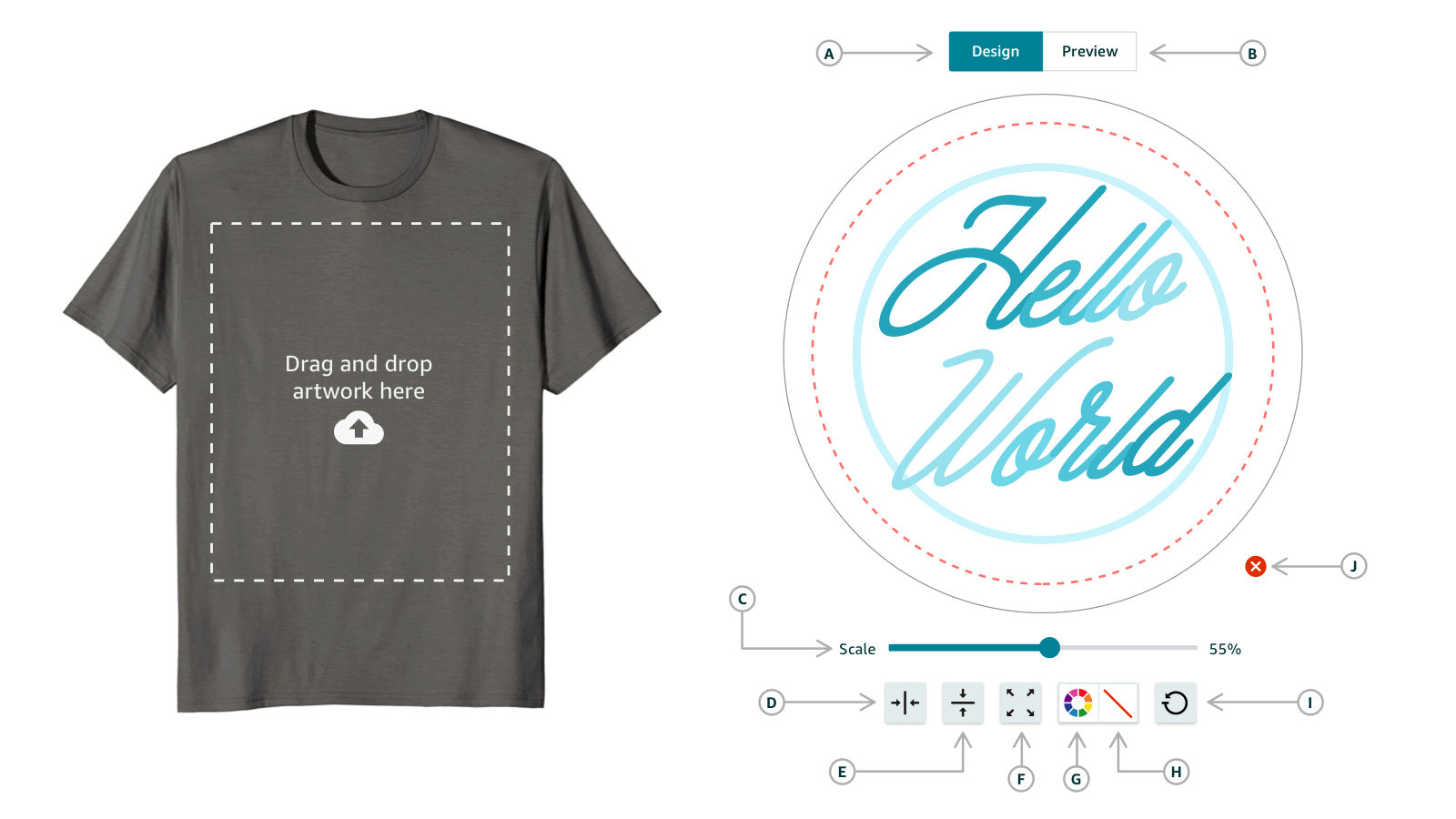 How To Sell On Merch By Amazon?
Once upon a time, the Amazon print-on-demand program was exclusively by invitation only. Today, it still is, but virtually anyone can request for it.
So, how do you become a Mercher?
First, you need to sign up for a Professional Seller account on Amazon if you haven't yet. It's simple, easy, and free. Just follow this guide.
Next, visit the Amazon Merch On Demand website and sign in with your Professional Seller credentials. Click the "Request Invitation" button to start your application.
Fill out the application form carefully. You will be required to provide your personal information, business details (if applicable), and samples of the designs you intend to offer on the platform.
Review your application and submit it once you're satisfied.
You will receive an email notification when a decision has been made, which could take around 14 days. Thousands of Amazon sellers take a shot at being a Mercher on a daily basis, so be patient and just keep in mind that the queue is long.
It won't hurt to reach out to Merch Seller Support for an update. Feel free to do so if you haven't heard anything after two weeks.
Very Important Note: If your application is rejected, unfortunately, you cannot submit another request. Ever. Amazon does not provide a reason for the rejection, either. But two things are clear: their design quality standards are high, and their content policies are strict.
Therefore, putting your best foot forward in your application is crucial, as you have only one chance to prove your mettle. Look what happened to this account! Why? Guess we'll never know

How To Increase Your Chances Of Getting Merch By Amazon Application Approval
Here are several ways you can boost the likelihood of being accepted as a Mercher:
Follow the Guidelines and Requirements to a T
Merch By Amazon is uncompromising when it comes to copyright infringement and content restrictions. Thoroughly read and understand their Content Policies so you're on the right design path. Meeting all the criteria will show Amazon you are serious about selling on their platform.

Research the Market and Your Potential Competitors
Identify your target audience so you can plan your design strategies. Then, check out what other designers with the same style as yours are offering. The best place to do both is, of course, on the Amazon platform. You can do this manually or using Amazon product research tools like the followings:
Is there one for Merch by Amazon? Sure, Merchinformer aka MerchResearch, which include 12M merchandising designs indexed for Amazon US, UK and Germany.
Create Original and First-Rate Designs
Focus on generating high-quality designs that are not only unique but also appealing to your target audience. Invest time and effort into making them stand out from the competition. Use professional design software such as Adobe Suite (Photoshop, Illustrator, InDesign, XD, Fresco), CorelDRAW, or Canva to ensure they look professional when Amazon reviews your work.
Highlight Your Experience and Skills
If you have a relevant background in designing and/or selling merchandise, showcase it in your application. Sharing your expertise will prove you are a qualified seller.
Provide Accurate and Complete Information
When filling out the application form, leave no box unchecked or any questions unanswered. Double-check everything before submitting to avoid mistakes or missing crucial details that could potentially result in a rejection.
Decoding The Process Of Selling On Merch By Amazon
If your application is approved, congratulations! Now, it's time to buckle up.
It may seem complex, but once you understand the ins and outs, Merch By Amazon becomes much easier to navigate. In this section, we'll take you through the steps to list and sell your merchandise successfully. Consider it the ultimate guide for Amazon Merch.
Step 1: Set Up Merch By Amazon Account
Once Amazon approves your application, your Merch account is automatically created. Just go to your Settings to confirm all the information there is correct, especially the bank account details where you'll receive payments.
Step 2: Create Product Listings
This step involves choosing the type of product(s) you intend to sell and the style, color, and size options you want to offer. Make visually appealing listings with clear and concise descriptions that highlight the unique features of your items.

The key to crafting great product listings is always keeping your target audience in mind. And follow this Merch By Amazon listing guidelines:
Incorporate Relevant and High-Ranking Keywords
If you're an existing Amazon seller, you already know that keywords are the top elements of a listing that make it searchable. But if you're just starting out, you must keep that in mind and do your due diligence.
There are several tools you can use to find the right keywords for your specific products and their corresponding designs, including Merch By Amazon's Keyword Tool. These phrases appear as a vertical menu when you type words on the search bar.
While those keywords are helpful, not all are targeted to your particular offers. It's therefore best to perform keyword research using these third-party software:
Decide on a Brand Name
This is not mandatory, but it will serve you well in the future when your product line expands. Having a brand name for each product type or niche will help establish their popularity and make it easy for loyal customers to find them on the Amazon platform.
Optimize Title
Use the most relevant and highest ranking keywords in this section because it's the most important — it shows up in search results. The operative word there is "relevant," which means you shouldn't use top keywords if they are not directly related to your product.
On the other hand, don't use relevant keywords if they're low-ranking. Narrow down the keywords to your niche to ensure you appear in searches by your target audience.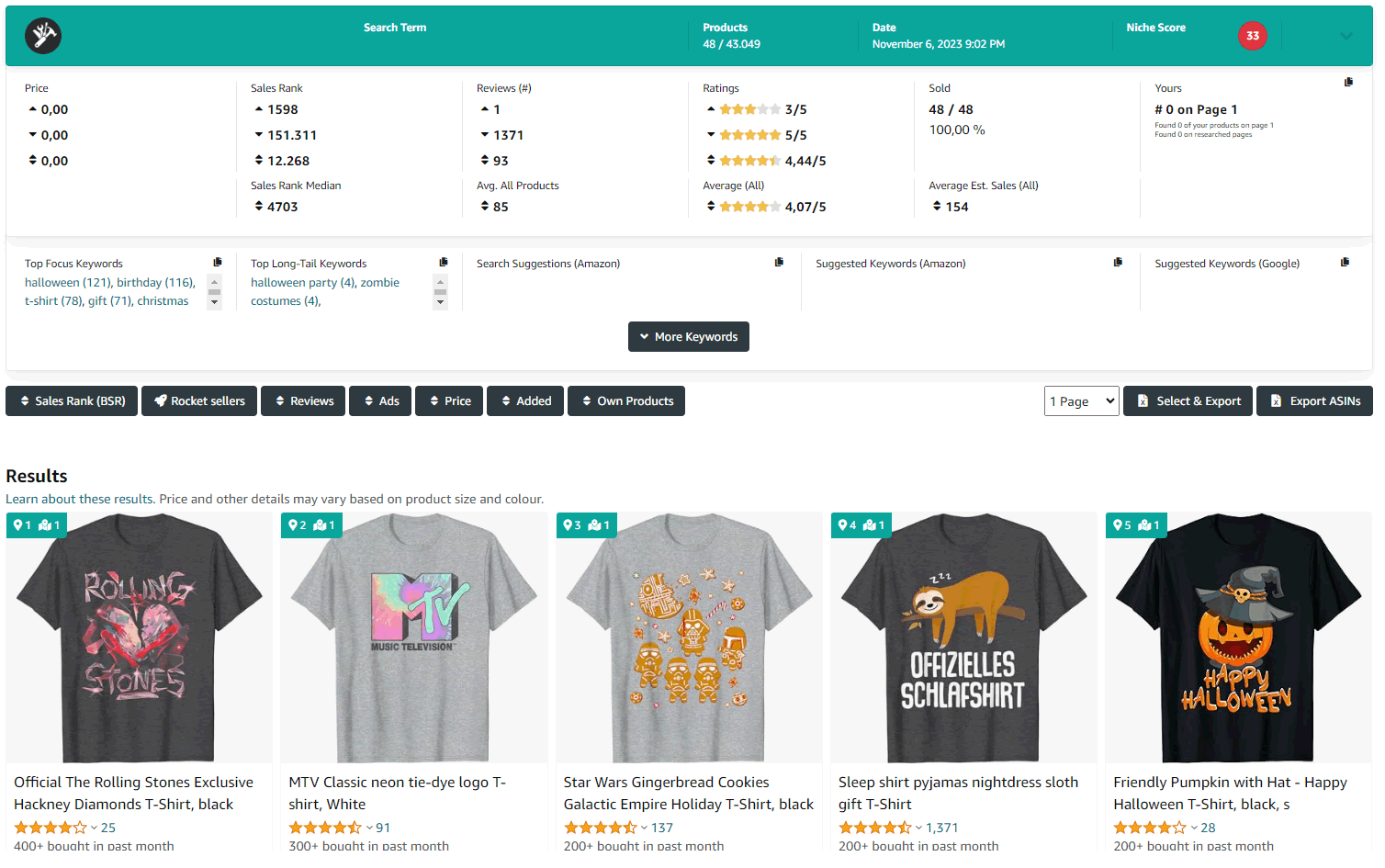 Descriptive Bullet Points
You only have three bullet points to sell your items, so make the most of that limited space. Focus on the benefits, not the features, and speak the language of your target audience. At the same time, keep each bullet short and concise to maintain their attention.
Product Description
Many Merchers ignore this section because Amazon doesn't factor it in when ranking listings. What they don't realize is that Merch By Amazon product descriptions show up in Google's search results as meta descriptions.
That's a great way to expand your reach, so make sure to insert relevant and high-ranking keywords there, even repeating those you've already used in the Title. It will be especially useful for potential customers searching on their mobile devices.
You also have a larger space in the product description section than in the bullets. Take advantage of it to convince your target audience your items are better than the competition.
Step 3: Upload Designs
This is where your creativity shines! Create unique and appealing graphics that will resonate with your target market and stand out among the competition.
Remember to follow Amazon's design guidelines as well to ensure your layouts are suitable for printing on the products. The Amazon Merch guide on best practices for designs can be found here.
Amazon also provides templates to ensure your designs are properly formatted and fit perfectly on your selected products. You can download those here.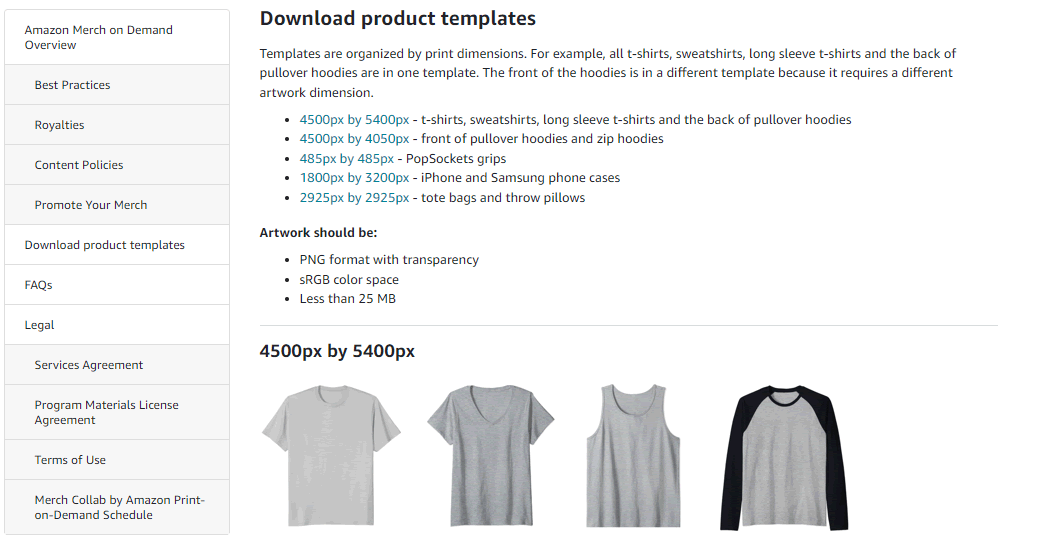 Step 4: Set Prices
Don't forget that you became a Mercher to gain an income stream, so it's crucial to set your prices strategically. You have the freedom to determine how much you want to charge for your items but consider production costs, competitors' prices, and what your target market is willing to pay.
Strike a balance between profitability and competitiveness. While you're not the one producing your products, Amazon will still charge the expenses on their sale price. Make sure you take home a good margin.
It's also a good idea to periodically review and adjust prices based on market trends and customer feedback.
Step 5: Submit Listings and Designs to Amazon for Approval
It usually takes Amazon Merch 24-48 hours to approve submissions. After that, your listings may directly go live. Sometimes, though, they will ask for revisions if a design doesn't meet their guidelines or content policies. If that happens, you should proceed as instructed and resubmit.
Other reasons for Amazon Merch disapproving your designs would be artwork and/or metadata issues. To avoid revisions (or even possible removal of your listings) due to these, adhere to the Merch By Amazon guide on product quality.
Note that the program also sets submission limits depending on your account's tier. New accounts start at Tier 10 by default, meaning you are allowed a maximum of 10 published designs per day. Over time, and with consistently good seller performance, you can complete milestones that will take you to the next tier.

Step 6: Promote Merchandise
Once your product listings are live, it's time to increase visibility and drive traffic to your product listings. Utilize social media, email marketing, and other digital marketing strategies.
Take advantage of Amazon Advertising as well to further boost your sales. Your options include sponsored product ads, headline search ads, and display ads. Experiment with different ad formats and targeting options to find what works best for your products and target audience.
Step 7: Regularly Update Designs
As your sales start rolling in, it's important to stay on top of inventory management. Amazon handles the production and fulfillment of your orders, but it's up to you to ensure your designs are always hot and marketable. Monitor your sales regularly, delete poorly performing listings, and replace them with more interesting ones to avoid missed sales opportunities.

Step 8: Get Paid
Receiving compensation is an exciting milestone in your journey towards turning your designs into a profitable business. So, how exactly does the Merch By Amazon payment system work?
As a Mercher, you get to set the selling price for your designs. Amazon then takes a commission from each sale, and the remaining amount is paid to you as a royalty. The commission rates vary depending on the product type, category, and selling price, as well as the region you are in.
To better understand the royalty rate for your designs, review the specific guidelines provided by Amazon here. In general, it can range between 10% and 20% of an item's sale price.
Note that selling on Merch By Amazon may also incur referral fees or fulfillment fees, which can impact your profit margin. These fees are based on the product category and should be considered when deciding your selling price. It's essential to factor in these costs to ensure the overall profitability of your business.
When it comes to getting paid, you can expect to receive your earnings through Amazon's regular secure payment system. Amazon will transfer your funds directly to your designated bank account, typically within a set timeframe.
To ensure a smooth payment process, keep your banking and payment information up-to-date in your Merch By Design Seller account. This includes providing accurate banking details, maintaining its active status, and selecting your preferred payment method.
You should also know that Amazon puts a payment threshold in place, which must be met before you can receive your royalties. This depends on the country or region you are selling in, so familiarize yourself with the specific guidelines for your location.
What Types Of Merch Can You Sell?
Merch By Amazon offers a wide range of products perfect for showcasing unique designs and styles that you can create and sell through the platform:
Fashion
t-shirts
sweatshirts
hoodies
tank tops
joggers
leggings
capri pants
socks
face masks
tote bags
bracelets
gaming eyeglasses
Mobile Phone
phone cases
Popsockets phone grips
phone grip straps
cell phone stand
charging station
phone charms
Home
pillows
blankets
runner rugs
wooden cooking spoons
folding tables
vases
posters
canvases
decorative items
Drinkware
coffee mugs
cups
water bottles
tumblers
decanters
liquor glasses
These are just a few examples of the types of products you can sell on Merch by Amazon. As the platform continues to evolve and expand, there may be even more opportunities to showcase your creativity and turn your designs into profitable merchandise.
Tips For Success 
Now, let's discuss some strategies to help you make it big in your Merch By Amazon journey.
1. Start with Market Research
Before diving into creating and uploading designs, take some time to research the market and understand what sells well. Look for trends, popular niches, and styles that appeal to your target audience. This will give you a better idea of how to position your creations as winners.
Number of features

Pricing

Learning Curve

User friendly
Comments Rating
( reviews)
2. Create One-of-a-Kind, Eye-Catching Designs
In a competitive marketplace like Merch By Amazon, standing out is critical. Focus on compositions that are different from others and use them to your advantage. Experiment with different styles, colors, and concepts to find what engages, fascinates, and attracts your audience.
3. Optimize Your Product Listings
Your product listings play a significant role in attracting customers and driving sales. Pay attention to the title, description, and keywords you use. Be descriptive, include relevant keywords, and highlight the unique selling points of your designs.
Use high-quality images that showcase your designs and provide accurate size and fit information to set clear expectations for customers.
4. Promote and Advertise
While Amazon's customer base is vast, promoting your merch outside of the platform can help you reach even more potential customers. Utilize social media platforms, email marketing, and other digital marketing strategies to increase visibility and drive traffic to your product listings.
Engage with your audience, collaborate with influencers in your niche, and explore advertising options on Amazon to boost your sales further.
5. Stay Updated with Design Guidelines
Amazon has specific design guidelines you must follow to ensure your designs are suitable for printing on their products. Stay updated with these guidelines to avoid any issues or rejections. Keep an eye out for any updates or changes to the guidelines, and make adjustments to your designs accordingly.
6. Monitor Sales and Adjust Accordingly
Regularly monitor your sales and analyze which designs are performing well and which aren't. Use this data to make informed decisions about what designs to focus on, which niches to explore, and what pricing strategies to implement. Stay adaptable and be willing to adjust your approach based on customer feedback and market trends. You can also use MerchInformer Analytics feature: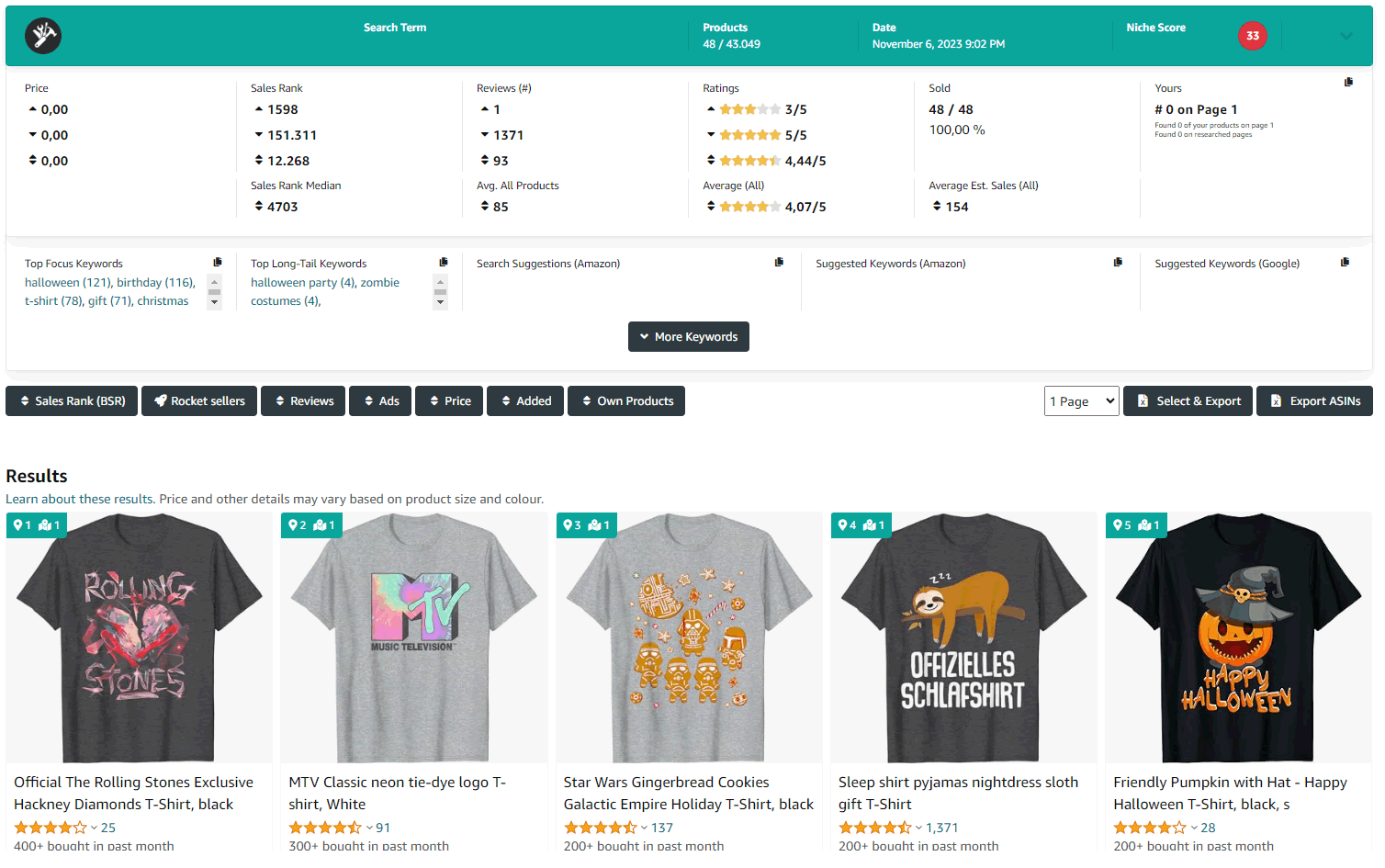 Final Thoughts
Monetizing your creativity is easier on a print-on-demand platform like Merch By Amazon. You don't need to put up capital, maintain inventory, handle shipping, or take care of customer service.
But any business, even if it's a side hustle, needs focus and effort. With Amazon Merch, you have the advantage of focusing on your creativity while learning how to promote your products.
Good luck on your journey to becoming a Mercher! We're excited to see your designs come to life and watch your business thrive on the platform.
Our score
Number of features

Pricing

Learning curve

User friendly
Comments Rating
( reviews)
Alternatives to A Guide On Merch By Amazon
Here you can find the top A Guide On Merch By Amazons alternatives