OFX.com is a tool for transferring funds at very competitive rates for online sellers in the international marketplace. It makes all markets accessible regardless of the currency used. If you are an e-commerce merchant, markets all over the world will be available to you in the most efficient and cost-effective way
What can you do with OFX Money Transfers? Four very important things for an internationally oriented business
You will always get paid in local currency depending on the region where the sale takes place. That means USD for the US, GBP in the UK, Euro for the EU and the Canadian Dollar for Canada.
You will keep the balances in various regions, also in the local currency of each region.
It only has a 1% fee which is cheaper than the 3 or 4% that other channels like regular banks, Amazon or PayPal charge.
Make payments in local currency. Both payments such as local taxes and payments made to suppliers and vendors.
So, basically, OFX global money transfers is an online and ofline transfer service with good exchange rates
OFX Global Currency Account US
OFX financial services features
OFX Money Transfers, as we have said, allows you to make money transactions with most countries in the world. Using this tool will save you time and money which can always be interesting
is OFX for you? The truth is that it surely is, whether you have a small or a medium-sized business. It is designed for any size of business
Pay suppliers directly
Use existing balances to pay workers, suppliers, taxes and duties directly from your account
Fast delivery
Opening an account is simple. Users can start transferring after being approved by the OFX Money Transfers validation team. Funds will be available very quickly, taking only a day or two before they can be used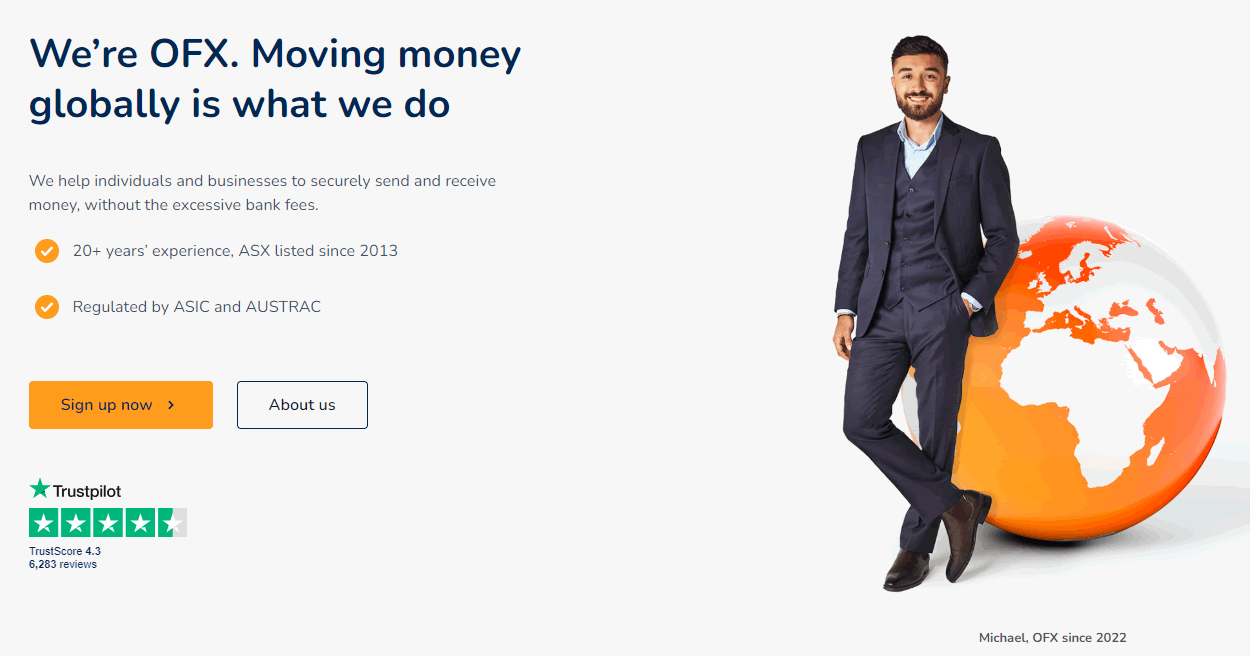 Superior exchange rates
With OFX the rate is among the best and lowest possible. You can be assured of a competitive service
Same payments in the same currency
Make payments using the same currency (e.g. GBP to GBP) for a small percentage of the transfer
Dashboard views for multiple accounts
View and manage all your local currency accounts in a single portal, regardless of where your product is sold
Global Currency Account
OFX offers a Global Currency Account. The so-called Global Currency will allow us to
sell products on our website in international and domestic markets.
sell using multiple currencies and receive payments in local currency (the money is automatically converted into the seller's local currency and transferred)
pay amounts due locally in the currency of each country.
The account holder can view all the details of his account from a dash board with the details broken down according to the amount and currency in which each transaction has been made. In each currency area in which the account holder sells, the amounts are held in local currency in the account itself
This money can be used for payments and taxes or can wait until the account holder requests it
24/7 Support
OFX Money Transfers ' customer support team is available 24 hours a day, 7 days a week
OFX for personal accounts
For personal accounts you can:
Send money
Pay friends and family overseas
Relocating overseas
Pay taxes and bills overseas
Purchase goods from overseas
Selling international shares

OFX for Business accounts
For business accounts, features and services include:
Send money
OFX Global Currency Account
Mass payments
Regular payments
Send and receive global payments
Manage currency risk
Receive marketplace payments
Paying overseas staff
International business payments
Paying overseas suppliers
Xero integrations
Integrations
OFX can be integrated with
Amazon
eBay
PriceMinister
Newegg
Buy.com
Play
Wish.com
CDiscount
Rue du Commerce
Shop.com
Xero
Moneygram
And more
Pricing
OFX fees are actually very simple
$0 to open a merchant account
$0 to expand into new markets with additional accounts
$0 for 24/7 monthly maintenance
1.5% or less above the daily market exchange rate to transfer currencies to your domestic bank account (depending on the amount you move)
OFX Reviews
I have used other similar services like Transferwise, Currencyfair or QFX and by far OFX is one of the fastest on average
OK, it may not have the best exchange rates (in that sense Transferwise is cheaper) but timing is everything when you need liquidity so, for me, speed is key and a must, and OFX is faster so I can sacrifice some money if needed
The security of OFX
Most users agree that OFX Money Transfer is as secure as any bank. Probably even more so since behind this tool is one of the most regulated financial companies in the world. So much so that it has a network of international offices with a presence in the US, UK, Canada, Australia and New Zealand
It is subject to the regulations of each and every one of these countries and of each of the different states of the U.S.A. In the end, security is the key value in financial matters and OFX takes it veryseriously
The costs of OFX Money Transfers
When it comes to costs, OFX is competitive. Due to its strong international network, OFX offers cost-effective services to international clients (especially when sending large money transfers). It usually offers a better exchange rate than the standard or interbank rate
They usually tend to waive fees for larger amounts, depending on the country. Although it is important to note that in the case of some transfer receiving banks, there may be additional charges. In those cases OFX will not receive any such fees
OFX Speed
Speed is one of the vital features of money transfer companies. OFX tends to advise the user to wait two days as a protocol although, in reality, the truth is that 80% of transfers through this company are completed within 24 hours
This means that sometimes transfers may take longer than this two-day period, but these are exceptional cases
The cons of OFX
what's not to like? Mainly that it's not available in your area. That and the fact that it's not the cheapest option
Our score
Number of features

Pricing

Learning curve

User friendly
Comments Rating
( reviews)
Alternatives to OFX
Here you can find the top OFXs alternatives
I work as an independent eCommerce and Amazon consultant.
Clients
Estrella Damm, Intersport, Bella Aurora, Lladró, Textura Interiors, Nice Things Palomas, Castañer, Due-Home and many other clients.
Lecturer & Teacher
I teach and have been a speaker at: Meet Magento, Prestashop, Prestashop Day, SEMRush, Cambra de Comerç Barcelona, ​​ClinicSEO, Ecommbeers, Ecommbrunch, Ecommercetour.com, Ecommfest, EOI, ESIC-ICEMD, Foxize, Generalitat de Catalunya, Inesdi, Quondos and The Valley. In addition, I have done in-company trainings for brands such as Orange and Adidas.
Writer
I collaborate writing articles for Helium 10 blog, Shopify, SEMRush, La Vanguardia, eCommerce-news.es, Marketing4ecommerce...
Partner
Helium 10, Jungle Scout, Avask, Sellzone, Helium 10 Seller Solutions Hub Partner
Social
LinkedIn, Twitter, Wikipedia, Youtube, Quora, ISNI 0000000513224289, About Jordi Ordonez