China has the largest e-commerce market in the world, one-third of global e-commerce is represented by its online retail sales, with just three companies accounting for 89% of the total market – Alibaba, JD.com, and Pinduoduo. Together they dominate e-commerce in China with a combined market share of 89.4%.
In 2020, China's online retail sales were $1,414 billion, accounting for 25% of total retail sales in the country and 33% of total online retail sales globally, nearly double the size of the next largest e-commerce market in the U.S. So, China's online retail market, is truly in a league of its own.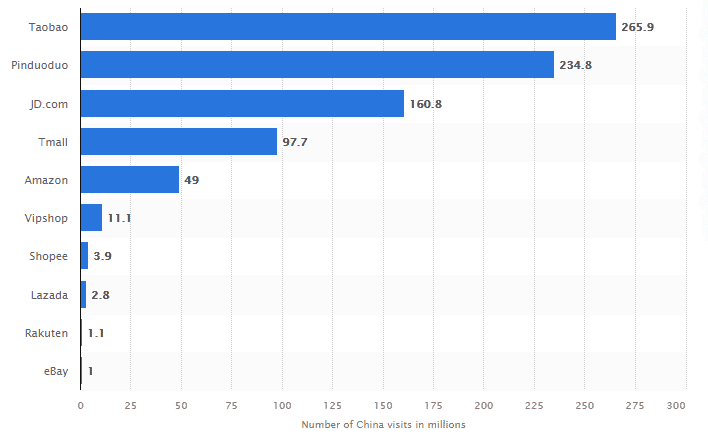 China's largest online marketplaces
The companies that dominate e-commerce in China are Alibaba (owner of Aliexpress, Taobao and Tmall), along with JD.com and Pinduoduo. If we talk about sales share rather than traffic, Tmall has 50.1% of sales ($709 billion in GMV), JD.com has 26.51% ($375 billion in GMV), and Pinduoduo 12.8% ($181 billion in GMV).
This means Tmall alone is almost as big as all U.S. e-commerce combined. And if we compare China's top online marketplace to Amazon, Tmall's estimated GMV ($709 billion) is 45% more than Amazon's GMV ($490 billion).
Of course, one could argue that this is because China is the most populous country in the world, but keep in mind that it is also a much poorer country, with a per capita purchasing power of less than a third of that of the United States and with a much lower Internet penetration, which makes the size of the online retail market in China even more remarkable.

Find more statistics at Statista
Taobao was originally founded in 2003, following the "consumer-to-consumer" marketplace model, created to compete with eBay and quickly becoming a market leader when they acquired China's leading online auction company, Eachnet.
Taobao has moved away from auctions and is now largely a fixed-price marketplace for new mass-produced products. It is known for selling Chinese-made consumer goods, including electronics, clothing, and accessories at the lower end of the market. And while counterfeiting has been widespread on Taobao, Alibaba has been working to reduce it. Only Chinese individuals and companies registered in China can sell on Taobao.
Tmall was launched in 2008 under the name Taobao Mall, it was an extension of Taobao where only authorized companies could trade. Today, Tmall sells more expensive products from local and international brands to China's middle class. Fees include a large deposit to prevent traders of counterfeit products or those with poor service levels from entering the market.
However, Tmall has a program called Tmall Global to help foreign brands sell their products on the marketplace. It does not require the seller to have a company or bank account in China or to stock their inventory within China. Products can be shipped directly from overseas or stored in bonded warehouses in free trade zones, relying on higher tariffs to provide more protection against counterfeit goods.
Another program under the Tmall label is Tmall Luxury, an online "pavillion" where the users can buy luxury brands such as Moschino, Bulgari, Versace or Loewe.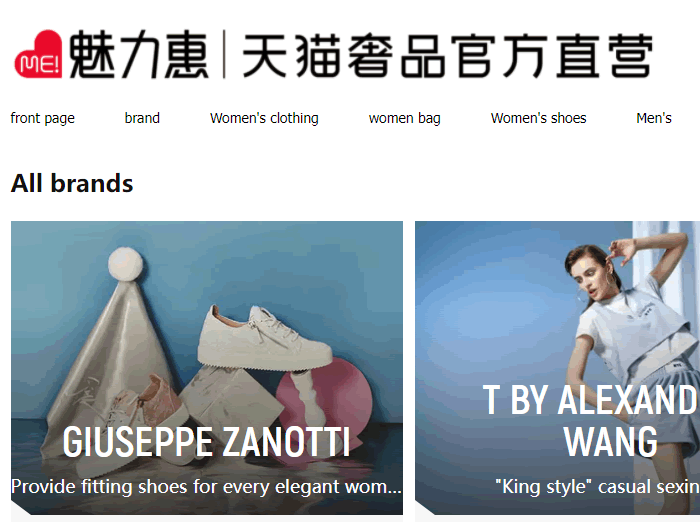 Aliexpress is one of Alibaba's Group B2C marketplaces. It is particularly strong in Spain, where it has 5 physical stores and it's the country's second marketplace in revenue. You can buy on Aliexpress wether you are in Spain or anywhere around the world, even in China, where Aliexpress has activities in Hong Kong.
JD.com was founded in 1998 and began selling electronics as an online retailer in 2004, expanding over time into other product categories and adopting a marketplace model. It is often described as the number two e-commerce company in China, after Alibaba, and has several major outside investors, including Tencent Internet and Walmart.
JD.com has an extensive logistics network with 28 "smart" logistics centers and 750 warehouses in China, with fully automated warehouses and drone delivery under development for faster delivery. Currently, 90% of orders are delivered the same or the next day.
JD.com's main marketplace is only open to companies registered in China, but it has a cross-border sales program for foreign companies called JD Worldwide, similar to Tmall Global.
Pinduoduo (online marketplace mobile app) was founded in 2015 and just four years reached 500 million active shoppers and a 12.8% share of online retail in China.
It features an interactive shopping model that adapts to mobile devices and low-cost offers and has zero commissions on sales. It was originally known for selling fresh food, now it has expanded to a full range of products, from household goods and fashion to beauty and electronics.
In early 2019, it announced a new cross-border "Global Shopping" program for foreign sellers, and in May 2020, it showcased a new network of six bonded warehouses located in free trade zones across the country.
Other online marketplaces in China
Only two are relevant for online retailers and brand owners outside China who want to sell to Chinese consumers: Amazon and Vipshop.
Amazon China has not been successful in China, its website has only 9.6 million monthly visitors, but it continues to offer products from merchants around the world, providing an easy way for existing Amazon sellers to reach Chinese shoppers. Amazon decided to discontinue it's marketplace in China years ago for new sellers, but buyers still can place orders on the marketplace.
Vipshop is China's fourth-largest online marketplace. With a 1.88% share, specializing in flash sales of branded products (fashion, beauty, and home products). It has a dedicated "VIP International" category and a cross-border sales program.
A third marketplace, Kaola, has less than one million monthly visits from China (693,000) with 24.5% of the cross-border e-commerce market but is worth mentioning as it focuses specifically on this type of commerce. It was acquired by the Alibaba Group as well as Lazada, another Asian marketplace focused on the Philippines.
And, of course, there are B2B marketplaces as well. Alibaba is the leading one, but we have other sites such as DHGate, Made-in-china, Global Sources or 1688 (this one's under the Alibaba Group).
More posts
I work as an independent eCommerce and Amazon consultant.
Clients
Estrella Damm, Intersport, Bella Aurora, Lladró, Textura Interiors, Nice Things Palomas, Castañer, Due-Home and many other clients.
Lecturer & Teacher
I teach and have been a speaker at: Meet Magento, Prestashop, Prestashop Day, SEMRush, Cambra de Comerç Barcelona, ​​ClinicSEO, Ecommbeers, Ecommbrunch, Ecommercetour.com, Ecommfest, EOI, ESIC-ICEMD, Foxize, Generalitat de Catalunya, Inesdi, Quondos and The Valley. In addition, I have done in-company trainings for brands such as Orange and Adidas.
Writer
I collaborate writing articles for Helium 10 blog, Shopify, SEMRush, La Vanguardia, eCommerce-news.es, Marketing4ecommerce...
Partner
Helium 10, Jungle Scout, Avask, Sellzone, Helium 10 Seller Solutions Hub Partner
Social
LinkedIn, Twitter, Wikipedia, Youtube, Quora, ISNI 0000000513224289, About Jordi Ordonez