RestockPro is an inventory software for Amazon FBA sellers. It offers accurate forecasting, restock suggestions an automation for your Amazon inventory management tasks.
Features
RestockPro includes 5 sub-features:
Inventory forecasting
RestockPro uses present and historical data to make it easy for you to take decisions on your inventory, so you can restock with trustable data (how much and when). Uses 70 data points to suggest restock timings so what you get is more control and precision over your IPI (Inventory Performance Index) and FBA storage limits
Purchase Orders magement
So you can manage the suppliers from the software, create purchase orders, create track shipments and manage daily inventory tasks.
Local inventory tracking
In case you have different warehouses. Keep track of all details for every product you stock, from local inventory location to supplier preferences or prep details
Kits and bundles creation
Directly from the software to your Seller Central account or 3PL. Track kit sales history, profitability, FBA fees, cost information, and relevant supplier data.
It also instantly calculates estimated margins for every product, so RestockPro's Kit Optimizer recommends the best kits to build based on demand and margin.
Amazon labels
Create custome item labels for Amazon with expiration dates, Amazon compilant inbound shipments labels and more.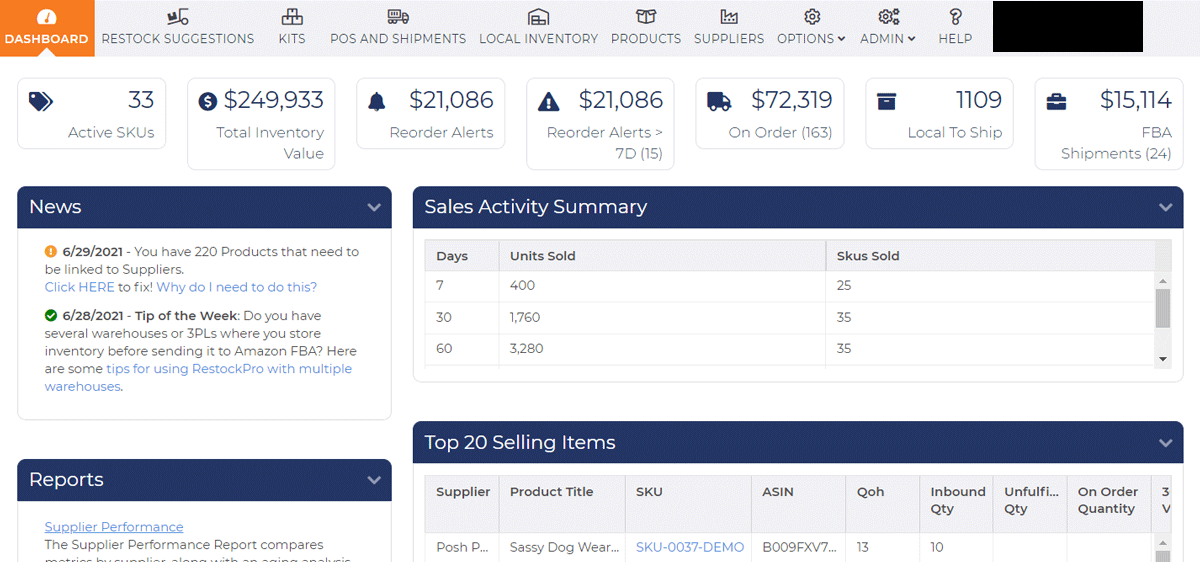 Integrations
RestockPro supports integration with Amazon Seller Central in 10 marketplaces: Australia, Canada, France, Germany, Italy, Mexico, Netherlands, Spain, UK, and US. This allows you to manage your inventory across multiple regions.
Pricing
RestockPro offers a 21-day free trial with no credit card required and 5 different pricing plans based on the number of FBA orders your Amazon store processes each month
Starter plan: $49 per month (1,000 FBA Orders)
Pro plan: $79 per month (2,500 FBA Orders)
Premium plan: $119 per month (7,500 FBA Orders)
Ultimate plan: $199 per month (20,000 FBA Orders)
Enterprise plan: Starting at $249 per month (35,000 FBA Orders)
Review
RestockPro is the inventory management software from Ecomengine, the folks behind FeedbackFive so that's the reason why you might have heard about the tool. With RestockPro you can handle daily Amazon FBA operations such as forecasting, creating purchase orders, tracking local / FBA inventory, make correct estimations on restocking or create kids and bundles both for FBA and FBM.
Compatible with Amazon Seller Central in 10 different global marketplaces, it is versatile in its operational capacity. Pricing is tiered according to the volume of FBA orders processed monthly, and a 21-day free trial is provided.
Pros
Accurate forecasting
Integrated purchase order management and supplier info
Local inventory tracking
Kits and bundles creation suggested from the same tool via the Kit Optimizer
Custom Amazon Labels for FBA shippings and / or expiration dates
Cons
Not integrated with tools such as ERPs, CRMs or accounting tools (Quickbooks, Xero…) that'd be really helpful
Primarily designed for Amazon FBA sellers and not integrated with other ecommerce platforms, that kinda limits its application for sellers on other platforms (eBay, Walmart, Shopify…)
Marketplace limitations if you're not just selling in the 10 Amazon marketplaces supported
Our score
Number of features

Pricing

Learning curve

User friendly
Comments Rating
( reviews)
Alternatives to RestockPro
Here you can find the top RestockPros alternatives