Although it may seem obvious, not all ERPs are the same. In this case we want to talk about one that is particularly innovative. We are referring to Sage X3, which has shown that it is still possible to innovate in its segment.
Introduction to Sage and Sage X3
Features
Let's take a look at those features that make it such an interesting option
All-in-one solution
First of all, we must say that it is a transversal tool for our business. It covers the management of all areas of the business, from the supply chain to production and the commercial department
We can go deeper by talking about specific processes as an example
Finance management
With this advanced ERP we will have an ideal tool to manage budgets, track accounting, make financial reports, control fixed assets…
Supply chain management
Purchasing, stocks, sales, customer service… everything goes through Sage X3, boosting productivity and business profitability.
Production management
Not all ERPs can claim to get so deeply into this aspect. We can have an exhaustive control of raw materials, production planning or quality control and absolute traceability of all components and their processes (just to name a few).
Project management
Finally, Sage X3, closes the circle by standing out as an outstanding project management tool and does so from definition and execution to evaluation and financial monitoring.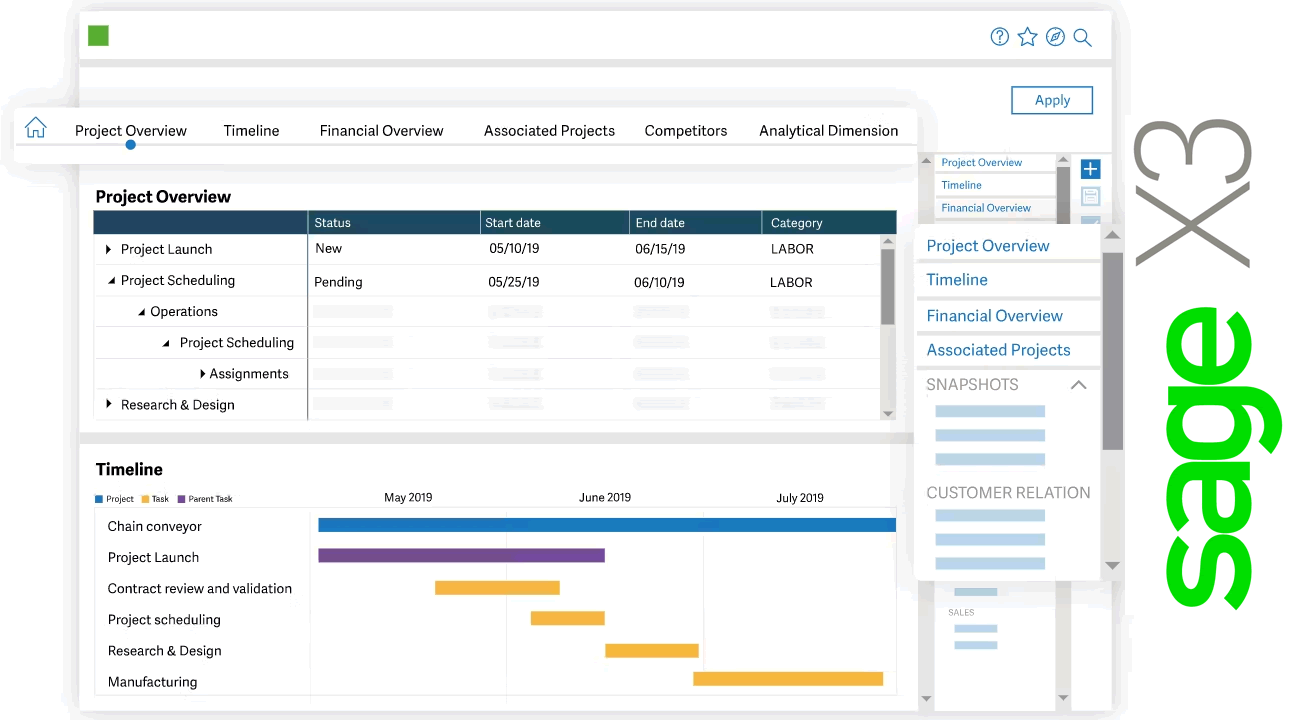 Designed for your industry
Every business and every industry has different needs. Although there are many commonalities in the basics, if we want to get the most out of it, it is important to have an ERP that adapts to our particularities
It is easy to see how they have taken care not to create a single solution, in fact, we could say that there are 6 versions depending on the industry sector they are focused on
Distribution
It has specific features to speed up processes and increase their profitability. Visibility and control of every cost and every margin. Ideal for retail, wholesale, logistics and transportation.
Manufacturing
Flexibility in optimizing production processes. Again, the key word is "control" because nothing is left outside the supervision of Sage X3, starting with purchasing and ending with quality control. Perfect for companies involved in the production of high-tech products, industrial equipment or metallurgical plants.
Process manufacturing
The fact of having different involved and the need to have a really high precision make it highly recommended to have an ERP that adapts to this type of production, boosting efficiency and ensuring the highest quality standards. Highly recommended for chemicals, cosmetics, pharmaceuticals or the food sector.
Services
Not all sectors are based on products, if you need an ERP focused on services. Improve customer acquisition, management and loyalty with a solution that covers comprehensive project management. It's a great option for consulting firms of all types, those providing advertising services, engineering, IT, equipment maintenance..
Chemicals
The complexity of this sector lies especially in the legal aspects. Sage X3 helps to simplify processes and control, almost effortlessly, compliance with every regulation in force by making ERP and CRM work seamlessly together.
Food
again, the focus is on compliance without losing sight of productivity and reducing the impact in the form of waste. More profitable and efficient business by adopting the right tool.
In a tool of this type it is essential that it adapts to our requirements and that it is a scalable solution so that it does not stop doing so at any time and grows with us. That is the advantage of a modular ERP like the one we are dealing with
Advanced but intuitive tool
This is another of the outstanding features of Sage X3, a competitive differential advantage and also a challenge
An ERP is, by definition, a tool of a certain complexity. However, in the case of Sage we can say that they have been able to find a balance point. The learning curve is affordable and its interface is really user-friendly
We have to keep in mind that what we are looking for is to reduce the operational complexity and productivity of the company and it would not make sense if we are compromising internal processes to do so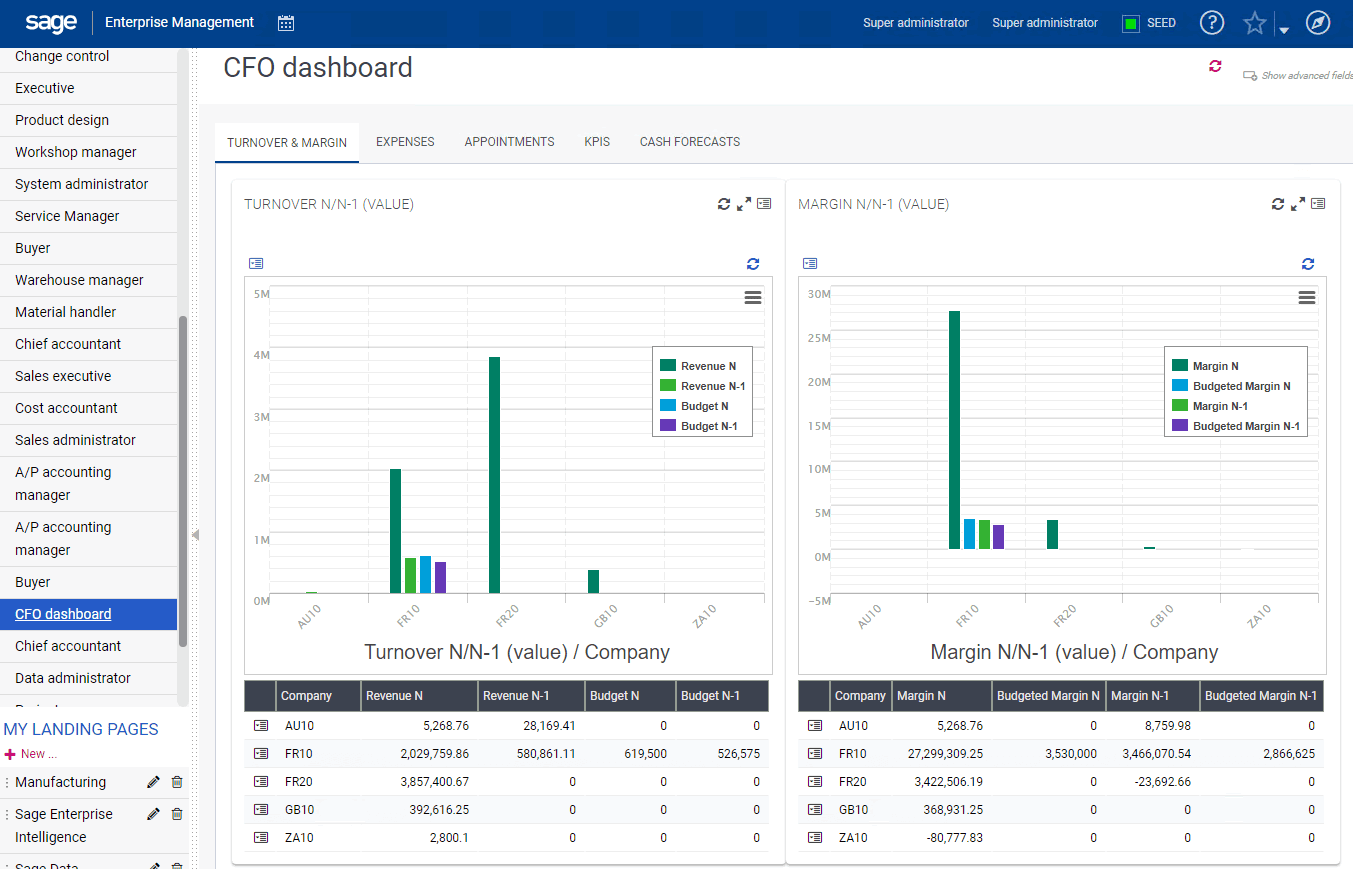 Sage X3 increases profitability
We tell it to you with the data extracted from the report elaborated by Forrester of 2020, where it says that the period of amortization of less than six months and a ROI of 213 % is reached
how does it achieve this? By freeing resources through the automation of recurring tasks, whether they are administrative, accounting, administration, billing or any other type
Greater management control
Sage X3 ERP has the advantage of being deployed both on-promise and in the Cloud. Each of the options has its advocates and is recommended in certain circumstances. This is an additional advantage that comes hand in hand with this versatile tool
Sage X3 is a "multi-solution"
To contract this product is to get a very broad-spectrum tool that covers a multitude of facets
It is a product for companies that operate internationally with Multi-Currency and Multi-Legislation to optimize the work of all your branches. Your company will thrive globally in compliance with all legislations at all times
It also allows you to react faster to changing customer demands by running an agile, flexible, multi-company and multi-plant organization. This makes it especially suitable for those who want to compete globally (either with European rivals or with value manufacturers with distribution in China)
Integrations
Integrates via API with Amazon Seller Central, eBay, Magento, X-Cart and other platforms but you may need an official connector not included with the software.
Pricing
We are analyzing a tool that adapts like a glove to different sectors and natures, that's why they do not work with standard plans. They prefer to listen to you, analyze your needs and give you the best option for your personalized case. Pricing starts at $24,000 annually
If you think you are interested, the best thing to do is to request a demo and one of their professionals will contact you as soon as possible
Sage X3 Reviews
To bet on Sage is to join the more than two million customers in 20 countries in Europe, Africa, Australia, Asia, and Latin America
The track record of this company does not need much introduction over 30 years dedicated to boosting other businesses. Sage has multiple products tailored to various needs that have been refined over the years, and more than 1300 certified consultants
In the case of Sage X3 this evolution can be seen at a glance both in functionality and in the design of the menus and usability, but without forgetting the profitability: with this tool you will achieve 177% profitability with a payback period of 5 months
In short, as they themselves say, Sage X3 is much more than just an ERP. It is a true partner for your business.
Our score
Number of features

Pricing

Learning curve

User friendly
Comments Rating
( reviews)
Alternatives to Sage X3
Here you can find the top Sage X3s alternatives
I work as an independent eCommerce and Amazon consultant.
Clients
Estrella Damm, Intersport, Bella Aurora, Lladró, Textura Interiors, Nice Things Palomas, Castañer, Due-Home and many other clients.
Lecturer & Teacher
I teach and have been a speaker at: Meet Magento, Prestashop, Prestashop Day, SEMRush, Cambra de Comerç Barcelona, ​​ClinicSEO, Ecommbeers, Ecommbrunch, Ecommercetour.com, Ecommfest, EOI, ESIC-ICEMD, Foxize, Generalitat de Catalunya, Inesdi, Quondos and The Valley. In addition, I have done in-company trainings for brands such as Orange and Adidas.
Writer
I collaborate writing articles for Helium 10 blog, Shopify, SEMRush, La Vanguardia, eCommerce-news.es, Marketing4ecommerce...
Partner
Helium 10, Jungle Scout, Avask, Sellzone, Helium 10 Seller Solutions Hub Partner
Social
LinkedIn, Twitter, Wikipedia, Youtube, Quora, ISNI 0000000513224289, About Jordi Ordonez