SageMailer
is an
Amazon feedback
software that helps sellers automate getting product reviews and seller feedback.
Users can request reviews, feedback or send customer service messages and track new reviews using the tool.
Here's a short video explaining how to get reviews on Amazon and improve seller ratings using SageMailer.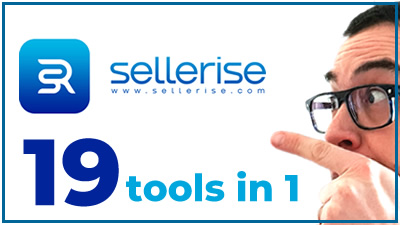 How to Get Amazon Reviews | SageMailer Best Amazon Feedback Software
SageMailer Features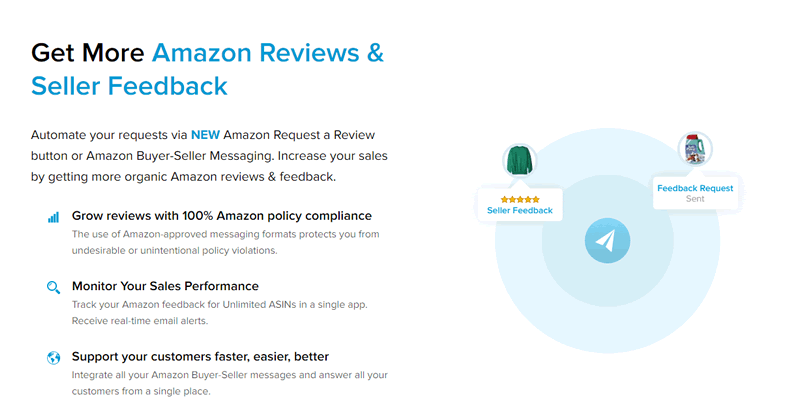 SageMailer offers a universal solution for managing Amazon reviews and feedback:
Monitoring of unlimited ASINs and sending notifications about positive/neutral/negative reviews
Convenient Response Center for aggregating and answering all buyer messages from all marketplaces on a single page
A/B testing for analyzing the effectiveness of your messages and make changes to the strategy
Pre-made multilingual email templates and the ability to create custom templates
Powerful letter editor with many delivery settings and auto-fill tags
Managing the list of buyers and orders
The service has a well-thought and straightforward interface that allows sellers to start using the system in just a few minutes.
Email Campaigns
Campaigns allow sellers to conveniently group and send emails depending on different parameters such as marketplaces, order status, products, shipping time, etc.

You insert the list of ASINs for which the campaign should work or exclude particular products in the campaign. For a large number of ASINs, the regex function is available.

Delivery Settings and Letter Templates
SageMailer has a list of pre-made templates, or you can create your own custom messages. Then, using the built-in letter editor, you can add HTML, insert images, call-to-action buttons, and styles.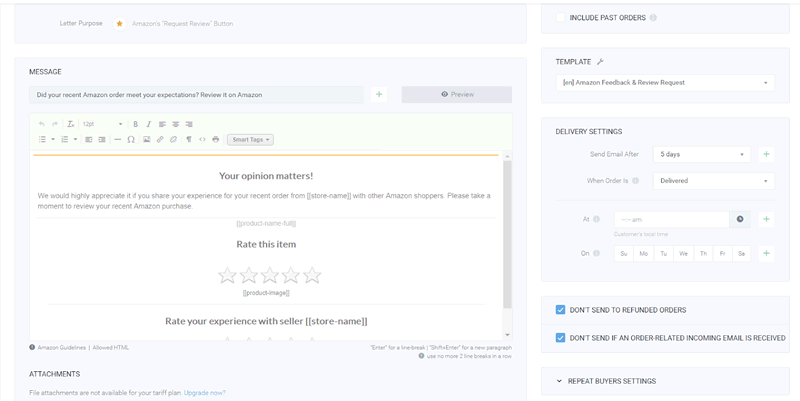 The sellers can set up the exact time when customers receive emails, which can seriously improve conversion. In addition, users can set up specific days of the week or select different order statuses so that buyers receive emails when they are most likely to open them.
For quick results, there is the "Include Past Orders" function. It sends requests to your old orders placed within the previous 30 days.
Sellers can also select a sales channel (FBA or MFN), the percentage of the product's discount, or is the buyer a repeated or a new one.
Professionally Translated Templates
SageMailer has multilingual templates for the following Amazon marketplaces:
France
Germany
Spain
Italy
Netherlands
Poland
Sweden
Turkey
India
Saudi Arabia and the UAE
Brazil
Japan

This allows scaling mailing campaigns to new markets in just a few minutes.
Amazon's "Request a Review" Button Automation
This type of request shows a very high conversion rate (up to 52% for some products). SageMailer allows sellers to automate requests through Amazon's button, there's a specific letter template for that. You will also be able to edit the letter's delivery settings for better results.
Other benefits of this type of feedback request:
Amazon logo in the letter adds trust
Buyers can give star ratings inside the email
No need to share Seller Central login details (unlike similar browser extensions)
Messages are 100% Amazon-compliant
Amazon automatically translates requests to the buyer's preferred language
Amazon excludes refunded orders, buyers who left negative feedback or review, etc.
Automatically detects when an order is physically delivered.
Review Monitoring & Seller Feedback Notifications
SageMailer tracks seller feedback and product reviews for an unlimited number of seller's ASINs and sends instant alerts once a customer leaves feedback on Amazon.

You can get alerts not only for negative reviews but for positive and neutral as well. If your team has a dedicated VA responsible for the review profile, you can send notifications to their email.
To quickly evaluate the situation and trends, you can filter reviews by marketplaces, ASINs, and ratings. Then, on the product page, you can check the review patterns on the chart.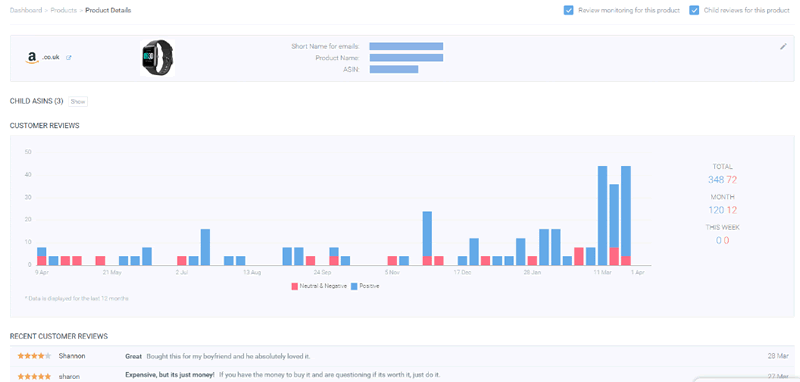 On the Feedback page, to speed up the negative feedback removal, sellers can send automated feedback removal requests directly to Amazon. For example, Amazon may remove feedback if it contains profanity, is about shipping issues or is a product review.
Inbox Messages
This feature sets SageMailer apart from the competition. The service is developing towards a full-fledged helpdesk, where sellers can manage all communication with customers on all Amazon marketplaces.

Sellers can aggregate customer messages from all Amazon marketplaces on a single page. Then they can speed up response time using typical message templates and track communication history with each client.
Using this function, you can manually send letters to specific customers. It's beneficial when you need to contact a particular customer to provide them with information on shipping, warranty, send tips or help with any questions regarding the product, etc.
Data Analytics & A/B Testing
In the FREE plan, users can track imported order information and manage buyers' lists. In addition, they can blacklist specific users, or manually send/cancel already scheduled messages.
The following metrics are available in all plans:
Email counter
The number of opened emails
Each letter's open rate (percentage of buyers who have actually opened a message)
In the PRO and higher plans, users can download detailed reports of emails sent and reviews received. In the report, sellers can see when a specific message was sent and whether it was opened.

Another effective method to significantly improve the open rate of emails is A/B testing.
You can add a few different subject lines for your letter at once and specify different delivery options for testing. Then, the system evenly distributes letters between several letter variant and calculate an open-rate for each of them. Such an approach allows sellers to continually improve their campaigns without spending tons of time.
VAT Invoicing
For the European sellers, there's a VAT invoicing feature. You can fill in invoices manually, but this time-consuming process can become unbearable with sales growth.
SageMailer automatically generates and attaches VAT invoices to your orders in Europe. You only need to fill out the company's information in the profile. The system calculates a VAT amount for each country based on its VAT rate. If necessary, you can download a specific order's invoice on the Buyer's profile page.
Pricing & Plans
SageMailer has five standard plans: FREE, BASIC, PRO, PREMIUM, and ULTRA. The main difference between the plans:
Number of requests
Number of marketplaces allowed
Difference in functionality
There is no extra fee for each connected marketplace, the number of email campaigns, or the number of ASINs for tracking reviews.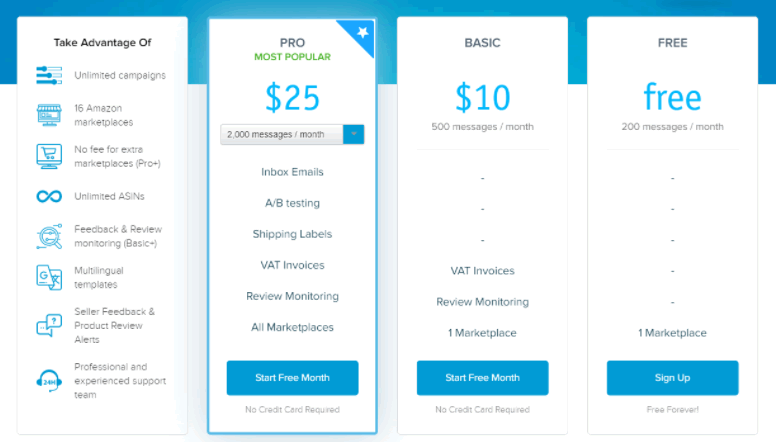 Starting with a FREE plan, the user can create an unlimited number of email campaigns. Starting from the BASIC plan, there's review monitoring for unlimited ASINs. In the PRO and higher plans, you can connect all Amazon marketplaces and use all the functions without restrictions.
If any standard plan doesn't suit your needs, the support team can always craft an individual plan depending on your requirements. Just contact them by email or in the live chat.
SageMailer also offers special conditions and discounts if you manage multiple accounts. For example, you can have a shared email limit for several accounts and distribute it evenly.
Free plan
1 store
Unlimited campaigns
200 emails per month
"Request a Review" button automation
BASIC – $10 per month
1 store
Unlimited ASINs to track
Unlimited campaigns
500 emails per month
PRO – $25 per month
All stores
Unlimited ASINs to track
Unlimited campaigns
2000 emails per month
A/B Testing
Inbox Messages
PREMIUM – $50 per month
All stores
Unlimited ASINs to track
Unlimited campaigns
7000 emails per month
A/B Testing
Inbox Messages
ULTRA – $100 per month
All stores
Unlimited ASINs to track
Unlimited campaigns
25000 emails per month
A/B Testing
Inbox Messages
Our score
Number of features

Pricing

Learning curve

User friendly
Comments Rating
( reviews)
Alternatives to SageMailer
Here you can find the top SageMailers alternatives
I work as an independent eCommerce and Amazon consultant.
Clients
Estrella Damm, Intersport, Bella Aurora, Lladró, Textura Interiors, Nice Things Palomas, Castañer, Due-Home and many other clients.
Lecturer & Teacher
I teach and have been a speaker at: Meet Magento, Prestashop, Prestashop Day, SEMRush, Cambra de Comerç Barcelona, ​​ClinicSEO, Ecommbeers, Ecommbrunch, Ecommercetour.com, Ecommfest, EOI, ESIC-ICEMD, Foxize, Generalitat de Catalunya, Inesdi, Quondos and The Valley. In addition, I have done in-company trainings for brands such as Orange and Adidas.
Writer
I collaborate writing articles for Helium 10 blog, Shopify, SEMRush, La Vanguardia, eCommerce-news.es, Marketing4ecommerce...
Partner
Helium 10, Jungle Scout, Avask, Sellzone, Helium 10 Seller Solutions Hub Partner
Social
LinkedIn, Twitter, Wikipedia, Youtube, Quora, ISNI 0000000513224289, About Jordi Ordonez
Disclaimer: This is a promoted post by the advertiser / we are affiliated with the software