SellerRunning is an all-in-one platform to expand your Amazon Seller business across the 17 global Amazon marketplaces. Featuring an order manager, catalogue manager, feedback manager, complete reports tool, repricer integration and fully Amazon compliant dropshipping system.
SellerRunning is part of Threecolts.com, an Amazon software aggregator featuring some great tools on their portfolio: Smartrepricer, Tactical Arbitrage, Bindwise, ChannelReply, FeedbackWhiz, RefundSniper, ScoutIQ, SellerBench and other tools.
SellerRunning Dashboard Overview
Discount
Features
As usual, let's break the features down:
Catalogue management
Using SellerRunning you can:
Manage Inventory
Add New Products
Create and manage product Variants
Check your best-selling products
Check your duplicate listings
Check your updates history
Automate your pricings uploading CSVs
Upload your categories
Black List categories
Create brand lists for Amazon Brand Registry
Upload product lists
Upload keyword lists to enhance your SEO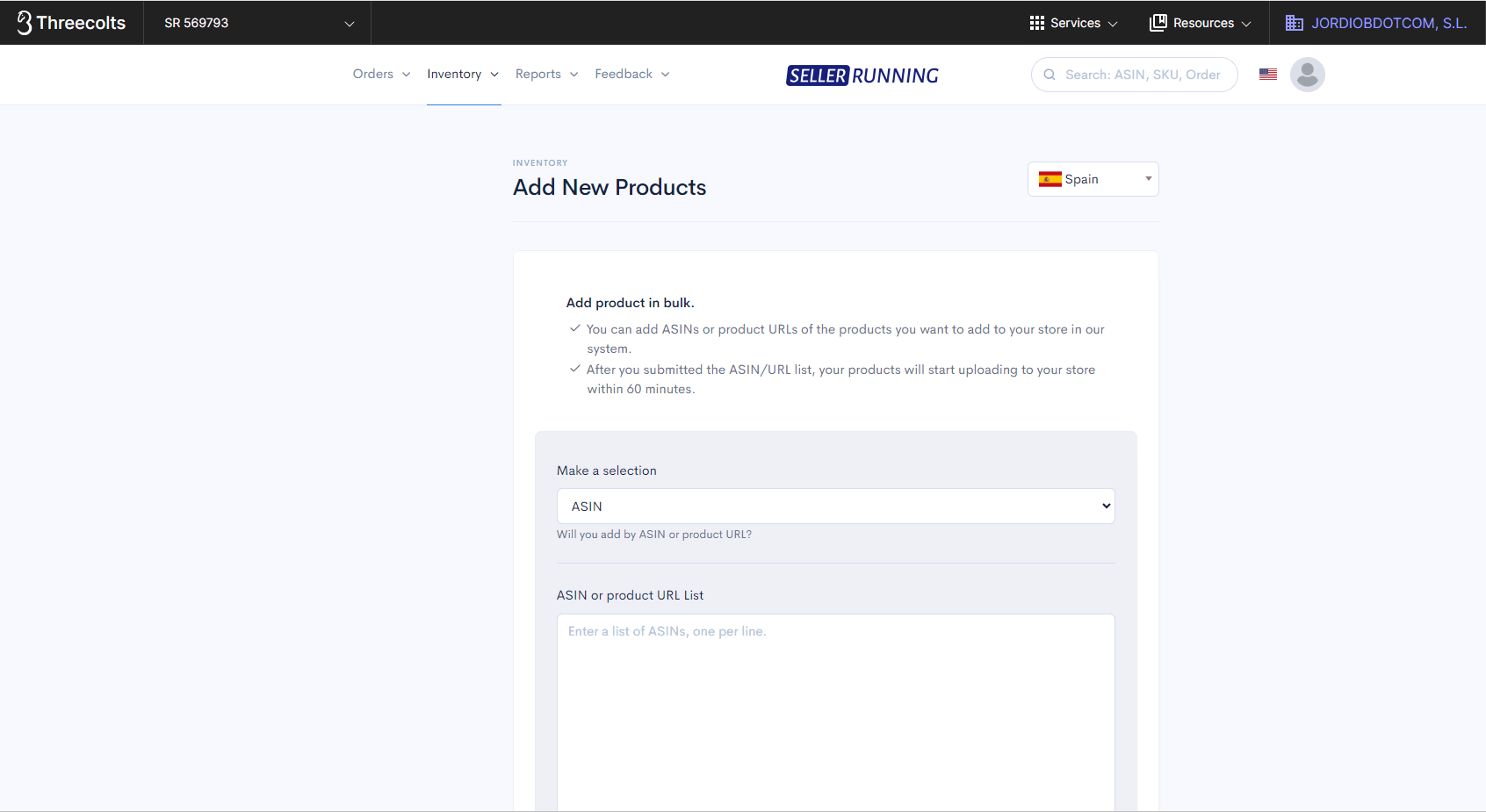 Price and stock updates
Your Amazon store's prices and stock levels are automatically updated according to the rules you set and expanding those rules to every Amazon Marketplace.
Repricing
You can do this integrating another Threecolts tool: SmartRepricer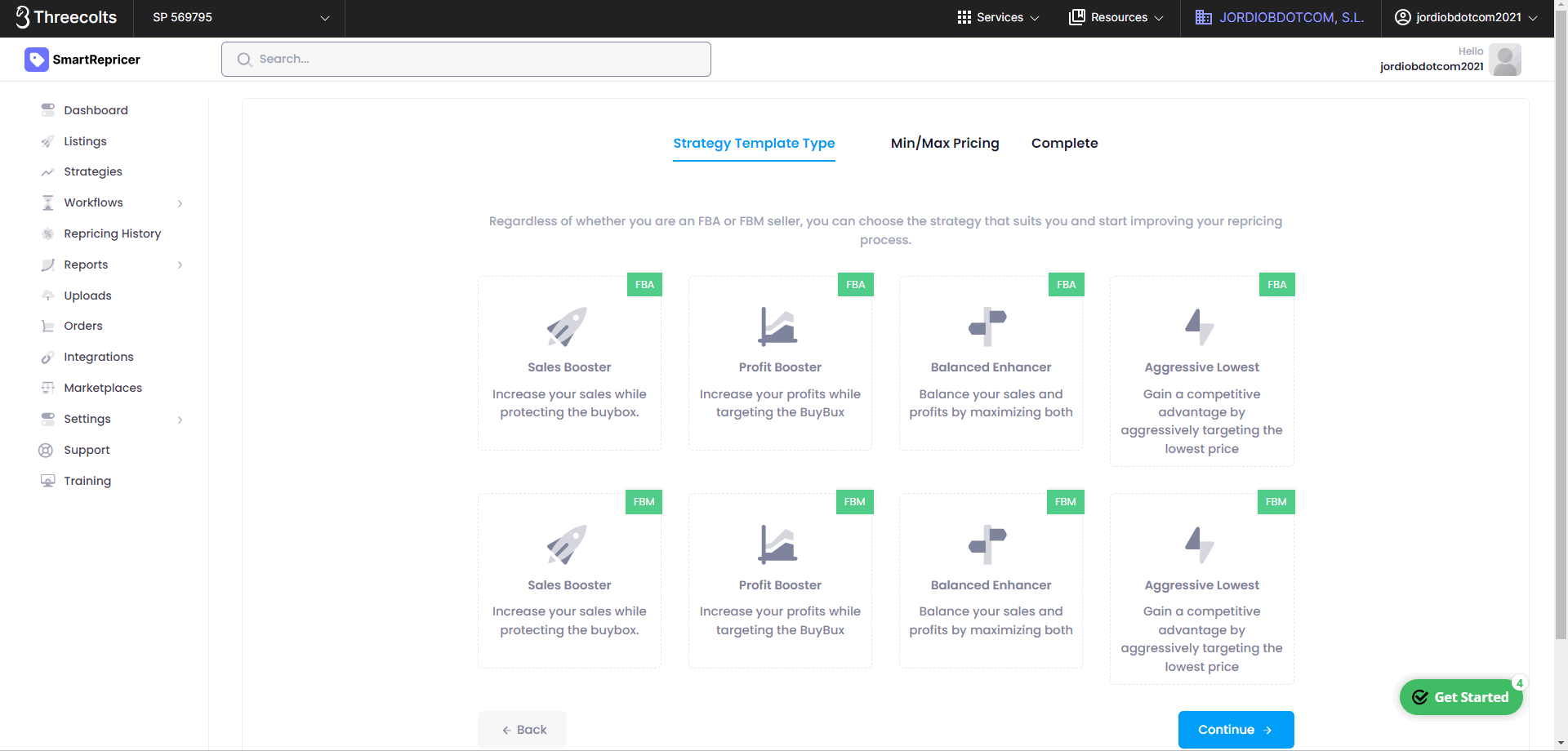 Amazon dropshipping
SellerRunning's Chrome Extension simplifies the product search process allowing sellers to sell products without investing in inventory.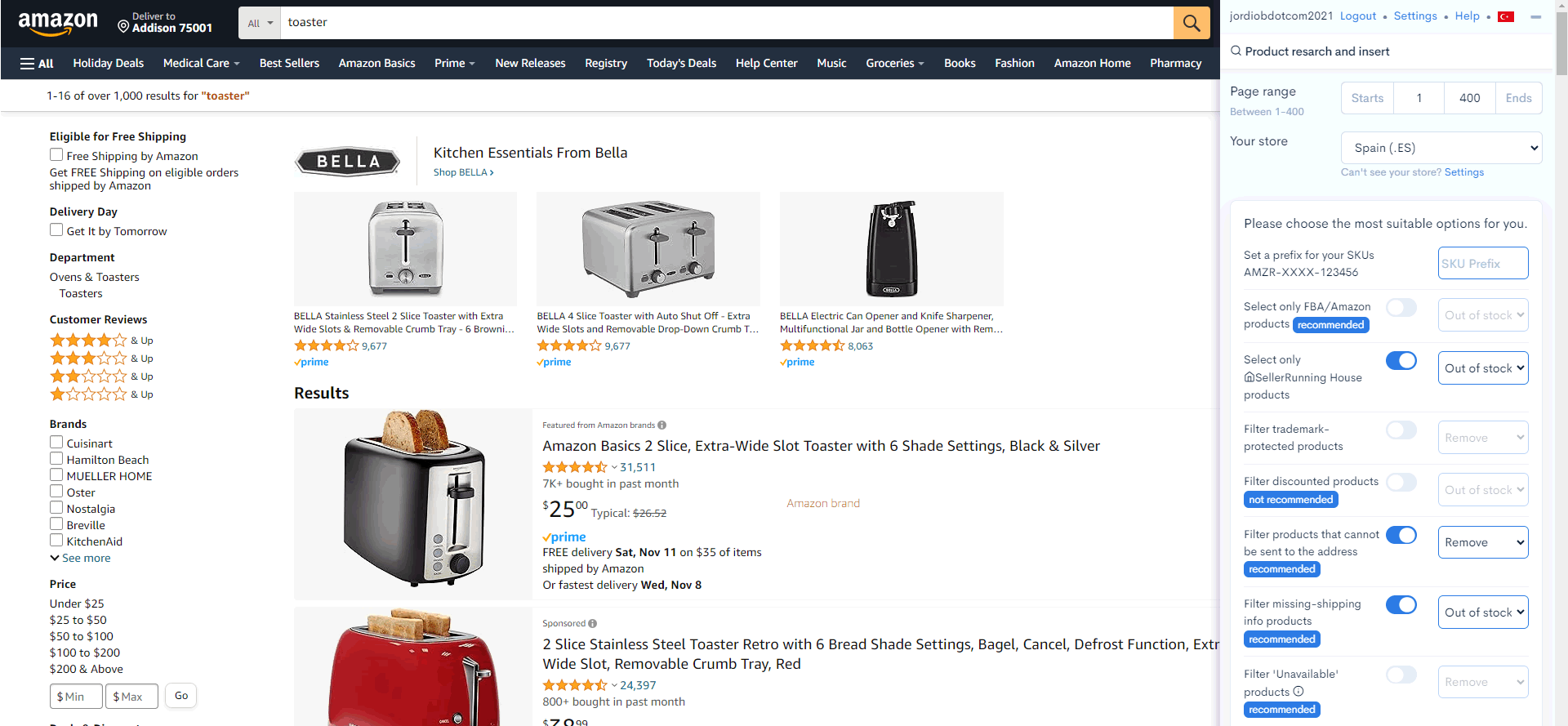 Smart accounting features
SellerRunning's software works like a charm providing smart sales tax rate calculators, customs duty calculation, taxpayer support and copyright protection services.
Manage orders
Check, edit or create orders from the order management dashboard and mark them as:
Sold
Placed
PreConfirmed
Confirmed
Delivered
Canceled
Returning To Seller
Refunded
SR House Orders
Manual Fulfillment
Not Delivered On Time
Package May Be Lost
Check Delivery Info
Late Shipment
As you can see, lots of labels not just for FBA and SFP, but also for Fulfillment By Merchant.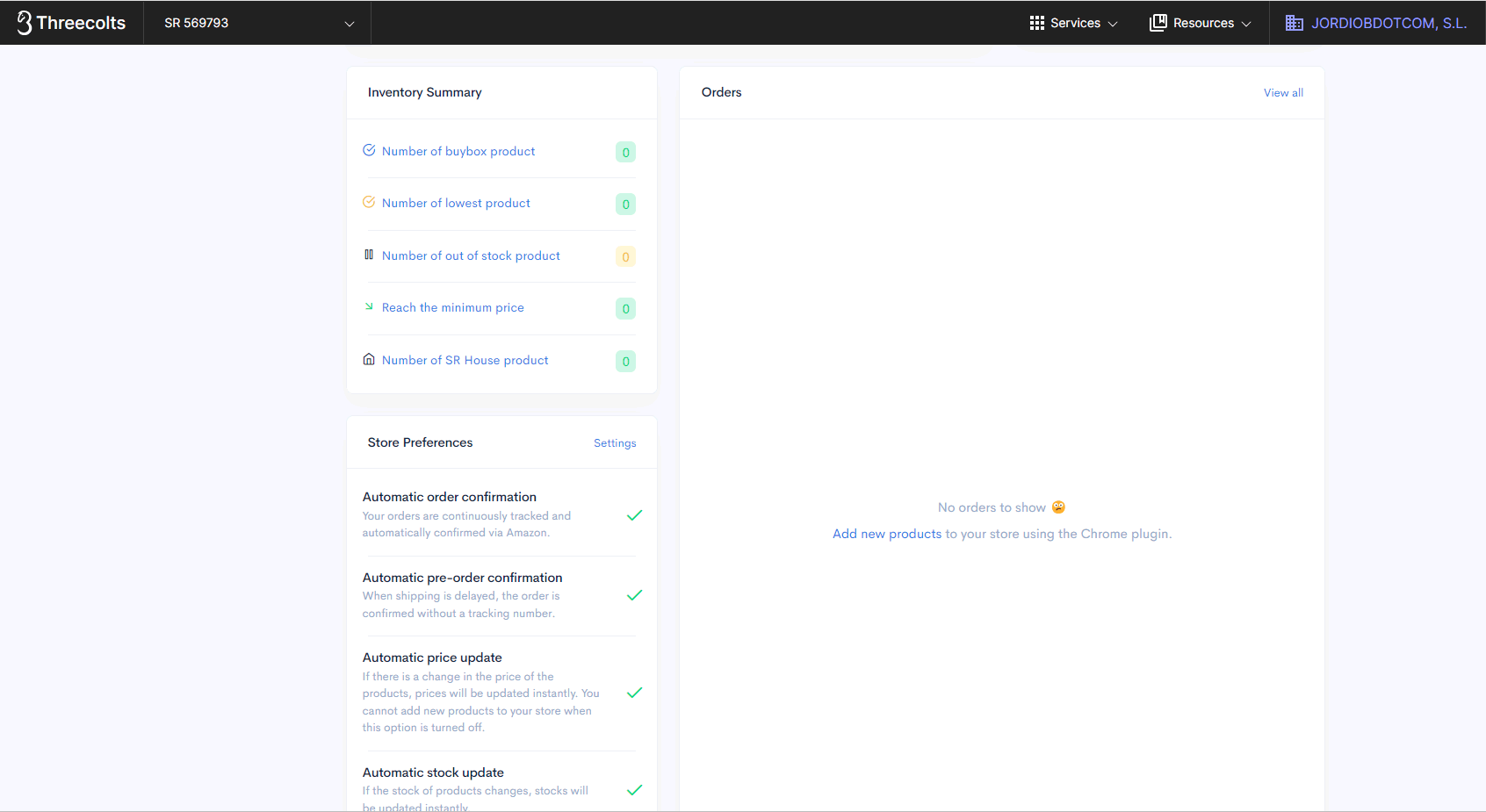 Reports
A complete report center where you can find info on:
Sales Report
Profit Report
All your Marketplaces (countries) Report
Product Defect Report
Pricing Errors Report
Account Health
Buybox Report
Business Report
Payouts
Popular Times where you get orders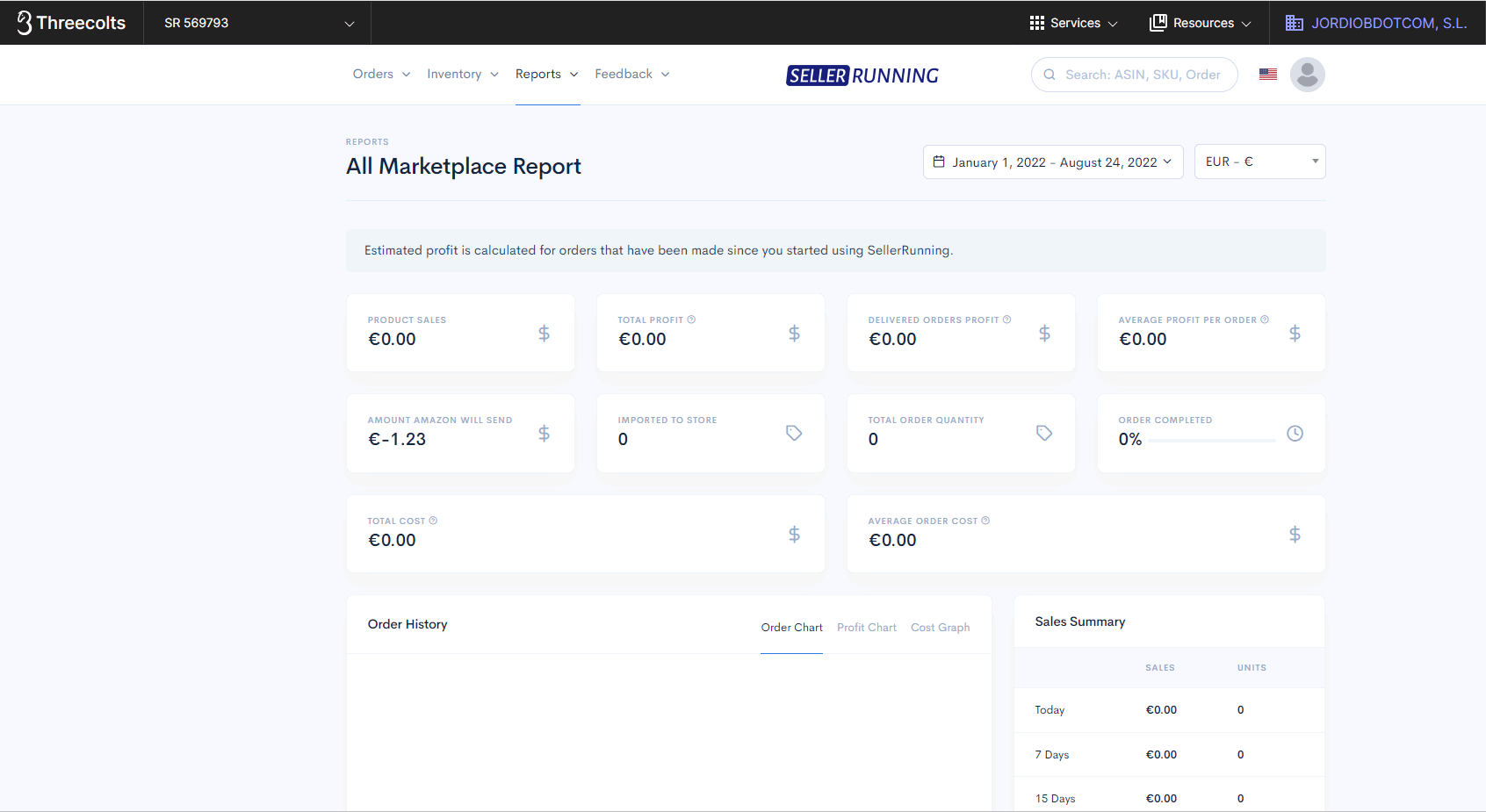 Feedback Manager
Create rules and workflows to send review requests by organizing them on campaigns. Check also Sent Feedbacks and Negative Feedbacks.
All the settings you need
Seriously, there are lots of settings, check some of them out, so you can configure everything on your storefronts and dashboards:
Store Preferences to customize store settings including billing, integration…
Amazon Store Name
Maximum Stock, limits the number of items in stock for FBM
Main currency (you can choose from any of the currencies available on the Amazon Marketplaces)
Tax Payer, a useful option for Spanish taxpayers (like me) to account for tax in profits
Sales Tax Percentage to input your sales tax rate
Automatically add products to restricted or blacklisted categories
Customizable Handling Time
Max Delivery Time
Auto-delete, to automatically remove products that don't meet criteria after a set interval
Auto Carrier Change, to update tracking information automatically.
Gift Note, to allow automatic completion of gift notes for orders.
Automatic Order Confirmation
Automatic Pre-order Confirmation without tracking numbers.
Automatic Price Update
Automatic Stock Update
Automatic Product Removal
Automatic Product Insert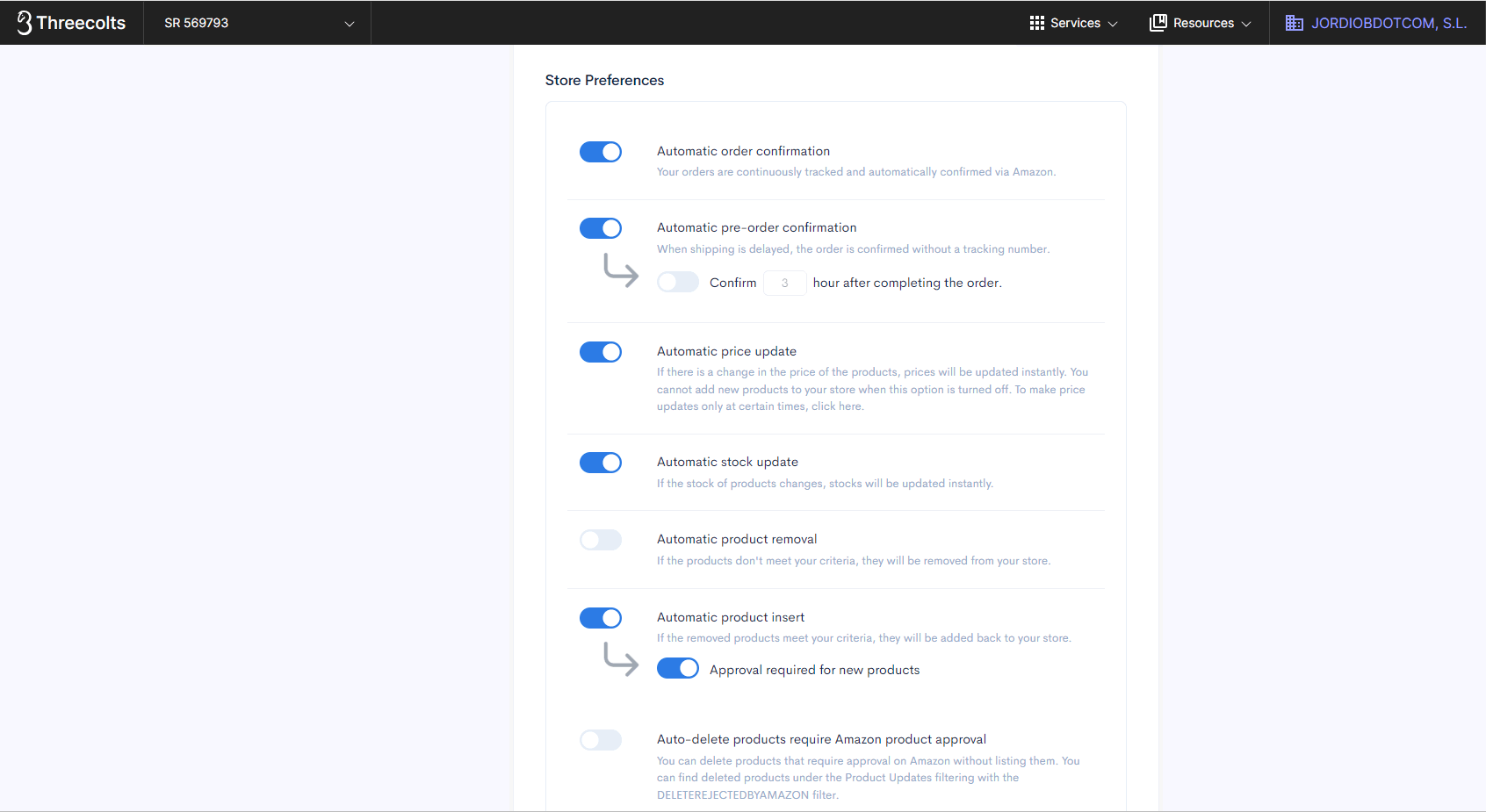 All the filters you (also need)
And the filters for the dashboards, which are also fully customizable:
Filtering by fulfillment method (FBA/Amazon)
Filtering trademark-protected products
Filtering discounted or unavailable products
Filtering products by shipping capabilities
Filtering based on seller location or type (e.g., Chinese sellers, Amazon as a seller)
Options to remove or mark out of stock for products that don't meet specific criteria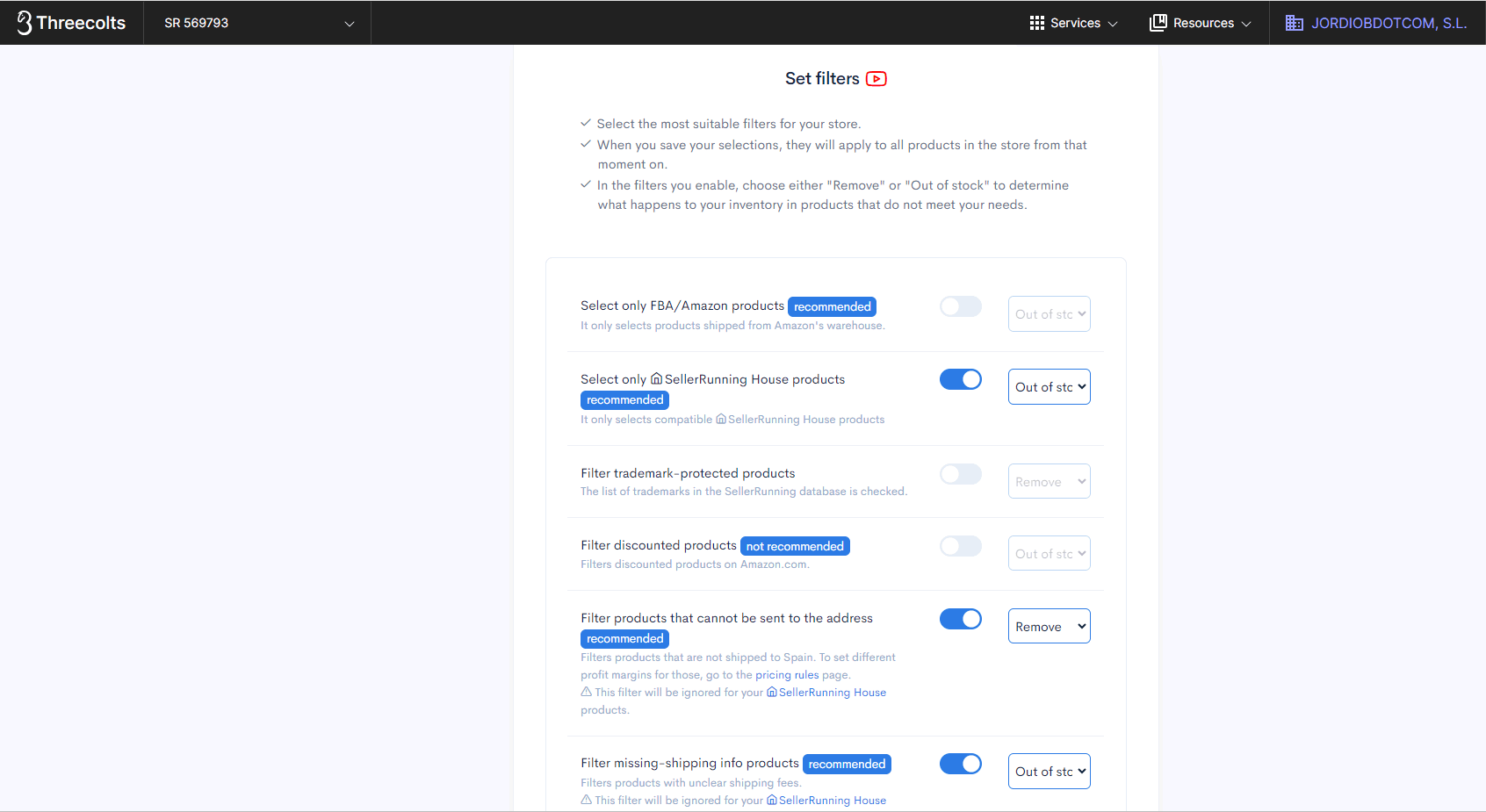 Pricing
As usual when it comes to Threecolts tools, offers 6 different pricing plans and 2 months free trial:
Lite: $49/month for 5,000 listings.
Standard: $59/month for 10,000 listings.
Business: $79/month for 25,000 listings.
Professional: $99/month for 50,000 listings.
Enterprise: $179/month for 100,000 listings.
High Level 1: $299/month for 150,000 listings.
Every plan includes:
17 Amazon marketplaces
Rapid search via extension
Integrated warehouse module
Order management
Automated pricing
Smart reports
Inventory monitoring
Automatic price and stock updates
Store filters
Free repricer tool (Smartrepricer)
Automatic fullfilment
SmartRepricer integration
Integrations
SellerRunning integrates with Amazon via the Seller API (and also works without Amazon SP-API integration needed). It also works with the repricer Smartrepricer.
Works for:
Amazon US
Amazon Canada
Amazon Mexico
Amazon UK
Amazon Germany
Amazon France
Amazon Italy
Amazon Spain
Amazon UAE
Amazon Australia
Amazon Japan
Amazon Singapore
Amazon Saudi Arabia
Amazon Egypt
Amazon Poland
Amazon Sweden
Amazon Netherlands
Amazon Turkey
Amazon Belgium
Review
As usual when it comes to Threecolts tools, just the fact that they work for EVERY Amazon Marketplace is a win vs all the competitors. But let's take a closer look at the tool, shall we?
When you're scaling your Amazon business, the last thing you need is more problems or manual tasks on your table. And SellerRunning can help you with that. This is just "one of those tools" that has everything you need to deploy new listings, automate price upload, reprice, translate, avoid brand gatings, use FBA/FBM/SFP and even sell without stock using dropshipping.
The smart accounting features stand out for international sellers who need to navigate complex tax laws and customs duties (yes, that's me, I sell in Europe!).
Also, the settings and the filters are just TOP. You can configure everything you need. But it has other top features:
Addition of new products, managing variants, tracking best-sellers, avoiding duplicate listings…
Keyword uploads to enhance SEO
Blacklist certain categories or brands to avoid complaints and buying gated brands/products
Real-time updates on pricing and stock levels across all Amazon Marketplaces
Integration with SmartRepricer allows for dynamic pricing strategies
Chrome Extension for product discovery & dropshipping
Extensive order labeling, flexible enough to cater to FBA, SFP, and FBM fulfillment
Reporting suite covering sales, profits, marketplaces… and giving detailed insights for the noob Seller
Our score
Number of features

Pricing

Learning curve

User friendly
Comments Rating
( reviews)
Alternatives to SellerRunning
Here you can find the top SellerRunnings alternatives
I work as an independent eCommerce and Amazon consultant.
Clients
Estrella Damm, Intersport, Bella Aurora, Lladró, Textura Interiors, Nice Things Palomas, Castañer, Due-Home and many other clients.
Lecturer & Teacher
I teach and have been a speaker at: Meet Magento, Prestashop, Prestashop Day, SEMRush, Cambra de Comerç Barcelona, ​​ClinicSEO, Ecommbeers, Ecommbrunch, Ecommercetour.com, Ecommfest, EOI, ESIC-ICEMD, Foxize, Generalitat de Catalunya, Inesdi, Quondos and The Valley. In addition, I have done in-company trainings for brands such as Orange and Adidas.
Writer
I collaborate writing articles for Helium 10 blog, Shopify, SEMRush, La Vanguardia, eCommerce-news.es, Marketing4ecommerce...
Partner
Helium 10, Jungle Scout, Avask, Sellzone, Helium 10 Seller Solutions Hub Partner
Social
LinkedIn, Twitter, Wikipedia, Youtube, Quora, ISNI 0000000513224289, About Jordi Ordonez