One of the things that anyone doing Amazon PPC campaigns wonders is am I doing it right? Am I messing with something? And above all, will that competitor do well with the strategy he is applying?
In the end, what we have left is to review all our metrics and try to interpret the data over which we have control, but we are missing an important part of the equation, which is that of the competition .
I insist; This is the case in any platform where SEM is done and, precisely because of that, Sellics has given a very interesting twist that can change the way in which campaigns are optimized on Amazon . Introducing Sellics Benchmarker.
What is Sellics Benchmarker?
If you sell on Amazon, it is very likely that you know this all-in-one suite for managing our presence in Jeff Bezos marketplaces. If not, we leave you here our analysis and opinions of Sellics so that you can find out in depth how it works.
As we say, Sellics is a tool made up of different "sub-tools". Well, Benchmarker is its latest innovation that increases the capabilities of the suite in terms of paid campaigns.
To do this, it offers us a panoramic view of our situation with respect to the competition within a certain Amazon category.
To prepare this report, use the main indicators and reference KPIs in this type of action.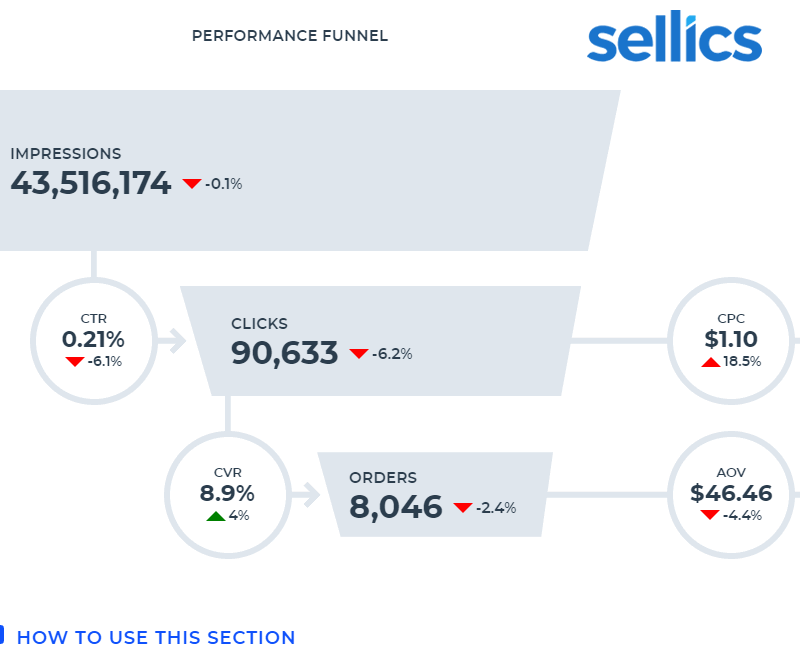 ACoS Compared
Basic Metric on Amazon. Are you investing little in advertising? you may be being too cautious and the competitors are beating you by the hand.
CPC
Maybe part of the problem is that you are not getting to pay per click what is paid on average. This leaves you out of many of the impressions that entail streaks. Benchmarker tells you if you are under or if you are outbid.
CTR growth
We can know how each of the types of our ads are behaving and know whether or not they generate the clicks that they should according to the number of impressions.
CVR (conversion rate) improvement
Find out to what extent your products sell more or less than those of the competition. So you can take action on the matter.
The report
All this information is summarized in a very complete report in which all formats (products, sponsored brands and display) are independently analyzed .
In each of the criteria, it will give you a score in percentage format and a star rating so that you can know, in a comparative way, which segment you are in with respect to the competitors in your product category.
This does not mean that it does not provide you with concrete quantitative data , where it corresponds it also does it to be more precise.
In addition to offering you the information itself, it also gives you some tips that can help you focus the solution and the optimization that will make us improve the numbers achieved.
It is a report in which the visual aspect of the information has been worked very well . Consultation is quick and our place in relation to the competition in the segment can be perfectly interpreted.
How does it work?
Benchmarker uses the Sellics database to do all the calculations. Logically, Amazon does not provide this information just like that, so it is interesting to have a tool with sufficient volume and update capacity.
Right now, for example, the data on which he bases his analysis are those of the second quarter of 2020 , so they are really recent. It would not make sense for them to be in real time because, to get the most out of the strategy, we need to have a certain history that avoids bias and has a minimum of statistical relevance.
To start using it you will need to have an active account with campaigns on Amazon. The minimum requirement is that you have registered at least 50 clicks in the last 30 days .
Then you have to access the Sellics page to connect the account with the tool itself . It is a simple and fast registration.
And that's it, you just have to wait for the analysis to be done. Once it is ready, they will send it to the email address you used for registration. This can take between 30 minutes and 4 hours , but the report will come to you while you do other things.
How much is it?
For now, at least in this Beta phase , it is totally free. The opportunity to get a tool that allows you to optimize your paid campaigns at this level is not to think too much about it.
The reality is that, if you think about it, you can only win because you are not risking even the cost of a monthly license.
When you try it, leave us your opinion about Sellics Benchmarker. We want to know your experience.
More posts
I work as an independent eCommerce and Amazon consultant.
Clients
Estrella Damm, Intersport, Bella Aurora, Lladró, Textura Interiors, Nice Things Palomas, Castañer, Due-Home and many other clients.
Lecturer & Teacher
I teach and have been a speaker at: Meet Magento, Prestashop, Prestashop Day, SEMRush, Cambra de Comerç Barcelona, ​​ClinicSEO, Ecommbeers, Ecommbrunch, Ecommercetour.com, Ecommfest, EOI, ESIC-ICEMD, Foxize, Generalitat de Catalunya, Inesdi, Quondos and The Valley. In addition, I have done in-company trainings for brands such as Orange and Adidas.
Writer
I collaborate writing articles for Helium 10 blog, Shopify, SEMRush, La Vanguardia, eCommerce-news.es, Marketing4ecommerce...
Partner
Helium 10, Jungle Scout, Avask, Sellzone, Helium 10 Seller Solutions Hub Partner
Social
LinkedIn, Twitter, Wikipedia, Youtube, Quora, ISNI 0000000513224289, About Jordi Ordonez