Although China has been the go-to sourcing destination for years, the world is diversifying its sourcing destinations away from China to other countries in Asia. Vietnam and India have emerged as top contenders for this diversification.
India has many unique advantages when it comes to sourcing, ones that we will explore in detail in this post.
India is a cost-effective sourcing destination because of relatively low import tariffs and the abundance of raw materials such as wood and cotton. India is the largest exporter of cotton in the world.
India's exports over the last five years have seen a general upward trend, and a sharper increase in the wake of the pandemic. This is due to an increase in interest in sourcing from non-China countries.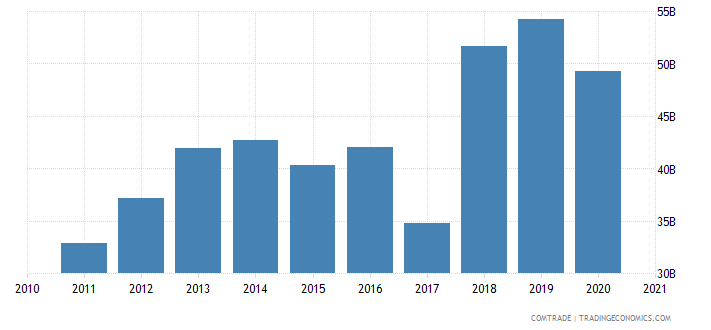 The manufacturing hubs in India each specialize in particular materials and techniques as well.
One of India's major strengths when it comes to manufacturing is the prevalence of traditional craft techniques, many of which are handcrafting techniques.
This results in unique artisanal products that are of a high quality and less generic than machine-made goods.
Sourcing from India has its pros and cons. Sourcing agents and companies may be hard to get ahold of, and even harder to build relationships with.
It can also be a challenge to private label products according to particular specifications in India.
This is where platforms like Bzaar help by bridging this gap.
Bzaar is an online sourcing platform that has thousands of unique handmade products from suppliers and manufacturers, and facilitates communication between them and the buyers.
There are many reasons to source from India, a few of which are explained below.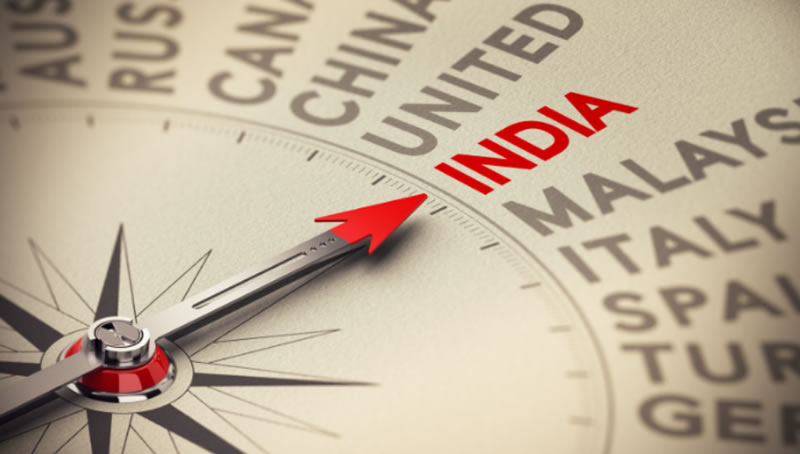 Ease of Communication
English is an official language in India and is widely spoken. Contracts are likely to be drawn in English and the difficulty and risk in finding a good translator is eliminated.
This breaks down barriers and allows wider access for international buyers.
Technique and Uniqueness of Products
Handcrafting and hand-embellishing techniques are important traditions that have been passed down over generations in India.
These are still in practice today and result in beautiful goods that are one of a kind. This lowers the chance that the product you source would be replicated by anyone else.
India's craft products are famous worldover for their beautiful designs that can only be achieved in the country. The global market is seeing a huge demand for these styles (Indian, boho, ethnic, etc.) as well.
Handmade goods also have higher margins – they have an average retail price which is twice that of machine-made mass manufactured products. They are popular among online customers and make for a profitable business.
Smaller orders
If you are running a small or medium business, you likely need lower order quantities to begin with – something that is hard to achieve with machine-made goods.
Indian manufacturers and suppliers in general are willing to work with lower minimum order quantities (MOQs) which are more cost-effective for SMB's. The normal range is around 100-500 units but you can even find suppliers who are willing to work with you for as low as 10-50 units.
Local raw materials
India, unlike countries such as Vietnam or China, does not need to import most raw materials that it uses in manufacturing. 
Wood, metals and alloys such as aluminum, copper, and brass, cotton, jute, silk, marble, and other materials are available in abundance. This increases stability of the supply chain and makes manufacturing costs cheaper and production more reliable.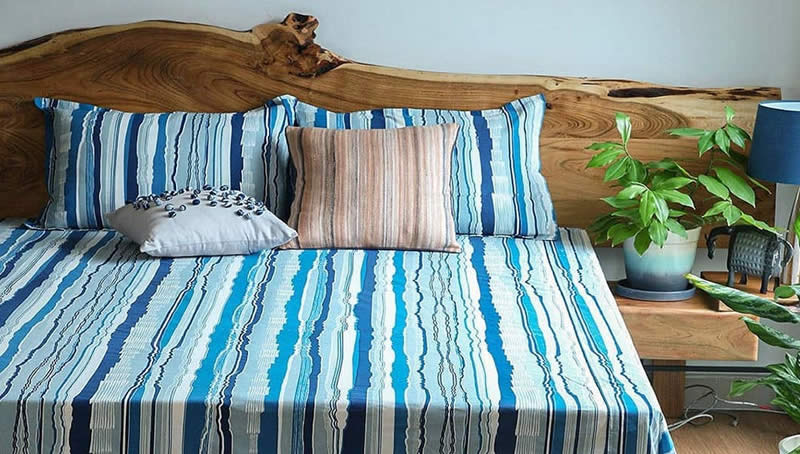 Tariffs
The US import tariffs are lower on certain product categories from India than the tariffs from China, making it cheaper to source these from India.
Categories of Products to Source From India
As mentioned before, certain raw materials are abundant in India, making it ideal to source finished goods made of these raw materials from India.
There are also certain specialized techniques that favor certain product categories.
Here are few of the categories to source from India –
Wooden products
Around $150 million of wooden products are exported from India every year.
Traditional wood carving techniques are used to create exquisite and artisan furniture, kitchenware, and home decor out of wood.
Spices, tea, and coffee
This year saw a 19% growth in the export of spices from India. India is one of the largest exporters of tea and coffee in the world.
Indian tea varieties such as Darjeeling and Assam tea are famous world over. The spices exported from India include chili, cumin, turmeric, coriander, and ginger.
The home decor exported from India clearly reflects the country's long standing craft traditions. Home decor includes decorative objects, wall decor, candles, candle holders, planters, etc.
Traditional Indian handicraft exports stand at over $500 million a year.
Home textiles
India's cotton production and specialized techniques make it a prime exporter of home textiles. These include kitchen and table linen, and bedding.
Other materials used in India include viscose and polyester, among others.
Earthenware, ceramic, metal, and wooden kitchenware are made in unique designs in India. Brass and copper vessels and utensils can be sourced from India too.
How to Source from India
1. Select your product
Intensive research should be conducted on the product to be sold.
This involves looking through Amazon bestselling lists, going to retail stores, and finding niche categories to sell online.
2. Choose a supplier
When it comes to sourcing from India, it is important to find a communicative supplier who can meet your requirements and has been vetted thoroughly.
You can find suppliers through online and offline trade shows, sourcing agents and companies, or on online marketplaces.
Online platforms and marketplaces such as Bzaar eliminate the middleman and help you browse through thousands of products from verified suppliers yourself.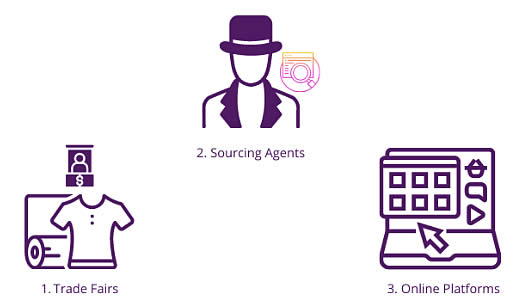 What is Bzaar?
Bzaar is an online B2B sourcing platform that connects you with verified suppliers who have products in the bestselling categories on Amazon.
You can browse through an extensive catalog of unique home & lifestyle products to find your niche.
The suppliers on Bzaar are export-ready and have Amazon FBA packaging and compliance capabilities too.
The products on Bzaar can also be private labeled! Check out the website for more details, and learn more about sourcing from India here.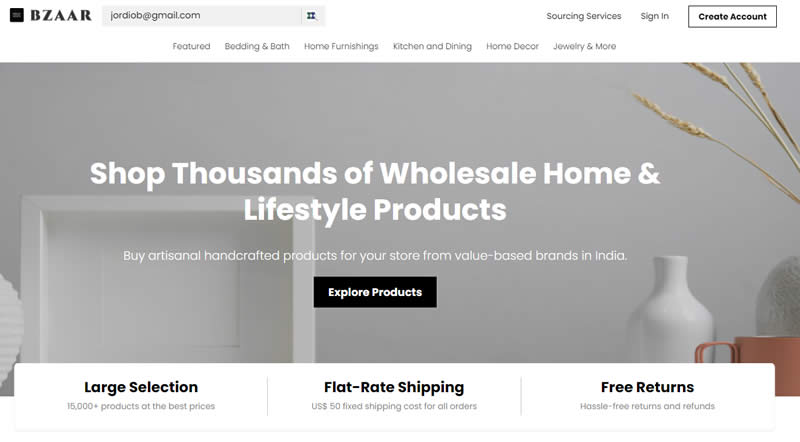 More posts
I work as an independent eCommerce and Amazon consultant.
Clients
Estrella Damm, Intersport, Bella Aurora, Lladró, Textura Interiors, Nice Things Palomas, Castañer, Due-Home and many other clients.
Lecturer & Teacher
I teach and have been a speaker at: Meet Magento, Prestashop, Prestashop Day, SEMRush, Cambra de Comerç Barcelona, ​​ClinicSEO, Ecommbeers, Ecommbrunch, Ecommercetour.com, Ecommfest, EOI, ESIC-ICEMD, Foxize, Generalitat de Catalunya, Inesdi, Quondos and The Valley. In addition, I have done in-company trainings for brands such as Orange and Adidas.
Writer
I collaborate writing articles for Helium 10 blog, Shopify, SEMRush, La Vanguardia, eCommerce-news.es, Marketing4ecommerce...
Partner
Helium 10, Jungle Scout, Avask, Sellzone, Helium 10 Seller Solutions Hub Partner
Social
LinkedIn, Twitter, Wikipedia, Youtube, Quora, ISNI 0000000513224289, About Jordi Ordonez