Wayflyer provides flexible financing and practical insights to fast-growing eCommerce businesses and Amazon Sellers.
With over $2 billion in funds provided to clients, their goal is to accelerate your growth offering funding based on revenue without diluting the Seller's capital or relying on personal savings.
Backed by JP Morgan, they have a huge client portfolio all over the world, check some of their clients: customers: True Classic, Ambr Eyewear, BionicGym, Bohemian Traders, House of Brands,
Volava. Black Swallow, Flabelus, Stryve, King Kong Apparel or Naturecan.
Are You Ready? The Black Friday Anthem
Solutions
Wayflyer offers 4 main solutions:
Wayflyer Funder
Wayflyer's super-fast growth capital injection: from $10k to $20m in 24 hours, tailored for your inventory or advertising / marketing needs.
Wayflyer Scaler
Need large funds? Scaler is your pre-approved funds for stablished ecommerce and Amazon businesses.
Amazon Lending
A growth capital option, similar to Wayflyer Scale, but focused on Amazon Sellers: from $10k to $20m in 24 hours and revenue-based financing based.
Wholesale Funding
Need to compete with the big boys placing big orders? Working capital with a transparent fee for wholesaling companies even before you receive the PO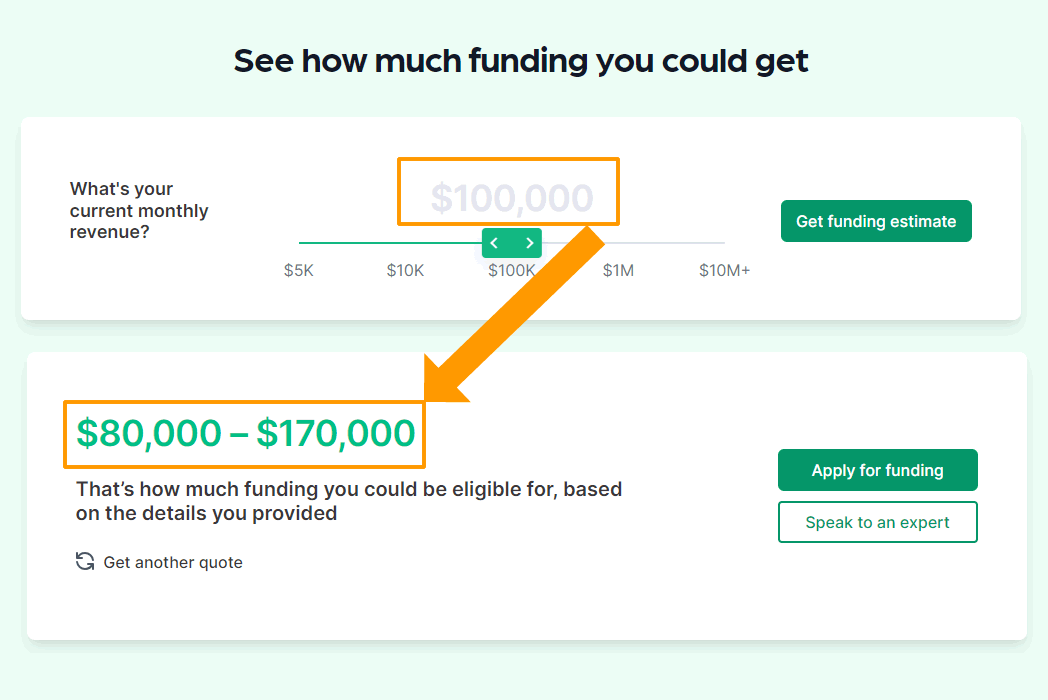 Discount
If you use our referral link you can enjoy a special offer of 3x your monthly revenue in funding.
Integrations
Wayflyer needs to connect with your sales channels before calculating how much money they can lend, so it's integrated with:
WooCommerce
Magento
Amazon
Stripe
Facebook Ads
Google Ads
Google Analytics
Bank accounts
Quickbooks
and other platforms
Pricing
The pricing for Wayflyer's financing solutions varies based on the specific needs and revenue of each business. To get detailed pricing information, it's best to reach out to Wayflyer and speak with an expert who can provide personalized pricing options.
Review
If recommended Wayflyer to some of my clients and their deployment is super fast. One of my clients got $200k in less than 3 days. Try to ask your bank for that amount of money and explain them how Amazon payments to Sellers work or that you need money to the upper-funnel campaigns. Wayflyer speaks your language.
With their revenue-based financing model, my client was able to access the funds they needed without diluting their capital or relying on personal savings.
The way I see it, there are more pros than cons:
Flexible financing solutions
Revenue-based financing
Funding offers based on your online and offline revenue (very important if you're an omnichannel seller)
From $10k to $20M
No equity or collateral needed
No dilution of capital, you keep 100% ownership
Quick application process 24-72 hours
Integration with the most popular ecommerce, payment and Marketplace platforms
They also have a development team in case you use your own platform
Propietary insights and analytics tool to help businesses make data-driven decisions for growth
So, long story short: Wayflyer is a game-changing option for online businesses looking to accelerate their growth using Amazon Financing.
Doubts? Second Thoughts? It's just 2 minutes and I think it's worth watching. This is how Wayflyer helped online t-shirt mastodon True Classic
True Classic - Scaling with Wayflyer
Our score
Number of financing offers

Pricing

Integrations

On-boarding process
Comments Rating
( reviews)
Alternatives to Wayflyer
Here you can find the top Wayflyers alternatives