Amazon Logistics is an integral part of Amazon supply chain management, responsible for executing logistics operations, managing shipping costs, and ensuring timely delivery of Amazon orders.
With Amazon Logistics, Amazon aims to reduce logistics costs and improve customer service, contributing significantly to Amazon's success in the e-commerce domain.
How does it work?
Amazon Logistics operates by incorporating a variety of logistics solutions. Amazon warehouses play a crucial role in storing and managing inventory. Amazon FBA (Fulfillment by Amazon) allows Amazon sellers to store their products in Amazon's warehouses. By the way, Amazon has 185 fulfillment centers World Wide. 100 on the US.
When an order is placed, the item is packed and shipped, reducing the seller's burden of storage and delivery.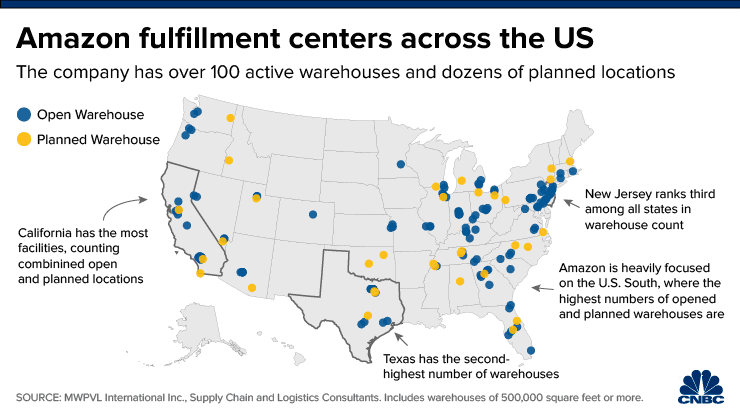 Amazon Logistics provides inbound logistics and reverse logistics services and it has it's own "loyalty program" for customers: Amazon Prime, so they can get their orders for free for a yearly flat fee. You can get your order in 24/48 hours, or in 2hours if it's an Amazon Fresh order or even pick it up at a convenience drop point using Amazon lockers.
Amazon Logistics process
When you ship Amazon packages, you are usually used to having them shipped in third-party vehicles, such as those used by FedEx and UPS. With Amazon Logistics this aspect changed as Amazon is using their fleet and outsourced employees to deliver your items on behalf of better and much faster delivery options in their deliveries. The line they are debuting and showcasing is in the form of complementing, not competing with, traditional shipping companies, although that seemed more of a safe statement than a real possible predictor.
For customers, it is certainly a great advantage, as they will be able to get their products in less time (more or less the same day) and possibly at a lower cost since they don't have to pay FedEx/UPS/whomever prices or wait for their schedules. At first glance, this seems like a win, but what will be the impact on existing shipping lines?
In some terms of those who wish to make regular deliveries to Amazon Logistcs, there are some conditions they must meet:
Last Mile Business: Amazon requires you to have an established business and offers four types of insurance: $1 million commercial general liability; $1 million workers' compensation; and $25,000 legal liability per load.
Drivers: For drivers working with you, you must ensure that they are equipped with safety policies and procedures and have received proper training in the area. They should also all have documentation of this.
Fleet: If you wish to send deliveries to Amazon Logistics, you must show Amazon that you own at least 5 cargo vans (or something similar to this) that are at least 200 cubic feet in size.
If you, unfortunately, do not meet all of these requirements, Amazon still has some options available to you in the area of Amazon Flex (which deals with individual deliveries) or Middle Mile Providers (who are responsible for transporting Amazon's freight).
Why did Amazon launch their own logistic company?
Amazon launched its logistics services to gain better control over its delivery process. By managing inbound and outbound logistics, Amazon aims to optimize fulfillment costs, improve delivery speeds, and ensure a consistent experience for Amazon customers.
How is it different from conventional carriers?
Amazon Logistics is different from conventional carriers in several ways. It relies heavily on Amazon technology for operations, tracking, and management. Amazon Logistics also includes Amazon Flex and Amazon DSPs, expanding its workforce beyond regular Amazon employees, which is not a common practice among traditional carriers.
What is Amazon Flex?
Amazon Flex is a program within Amazon Logistics that leverages independent contractors, known as Amazon Flex drivers, for package delivery. Flex drivers use their own vehicles to deliver Amazon orders, significantly expanding Amazon's delivery capacity, especially during peak times.
What It's Like To Be An Amazon Flex Delivery Driver
What is Amazon Logistics Tracking?
Amazon Logistics Tracking is a system that allows customers and sellers to monitor the status of their orders. It provides real-time updates on package location, expected delivery times, and any possible delays, enhancing the overall customer service experience.
Amazon Logistics pros and cons
Amazon Logistics, like any other service, has its pros and cons. On the positive side, it has resulted in reduced shipping costs and faster delivery times. However, there can be issues such as poor Amazon Logistics shipping, leading to negative seller reviews, which can impact Amazon merchants adversely.
Is Amz Logistics good for Sellers?
The first thing you should understand about Amazon Logistics is that most of the benefits are intended, first and foremost, for buyers. You should think about your feedback rating from the seller, for example. One of those important components is shipping time and expectations. If you can get your packages out fast (or even faster) than the ones I list, that will most likely encourage more buyers to feel more encouraged to leave rave reviews on your seller profile.
So, for third-party sellers, Amazon Logistics can be beneficial as it reduces fulfillment costs and simplifies logistics management. Amazon FBA allows sellers to leverage Amazon's efficient logistics services, freeing them from the complexities of storage and shipping.
The downside of Amazon Logistics
One small disadvantage is that you don't get an exact delivery time when you use Amazon Logistics, so you will have to adapt to the estimated deadlines (maybe it's only for now?).
But there is an advantage and that is that Amazon almost always hits targets within an hour or two of what the project, so this will give you a pretty good idea of what you might be able to tell your buyers.
How Amazon's Super-Complex Shipping System Works
Final Thoughts
Want to show other sellers the way it's done? Make that you're shaking in your space boots by using RepricerExpress, which uses competitive and enviable enough pricing to help reinforce the reputation you have with other sellers.
And with the first 15 days free when you sign up now, there's no better time than to get started on this sooner rather than later to get a jump on things.
More posts
I work as an independent eCommerce and Amazon consultant.
Clients
Estrella Damm, Intersport, Bella Aurora, Lladró, Textura Interiors, Nice Things Palomas, Castañer, Due-Home and many other clients.
Lecturer & Teacher
I teach and have been a speaker at: Meet Magento, Prestashop, Prestashop Day, SEMRush, Cambra de Comerç Barcelona, ​​ClinicSEO, Ecommbeers, Ecommbrunch, Ecommercetour.com, Ecommfest, EOI, ESIC-ICEMD, Foxize, Generalitat de Catalunya, Inesdi, Quondos and The Valley. In addition, I have done in-company trainings for brands such as Orange and Adidas.
Writer
I collaborate writing articles for Helium 10 blog, Shopify, SEMRush, La Vanguardia, eCommerce-news.es, Marketing4ecommerce...
Partner
Helium 10, Jungle Scout, Avask, Sellzone, Helium 10 Seller Solutions Hub Partner
Social
LinkedIn, Twitter, Wikipedia, Youtube, Quora, ISNI 0000000513224289, About Jordi Ordonez