Wiser is an all-in-one retail analytics platform where you are going to acquire in-store and online data combined, into some actionable, customized and very useful reports including, of course, an Amazon repricer. You are going to be able to gather all the KPIs as well as some other data super helpful for your Amazon business.
The foundation mainly purpose of Wiser is to simplify the information and the complex environment of collecting all your needed data through an omnichannel, just to help you achieve your business goals and keep track of all the income and outcomes of it.
Wiser Features
Wiser offers three different programs that you can book at anytime.
They are distributed as:
Solutions Compliance
Helps protecting your brand by ensuring pricing and merchandising compliance, all through your entire reseller network.
Solutions Market Intelligence
Which makes a quite clear landscape of the visibility of your competitors.
Solutions Optimization
Which analyzes and measures key in-store metrics, affecting brand identity and sales.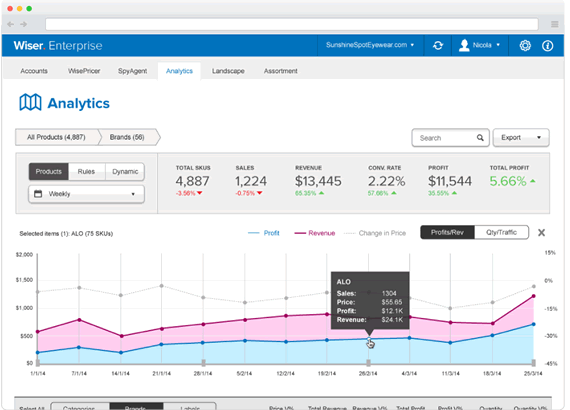 Pricing
The tool works based on a consultation of your actual status. After that, they do offer you different plans with customized pricing rules for each according to your need.
Trial
There is no possibility of testing Wiser for a Trial previously. You set a meeting and they guide through the tool and what it would be useful for you.
Wiser Review
Even though Wiser has a great support team in the US and Europe, their tool is not really that easy to use and comprehend through the panels. They define their company goal as "to help retailers and brands" in order to make brands drive their revenue, and reduce costs while improving marketing efficiency.
Wiser features are quite far from simplifying the data collection and analysis, even though you do have all of that data on insights and actionably personalized insights.
Our score
Alternatives to Wiser