Are you the owner of this tool? Submit your modifications here
This is an NPS (Net Promoted Score) tool. Therefore what it does is evaluate the level of satisfaction of our clients and, most importantly, it is able to identify which of them can become promoters of our brand, product or service by recommending it to their direct contacts.
To determine what level a consumer is at, Customer.guru uses a survey system that is very quick to respond and really easy to interact with.
Basically, it is a scale from 1 to 10 in which the users who make an evaluation below 6 (included) are catalogued as dissatisfied or detractors, 7 and 8 are passive so they are not considered to make a recommendation directly and, finally, 9 and 10 whose loyalty index is higher and, in addition to buying with more recurrence, they will also play the role of brand ambassadors.
Customer.guru works through email but also offers the possibility to integrate surveys within a website.
Features
Before deciding to use this tool in your eCommerce you should know more about its main features.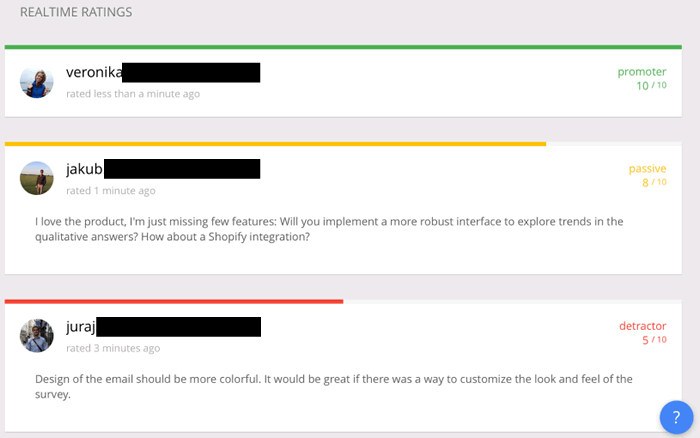 Customization possibilities
In addition to parameters such as titles, texts and thank you pages you can give your business branding including corporate image.
It integrates completely into the body of the email
The user responds in one click without having to load an additional page.
It's absolutely responsive
This means that it works seamlessly on both mobile phones and desktops.
Allows you to ship manually
But it is also capable of automating the task.
Integrates with over 1000 apps and services
Different to enhance the effectiveness of both.
It is much more efficient than other survey systems
Due to the simplicity of use and integration into other services. According to the Customer.guru himself we talk about a response rate of between 40% and 60%.
Reports that cross the NPS rating
With other variables such as the product purchased, location of the user, seasonality, number of times he has made a previous purchase..
Real-time shipping performance data
So we can control if the opening rate, CTR, churn rate are meeting expectations and thus refine the strategy in the coming campaigns.
Application of Artificial Intelligence
Through its own algorithm to process natural language in open questions. This gives a qualitative plus to the pure NPS that is more quantitative.
It is available in more than 25 languages
So it is perfect for internationalization strategies. They are also open to incorporating those languages they have not yet contemplated.
Uses an A/B testing system
In order to get, in a progressive way, the best results. We can test different subjects in the mail, texts and even designs of the surveys themselves.
Integration of Customer.guru with other services
This is one of the strongest points of the tool. They have worked a lot on the possibility of interacting with other tools.
Customer.guru allows you to do this in two ways: from importing or from exporting the data.
In the case of the import, it is designed to program surveys from any web page using JavaScript in less than 5 minutes. It is also designed to work directly with Shopify (even for large volumes with Shopify Plus), use its development level API or the more than 750 services via Zappier (including Salesforce, Stripe, Zendesk, Mailchimp… to name a few).
In data export it allows you to create custom segments for Facebook and Google Ads based on historical data, track in Google Analytics, display the latest reviews in Slack automatically so the whole team is up to date, place an embedded widget directly on our website or download a CSV to be able to work on the data in a spreadsheet.
The number of options is almost unlimited so that all eCommerce can benefit from the NPS.
Pricing
We have four different plans depending on the number of surveys we want to carry out and how many users we want to reach:
Hobbyist $50 per month
A single survey for up to 1,000 users each month.
Small Business $150 per month
Up to 3 different surveys for 5,000 users per month It also allows the use of our own domain.
Advanced $250 per month
Unlimited surveys for up to 10,000 users per month As an extra, the Advanced plan is designed to be able to import data from external tools.
Custom
The classic Enterprise plan they custom design for large customers as is often done in many eCommerce tools.
Customer.guru review
For physical stores, NPS is the order of the day, but for eCommerce it is not always easy to find something that works this well by moving the experience to online stores.
It is true that, for example, if you want to maintain your brand image you will have to sign up for one of the payment plans. Otherwise the emails will come from your domain and that can detract from your credibility. If you are going to use it, it is worth paying considering the good performance it offers, but keep that in mind.
For those who are concerned about the learning curve, tell them that I learned how to use it in one day. The setup is very simple and in a matter of hours you have the first campaign running.
What do I like least about Customer.guru? Surely, although it is very powerful and has plenty of options (the amount of apps you can connect to Customer.guru is impressive), for some users it can be a bit confusing in terms of usability of certain features and reports. It's something you have to get used to at first.
Our score
Alternatives to Customer.guru