Are you the owner of this tool? Submit your modifications here
GetResponse is an online marketing platform that automates tasks and provides a very complete email marketing tool, with other effective solutions that are adapted to the needs and possibilities of each client.
Its simple and intuitive platform provides the reach that an ecommerce company seeks to advance, grow and reach all its potential customers and loyalty.
GetResponse's reputation positions it as the best choice in email marketing, backed by state-of-the-art software and a team of experts behind it.
GetResponse Features
In reality, GetResponse is an all-in-one, large platform made up of a series of specific products: email marketing, marketing automation, landing pages, webinars, ecommerce tools, traffic generation tools and others.
Email marketing platform
GetResponse offers an email marketing platform with which you can manage the entire process from the creation of forms to attract subscribers to testing and analysis of campaign results to improve the strategy.
In email marketing you cannot afford to have a low or mediocre rate of sending and delivery of emails, so GetResponse automatically ensures that the emails sent do not end up in the spam folder. In addition, it integrates a testing tool so that the customer himself monitors his emails to be sent and controls the probability of them becoming spam.
Autofunnel
You can create a complete funnel to accompany the customer from the first moment he discovers your website or product until he is loyal. For this task, you have templates and designs to create resources to be used at each stage.
Landing pages
GetResponse has an easy-to-use landing page creator that uses drag and drop to create from scratch or edit any of its more than 150 templates.
Ecommerce
Although it is not exclusively an ecommerce platform, it does have a tool for this task. Design online stores easily and upload your product catalog to it. To manage payments you can integrate with just one click about five different and widely used payment processors: PayPal, Stripe, Square, PayU and BlueSnap.
It also features advanced tools for managing online stores, such as abandoned cart reminders, segmentation and more.
Traffic generation
With GetResponse you can even implement strategies to drive more traffic to your website or online store, taking advantage of social networks. To do this, it features templates for creating eye-catching images and videos and allows you to create advertising campaigns for Facebook and Instagram.
Webinars
When I told you that GetResponse is an all-in-one, I was not exaggerating, because it even has its own tool and platform for the creation of webinars to attract new customers and to build up the loyalty of existing ones.
Technical features
Of European origin
Available in Spanish
Technical support by chat
It integrates with 120 web applications and tools, including: Amazon Payments, BingAds, Etsy, Evernote, Google Ads, Shopify, Woocommerce and PrestaShop.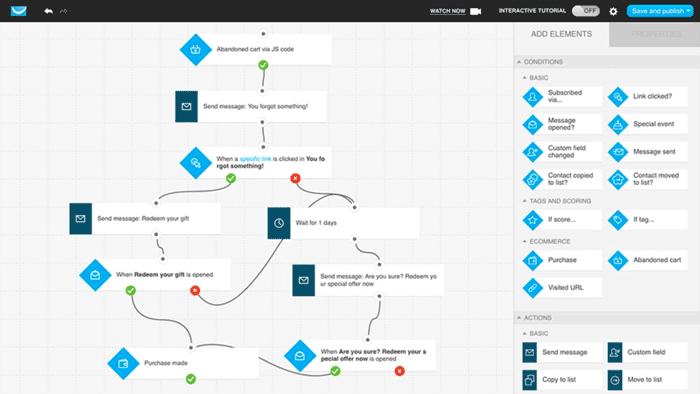 Plans and prices
Before you decide to choose GetResponse as your online marketing solution, you can try out any of their plans for free for one month, after which you must pay the price.
Basic Plan
Price: 13 euros/month
Email marketing
Autoresponders
Creation of unlimited landing pages
Unlimited automation models
Creation of 1 sales funnel
Facebook Ads
Sale of infoproducts
Plan Plus
In addition to the features of the Basic plan:
Automated creator of 5 workflows
Webinars with up to 100 attendees
Contact scoring and labeling
Creation of 5 sales funnels
3 users
Up to 5 webinar funnels
Professional plan
In addition to the features of the Plus Plan:
Unlimited automation creator
Paid Webinars
300 attendees per webinar
Unlimited creation of sales funnel
Unlimited webinar funnels
5 users
Webinars on demand
GetResponse review
GetResponse is a pioneering email marketing software, providing service since 1999.
It offers a very simple and easy to use software that does not require advanced knowledge in ecommerce or web development, of course the more advanced options will require some experience.
It has technical support 24 hours a day, 7 days a week via chat. The advice is personalized, effective and fast and is available in Spanish, as well as other languages.
Its reputation is not only endorsed by its expert advisory panel but also by its users, who share experiences, solutions and ideas in social networks and chat rooms.
Pros
Available in Spanish
Affordable and competitive prices
Unlimited emails in each service plan
It's responsive, fits all screens
Well-equipped tooling panel
Technical service all day, every day
Ease of handling and administration
Integrates well with other software
Cons
Some of its tools are outdated
You can't manipulate the code on the landing pages.
As the list grows, so does the cost
The mobile app is not comprehensive.
It is not automatically saved when editing and creating email content.
Entering the world of digital marketing requires the best tools, and among them, GetResponse is in a leading position.
Our rating
Our score
Number of features

Pricing

Learning curve

User friendly
Comments Rating
( reviews)
Alternatives to GetResponse