Are you the owner of this tool? Submit your modifications here
Lucky Orange is a tool for measuring and monitoring user or visitor activity on a website, blog or ecommerce site.
There are many alternatives with the same objective, but Lucky Orange works exclusively in real time, that is, it does not quantify data in a base for later analysis, but its results are analyzed live with the visitor's interaction.
It allows your users to know the movement of the mouse, which specific keys are pressed on the keyboards, time spent, links visited, among others. This way, website owners know directly if the strategy, design and content is working.
Although there are those who prefer to analyze data collected with forms and statistics divided into modules, and there is software for this; there are also those who want to do a direct test, and for them there is Lucky Orange.
Taking into account the latter, this application is preferred by small and medium sized websites that only seek to stay afloat by predicting behavior and trends on their websites.
Its installation is simple and its learning curve is very low, ideal for the unfamiliar; in addition, its prices are accessible and its interface friendly.
But, this is not all you need to know, there is more, so read on to find out all about this CRO and analytical software.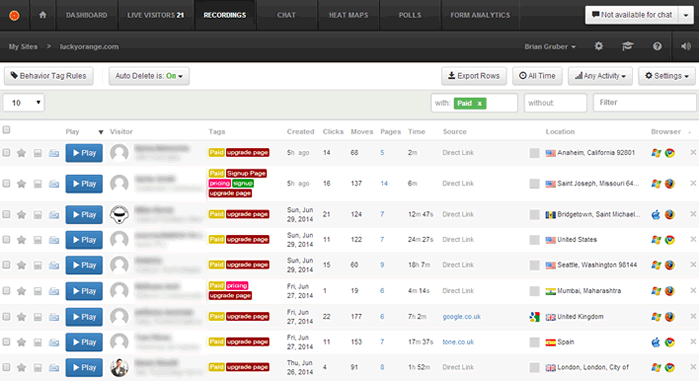 Features
Lucky Orange is a software designed to meet the needs of certain users, hence its features as a web analysis tool are particular:
It is a simple and very intuitive tool.
Available in the cloud so you can access it from any device and place.
Click and keystroke tracking
User session recording.
Email alerts.
Heat maps of visitor movements on the page
Simplified installation with JavaScript code
Visitor count
Open page statistics
Handling of the Keywords of our website
Integration with Twitter
Live Chat for live interaction with visitors
There is no doubt that Lucky Orange is very detailed in the parameters that can interest the owner of a website, and more importantly, it gives them the power to contact these data live.
Pricing
Lucky Orange does not have a free plan, although you can opt for a few days of free trial.
Plan Starter
10 per month
1000 page views per month
1 place
2 operators
Small Business Plan
20 per month
2000 page views per month
3 sites
4 operators
Medium Plan
50 per month
10000 page views per month
8 sites
10 operators
Large Plan
100 per month
50000 page views per month
16 locations
20 operators
Lucky Orange review
For those who are looking for a direct, fast and effective measurement of their visitors' interaction with their website, there is an alternative to Lucky Orange that measures visitor movement, knows what interests them about your website with its keyword database, interacts with them for live feedback and much more.
It is a functional tool to measure the interaction of users with the content of a website, in order to make decisions based on the data provided by each analysis in real time.
Pros
Simplified installation
Application to all types of websites
Simple software
Real-time analysis and statistics
Affordable prices
User monitoring
Heat map of movement
Cloud Platform
Cons
Few support options
The details it throws up are not very deep
It's considered invasive
It's a company with little experience
If you want software that lets you know your users and their behavior quickly and easily, try Lucky Orange.
Our score
Alternatives to Lucky Orange