Are you the owner of this tool? Submit your modifications here
When we talk about Monei we mean one of the best eCommerce payment gateways that can be found in the market today.
Of all the decisions we have to make when setting up an online store, one of the most delicate is the platform we are going to use to process online payments for the orders that are produced.
Monei stands out as a great solution because they have created a tool that promises to simplify the task of integration with our store as much as possible, while being technically advanced and providing maximum security.
The latter is critical for us as business managers; if there is the slightest doubt, we must rule out any alternative because we would be putting the business itself at risk but, as we say, this is by no means the case with Monei who has more than proven solvency.
The last aspect to value is in the commissions and costs that the use of Monei has with respect to other platforms. In this sense, and as we will see later, Monei is a very good alternative to Stripe and many other similar gateways.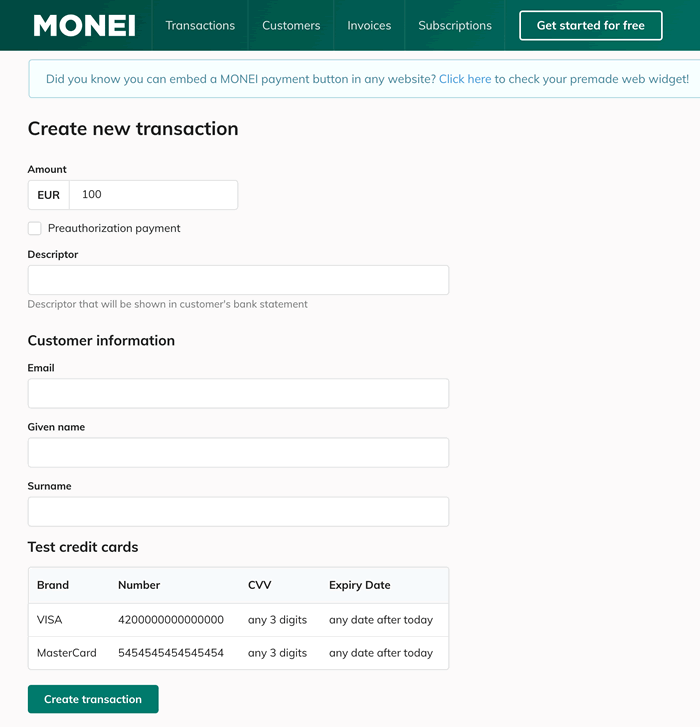 Features
It is logical that before choosing Monei as a payment gateway you want to take a look at its main features to know exactly what it can bring to your business:
Simplicity taken to the extreme
The creators of the tool themselves say that "a 6-year-old can use it". This is a bit excessive, but the truth is that it is very optimized.
Security at a military level
Data encryption is so secure that it is similar to that used by the military or NASA itself.
Payment in 1 day
This is one of the most important features since, most payment gateways usually deposit the money much later (up to 15 days in some cases).
No initial fees
No hidden costs appearing with the use.
Compatible with 3D secure
This is a protocol called 3 Domain Secure used to prevent and avoid fraud in online payments by bank cards.
PCI compliance
This acronym comes from Payment Card Industry Compliance which refers to a series of rules dictated by VISA and Mastercard to approve their use. Monei complies with them.
Mobile and POS payments
Thanks to this and through web POS or dataphone, physical stores can also process payments with Monei.
Recurring Payments
We can configure the gateway to automatically charge repeatedly over time. This is ideal for subscriptions to services or consumables.
Bitcoin payment supported
Within their R+D department and Blockchain, they have put the focus on cryptomonies making Monei compatible with Bitcoin which is the most widespread.
Payment Widget
With just a few lines of code you can incorporate a payment button to any page or blog.
Integration of Monei with other services
For a payment gateway to be truly operational, it is essential that it be capable of integrating with any website developed with the main technologies for creating online stores.
We have already said that via API you can connect practically any development with Monei, but it also has native solutions for some of the most extended CMS such as Shopify and Woocommerce. Recently they have added the PrestaShop plugin covering a wide spectrum natively.
Pricing
The most important thing is to emphasize something that we have already mentioned before: there is no initial fee with which we will always be paying depending on what we sell or, in the case of certain businesses, a flat fee.
Monei has two different plans. One for European-based customers and the other for international customers:
Monei Plus
Monthly flat rate of 990 ? so no percentage or additional fee is charged per transaction.
Monei (Europe-based business)
Its cost is:
0.9% + 0.24 of each successful transaction for European cards.
2.79% + 0.24 Euros of each successful transaction for non-European cards.
All the basic features as well as the full 3D Secure and refunds are free for us. The chargebacks cost 17 euros when you manage them with Monei and what your bank charges if you are on the Monei Plus plan.
With the Monei plan we have access to a license for the use of the control panel (unlimited in the case of Monei Plus). If we required more we would have to pay an additional 19,99 ? every month.
Monei reviews
As I said from the beginning, it is a good solution as a payment platform by functionality, security and integration.
The advantage in capital letters is the speed with which payments are received for eCommerce. Honestly; it can be exasperating how long it takes to get paid through other payment gateways.
It is true that I would like you to have some additional payment options, especially Apple Pay which is very widespread, but globally it more than covers the needs of an eCommerce and many physical stores. I would also stress that the user interface is so simple that it might seem basic at first, but it is not: it is perfectly solved.
Our score
Number of features

Pricing

Learning curve

User friendly
Comments Rating
( reviews)
Alternatives to Monei