eFLIP is an Online Arbitrage Software for FBA Sellers, which helps you to make a profit year-round by purchasing low-priced items and later reselling them for a premium price via FBA. It is a software specifically designed to crawls all the sources of information about books on Amazon, so you get the cheaper seller for your book.
This Amazon Tool for Amazon Retail Arbitrage helps users analyze books flippability in order to calculate its potential profits, and making the user have full access to important and useful information when making a decision to snag or not that book. On that way, you can save time and money.
eFLIP Features
eFLIP' software works through powerful filters in order to find cheap books on Amazon, with the highest chance of giving a High FBA Price to its users.
By signing to it, you are also going to get:
Downloadable eFLIP Book Tracker
The Book Tracker spreadsheet that would help you track all of your book purchases, so you make sure nothing slips and the purchase gets out of hands through the cracks.
Access to the Private eFLIP Facebook Group
The utility of this forum is to let you learn from your peers – who are also searching information to snag a book or not -, ask questions, and provide feedback to improve the software development.
Access to eFLIP University
You will learn advanced strategies when looking for profitable flips. Whether you are brand new to this segment-market or already have experience.
Pricing
Even though there is a 21-day free trial, you do have to pay  $79.00/month to use eFLIP Amazon Tool to its full potential.
However, there are 3 new different plans:
If you just want to use the CD's database: $49 / month
If you just want to use the DVD's database: $29 / month
If you just want to use the Vinyl's database: $29 / month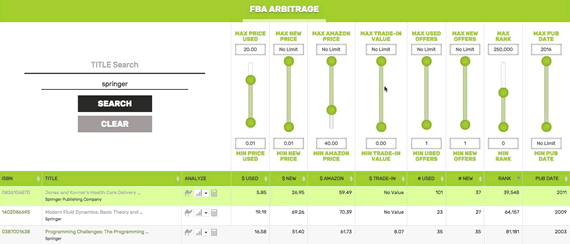 Trial
There is a 21-day free trial, but you do have to sign up and be a member of the eFLIP community in order to be able to enjoy this tool.
eFLIP Review
eFLIP does work wonders when you are starting your little business of snagging books, while learning from the users use and improving their system of powerful filters. Even though it is quite pricy, we do recommend you this software to get ahead of the game.
Video tutorial
eFLIP Tutorial: How To Buy And Sell Books on Amazon FBA Without Leaving Home ( 2020 )
Our score
Pricing

Learning Curve

Number of Features

User Friendly
Alternatives to eFLIP
I work as an independent eCommerce and Amazon consultant.
I work for: Estrella Damm, Intersport, Bella Aurora, Lladró, Textura Interiors, Nice Things Palomas, Castañer, Due-Home and many other clients.
I teach and have been a speaker at: Meet Magento, Prestashop, Prestashop Day, SEMRush, Cambra de Comerç Barcelona, ​​ClinicSEO, Ecommbeers, Ecommbrunch, Ecommercetour.com, Ecommfest, EOI, ESIC-ICEMD, Foxize, Generalitat de Catalunya, Inesdi, Quondos and The Valley.
In addition, I have done in-company trainings for brands such as Orange and Adidas.
Finally, I collaborate writing articles for Shopify, SEMRush, Prestashop´s official blog, Brainsins, La Vanguardia, eCommerce-news.es, Marketing4ecommerce and other blogs and media.