With the competition at full strength on Amazon, only those who know how to find the best products will be able to continue doing business.
Jungle Scout is one of those tools (suite of tools, actually) that gives you a differential advantage when doing product research and detecting real opportunities.
When we talk about business we must give intuition the weight it really has and not trust everything to it because, fortunately, within the digital strategies and tactics we have accurate data and trends that will make our decisions have more guarantees of success.
Why choose Jungle Scout?
Although this post is focused on offering you alternatives to Jungle Scout doesn't mean it's not a great option, in fact it will always be among the first options to value when you want to manage sales from Amazon. It goes really well in all cases, whether you are starting from scratch or optimizing an existing business.
They boast of having the best rated tool for Amazon on the market, which would obviously mean that it is above any of the other 37 here. To say that it is the best may be too much, but of course it is one of the good ones and it has 250,000 users which is always a guarantee.
Its strongest point is the research of niches and new products. It has an easy to use interface that, in a few clicks, shows us all the basic information. It also has a browser extension for Chrome, which integrates completely into your Amazon experience and can be consulted in real time.
As we said it is a suite with what we can use more than one functionality, specifically we are talking about 11 different and outstanding as they are:
Product Research
Detection of profitable niches.
Monitoring of products to know how they behave before they are launched.
Locate suppliers
Keyword research for paid campaigns and SEO optimization on the Amazon search engine.
Academy: this is the name given to a series of resources to increase our knowledge in FBA.
Sales analysis to make decisions based on advanced reports
Stock tracking
Automation of email marketing campaigns
Alert system
Listing optimizer that helps us to stand out in the eyes of the customer and the internal algorithm of the marketplace
You can try it for free, but from the first 14 days you will have to subscribe to one of the payment plans that start at $19 per month (and I don't recommend it because it is so limited) and go up to $79 as long as you pay annually.
Features comparison
Check the main features on the main Jungle Scout alternatives and competitors: Helium 10, Sellzone, sellerboard, AMZScout and Zonguru
13 marketplaces: USA, CA, MX, DE, ES, FR, IT, UK, IN, JP, AU, NL, AE

10 marketplaces:

USA, CA, MX, DE, ES, FR, IT, UK, IN, JP

8 marketplaces:

USA, CA, MX, DE, ES, FR, IT, UK

8 marketplaces:

USA, CA, MX, DE, ES, FR, IT, UK

10 marketplaces:

USA, CA, MX, DE, ES, FR, IT, UK, IN, JP

Listing importer from Amazon

Seller assistant to get reviews

Advertising campaign builder

Advertising campaign optimization
Alternatives to Jungle Scout
As you can see, it's really complete. It is not the option chosen by so many marketers and sellers just because. This does not mean that it is perfect or that it fits into the way everyone works.
Thinking of all those who do not find in Jungle Scout the ideal tool by functions or by price, we have prepared this very complete list of alternative tools. I'm sure you'll find what you're looking for here.
Some of the following are more complete and others are specialized in only one area of Jungle Scout which makes it more interesting for those who are looking for specific solutions and do not want or need to pay for a complete suite.
As we talk about more than 32 alternatives to Jungle Scout you will see that there is a little bit of everything in terms of prices, some more expensive and others directly free. Are you ready?
So let's go for it!
If we compare Helium 10 vs Jungle Scout we see right away that they are two heavyweights, so much so that it is one of the best options to stand up to them.
Actually Helium 10 has more tools within the suite than its competitor, they are 14 different ones organized in 6 different categories (product research, keyword research, listing organization, operation, analytics and marketing). This means that we can do anything that can be done with Jungle Scout and some more.
It stands out for: it is especially strong in the search for niches for FBA with its Black Box tool and in everything related to keyword research.
Recommended plan: for most users, the Platinum plan will be sufficient, which has a price of $97 per month paid annually.
Trial: yes, actually it is the free plan that limits the tools by time or by number of uses.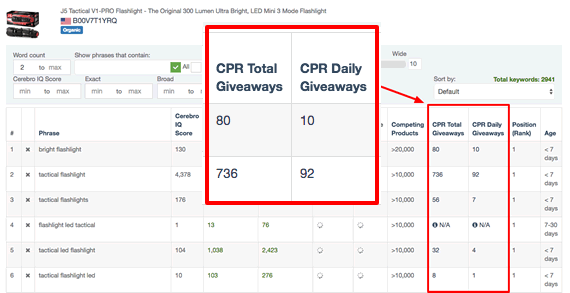 Sellzone is a multi tool for Amazon Sellers created by the guys at SEMRush including lots of features:
Listing Protection
Traffic Insights with: Overview report, Amazon Organic report, Google Organic report, Referrals report, PLA and Display Ads report
Keyword Wizard
Amazon PPC Optimizer
Split Testing
Listing Quality Check
We demoed the Traffic Insights tool and… let's just say you have to see it with your own eyes
Sellzone Traffic Insights demo + Try Sellzone 1 month for $1
sellerboard is a type of a  multitool software that has some unique features that make the software stand out from all the rest. sellerboard is an accurate profit analytics service with additional tools: follow-up mail campaigns, inventory management, reimbursements for lost & damaged stock and other FBA errors, PPC optimizer, listing change alerts.
It stands out for: accurate profit analytics compared to other softwares, money-back report, autoresponder and listing changes alerts.
Recommended plan: go straight with the Enterprise account if you're a professional seller, the pricing starts at $63/ month. In case you're a new seller with around 3000 orders a month, the standard plan is for you, starting at only $15/month.
Trial: standard 30 days of free trial.
In order to get 2 months of free access to sellerboard, use the link below:
We've placed him in position 6 but he could probably be upstairs. Zonguru compared to Jungle Scout has enough arguments to make you think hard about which one to hire.
It stands out for: its great interface. It is much more attractive than most of the tools of this type. It is not only a matter of attractive design, there are also many advantages and interesting functionalities such as reports and dashboards that make us save time and detect opportunities. We also like the automation of responses for reviews.
Recommended plan: if you have more than one listing and less than 10, your plan is the Business plan that costs $65 per month.
Trial: yes, but only for 7 days.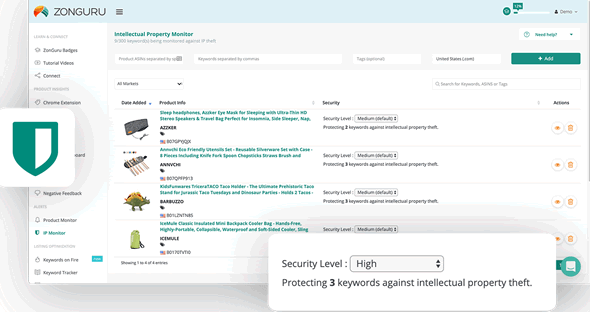 In AMZ Scout they have bet for less functionalities. Somehow we can say that it is more specific than the rest with the focus on product and keyword research (even offering 8 tools in its bundle pack).
It stands out for: its capacity and precision to find profitable niches and its usefulness to validate business ideas. Also very interesting are some of the free tools that any user can use.
Recommended plan: here there is no doubt because there is only one price that is $49 per month.
Trial: Yes
The third of the three friends, another complete suite with an all in one structure similar to Jungle Scout and Helium 10.
Unlike the tools mentioned, in the case of Sellics we have chosen to differentiate the services offered according to the type of customer and their needs. It covers the 5 main areas: SEO, PPC, profit, inventory management, and reviews.
It stands out for: the segmentation differentiating between sellers, vendors and agencies. In fact, it is the best of the tools discussed in this post for those who manage third-party Amazon accounts. Also interesting is the amount of resources and training available to its users.
Recommended plan: in this case they establish the different price ranges depending on the volume of sales of the client. To give you an idea, we start at $67 per month for those who invoice more than $1,000.
Trial: yes, you can try it out for 14 days without any limitations.
Seller tools
In fifth place we have another all-in-one tool. Seller.tools follows the trail of the ones mentioned so far by centralizing under one brand different software to manage our presence at Amazon.
It stands out because: It is particularly easy to link Seller tools with other services thanks to the powerful API. For example, it can be integrated with customer service tools such as Zappier or Many Chat, but by offering this type of API integration it could be connected with any solution developed specifically by the customer.
Recommended plan: this time the basic starter is not bad for a not very big company. For 57$ per month you can access it.
Trial: Yes, 14 days as usual
The name Feedbackwhiz already tells us that, for this tool, the key to everything is good feedback and that's why they have focused exclusively on it.
It stands out for: the powerful tools for managing customer reviews. It allows us to create automatic campaigns to ask the new customer for an opinion on Amazon via email, but it also generates alerts so that we can act quickly on negative reviews (something critical on Amazon today).
Recommended plan: depending on the turnover you have, but it will most likely compensate you for going to Basic if you are just starting out. It costs $39.99 per month.
Trial: no, but it has a limited free plan in place.
Seller.Labs
The Seller Labs suite allows you to control PPC advertising, product reviews, keyword research or manage company financial data and orders received.
It stands out for: the high level of automation that the tool has. Behind every suggestion and every setting is its Artificial Intelligence system that processes and analyzes thousands of data.
Recommended plan: again we see a pricing system based on our turnover. If it's not more than 50K, the price is $49 per month.
Trial: yes, 30 days for free.
This is what could be called a global management tool. It may not be the most complete in terms of functionalities, but it is still useful.
It stands out for: if there is something that really calls the attention of Helloprofit, it is the amount of information it can extract and how it presents it in some very simple to understand graphics. This favours decision-making and helps decisively to obtain greater benefit.
Recommended plan: there is only one and it costs $97 per month.
Trial: yes, 21 days.
CashCowPro is a new all-inclusive tool that doesn't reach the level of Jungle Scout functionality but has some interesting features.
It stands out because: it is actually quite similar to the rest of the applications we are seeing. Order management, inventory, feedback automation… Surely the most remarkable thing is that it is cheaper than other options.
Recommended plan: there is only one with a cost of $49.7 per month.
Trial: yes, 10 days free of charge.
Egrow users enjoy the 7 tools contained in their suite which are a product database, the scanner to follow certain products, a search monitor, the product tracker, niche search, reverse ASIN search and an internal search engine SEO ranking monitor.
It stands out because: we can say that its interface is quite friendly, that may not be enough to consider it an alternative to Jungle Scout, but many users especially value the simplicity of use. Oh, and it also has a Chrome extension, something that not all tools include.
Recommended plan: the standard plan is the first one to be paid, but it limits too much the amount of products to follow (50) as well as the keywords and especially the data history. That's why we recommend that you pay the $42 per month to have a real operating tool.
Trial: right now there is an offer to register for free in a very limited plan, but that can be useful to investigate Egrow.
You may not be looking for a complete alternative to Jungle Scout and, in fact, you only need to supply one of the features that are within the tools of the suite. This is the case with Amaze Owl which focuses particularly on product and niche research.
It stands out for: simplicity above all. For those who are starting to work at Amazon it is very easy to learn how it works and interpret the data and the tips it provides for ranking in a given search are actionable and quick to apply.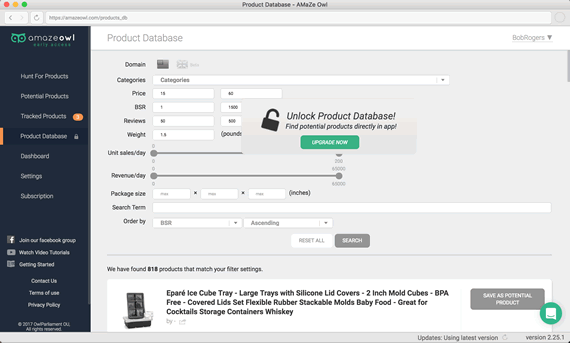 Recommended plan: the Growth plan is the intermediate plan and allows us to explore 10 niches per month for $ 12.99 per month.
Trial: there is a free plan that can be used to follow a single niche.
We see again a great multi-tool suite to compete with Jungle Scout. In the case of AMZShark there are quite a few as it contains 12 inside its pack (although not all of them are really useful at all).
It stands out because: since it tries to cover most of the functions that we can see in other competitors already mentioned, we can look at what makes it different, such as hijacking alerts that allow us to monitor the buy box of our listings and not lose opportunities.
Recommended plan: costs $99 per month, no other options.
Trial: Yes, the first 30 days are free.
And we're back to moving from mega tools to specific ones. ASINHunt is really useful for those FBA vendors who just need to research products.
It stands out because: it is actually a reverse product search engine from the ASIN, that is what it does, nothing else but it does it well and without complications. You copy and paste a list of references and the tool returns you the price data, BSR, units in stock, reviews… and a daily updated history of the price at which it moves to be in the Buy Box.
Recommended plan: if you are starting the 50 Plan is enough, it is called so because it allows you to track 50 different ASINs. The price is $9.99 per month.
Trial: yes, for one week.
In Feedvisor they are considered a tool specially designed for the big brands and sellers in Amazon, not so much for those who consider starting their business from the bottom with small private brands or through FBA.
It stands out for: the use it makes of Artificial Intelligence for the automation of certain tasks. Especially relevant is the option of using Feedvisor to do repricing since, in this way, we have more guarantees of getting the Buy Box in a proactive and automatic way.
Recommended plan: they are so tailored to the different profiles that you'd better think about what you need and take a look at them directly on their website
Trial: you can request a demo (they do not publish prices).
More than a tool like the ones we've discussed so far, Inventory Spy is an extension for the Chrome browser that can be used instead of the one Jungle Scout has (or additionally) to monitor competitors' stock levels. We will see more extensions because they are a great complement.
It stands out for: delivering exactly what it promises, without further ado. It is integrated into the browser and, with it, presents the amount of products of each reference that our rivals have in any of the domains of Amazon, since it works in all international marketplaces.
Recommended plan: this is another strong point of Inventory Spy is that it is totally free.
Trial: it is free to use
In the case of Channel Advisor, we are not talking about a specialist in Amazon, or at least not exclusively in Amazon, since it offers solutions for selling from Facebook to other marketplaces such as Walmart, and even Google.
It stands out for: precisely its wide range of solutions is one of its strongest points since it gives us the possibility of centralizing the strategy in a single platform and this, without a doubt, is a great advantage operationally speaking.
Recommended plan: at Channel Advisor they do not publish their prices and refer us to request a demo. This usually means that the fees are very high and that's right, according to some clients we would talk about an average cost that can easily reach $3,000 per month.
Trial: no.
AZ Gizmo's offer in terms of functionalities is different in many ways. Instead of offering us a huge list of tools it focuses on three areas that it has named opportunity, imperative and mobile.
It stands out for: the focus on the search for opportunities and the advanced use of its mobile application. It is really different from what you can see in other Jungle Scout rivals because it is capable, for example, of scanning the barcode of a physical product to do the reverse search on Amazon.
Recommended plan: probably the most interesting for most users is the Oportunity Gizmo plan that costs $49.99 and is a single payment, without recurrence.
Trial: the basic plan (mobile) is free, but we can try 7 or 14 days without cost the Opportunity and Imperative plans.
Under the umbrella of eComEngine there are four different tools that cover the main areas to work for our presence in Amazon. Feedback, Repricing (in this case algorithmic), inventory management and search for new products that represent opportunities.
It stands out for: its four tools Feedback five, Market Scout, Restock Pro, Smart Price that can be hired individually. This allows us to configure the suite according to our needs but maintaining a good integration between the different applications.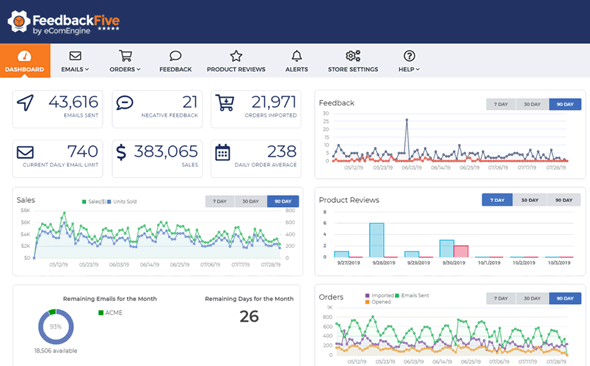 Recommended plan: you have to look at it independently for each one of the tools. Usually they have a lite that is very limited, but of zero cost and then a Basic, Pro and Enterprise that go up in price and functionalities.
Trial: yes, you can try the tools for free for 14 days
Not working anymore 🙁
Another suite, in this case with 8 different tools. It has an important database of products (150 million within its index), a tool for tracking positions, historical trends… it is quite complete.
It stands out because: like Jungle Scout and some other premium tools, IO Scout has its own browser extension for Google Chrome, which we have already mentioned makes the work much faster. However, IoScout has the huge advantage of not charging for its extension, contrary to what Jungle Scout does.
Within the suite we also find a couple of interesting free applications such as the FBA calculator and the sales estimator.
Recommended plan: the Seller plan is the right one for a small or medium business (tracking up to 45 products). It costs $49 per month.
Trial: not exactly, but you have a 14-day money back guarantee if you are not satisfied.
And we go from a tool with extension to an extension without any other tool. With a name as cool as Unicorn Smasher we found this little add-on for Chrome developed by the guys at Amztracker.
It stands out for: being a simple and integrated way to do product and niche research while navigating. It has a much more complete information than you would expect because, although its name is funny, it is a serious thing.
Recommended plan: well, you can download it totally free.
Trial: it's free.
Another classic and very popular extension among Amazon sellers is CamelCamelCamel. In this case there are no other added functionalities than price tracking.
It stands out for: really what it does, it does well. It is very visual, contains all the necessary information and represents a perfect complement to other tools you use in your day to day life.
Recommended plan: it is free which makes it even more recommendable to install it.
Trial: 100% free.
We will continue with the extensions that can also be good alternatives to Jungle Scout. In the 24th position we found the extension for Chrome from AMZbase that will not leave you indifferent if you try it.
It stands out because: it is really complete and crosses different data sources with what serves to identify trends in Google, get products related to the one we are seeing in Amazon but in Alibaba (great for those who are dedicated to FBA) or see the product history (through CamelCamelCamel, by the way).
Recommended plan: what we recommend is that you install it because it has no cost and is very useful.
Trial: not applicable as it is free
We can not fail to mention in any listing like this one of the most used extensions, specifically we are talking about Keepa which is a real price tracking machine.
Highlights: its huge interactive graphics that are displayed directly on the Amazon product tabs. Thanks to them we can know the price and sales history but also identify the offers of the day so we can act in real time. It is not the biggest competitor of Jungle Scout in many things, but it has nothing to envy in these aspects.
Recommended plan: if you are going to make an intensive use of Keepa you might want to consider switching to the Pro version which has more data and search queries. You will have to pay for it about 15$ per month.
Trial: it has a free version, limited but very operative.
We left the extensions but still focused on hyper-specialized tools. Keyword Tool tells us directly from the title what it is, right? Indeed; it is an online service that allows us to do keyword research based on the Amazon search engine.
It stands out for: it is versatile, light and very easy to use so you can make quick queries to get many alternatives to the same keyword or search intention. In its paid version, additionally, we will obtain volumes, trends, cost per click in paid campaigns and level of competition.
Recommended plan: to make a professional use is recommended at least the Pro Basic plan that has a cost of $69 per month (although it does not give us data on cost per click or level of competition).
Trial: there is a lite version that can be used for free and without the need to register
Actually, Sonar is one more tool within the Sellics suite that, as we have already said, is one of the main competitors of Jungle Scout and one of those that should always be taken into account.
It stands out because: it is actually more competitive with Keyword Tool since its function is the same: to search for keywords. It still has some important advantages like the fact that it allows to do reverse searches based on ASIN showing related questions and products in the results.
Recommended plan: it is free, even for those who have not contracted the Sellics suite.
Trial: we have already commented that it is free, so it does not apply.
Not working anymore
Another specific tool for a single task that, as in other cases already mentioned, only partially competes with Jungle Scout, is Splitly. We are talking about a listings optimization tool.
It stands out for: the use of Artificial Intelligence to find the highest possible profit point of each product and its testing system that allows us to establish different variations of the same page to, in this way, know which will be the optimum in conversions and export that knowledge to the rest of the products.
Recommended plan: you can start with the Starter plan. It is not a particularly cheap tool and with the 3 concurrent tests that it allows you to do for $47 per month, it is enough at first.
Trial: it doesn't have one.
Sellcaster boasts of being a one click toolbox. He works on four major areas such as competitor inventory, ensuring profitability through his specific calculator and making sales estimates.
It stands out for: offering all those functionalities within a browser extension. It is really efficient and can be compared with other more powerful tools on paper like Jungle Scout itself.
Recommended plan: depending on where you have the focus we would recommend the starter plan (monitoring the stock of the competition) or the Plus plan that also tracks sales.
Demo: there is a Free plan that allows us to make up to 8 consultations a day. Enough to get some relevant information and test the extension.
We closed this huge list of alternatives to Jungle Scout with one last one that couldn't be left out. We are talking about Sellernexus which is a feedback management and mail automation software.
It stands out because of: the number of options it has to centralize that area. We see, for example, that it has a powerful email editor, a trigger generator or the possibility of integrating with the logistics carriers to give the user relevant and updated information on their orders.
Recommended plan: it depends on the amount of emails you are going to manage, but if it is at least 500, the ideal is plan A for $12.99, but for only $34.99 you have plan B that allows you to manage up to 5,000.
Trial: it does not exist but instead we can send 100 emails per month for free.
Viral launch is another suite type multitool software that has some unique features that justify its entry in this list below some of the largest because it has enough character to stand up to Jungle Scout.
It stands out for: besides the more or less usual tools it has a testing system to test variations in the listings and a service to launch products including coupons, programming and statistics.
Recommended plan: go directly to the Pro if you want to really take advantage of it. It's $83 a month, but the basic one is too limited.
Trial: yes
Conclusions
Are all these alternatives to Jungle Scout better? Not necessarily, or at least not globally. What happens is that each business and each entrepreneur has different needs and a different way of working.
What we were looking for with this post is to present you with a great amount of options, highlighting those that are different from each alternative.
Do you have any doubts? Do you miss that tool that for you is basic? Here we are to assist you in anything!
More posts
I work as an independent eCommerce and Amazon consultant.
Clients
Estrella Damm, Intersport, Bella Aurora, Lladró, Textura Interiors, Nice Things Palomas, Castañer, Due-Home and many other clients.
Lecturer & Teacher
I teach and have been a speaker at: Meet Magento, Prestashop, Prestashop Day, SEMRush, Cambra de Comerç Barcelona, ​​ClinicSEO, Ecommbeers, Ecommbrunch, Ecommercetour.com, Ecommfest, EOI, ESIC-ICEMD, Foxize, Generalitat de Catalunya, Inesdi, Quondos and The Valley. In addition, I have done in-company trainings for brands such as Orange and Adidas.
Writer
I collaborate writing articles for Helium 10 blog, Shopify, SEMRush, La Vanguardia, eCommerce-news.es, Marketing4ecommerce...
Partner
Helium 10, Jungle Scout, Avask, Sellzone, Helium 10 Seller Solutions Hub Partner
Social
LinkedIn, Twitter, Wikipedia, Youtube, Quora, ISNI 0000000513224289, About Jordi Ordonez
Disclaimer: This is a promoted post by the advertiser / we are affiliated with the software