The payment process is one of the most crucial elements of any business. The ideal Amazon invoice creation tool should be simple to use, send, and track –among other things.
Finding the perfect invoice generator for you implies that you won't have to spend a too much of your time putting together the ideal invoice: all you'll have to do is to fill in the blanks on a pre-existing Amazon invoice template, which makes things quite a lot easier.
In this post, we've gathered the best free Amazon VAT invoice creators available nowadays. Each one has its own set of advantages and drawbacks that we go through in depth here to assist you in making an informed selection.
The Best 10 Free Amazon Invoice Generators
Choose from one of the following top 9 free Amazon invoice generators.
1. Invoice Generator
Invoice Generator is a free tool that lets you create exceptionally beautiful invoices and send them to your clients. In addition to being free, creating an invoice is as easy as it gets: you don't even have to sign up to do so.
Its service is quite easy to use, partly thanks to their simple step-by-step instructions guide that walks you through the whole process.
Pros
There is no need to sign up. You can create and download invoices without giving away your data.
You can download your invoices as PDFs to keep them in your records or send them online to clients or business partners.
An unlimited number of invoices may be created with this tool.
Step-by-step invoicing guide included.
Cons
Recurring payments are not allowed with the free plan.
You must have the premium version to get credit cards and ACH payments accepted.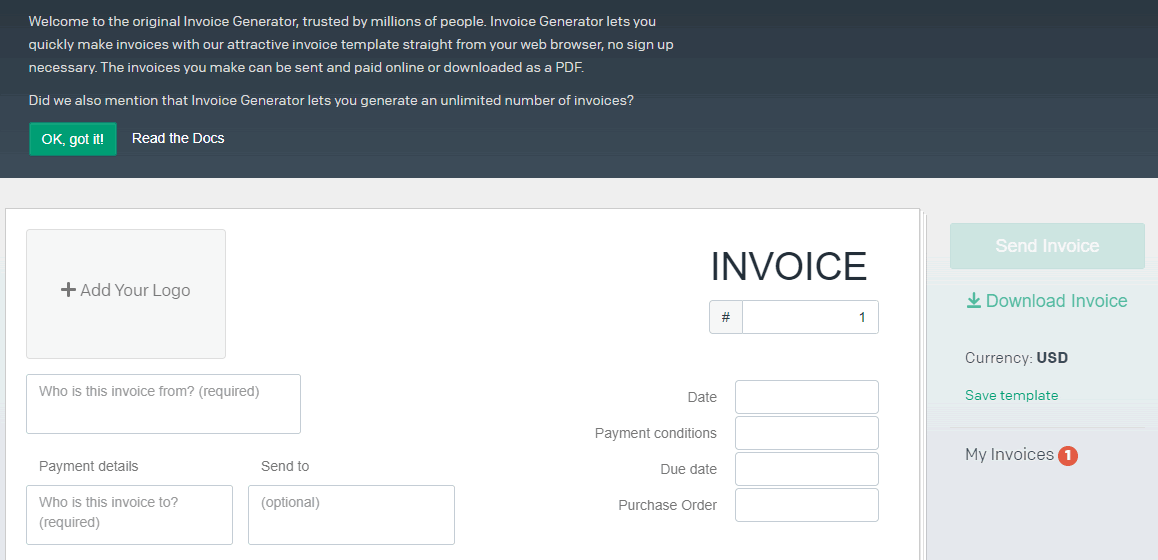 2. Billdu invoice generator
Billdu offers a simple and free invoice generator but if that is not enough, you can also make use of their featured packed invoicing app trusted by more than 550.000 small businesses and it's free for 30 days!
Supports: Invoices, estimates, pro forma invoices, purchase orders, delivery notes, credit notes and recurring invoices
Straightforward interface: creating an invoice is as easy as filling a form with the business details and payment options
Fully customizable business profile, payment options, branding
Clients manager (works for all the countries)
Drag and drop expenses manager (simply drag your bills and you're good to go!)
Portfolio services and products manager
Includes a pre-built website/sales page
And an appointment manager, in case you're selling online or offline services
Native integration with Paypal and Xero. If you need extra integrations there's a full documented API
You can manage your account from the Android or iOS app, how cool is that?
Manage your external team by inviting your accountants by mail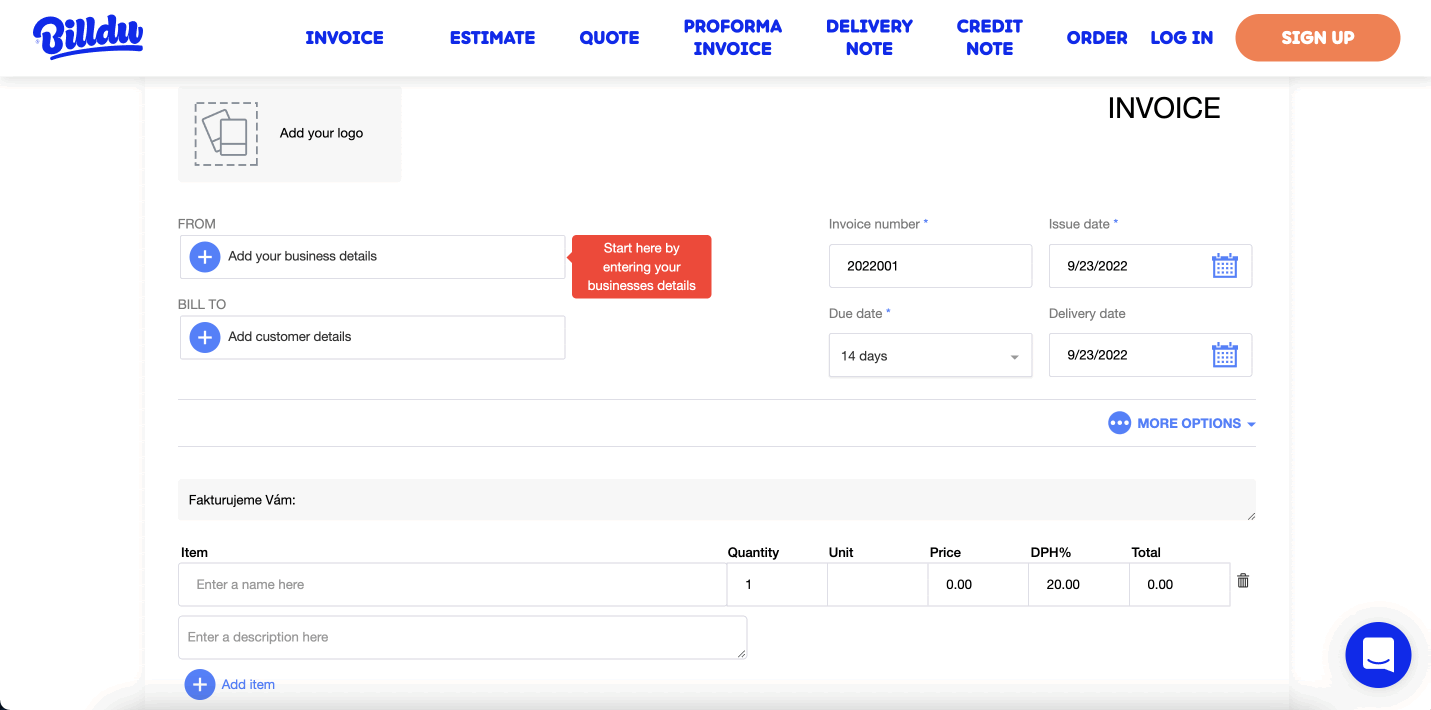 3. Free Automatic Invoice Generator
With a website that generates invoices like the ones we've mentioned above, producing just one invoice may take a significant amount of effort.
This is OK for companies with only a few orders, but it's time-consuming and tedious for companies with a high volume of orders.
AMZFinder is an all-in-one solution for running a successful Amazon business. This automated Amazon VAT invoice maker allows customers to customize their invoices and have them delivered automatically once they've been set up.
Get one single account to manage many marketplaces and listings.
Users may send invoices and review request information together with buyers.
It has a simple, easy-to-use user interface that makes generating and sending Amazon VAT invoices very quick and straightforward.
It's true that generating invoices is a big part of any company, but it doesn't have to be time-consuming or hard to do. And you can do a lot more with AMZFinder than simply creating an Amazon VAT invoice. It's the top Amazon VAT invoice maker available for all Amazon sellers.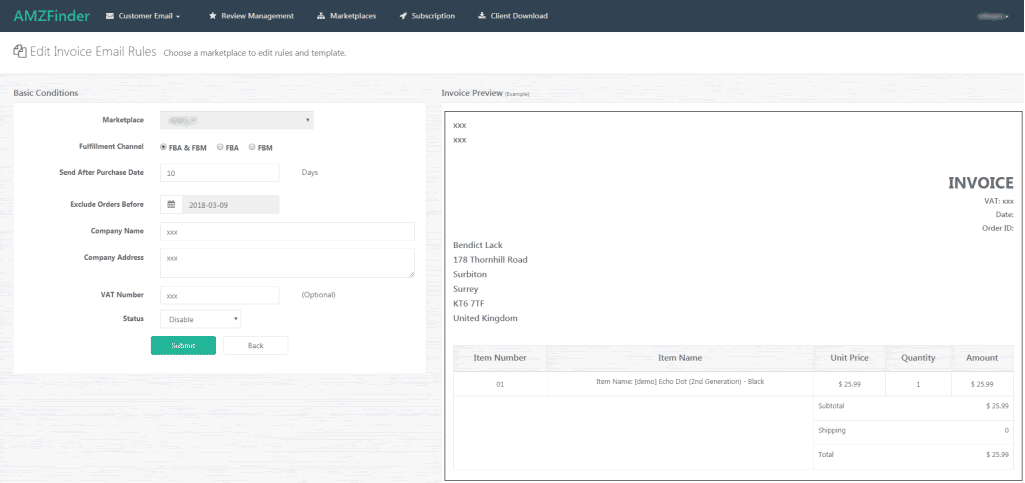 4. Online Invoice Generator
If you're searching for a free service that provides more features than the typical invoice generator, the Online Invoice Generator could be what you're looking for.
Not only it provides you with beautiful online templates to customize: it also offers you a platform that allows you to get paid online.
The platform connects to PayPal, Authorize.Net, eWay, and other payment systems to help you get payments in a faster and more convenient way.
Pros
It's free to use, and you can set up invoices without signing up.
There are many Amazon invoice layouts to choose from, all of them tailored to different types of companies.
You are allowed to print, download or send the invoice –all for free.
Payment integration with other platforms makes getting payments easier.
Cons
You must first set up an account in order to use additional payment functionalities.
5. Zoho Invoice
Zoho Invoice is a simple and very easy-to-use tool to create invoices for your company. Signing up is completely free, and after signing up, you can generate your first Amazon VAT invoice in a matter of minutes.
But Zoho Invoice is much more than just that. It also offers a complete process with several benefits, such as the capacity to keep track of your invoices online.
Pros
The free version makes it possible for you to send up to 5 client invoices.
The free account also offers you time and expense tracking.
You will get improved control over your invoicing thanks to its multi-currency support and its customer portal.
Recurring invoices may be sent to your clients.
Cons
To use the service, you must first create an account on Zoho.
You may send up to 5 invoices per month for free, tops.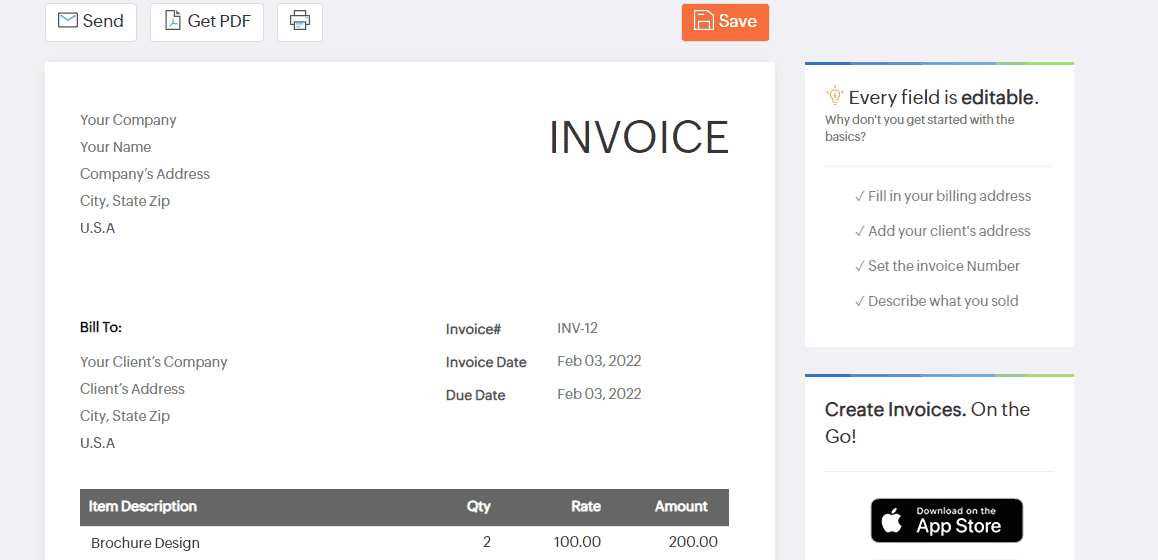 6. Invoicely
Invoicely is an invoicing tool that stands out for providing you with an unlimited amount of invoices for free. So if this is what you're looking for, this is your tool.
Invoicely's templates are very easy to use. All you have to do is fill in the details on the invoice template and then save the invoice as a PDF or send it online to your clients.
Pros
You may create and send an unlimited amount of invoices for free.
All its templates can be customized as you wish and are very easy to use.
Cons
It is mandatory to sign up in order to make the most of the tool.
The free plan does not include advanced features such as integrations with PayPal and other payment platforms.
7. Free Invoice Generator
Free invoice Generator is the solution to your invoicing problems. With its extreme simplicity, it allows you to create and download your invoices easily, with none of the issues that come from tools with too many features.
You may quickly develop an online invoice with all of the information you need, download it, and send it to your clients using this tool.
Pros
There are no requirements to join and it is totally free.
You are allowed to generate and send an unlimited amount of invoices.
Cons
It offers no extra features such as client monitoring or integration with online payment systems.
It does not allow you to send invoices to clients directly, only downloading them.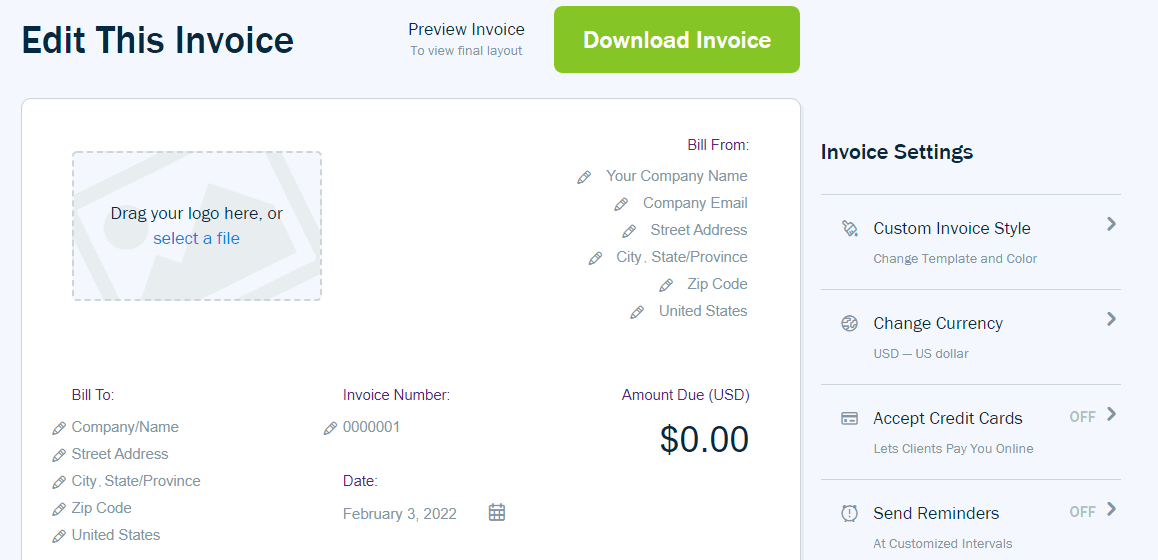 8. Invoice Simple
Invoice Simple, as the name implies, allows you to create and send invoices for free and very easily. The process couldn't be more straightforward: you just have to fill out the invoice data on a pre-filled online template, and then email it to clients, download it, print it out and send it to clients, or make it available as a web-based invoice.
Pros
It's totally free to use and lets you make as many invoices as you want.
Additional data like quotes, customers, and products may be added automatically to any invoice.
You may email or download the invoice.
Cons
Signing up is required to use the service.
It lacks sophisticated features such as invoice monitoring and payment platform integration.
9. Shopify Invoice Generator
Shopify is one of the most well-known names in e-commerce. And it offers a variety of free tools to assist online companies.
Shopify's free invoice generator is one of these tools, and it may be used to generate thoroughly detailed online invoices for free. And the best part is that using it is beyond easy.
All you have to do is fill out the invoice template and either send it to your clients through email or save it on your computer.
Pros
It is 100% free, and in order to generate invoices with the service, you don't need to be a Shopify customer.
You may personalize the template as much as you want, including the option of adding your logo.
The invoice can be emailed to clients or downloaded.
There is no limited amount of invoices you can generate.
Cons
Some advanced features found on other invoice creation tools are missing, such as invoice tracking.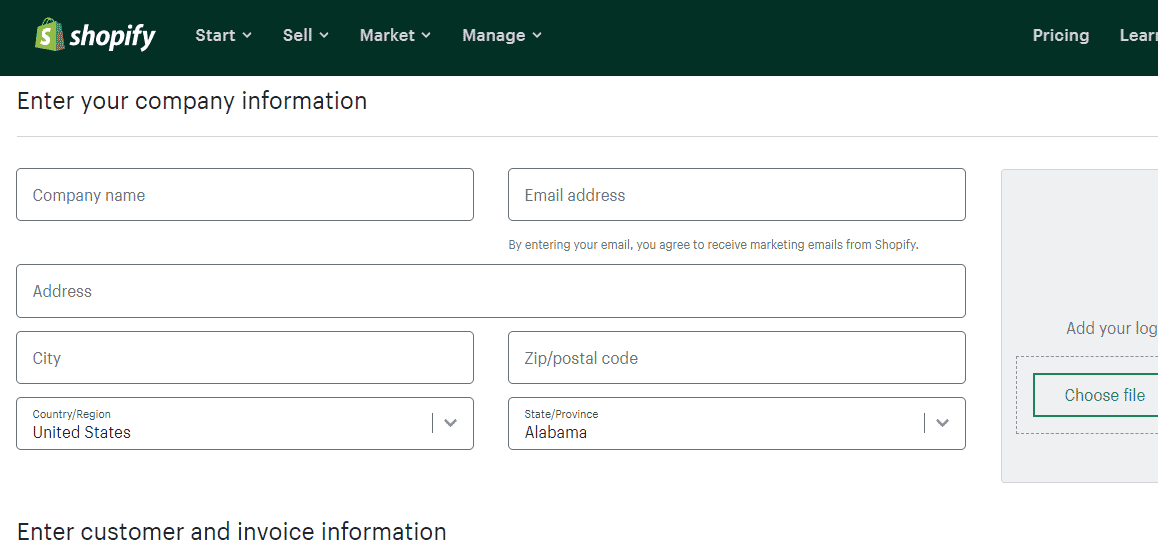 10. FreshBooks Cloud Accounting- Free Invoice Creator
FreshBooks Cloud Accounting's free invoice maker is another easy method to set up invoices for your Amazon business.
With it, you may quickly produce company invoices that can then sent via email or downloaded as a PDF.
On top of it, you don't even need to sign up to create an invoice, a process that with this tool couldn't be any more simple and quick.
Pros
It is a completely free tool. There is no need to sign up to use the service.
An unlimited number of invoices can be produced.
The invoice may be personalized as you wish, even with your company logo.
When the consumer receives the invoice, you will get a notification.
Cons
Additional features like payment tracking and integration are missing.
11. Free Invoice Builder
You may use the Free Invoice Builder to create invoices in only a few minutes, since it offers you with a service that generates templates.
It takes only a few minutes to set up the invoice, and the tool is totally free. You may immediately add your company logo and other client information to the invoice.
Invoices may be stored on the site or downloaded as PDF, depending on your preferences.
Pros
The tool is quick and simple to use to create invoices.
You don't need to sign up in order to download an invoice as a PDF.
Personalizing templates with your clients data is very easy, and you may add as much data as needed.
Cons
You must create an account to save invoices.
The service does not include additional features, such as payment monitoring or a consumer portal.
More posts
I work as an independent eCommerce and Amazon consultant.
I work for: Estrella Damm, Intersport, Bella Aurora, Lladró, Textura Interiors, Nice Things Palomas, Castañer, Due-Home and many other clients.
I teach and have been a speaker at: Meet Magento, Prestashop, Prestashop Day, SEMRush, Cambra de Comerç Barcelona, ​​ClinicSEO, Ecommbeers, Ecommbrunch, Ecommercetour.com, Ecommfest, EOI, ESIC-ICEMD, Foxize, Generalitat de Catalunya, Inesdi, Quondos and The Valley.
In addition, I have done in-company trainings for brands such as Orange and Adidas.
Finally, I collaborate writing articles for Shopify, SEMRush, Prestashop´s official blog, Brainsins, La Vanguardia, eCommerce-news.es, Marketing4ecommerce and other blogs and media.