Some years ago we complained how the dollar store does copy every succesful product and resold it cheaper.
That's been also happening in the retail environtment since forever. Every mall, supermarket, big brand… you name it, has his own white brand.
And, of course, they don't copy every existing product that's performing great, but also the newest products that other suppliers show to them as a sneak-peek.
Then, with online marketplaces, we reached a whole new level called AMAZON BASICS: a collection of items that perform great on Amazon manufactured by Amazon itself.

What is Amazon Basics?
Amazon Basics was launched in 2009 as a white brand / private label focused on offering electronic products like cables, chargers… Their portfolio grew as did the brands success and now they have thousands of products in many categories: fitness, kitchen, pets, office furniture, audio, video, bedding, office supplies, travel, yoga, kids, back to school… you name it. Just check their Amazon Store and discover +800 products just in the US.
Where do Amazon Basics products come from?
I said previously, whether it may be in posts, classes or lectures, that if we sell on Amazon we are doing Jeff Bezos' dirty job.
Let me explain:
We upload the catalogue
We sell
Amazon knows what is sold and to whom
We leave Amazon but they keep our clients info and our pictures + descriptions
Not only on our Amazon seller account, but also in our ecommerce if we let them take care of the shippings. Or even through the Amazon Pay button (if we agree to integrate it to our site). Amazon Pay is "Amazon's Paypal", to say it crystal clear.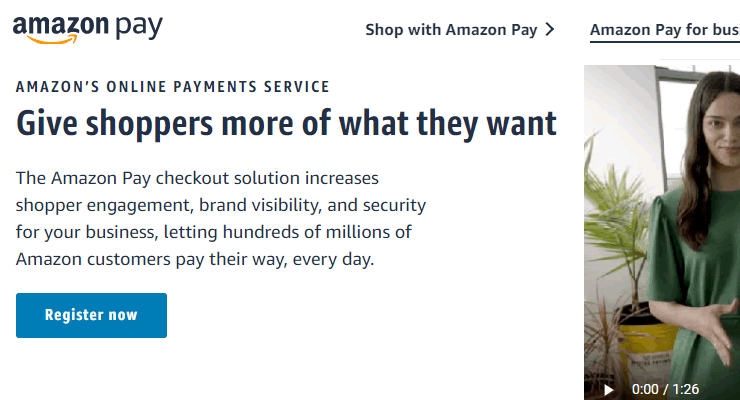 They offer you a way of paying where all clients data is directly sucked from Amazon. In that way, the client does not have the need to register to our Site and we can obtain their data in a fast way, such as:
What is their name
Where do they live
Their credit or debit card information in order to send the charge
All of this happens to have a tax similar to the one of a Business Account on Paypal (around the 3,6%) and, also, sending Amazon the data of what the user is buying outside of Amazon, from our store. That data is gold!
All in all, Amazon does put on the wherewithal for you to sell more and, while that happens, they do learn about your business in order to be able to copy it. That'd be Amazon's own private labelling option so they don't have to fight for the Buy Box anymore.
Amazon copies your product and sells it cheaper
But it has not always been like that.
Before (and still now) they did it without copying you. They just contacted with your manufacturer or distributor and they offered buying the stock directly to them or the producer could sell directly on Amazon.
Cool, right? You do make the effort of finding a product that would work and also a manufacturer, Amazon sees that the business is kinda nice and that does work and call them directly. Terrific.
Some producer did say no to that. But that is not an obstacle for Amazon. All in all, if you don't sell it to me, I would copy that.
Both the US Congress and EU's antitrust are already investigating if Amazon uses their third party sellers data to decide wether they manufacture a certain product using their white brands or not. On the meantime, you can decide if they do that or not by yourself reading this Reuters Special Report called "Amazon copied products and rigged search results to promote its own brands, documents show"
I just realised what happened in 3 years sin I first wrote this post. The Amazon Basics 6-Sheet shredder has now +136,000 reviews. In 3 years! That's nearly 136 new reviews a day for a freaking shredder! I mean, who takes the time to review wether a shredder works great or not?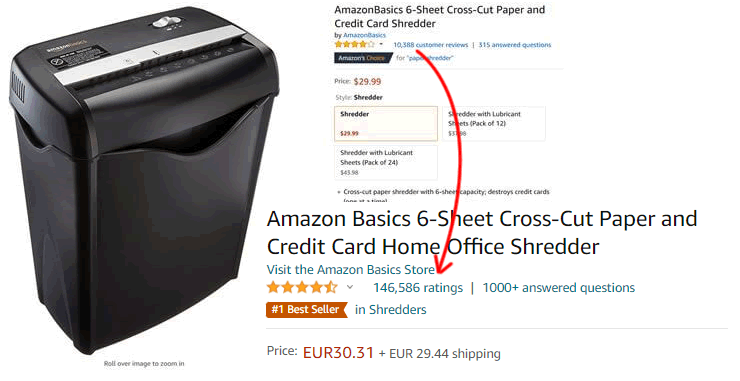 That is how Amazon Basics was born: the gift that keeps on giving
One of the craziest cases about all of that is the invention of Amazon Basics, which is really an ice-cream machine for the online selling because it does copy the most sold products on the marketplace, and does add Amazon's brand and breaks all the price barriers.
Obviously, they can break the price because Amazon does not give a fly about losing money (their main purpose is that "there can only be one").
But it can also break the price because now Amazon is the manufacturer and with Amazon Basics they do have a bigger fringe of each sell.
Excellent, isn't it? Well, that's Amazon Flywheel: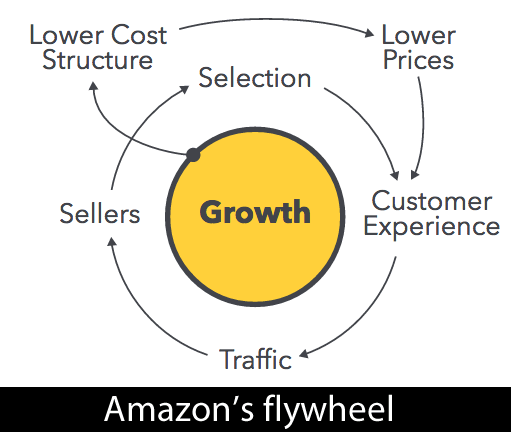 Do you how many bucks does a benchmark of your competitors cost? It is cheaper spend it on Paid Traffic and that your third-party merchants make the rest for themselves.
Some of the hot sells on Amazon Basics
The truth is that there is a little bit of everything. Not gonna lie.
As we discussed earlier:
luggage
electronics
furniture
computers
stationery
home and kitchen
clothes
accessories
DIY and tools
shoes
jewelry
cars and motorcycles… all up until 20 main categories.
If we pay attention to the categories sequence of the Basics menu, the most sold one are the mobile and tablet accessories. Nothing new under the sun.
If we take a closer look the quality product reviews, this could be a list of the most sold items:
Amazon Basics 48 Pack AA Batteries 382,360 reviews
Amazon Basics 36 Pack AAA Batteries 367,550 reviews
Amazon Basics Multipurpose Copy Printer Paper 78,729 reviews
Amazon Basics Unscented Dog Poop Bags 64,653 reviews
Amazon Basics Woodcased #2 Pencils 53,695 reviews
Amazon Basics Kids Velvet 44,665 reviews
Amazon Basics External Hard Drive Portable Carrying Case 55,632 reviews
Amazon Basics USB 2.0 Extension Cable: 21,572 reviews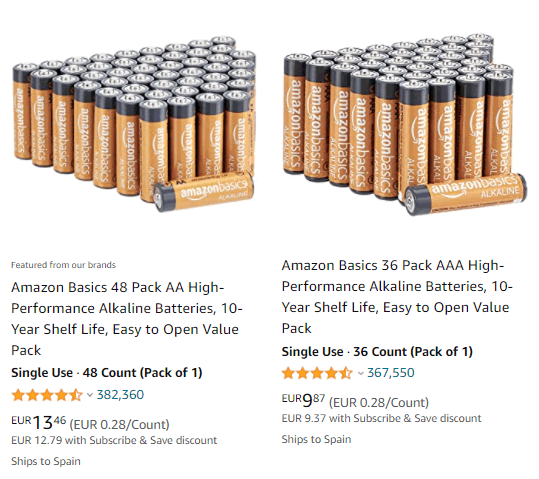 These are just the products with more reviews, what means, people that have bought it and later have wasted their time reviewing it!
Let's compare prices, is Amazon Basics the cheapest one? Not always
Just to compare prices, let's work with the dog-poop bags (in Spanish ecommerce sites):
Amazon Basics: 300 bags 11,99€, with free-shipping on Prime or orders over 29€
Animalear: 288 bags 20,52€ + shipping
Miscota: 300 bags 11,10€ + shipping
Paticas.es: 300 bags 7,50€ + shiping
Zooplus: 300 bags 5€ + shipping
Aha! Is Amazon the cheapest one? No way!
If you are an Amazon Prime client, they would ship it in 24 hours or on the same day of the order.
If you are not, you have free shipping from 29€ (none of the competitors do have the fringe of free shipping at 29€) and quicker.
Are you going to visit other sellers?
Probably not.
You do trust them.
If not, those bags would not have 145 opinions (+7k reviews in the States).
Let's analyze now the most reviewed product, the white iPhone charger
Amazon Basics: 6,49€, free shipping with Prime or orders over 29€.
Apple: 22,99€ + shipping
Startech.com: 22,99€ + shipping
MediaMarkt: 9,37€ + shipping
eBay: 2,57€ + shipping (they do ship from UK, 3,5€ for shipping)
Miniinthebox: 5,08€ free shipping (it can belate between 10 and 15 days, if not, the shipping is a minimum of 2,52€ and takes between 10 and 13 days)

Again, they are not the cheapest, but if you do want that cable for cheap, in 24h and without having to pay the shipping (it is because you already have an Amazon Prime account), if not you are going to buy it from elsewhere. Miniinthebox does take 10 days to ship it to you and the UK package would take more than 24h, for sure.
Join our newsletter and get 18 discounts
Join now!
Business strategy of the products sold on Amazon Basics
All in all, they do sell everything: knifes, tableware, kitchen scales, duvet covers…
Generally, the products of the day to day and does that do have a merchant do not add any value when talking about the pre and post sell service: not many doubts you should have when buying dog popp bags, batteries, a phone charger or knifes for dinnner.
The quite a few questions you could have, may be solved on the product description and on the "answered questions" of the products, so just chill.
Also, even though they may not be the cheapest, the shipping is supersonic. You can buy it on eBay from someone you do not know about (it does not have Amazon's guarantee) or on AliExpress (it would take an uncountable amount of days until it arrives from China) but, why taking the risk?
Do you know any of these products? Maybe from Ikea
Ikea does also sell light bulbs. And batteries. Wow, Amazon too! Why that must be? Because these are products that do sell well and that add little added value if they are sold by a third-party.
A light bulb is just a light bulb. A plate is a plate and a battery is just a battery.
Talking about Ikea, does have around 1,000 products on Amazon (spoiler: Ikea is NOT the seller), another company that has met the beast. Amazon also has two own brands of furniture: Amazon Rivet, Amazon Basics, Stone&Beam, .
The furniture that they sell, surprise, is really similar to the one sold by Ikea. Another one that is tasting the bittersweetness of Amazon.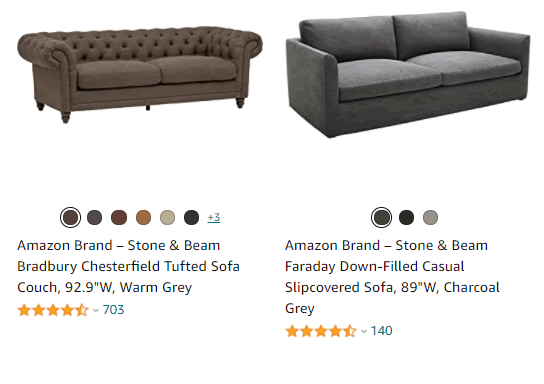 More posts
I work as an independent eCommerce and Amazon consultant.
Clients
Estrella Damm, Intersport, Bella Aurora, Lladró, Textura Interiors, Nice Things Palomas, Castañer, Due-Home and many other clients.
Lecturer & Teacher
I teach and have been a speaker at: Meet Magento, Prestashop, Prestashop Day, SEMRush, Cambra de Comerç Barcelona, ​​ClinicSEO, Ecommbeers, Ecommbrunch, Ecommercetour.com, Ecommfest, EOI, ESIC-ICEMD, Foxize, Generalitat de Catalunya, Inesdi, Quondos and The Valley. In addition, I have done in-company trainings for brands such as Orange and Adidas.
Writer
I collaborate writing articles for Helium 10 blog, Shopify, SEMRush, La Vanguardia, eCommerce-news.es, Marketing4ecommerce...
Partner
Helium 10, Jungle Scout, Avask, Sellzone, Helium 10 Seller Solutions Hub Partner
Social
LinkedIn, Twitter, Wikipedia, Youtube, Quora, ISNI 0000000513224289, About Jordi Ordonez