Contents
1

Asin Seed Features

2

Trial

3

Pricing

4

Asin Seed Review
Asin Seed is a really accurate Reverse ASIN Tool which provides you with information from your competitors that you, as an Amazon Seller, will be delighted to have.
This tool works wonders, just by entering the ASIN code you can make a reverse search for 7 Amazon Marketplaces: Japan, US, UK, Germany, Italy, France and Spain.
Asin Seed Features
This Reverse ASIN tool does offer quite accurate information for the main features of the plans:
Find out the used search terms of your competitors.
Queries per month.
Support for 7 marketplaces.
Export billions of keywords and products.
Queries per minute.
Support Chrome Extension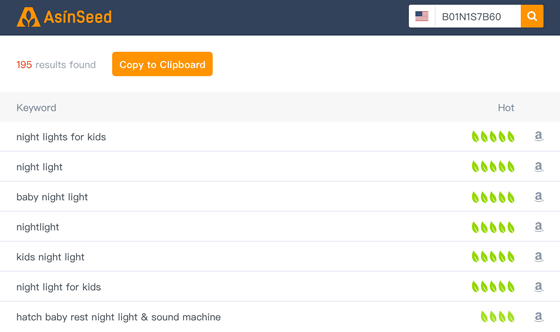 Trial
Asin Seed does offer a free monthly-plan where you can obtain:
Information for 10 queries per month.
Support for all the marketplaces they do cover.
Export for Top 20 KW.
Support Chrome Extension.
1 user online/account.
Pricing
They do offer 3 different monthly plans, which you can choose to pay yearly if you do want to enjoy of a 20% off:
Standard: $19,90 per month / $198,00 per year
Platinum: $59,90 per month / $598,00 per year
API: $998,00 per month / $9.998,00 per year
Asin Seed Review
Asin Seed does offer quite a wide range of information for an easy-to-use tool, where you can find information about the keywords used from your competitors, as well as analyzing data from all the ASIN codes you do want to find out.
Our score
Pricing

Learning Curve

Number Of Features

User Friendly
More Amazon Keyword Research Tools