Contents
1

15% lifetime discount coupon code

2

Viral Launch features

3

Pricing

4

Trial

5

Viral Launch review
Viral Launch is a tool that is all about market intelligence. It is a tool that allows you to take advantage of Amazon analytics. Understanding the numbers will help you boost your sales and hopefully increase your profit.
15% lifetime discount coupon code
Thanks to the guys at Viral Launch we can offer a coupon code for a 15% lifetime discount on every plan available. Grab it here:
Viral Launch of course deals more than just market intelligence per se. It is a complete analytics tool to be exact. Here are its features:
Product Discovery
This is the Amazon product finder. It allows you to search for untapped markets, find product opportunities. You can get real time historical data on Amazon's product catalogs. This way you can get more accurate sales estimates.
Market Intelligence
This is a product research tool that will help you find out historic trends and where the market is going with it. You can view the data, check out the price and sales trends. It will also help you compute the upfront investment required as well as the potential profit.
Keyword Research
This tool helps take away all the guesswork in your SEO. Take advantage of their relevancy and other filters. You can find plenty of keywords that your competitors have failed to use. It also comes with a free listing builder.
Keyword Manager
Of course, you need something more than just a tool to find keywords. You also need to understand the analytics of keywords and also track the data. This is what the keyword manager is all about.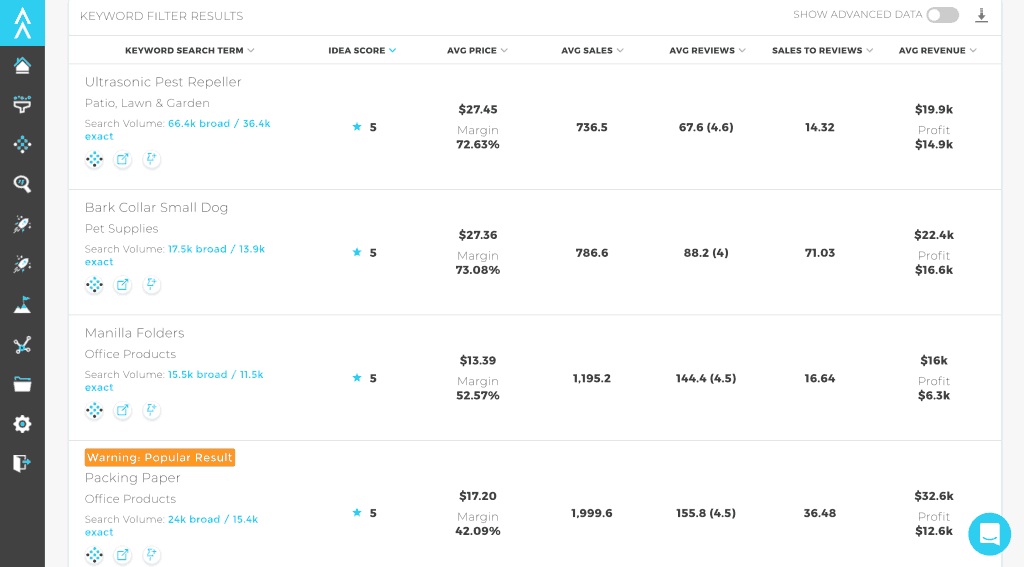 Listing Analyzer
This tool will help you discover listing improvements that you can make.
Listing Builder
This tool helps you build keyword lists that will include the most influential and important keywords for the product that you want to include for a product campaign.
Pricing
There are four Viral Launch pricing tiers that you can choose from. Each of them of course includes different features. Here are the pricing tiers:
Beginner: $49.17/month
The beginner tier of course is best suited for beginners who are still searching for the first few products that they want to market from Amazon. This is the most affordable account that you can setup.
Features:
Market Intelligence
Product Discovery
Competitor Intelligence
Product Idea Scores
24/7 customer support
Pro Seller: $82.50/month
This subscription gives all the benefits of the previous tier with a lot of other options. This is the subscription for more experienced marketers. The biggest advantage of this tier above the previous one is the 2,000 daily keyword rank and Ad tracking.
Brand Builder: $124.17/month
This subscription gives you all the features of the first two tiers with the added advantage of:
100 tracked competitors
5,000 daily keyword rank and Ad tracking
Data Hunter: $332.50/month
This is the highest tier and it has all the features of all the previous subscriptions plus more additional perks, which include:
250 tracked competitors
250 listing analysis
15,000 keyword and Ad tracking
plus 300 hourly keyword rank and Ad tracking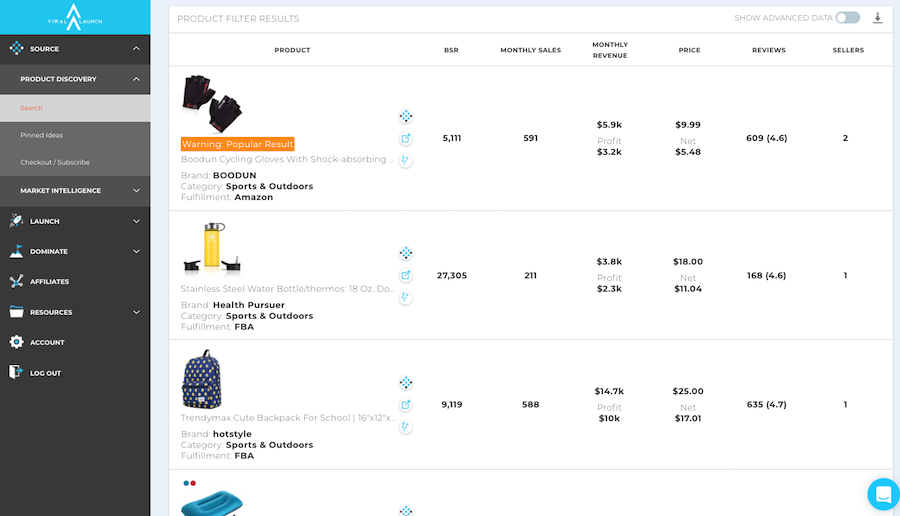 Trial
You can sign up for a 14 day free trial. You don't need your credit card info.
The only information needed is your name, email, and you create a password.
Viral Launch is a complete tool that gives you in depth analytics about Amazon's product listing. There are more expensive tools but they're not as accurate as Viral Launch.
After 30.000 Product Launches, 8.000 Brands Grown and 77.000.000 Products Tracked, I'd absolutely rely on those guys if I were you 🙂
Our score
Number of features

Pricing

Learning curve

User friendly
More Amazon Analytics Tools