An Amazon sales estimator is a very important tool for Amazon sellers. Sales estimators make it easy for sellers to check their average monthly sales conveniently from one point. Sales estimators can be used to assess specific products, categories, and even inventories in some instances.
An Amazon Sales Estimator is a must-have tool for checking your monthly sales. Here are the top 7 most popular estimators out there. Apart from these, Amazon sales estimators can also be used to make predictions with respect to your sales performance per time. This information is very important in helping you make vital business decisions.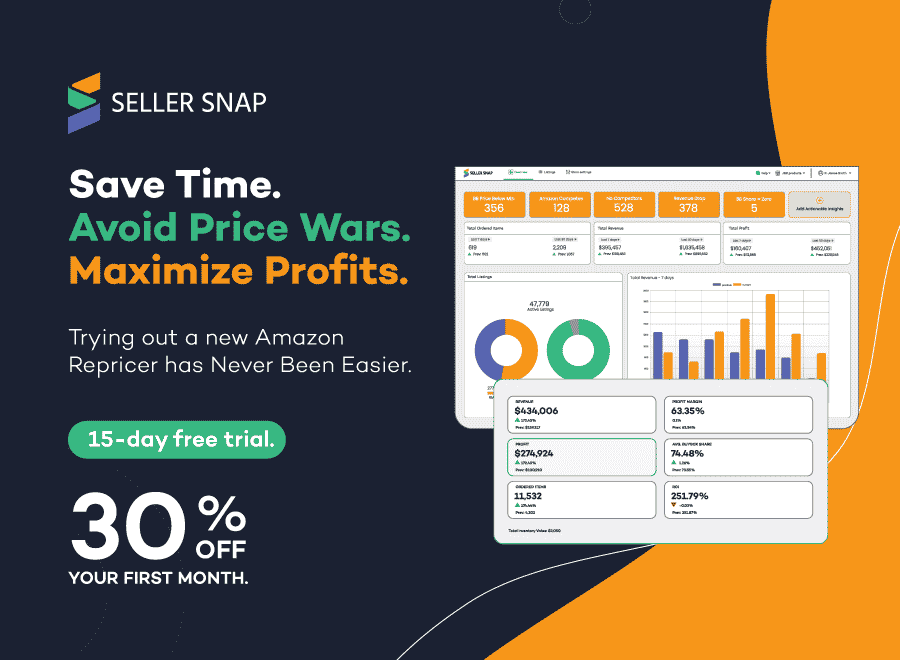 Sales estimators also help you anticipate competition in your niche. This way, you can come up with strategies to stay ahead of competing sellers on Amazon.
Why is a Sales Estimator Important?
Amazon is currently one of the largest online marketplaces around the world. With millions of sellers and billions of products, it is difficult to stand out as an Amazon seller without the right information and tools. A Sales Estimator can help forecast potential sales performance, thereby making it a valuable tool for Amazon sellers.

Top Amazon Sales Estimators Online
We have compiled a list of some of the best Amazon sales estimators available online.
Unicorn Smasher Sales Estimator
Unicorn Smasher Sales Estimator is a free online tool that Amazon sellers can use for basic data. The downside of this sales estimator is that it is not always accurate; therefore, the information gotten from this estimator should only be used as a rough guide.
IO Scout
IO Scout is a top-notch Amazon FBA toolkit for Amazon sellers. Although its sales estimator and a few other features are available for free online, the full package requires a monthly subscription. However, the cost of IO Scout is also relatively cheaper, making it one of the most cost-effective FBA toolkits available online.
Another perk of using IO Scout is that it offers an amazing personal assistant feature that helps sellers optimize their use of the tool. The personal assistant feature gives sellers relevant tips and insights on how they can grow their Amazon business.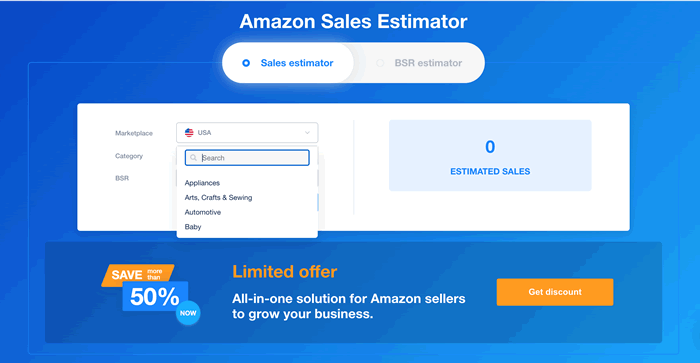 Jungle Scout Estimator
Jungle Scout is a popular sales volume estimator among Amazon sellers. It is available online for free at the Jungle Scout website. However, the sales estimator is entirely based on sales ranking and might, therefore, not be enough to make some major decisions. Additional information, like the number of sellers and reviews, might not be available.
However, sellers can access full Jungle Scout features for a monthly payment. This gives them access to many more FBA tools offered by the software tool.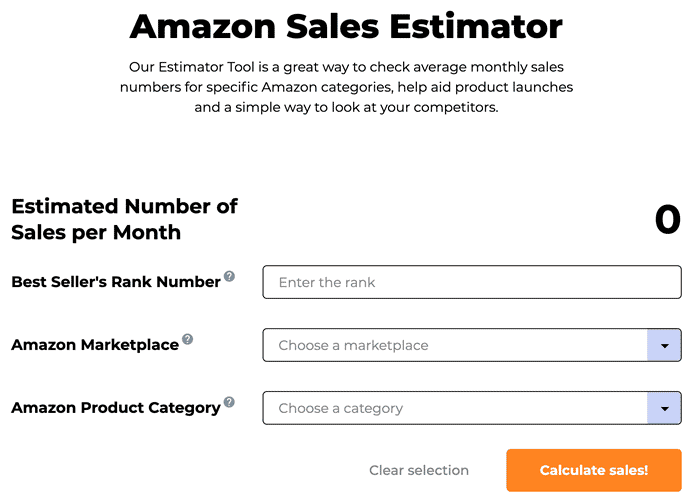 Helloprofit
Helloprofit is also not just an Amazon sales estimator. It is a complete business management tool that offers Amazon sellers a wide range of functions and data; from fees, profits, rebates, etc. Although Helloprofit is a paid tool, you get to enjoy a free 21-day trial period.
Another amazing feature of Helloprofit is the top-notch customer support services offered by the tool.
AMZ Tracker
AMZ Tracker is another basic Amazon sales estimator. Despite being basic, AMZ Tracker is highly effective. However, it is more suitable for bestselling products and is therefore not appropriate for all sellers. AMZ Tracker also requires payment. The packages of the AMZ Tracker include;
Basic
Professional
God
Legend
The AMZ Tracker is a basic but quite effective Amazon sales estimator that can be compared with Jungle
ASINspector
ASINspector is an Amazon sales estimator that offers sellers access to customer reviews and fantastic customer support. This is one of the features that make it recommended. ASINspector is a paid sales estimator, and it is offered in two packages. The sales estimator is, however, only available in one of these packages.
Some of the other tools offered by ASINspector include an FBA calculator, product analysis tool, etc. Considering the cost of this tool, it is relatively expensive when compared to most other Amazon FBA toolkits
AMZshark
If you are looking for a good FBA tool package, including a sales estimator, you might also want to check out AMZshark. AMZShark has a range of amazing features that allows you to gain routine insights into the monthly performance, competition, reviews, and several other valuable information needed to grow your Amazon business. AMZshark is also considered one of the most cost-effective FBA tools available online.
Final Verdict
Hopefully, this list has given you some insight into some of the things to look out for when choosing an Amazon Sales estimator. If you are a new seller on Amazon, it is important to cut costs as much as possible, so you might want to look out for free sales estimators. However, as your business grows, you would need some other features to keep up with relevant information and trends in the Amazon marketplace. This is why the IO Scout sales estimator is highly recommended.
The FBA toolkit offers its basic features for free and is even comparatively cheaper to other FBA tools that offer similar features. It is also important to note that apart from sales estimators, there are several other important FBA tools required to help you stand out as an Amazon seller from product research tools to listing tools that make your products easily discoverable by buyers on Amazon. This is why you should look out for getting a holistic FBA toolkit as an Amazon seller.
More posts
I work as an independent eCommerce and Amazon consultant.
I work for: Estrella Damm, Intersport, Bella Aurora, Lladró, Textura Interiors, Nice Things Palomas, Castañer, Due-Home and many other clients.
I teach and have been a speaker at: Meet Magento, Prestashop, Prestashop Day, SEMRush, Cambra de Comerç Barcelona, ​​ClinicSEO, Ecommbeers, Ecommbrunch, Ecommercetour.com, Ecommfest, EOI, ESIC-ICEMD, Foxize, Generalitat de Catalunya, Inesdi, Quondos and The Valley.
In addition, I have done in-company trainings for brands such as Orange and Adidas.
Finally, I collaborate writing articles for Shopify, SEMRush, Prestashop´s official blog, Brainsins, La Vanguardia, eCommerce-news.es, Marketing4ecommerce and other blogs and media.