If you sell on Amazon and use their own logistics platform (FBA: Fulfillment By Amazon), this post may be of your interest. Here we will talk about the money that Amazon FBA owes you for their mistakes, also known as Amazon FBA reimbursements.
When we send our products to FBA, we are blindly trusting that Amazon will never make a mistake, but this is SOOOOOO not the case and that is where we may be leaving a lot of money on the table. We are talking about cases such as the destruction or disappearance of stocks, late refunds to FBA customers and a long etcetera.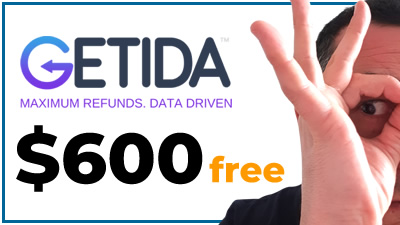 Amazon is obliged to compensate you for any damage or loss of your inventory that occurs while your stocks are in their custody. However, getting your money back is a tedious process that is often abandoned due to lack of knowledge of the Seller or lack of time.
Throughout this post, you will learn what FBA refunds are, what types of refunds exist, how you can claim your money back, and what tools can help you locate those refunds.
Let's get to it!
What is an Amazon FBA inventory reimbursement?
When UPS or the carrier you have chosen for FBA collection comes to your warehouses to pick up boxes or pallets, you deliver the goods and, from then on, whatever happens to your stocks is 100% in Amazon's hands.
Amazon picks up the stocks, drops them off at one or more of its warehouses, enters them into its system and finally they appear in our Seller Central within the inventory reports or within the general dashboard.
These stocks usually have 4 types of statuses:
Available: can be sold
Inbound: units on their way to the warehouses
Unfulfillable: cannot be sold
Reserved: have been purchased by a customer

Since the stocks are in Amazon's warehouses, what happens to them is 100% Amazon's responsibility, both at the level of unloading those products, entering them into their system, storing them and, obviously, shipping them to Prime customers.
This means that, if there is a problem, Amazon is liable and indemnifies the Seller, compensating the Seller in accordance with the FBA lost and damaged inventory reimbursement policy (PDF).
What are FBA reimbursement types?
There are six main types of inventory reimbursement available through FBA as we have just seen in the FBA lost and damaged inventory reimbursement policy. As you can read in the section on Eligibility:
The item is registered in FBA at the time it is lost or damaged.
The item complies with FBA product requirements and restrictions and with FBA inventory requirements.
You have sent us the exact items and quantities stated in your shipping plan.
The item is not pending disposal or was not disposed of at your request or because we have exercised a right to do so.
The item is not defective and was not damaged by a customer.
Your selling account is in normal status when you file a claim for a lost or damaged item
Although there are more cases in which we can claim. Since the eligibility criteria for each type of reimbursement are different from each other, it is essential to be familiar with these distinctions. On some cases, Amazon fees will apply, of course.
Let's take a look, one by one, at all the cases in which Amazon may owe us money (more than 20)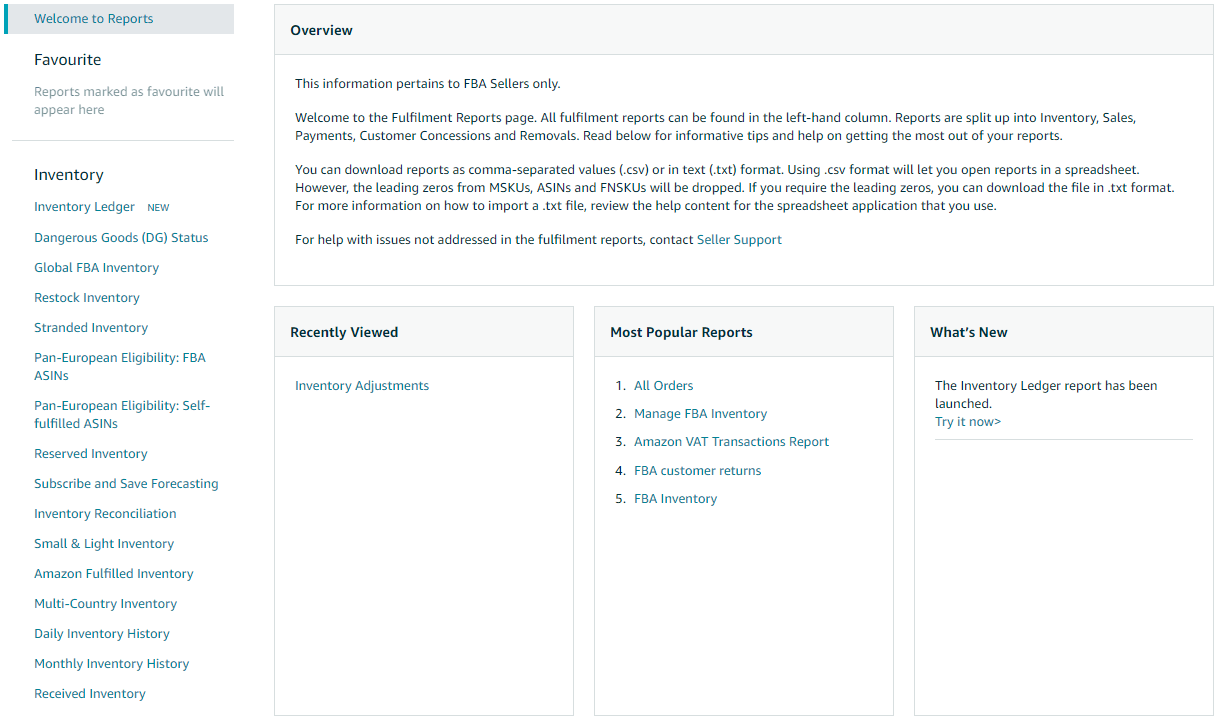 FBA customer returns coming from customers
Refund not paid to the customer, but collected from the Seller
Late refund (after 45 days)
Customer has received a refund, but has not returned the item
Surcharge for return
Customer has collected the refund, but returned the wrong product
Wrong item returned and scanned to your inventory: The customer has collected the refund, returned the product correctly, but Amazon has sent a different product to the seller.
Customer has returned damaged products
The customer has returned the products 60 days after having received them

Billing reconciliation problems
The amount we have been charged by FBA for shipping or monthly storage is higher than it should be.
Amazon has mischarged us for transaction fees
Amazon has made a mistake with the weight or dimensions of our product and has charged us more for storage and shipping.
The refund received by the Seller is less than the value of the order.
A customer has received a refund, but the Seller has not received the product or has been charged a higher fee (this report can be pulled for 45 days).
A refund has been issued to the end customer, but the Seller never received the money for the product.
Stock levels
It is stated that a returned item is back in your inventory, but it's not.
Unaccounted-For Stock: the Seller was compensated for a lower quantity of merchandise than what was originally agreed upon for them to be compensated for.
Removal Order: the removal order has certain items that are missing from within it.
Fulfillment center operations reimbursements
Stock receipt problems: inventory has not been received correctly at Amazon's fulfillment centers or units have been miscounted (we can access this information for a period of 9 months).
Missing inventory
Damaged inventory
Amazon FBA Inventory Returns
Amazon FBA Seller Claims
Inventory destroyed without Seller's permission
At least 30 days have passed since an incoming cargo was damaged while in transit by Amazon or another carrier.

Shipping errors
The carrier caused damage to inbound product while transporting it to FBA.
The Amazon customer sent the inventory back, and the carrier experienced some damage while transporting it back.
The order to cancel the removal was either messed up or lost in route.
Multi-Channel Fulfillment errors: a product that should have been delivered to a customer but never really made it. This order is coming from outside Amazon (your Shopify or another Marketplace) using Amazon Multi-Channel Fulfillment
The FBA Reimbursement Policy
If we want to qualify for admission of FBA reimbursements, we must meet a number of eligibility points and meet Amazon requirements:
The damaged or lost product has been registered with Amazon FBA.
The product complies with the regulations and legal limits for Amazon FBA products.
The product complies with all requirements imposed on Amazon FBA inventories.
Seller has fulfilled its obligation to Amazon by delivering the precise items and quantities indicated in its inventory shipping plan.
The product is not in the process of being destroyed or discarded.
The product has no manufacturing defects
The product has not been previously handled by a customer.
How to determine the value of the Amazon FBA reimbursement
The prices of the products are always variable, not only because of their state or condition, but also because of the commercial margins of the Seller that is selling the product.
Therefore, to calculate the amount to be refunded, Amazon examines a number of parameters in relation to the price of the product, for example:
The selling price of your ASIN on Amazon during the last 18 months. On that price, take a median.
The price at which most other Amazon sellers have listed the same ASIN for sale over the past 18 months.
The current ASIN selling price.
The average price of the ASIN if we have several similar or the same ASINs for sale.
The current selling price of the ASIN by other competing Sellers.
In the event that Amazon gathers enough information to calculate the estimated price of the refund, there will be no problem.
But if Amazon is unable to gather enough information to estimate the value of the refund it will instead use an estimated selling price based on the value of a similar product to the original. That means some FBA refunds will be priced lower than they should be and that's why it's important to reclaim that money.
Sometimes, Amazon will also ask for more information from the Seller in order to better calculate that value. For example, purchase invoices from the supplier or even invoices from the supplier or manufacturer of the products.
How to file an FBA reimbursement claim
AKA the "Amazon FBA Reimbursement Method". Amazon has several channels through which you can submit a refund request:
DIY
The least recommended option, although it may seem the most attractive because it is cheap.
At the end of the day, your hours come at a cost, and if you choose to spend them searching for and battling FBA reimbursements, I think it wouldn't help you. I'd focus on growing my business. But that's just my opinion.
It takes time to find the reports, reconcile the information and submit it to Amazon in the correct format. Therefore, I would advise against it.
If you still decide to go ahead, you will have to go to Seller Central Support and submit your refund requests there on a case-by-case basis.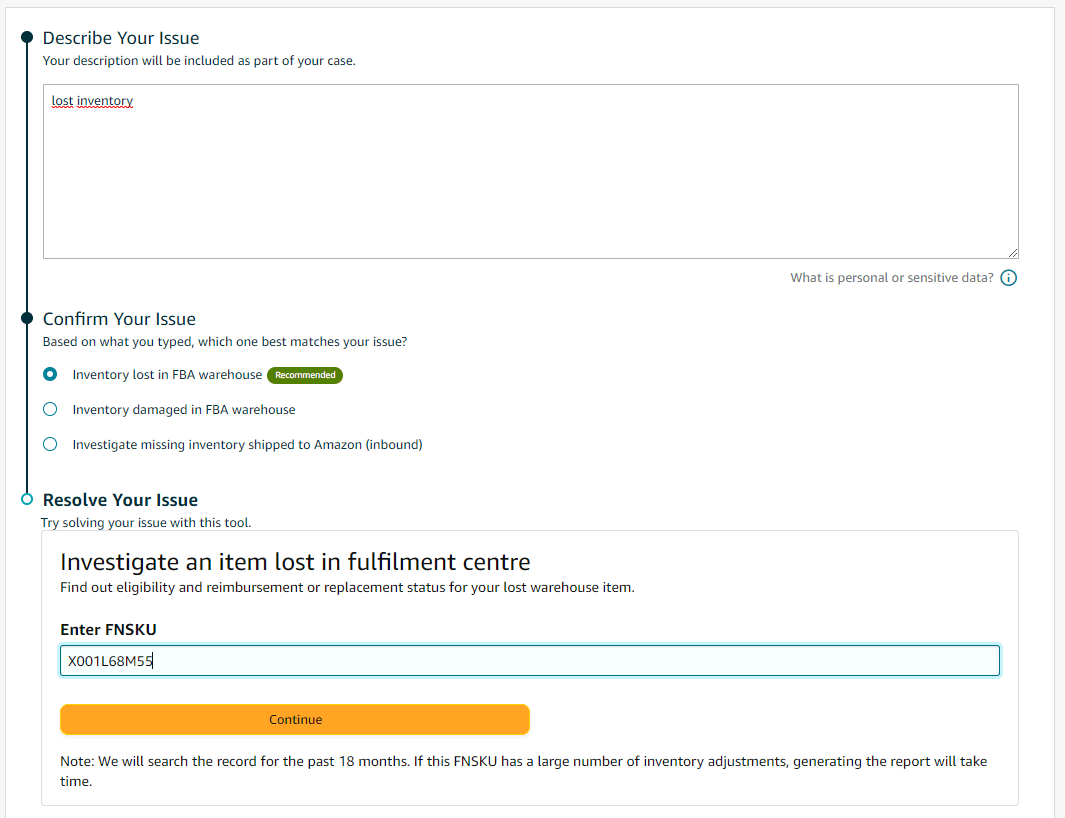 All the information you are looking for to reconcile shipments, receipts, lost stock, damaged stock, etc. is in Amazon Fulfillment Reports, Sales, Removals, etc.
I'm just telling you that, for Europe, you have more than 40 reports, so it's a real hassle to find the information:
Inventory Ledger
Dangerous Goods (DG) Status
Global FBA Inventory
Restock Inventory
Stranded Inventory
Pan-European Eligibility: FBA ASINs
Pan-European Eligibility: Self-fulfilled ASINs
Reserved Inventory
Subscribe and Save Forecasting
Inventory Reconciliation
Small & Light Inventory
Amazon Fulfilled Inventory
Multi-Country Inventory
Daily Inventory History
Monthly Inventory History
Received Inventory
Inventory Event Details
Inventory Adjustments
Manage FBA Inventory
Inbound Performance
Exportable Inventory
Bulk Fix Stranded Inventory
FBA Inventory
Etc
Once you have sent your refund request to Amazon, all you have to do is wait for the company's response. In case it is accepted, the money will be sent to your seller account when the refund processing is completed. Seems that we are good to go!

Use an external service
This is what I always recommend to my clients. Less work for them and much more scalable: Amazon reimbursement services or Amazon FBA Reimbursement Tools, to me, the best way to 100% secure Amazon seller reimbursements.
There are external tools and services that can connect to your Amazon Seller Central, track all reports, collect the data and information and generate reports of potential FBA inventory reimbursement cases for you.
Some of the ones I usually recommend are:
These companies generate the cases in Amazon Seller Support for you and charge a % commission only if you collect.
How to prevent FBA surcharges from being generated
Unfortunately, there is no magic way to prevent Amazon errors. But what you can do is monitor as much as you can to avoid these problems as much as possible.
Ideally, this should be done with an external service or tool such as the ones we have just discussed. These tools will make permanent sweeps of:
Inventory reconciliation
Reporting and updating data in Amazon Fulfillment Reports
Reconciliation of packing slips
Log cases of all FBA reimbursements performed
Constant monitoring of your inventories in FBA
Monitoring of changes in your listings that may affect sales rates and commissions: measurements, category changes…
In addition, it is advisable to photograph the products and even the shipping boxes before sending them to Amazon FBA. Unfortunately, photographic proof is often the only way to be 100% sure that a refund will be returned. Keep in mind that Amazon can lose a package, a large box, a pallet or even the contents of an entire trailer, so it's best to have everything photographed.
Amazon return managers
As we discussed in the previous two points, there are several tools we can use to help us get those Amazon FBA reimbursements.
I am going to list some accounts in alphabetical order although, as I mentioned before, the ones I usually recommend to my clients are Seller Investigators (for Amazon FBA reimbursements) and Chargeguard (for Amazon Vendor / Retail reimbursements and chargebacks):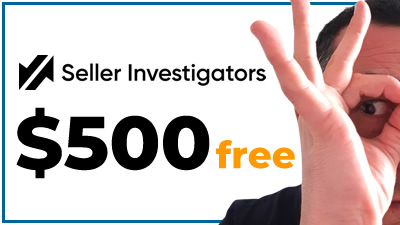 Frequently Answered Questions on Amazon reimbursements
How long does Amazon refund confirmation take?
The time it can take for a refund to be confirmed can depend on several factors, including the reason for the refund, the original payment method, and whether the item has to be returned. Generally, once Amazon receives your return, it takes up to 48 hours to process the return and confirm the refund. If the refund is due to a cancellation of an order, the refund is usually initiated immediately.
How long does Amazon reimbursement take?
Once the refund has been approved and processed, it can take from 3-5 business days for a refund to go through if you paid with a credit or debit card. If you paid with a gift card or promotional balance, the refund usually appears immediately in your Amazon Pay balance.
How do I request reimbursement from Amazon?
If you are a buyer, you can request a refund through your Amazon account's order history. If you're a seller, you can request reimbursement for lost or damaged inventory through the "Fulfillment by Amazon" program. You need to file a claim through the "Manage Orders" section of your seller account. It's important to include all the necessary information about the situation and why you believe you should be reimbursed.
What is a clawback of reimbursement in Amazon?
A clawback of reimbursement in Amazon refers to the situation where Amazon retracts a reimbursement they had previously given you. This can occur if, for example, Amazon had reimbursed you for a lost item but then later found the item in their warehouse.
How do I see all my refunds on Amazon seller?
You can view your refunds in your Amazon Seller Central account. Go to "Reports" > "Payments". From there, you can select the "Refund" view, which will show you all the refunds you've issued. You can also filter by specific dates to see refunds within a certain time frame.
What is Amazon inventory reimbursement?
Amazon inventory reimbursement refers to compensation given to sellers in the event that their inventory is lost or damaged while being stored in Amazon's fulfillment centers. This can also apply to situations where inventory is lost or damaged during shipment to or from these centers.
How much does Amazon reimburse for lost inventory?
Amazon typically reimburses you the estimated selling price of the item minus any fees associated with selling on Amazon, including the referral fee and any other relevant fees. The reimbursement amount can vary based on factors such as the condition of the item, the sales history of the item, and the average FBA selling price on Amazon. You'll need to verify the current policy on Amazon's Seller Central or contact Amazon support for the most accurate and up-to-date information.
Conclusion
Well, I think that after almost 2.000 words you may know, by now, that Amazon FBA messes it up sometimes with your inventory and that is your right to claim that money back. I already claimed mine and if feels great so, what's stopping you?
More posts
I work as an independent eCommerce and Amazon consultant.
Clients
Estrella Damm, Intersport, Bella Aurora, Lladró, Textura Interiors, Nice Things Palomas, Castañer, Due-Home and many other clients.
Lecturer & Teacher
I teach and have been a speaker at: Meet Magento, Prestashop, Prestashop Day, SEMRush, Cambra de Comerç Barcelona, ​​ClinicSEO, Ecommbeers, Ecommbrunch, Ecommercetour.com, Ecommfest, EOI, ESIC-ICEMD, Foxize, Generalitat de Catalunya, Inesdi, Quondos and The Valley. In addition, I have done in-company trainings for brands such as Orange and Adidas.
Writer
I collaborate writing articles for Helium 10 blog, Shopify, SEMRush, La Vanguardia, eCommerce-news.es, Marketing4ecommerce...
Partner
Helium 10, Jungle Scout, Avask, Sellzone, Helium 10 Seller Solutions Hub Partner
Social
LinkedIn, Twitter, Wikipedia, Youtube, Quora, ISNI 0000000513224289, About Jordi Ordonez