Contents
1

Helium 10 features

2

Pricing

3

Helium 10 vs Sellics comparison

4

Discounts and promo codes

5

Trial

6

Review

7

Video review
Absolutely mind blowing all in one Amazon toolbox featuring a set of 15 priceless tools specially focused on keyword research, product research and competition tracking.
One of the best tools in it's category and pretty similar featurewise to Sellics though Helium 10 has more features.
Helium 10 features
15 tools in 1 to use on your Amazon Seller Account, featuring:
Hijacking Alerts (new 2019 tool!)
A new tool to keep your listings safe. Products listings are monitored 24/7 for fraud & other unintended changes and you'll be notified in real time if they do
Black Box
A powerful research tool to find the most profitable products based on your criteria (not just keywords, categories or ASINs). Find your next private lable product winner in just a few clicks.
Trendster
A powerful data analytics tool that will give you information on a product seasonality to decide wether it's a product with steady demand or not.
Magnet2
Helium 10's keyword research tool. I'd say: "the definitive keyword tool" as I can assure you won't need another one. Not only will let you find profitable keywords and search phrases used by users, but analyse wether those keys are on your rankings or not.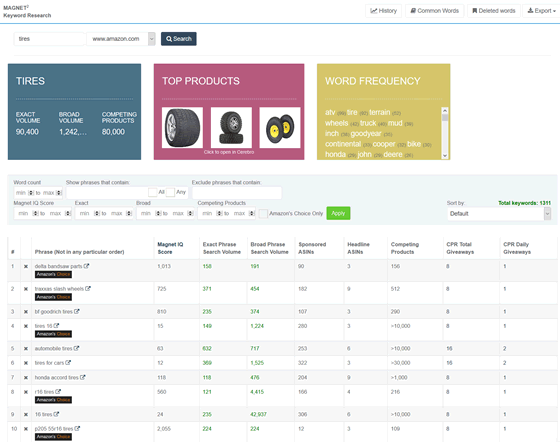 Frankenstein
A keyword tool processor to help you obtain monthly search data. Frankestein can quickly process thousands of keywords in bulk and show you the search volume data, competition, popularity…
Scribbles
No more boring copy and paste. Scribbles automatic adds the keywords to your seller central via Amazon Seller API.
5K Checker
A keyword indexation tool. Also identifies bad keywords to prevent them to be indexed instead of the golden keywords
Keyword Tracker
You don't need to be Sherlock Holmes, this is a tracker for your Amazon keywords
Hijacker Alert
A real time alert to check if your Buy Box has been hijacked by your competitors so you can take action quickly.
Cerebro
Well, I must say this is my favourite one. Spy on your competition by getting loots of keyword ideas using reverse ASIN. Cerebro will give you data on search volume, number of competitors and competing products, information about the keywords using on PPC campaigns and their Cerebro IQ Score.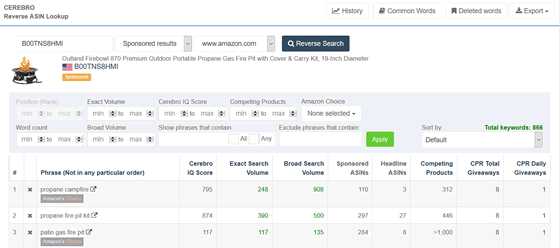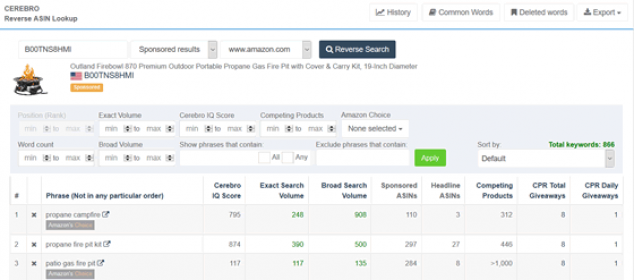 Inventory Protector
Prevents inventory hijacking setting quantity limits to every product in your catalogue so no one is buying a huge quantity of your products and breaking your stocks.
Refund Genie
A reinbursement tool which finds lost or damaged inventory. Get your FBA money back easily.
Xray
The Amazon product research tool turned into Chrome Extension. A great alternative to JungleScout.
Misspellinator
A misspelling search tool to maximize your keywords
The profit tool
Shows information on how a product in performing accross multiple Amazon markets.
The profit tool is available for USA, Canada, Mexico, Brazil, Spain, France, Italy, Germany, United Kingdom, India and Turkey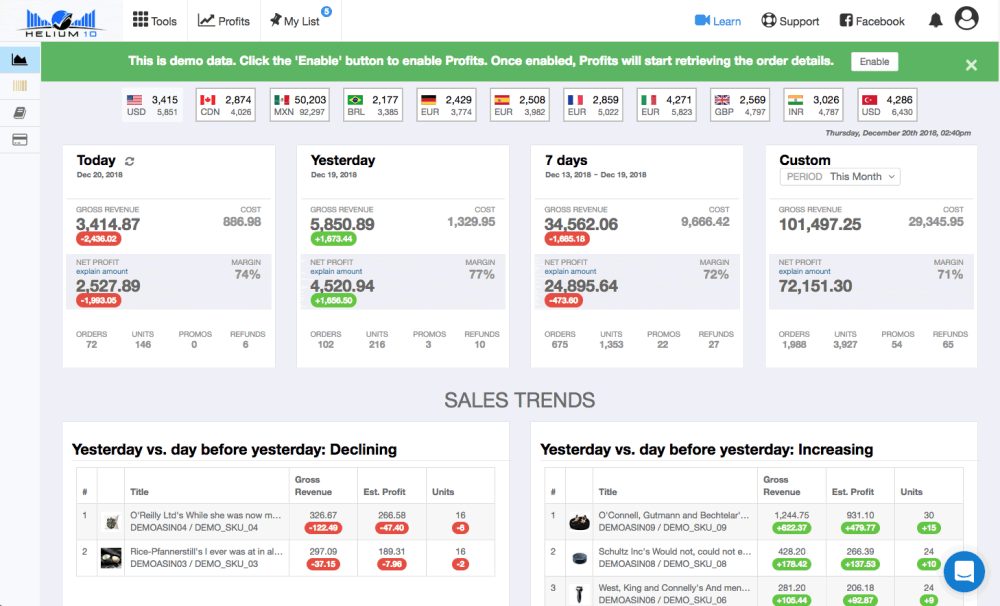 Pricing
Starting at 0$ (free plan) and then 37$ a month until 197$ and tailored pricing, Helium 10 is one of the cheapest all-in-one Amazon tools on the market.
Helium 10 vs Sellics comparison
PRODUCT SEASONALITY CHECKER
BULK KEYWORD RESEARCH PROCESSOR
KEYWORD AGGREGATOR VIA API
WORKS IN ALL MARKETPLACES
Helium 10
0$ to 197$
Sellics
57$ to 317$
Discounts and promo codes
You know, folks at Helium are really nice people, so they just gave us away 2 promo codes to use and grab an interesting discount on their tools. Feel free to use one of them:
Use discount code AMAZONTOOLS for a 10% off on all subscription plans
or
Use discount code AMAZONTOOLS50 for a 50% off on first month
Trial
There is no trial, as you can access a free version. No credit card required
Review
This is the most powerful all in one tool I've tested so far. Sellics is a great tool, but nothing compared to Helium 10, specially when it comes to keyword researching and keyword index checking. Also, Cerebro's competitor spy has nothing to do with Sellics competition analysis. It gives you more and more useful data.
For pennies (37$ a month per feature or 97$ for all of them) you can have a great tool on your hands that will save you tons of time and, specially, lots of dollars compared to other so called all in one tools.
I would really appreciate if a repricer and a feedback management tool would be on their roadmap, because that would mean that you don't need anymore tools on your computer 🙂 Oh, and the Vendor edition as well
Video review
Pricing

Learning curve

Number of features

User Friendly