Contents
1

sellerboard Features

2

Trial

3

Pricing

4

sellerboard Review

5

sellerboard video review
sellerboard is an easy way for Amazon Sellers to analyze your profit and cost effectiveness on Amazon. Through an analysis software you can learn the ways to grow your profit while saving time, and keeping track of the main KPIs of your sells.
The good thing about sellerboard is the fact that you are seeing a live dashboard of all the FBA ratings, PPC costs, returning costs, promotion costs, etc. And, you can even use this amazing Amazon Profit Analytics Tool with the easiness of your mobile phone!
sellerboard Features
Live Dashboard
To provide you information about sells, profits, and detailed information about Amazon rate, PPC expenses, returning costs, promotion cots and fix costs, for any period of time (today, tomorrow, this month or any other).
Set Up Graphics
Everything is customizable: KPIs, period of time to analyze and the level of detail of the manufacture. See a brief summary or analyze in depth the lists of products for each period of time on detail.
View of gains and loss
You can set them up with any parameter, filter for markets or products, and see the sold products for any selected period.
File of product
Exact details of any products and for any period or market. You will be able to see real sells, profits, taxes and expenses related with each product.
Exact monitor of all Amazon Rates
Monitor all your fix costs and other expenses (learn more about this feature here).
Restock alerts
Based on your 3, 7 and 30 days of sells. They would automatically notify you when there is a need of a restock from the FBA warehouse or if you do need to make a new charge to your provider.
Export or your data to a txt or a spreadsheet file.
Automatic Response
Send automatic messages to your buyers, collect more feedback, product reviews and provide a better customer service to your clients.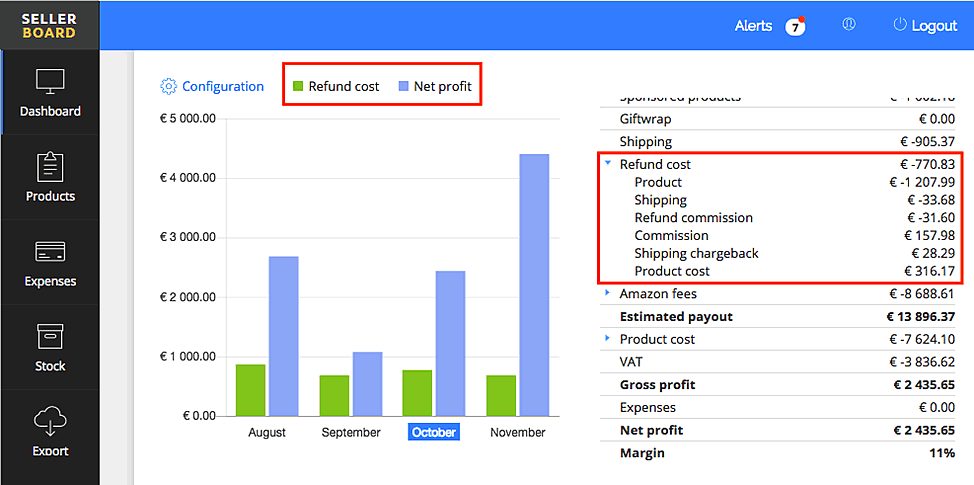 Money back reports
A brand new 2019 report. This will help you get your FBA reimbursements money back: find lost or damaged products at Amazon's warehouse that have neither been found nor reimbursed or cases in which Amazon owes you money for customers' returns.
Trial
You can enjoy a one month free trial (or 2 if you use the offer below), or even try out the tool with their demo in order to know exactly how it works.
Pricing
There are different plans for Sellboard that do offer: Live Dashboard, Restock alerts, Multiple selling accounts, a maximum number of products, and the service is optimized for mobile.
Standard: $19/month
Professional: $29/month
Business: $39/month
Company: $79/month
If you choose to pay half-a-year all at once, you will get a 10% discount; and a 20% discount for the annually bill.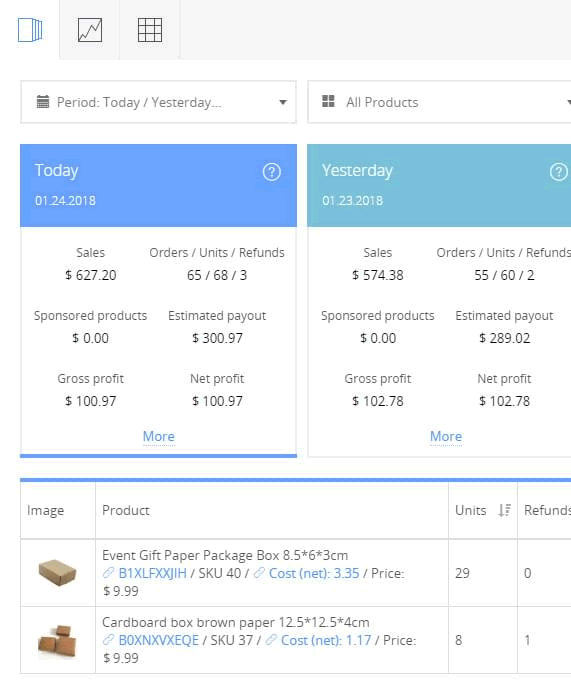 sellerboard Review
sellerboard is an amazing tool to track different alerts and information of your Amazon account, so you can keep a day-to-day track of how your sells are working and if you do need to make another restock from your FBA warehouse or from your provider.
Also, the fact that the KPIs can be downloaded as a txt or as a spreadsheet, is really useful to compare results and information with other tools and softwares you may be using. And the Mobile Responsive system-design is a plus!
Our score
Pricing

Learning Curve

Number of Features

User Friendly
sellerboard video review
More Amazon Analytics Tools