Camelcamelcamel is a free tool to track compare prices, set up price alerts and view price history charts for products sold on Amazon United States, Germany, Australia, Canada, Spain, France, Italy and United Kingdom. CamelCamelCamel is translated to English, Spanish, French, Deutsch and Italian for a better user experience.
The company also offers a browser extension called The Camelizer, which makes it easy to check the price history of Amazon products without having to visit the website each time.
How does CamelCamelCamel work?
Camelcamelcamel works by collecting data from various online marketplaces, including Amazon, Best Buy, Newegg, and several others. The tool then uses this data to generate detailed price history charts that show you how the price of a product has changed over time. So the tool can be very useful for Amazon Sellers, resellers and even Amazon / Best Buy / New egg clients, because it's easier to find products at the best pricings, price drops, etc
1. Enter an Amazon URL or keywords

2. Check the results and click on them to see detailed data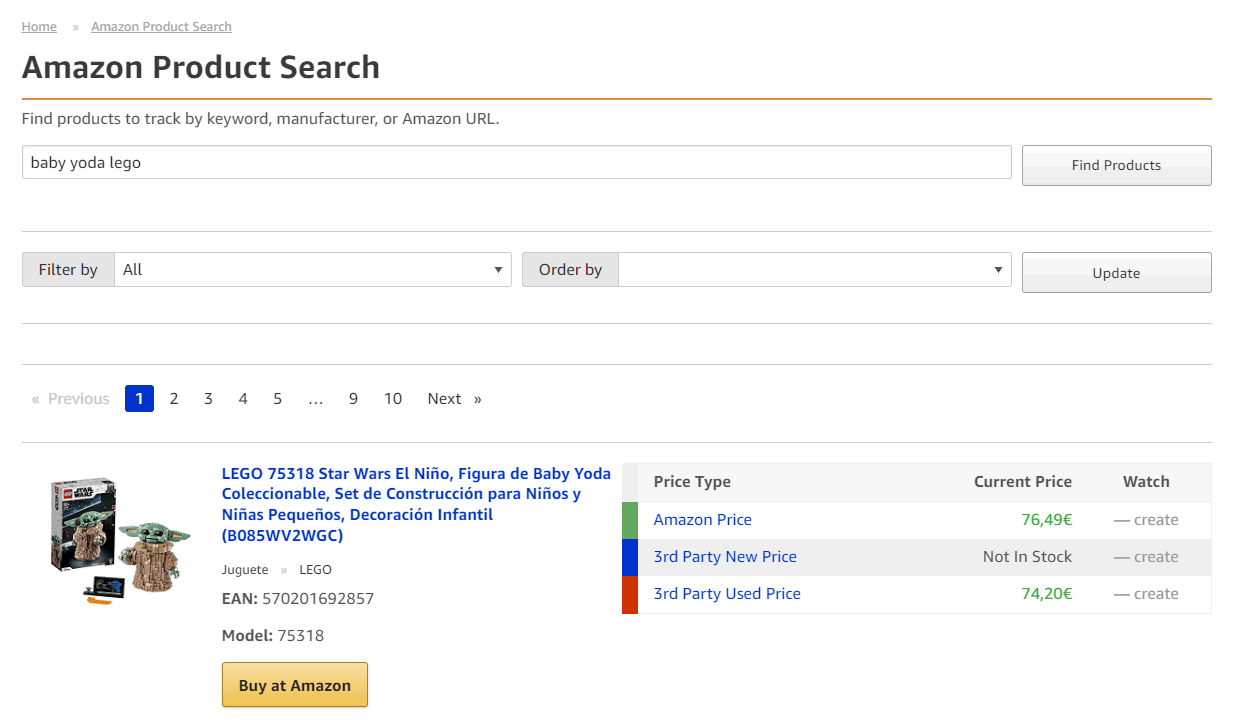 3. Select the best pricing option

4. Create a price watch for the product by saving the alert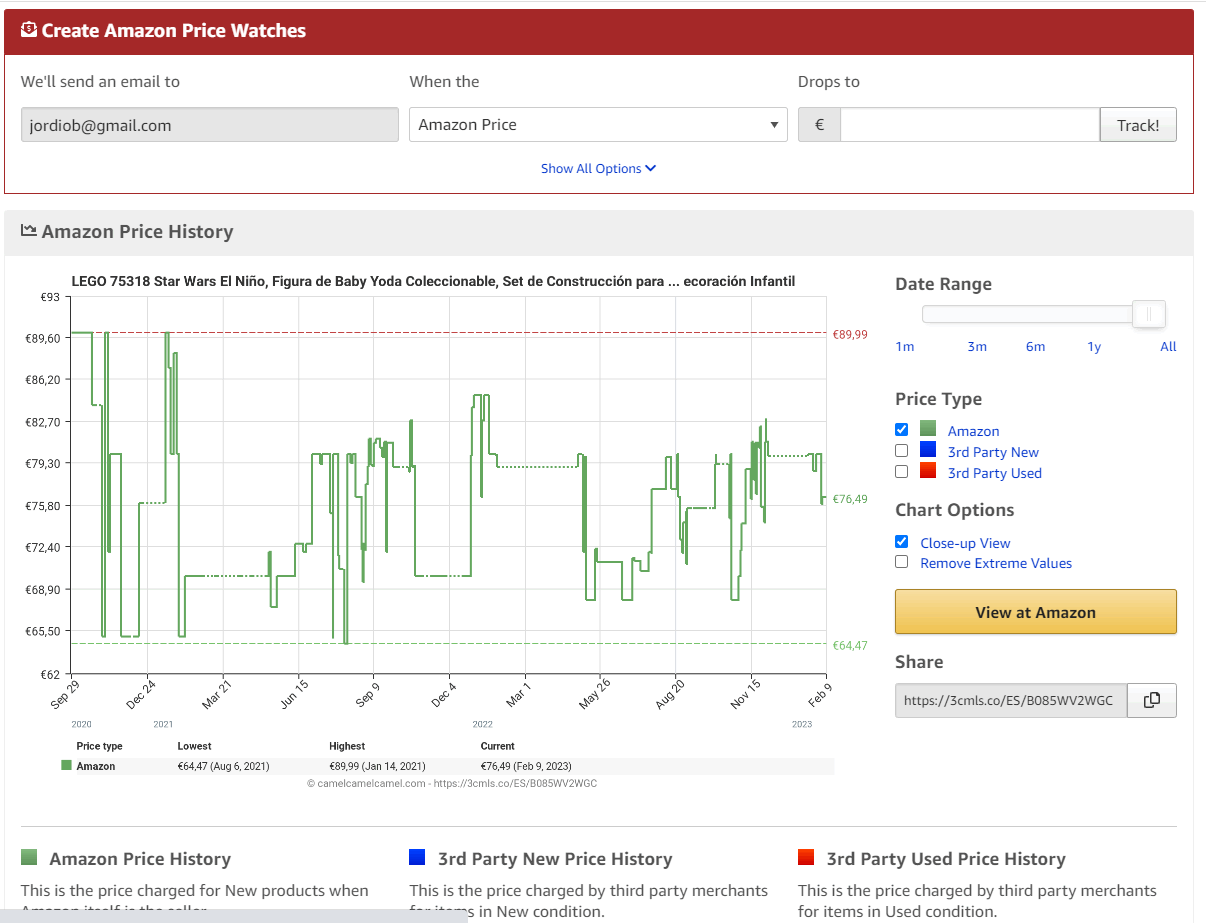 Camelizer: free browser extension
Camelcamelcamel also has a free browser extension to keep track of your favourite product pricings. It's available for Google Chrome, Microsoft Edge, Mozilla Firefox, Opera and Apple's Safari. As using CamelCamelCamel, using the Camelizer is also a great way to save money when shopping on Amazon, Newegg or Best Buy.
How does the Camelizer work?
First, open Google Chrome (or any browser) and go to the Chrome Web Store to download the Camelizer extension. Once the extension is installed, click the Add Extension button. Then, click the Extensions button from the address bar and click the pin button to show the extension button next to the address bar.
Next, go to the Amazon page of the product you want to research. Copy the URL in your browser's web address bar and paste it into the box at the top of the Camelizer page with the text "Find Amazon Products". Press the Enter key to view the price history chart.

You can also specify the desired price available through a third-party merchant and the price you're willing to pay for the product in used condition. When you're done, click the Save Price Watches button. This will allow you to receive notifications when the price of the product drops below the specified amount and you're done!
Camelcamelcamel features
Camelcamelcamel.com offers several features to help users save money when shopping on Amazon. As usual, let's break them down:
Price History Charts
A price history on millions of products accross different Amazon marketplaces. Every product page contains graphs of the price variations over time for each of the three price types, as well as the high/low/average prices. Price and availability data is updated from Amazon constantly to ensure it is as accurate as possible.
Each item contains information about:
product price status with 5 different pricing options:

Item's current price
Your desired product price
Highest price
Lowest price
Average price

fulfillment options and product condition

Fulfilled by Amazon
Third Party Sellers + Condition: New
Third Party Sellers + Condition: Used

product category
artist (in case you're tracking music)
product name
Product group
Manufacturer
Model
Locale / Country
List price
EAN
SKU
Last update scan
Last tracked
Price & Availability Alerts
Users can set a price threshold at which alerts are generated, and they will be emailed when that condition is met. An email alert / twitter update is sent once there's a price drop for one of your followed products. You can configure those alerts so, once the product is below a certain pricing, you get a real time alert.
The product's CamelCamelCamel is tracking for you are grouped under a section called "Your price watches" filtrable and sortable. Available filters:
Status

Ready to buy
Low Desired Price
New
Purchased
Alert today
Unchanged
Updated

Price Type
Label
Locale / country
Category
Artist
Manufacturer
Available sorting options:
Product Title (A-Z)
Product Title (Z-A)
Current Price (Lowest First)
Current Price (Highest First)
Desired Price Savings (Highest First)
Desired Price Savings (Lowest First)
Conditions Met
Conditions Not Met
Desired Price (Lowest First)
Desired Price (Highest First)
Price Watch Age (Newest First)
Price Watch Age (Oldest First)
Browser Extension
As discussed before, The Camelizer browser extension is available for Google Chrome, Microsoft Edge, Mozilla Firefox, Opera, and Apple Safari. With the extension, users can easily check the price history of Amazon products without having to visit Camelcamelcamel's website each time.
Product search
A search box to help you find products on the CamelCamelCamel database. There are 2 more options grouping:
Popular products: Top products on the CamelCamelCamel community.
Top drops: Most recent products with a price minimum relative price drop of 1.0%. organized by

Most Recent drops
Top Daily Drops (absolute and percentual)
Top Weekly Drops (absolute and percentual)
Categories
Minimum price drop
Wishlist Synchronization
Sync the products on your Amazon wishlists with CamelCamelCamel so you can get notified once their price is dropping.
Bookmarktlet
Also called "The Camelet". This is a browser independent bookmarklet tool you can add to your browser's bookmarks without installing any extension
Pricing
It's a free tool, so there is no trial period required for you to buy the tool.
How can CamelCamelCamel be free?
How can such a great tool be free? You may ask. Easy. Camelcamelcamel's website has advertisement placements all over plus, every time you click on a tracked product and visit it on Amazon, there's a CamelCamelCamel affiliate code on the link so, if you purchase the item, they're earning a comission.
Camelcamelcamel review
If you are looking for the best Amazon price tracker and want to check products price history, price watches and have real time price drop alerts, Camelcamelcamel is your tool. Camel's not just a web app, there's also a browser extension called The Camelizer, as well as a Twitter alert service called Camel Concierge.
Besides it's main features, there's the possibility to import your Amazon wishlist directly into the app to follow your favourite products easily.
Long story short: the best tool for anyone looking to save money when shopping on Amazon. PERIOD.
It is easy to use and provides a wide range of data and information about prices and availability of products. The price history charts are especially useful, as they allow users to see how prices have changed over time and plan when to shop for the best deals. The (Camelizer) browser extension is also a great feature, as it makes it easy to check the price history of Amazon products without having to visit the website each time.
Interested in finding a substitute? Check our CamelCamelCamel alternatives list
Pros
Save money: By using Camelcamelcamel, you can track the prices of products on Amazon and other online marketplaces, and take advantage of the savings when prices drop.
Time-saving: Camelcamelcamel makes it easy to track the prices of products, so you don't have to spend hours searching for the best deal.
Freemium: Camelcamelcamel is a free online tool and will always be (or so they say)
Reliable: Camelcamelcamel uses data from various online marketplaces, so you can be confident that the information you receive is accurate and up-to-date.
Camelizer, their browser extension, works for every major browser
Cons
Doesn't work for Middle-East's Amazon Marketplaces
Also, it doesn't work for Amazon China, Japan, Singapur and the rest of the Amazon Asian Marketplaces
People also ask
What is camelcamelcamel
Camelcamelcamel is a price watcher and tracker for Amazon working for United States, Germany, Australia, Canada, Spain, France, Italy and United Kingdom.
How to use camelcamelcamel
First select your Amazon marketplace (US, UK, DE…) and, then, introduce the product's URL. CamelCamelCamel will pull product's data and you will be able to create a real time email /twitter alert once the product's price drops.
Our score
Pricing

Learning curve

Number of features

User friednly
Comments Rating
( reviews)
Alternatives to Camelcamelcamel
Here you can find the top Camelcamelcamels alternatives
I work as an independent eCommerce and Amazon consultant.
Clients
Estrella Damm, Intersport, Bella Aurora, Lladró, Textura Interiors, Nice Things Palomas, Castañer, Due-Home and many other clients.
Lecturer & Teacher
I teach and have been a speaker at: Meet Magento, Prestashop, Prestashop Day, SEMRush, Cambra de Comerç Barcelona, ​​ClinicSEO, Ecommbeers, Ecommbrunch, Ecommercetour.com, Ecommfest, EOI, ESIC-ICEMD, Foxize, Generalitat de Catalunya, Inesdi, Quondos and The Valley. In addition, I have done in-company trainings for brands such as Orange and Adidas.
Writer
I collaborate writing articles for Helium 10 blog, Shopify, SEMRush, La Vanguardia, eCommerce-news.es, Marketing4ecommerce...
Partner
Helium 10, Jungle Scout, Avask, Sellzone, Helium 10 Seller Solutions Hub Partner
Social
LinkedIn, Twitter, Wikipedia, Youtube, Quora, ISNI 0000000513224289, About Jordi Ordonez