From handmade soaps to meet jars of honey from family farms, the great deals you get on Amazon through Storefront are as eclectic as the owners of those small businesses that create them. We'll introduce you to some of the examples that have captivated us the most from Amazon Storefront that is worth a look if you're looking for inspiration.
Steiner Optics is a company that has been producing high-quality optics since the late 1960s, they are reliable, as they advertise, for those defining moments in life. You can visit their Amazon showcase page and you will have no trouble discerning how they define those moments.
This small company has used their page to be able to clearly distinguish the use cases for their products along with the other audiences they seek to cater to. Ranging from the serious hunter to the hobby birder, the context they provide their buyers around the product category helps to stay in the minds of those most likely to make a purchase.
The company also plays its cards very cleverly by making a mention of its lifetime warranty very visible at the top of the page scroll. If you have a benefit it works to separate your brand very well from the rest, which means there is no need to hide your advantage.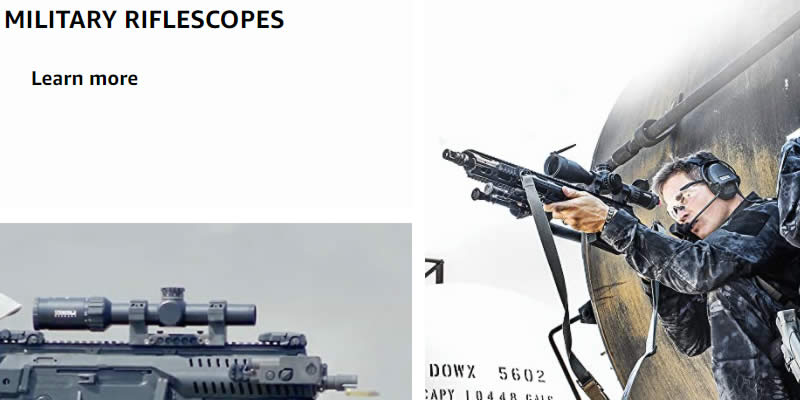 In a world where water bottles have become so important and have become their status symbol, there is plenty of competition for a company like Polar Bottle. That's why establishing the authority they have at the top of their Amazon store page, with a mention of how long they've been in this business, serves them quite well.
In addition to this, they focus on highlighting the benefits across all categories, making strong connections between the needs and different lifestyles of their customers. Not to mention the inclusion of featured products, with prior pricing notices, completes the circle of high-quality messaging. They provide many thoughtful and interactive tiles to better guide customers to what they are looking for, and ideally, to the long-awaited shopping cart.
Mother dirt is a company known for championing its brand from start to finish. And on its Amazon showcase page, it doesn't hesitate to demonstrate this openly.
Their tagline is "Good bacteria for great skin," so that's their focal point, which is located in the center of the header. Then as you scroll down you'll notice the imagery causes great emphasis. The text highlights the key benefits, but they are based on the categories defined in your navigation type to help tell the whole story. Outside of the categories that are just for their products, the company has taken care to create a page called "The Science" to bring more credibility to the brand.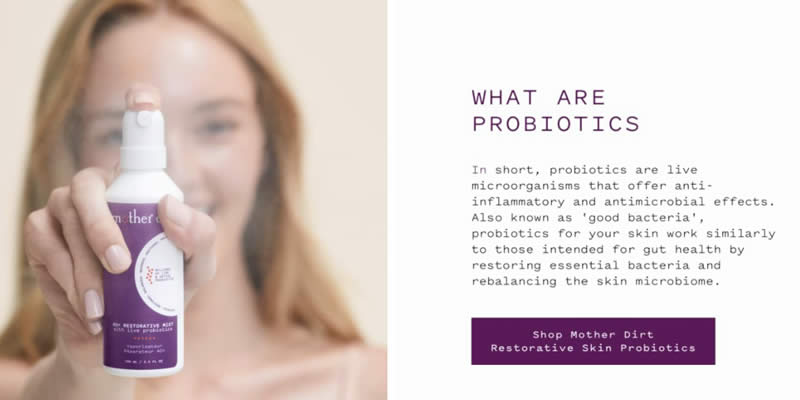 This company has one of the shortest pages in Amazon's storefronts, and that's because Klik Belts makes sure to keep things short and simple. The video at the top of their page is well thought out to speak literally with few snippets of benefits that are easily digestible and highlighted below.
The company relies heavily on the product itself, which is why it shows a wide variety of styles and colors at corresponding price points. But what stands out and works at the bottom of the page is strategically displaying their belts in full "action". This is a very simple way to tell a linear story from top to bottom as the shopper navigates the web page, i.e., it helps them learn about the belt, buy the belt, and wear the belt.
We already saw that Klik is the most creative when it comes to what is a simplistic design, well here we will see that R+Co is quite the opposite. On their Amazon storefront page, you can easily see that the brand combines its creative style with Amazon listings. It's set up so that their products are front and center and allows them to highlight new and featured products at the top of the page.
They have eye-catching phrases like "100% vegan" and "spectacular hair" scattered all over the page thinking precisely about capturing the attention of their ideal customer and the value of their product. Not to mention that at the bottom of the page is a press section that provides a unique way to set up social proof.
This golf retailer created a fairly intuitive Amazon store for the viewer that makes it easy to find the golf products their users need. As soon as you enter the page you will see the brand's logo as the cover photo, which helps create quick brand recognition.
Brand recognition is a must for sales because when people recognize the brand they are more inclined to buy because they feel familiar with the company. Your navigation bar is very well organized, allowing shoppers to find the products they need.
Not to mention that your page is full of high-quality images that allow them to better see your products.
Adidas keeps its front page background always with its characteristic black background with its white logo. As you scroll down the page, you will see photos of their products that match the aesthetics and highlight the product categories they have.
One of the best qualities that Adidas offers is that they have custom cover backgrounds. If you have the opportunity to view the general page of each category, you will notice that the cover photo is tailored to that category. For example, the golf category has two golfers on the cover. In this practical and simple way, shoppers will know that they are in the right category.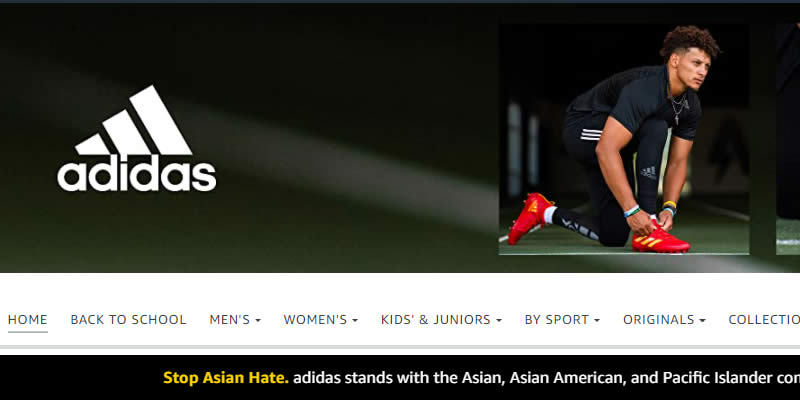 Their homepage features product categories such as women's and men's and has separate categories for their popular boots. The page is handled in a very symmetrical and aesthetic way and with a uniform image style.
Sperry makes sure to use images that fit their aesthetic on all pages which helps reinforce the Sperry brand throughout the store.
Lego knows its audience very well and therefore knows how to reach them in the best way. As soon as you enter their site you will see a bright graphic at the top that features their product and logo.
It features easy-to-navigate categories that are divided by age and theme, as well as the newest products. One of the best things about it is that it offers personalized recommendations based on your browsing behavior. This allows people to shop faster based on their tastes and interests.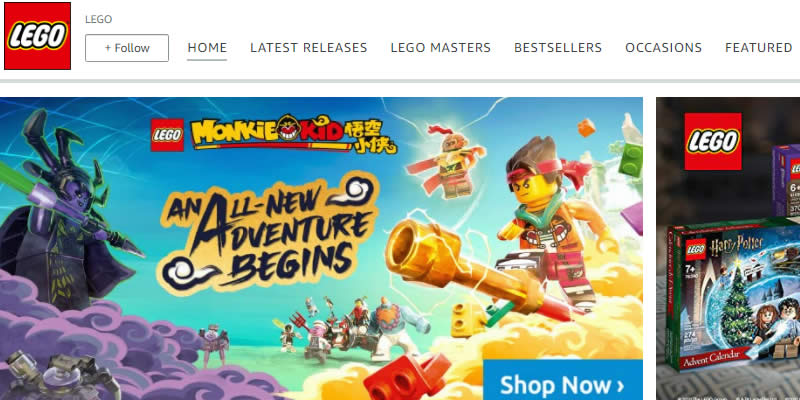 Blows Amazon Store
As soon as you enter the page you will see the large logo on the front page. Then as you scroll down the page you will be able to see the different products they offer accompanied by high-quality images. Beats shares their most popular products and saves shoppers time by putting the "buy now" button accompanying the image of each product.
The amazing thing about this brand is that next to each product it includes an image highlighting the features of the headphone. Like selling features, noise cancellation, and sweat resistance that will let the buyer know why they want to buy.
Hydro Matriz Amazon Store
This brand's page not only has its logo at the top but is accompanied by models using its product. Throughout their site, you can see graphics of their products and bottles in action.
One of their most attractive qualities is the use of videos at the top of the page showing travelers using their products. As well as on each product page you look at you get a product highlight to see the value of each product.
This page makes excellent use of background videos, showing attractive before and after images and with a hard water simulation at the midpoint. The videos include a video overlay showing one of their shoppers' favorite features, the vegan hair care solution that highlights environmental friendliness and animal cruelty-free.
Since most training sites are closed Indo Board took the opportunity to showcase their product. Their site has an instructional background video module set up for autoplay and looping.
It also leverages the use of the shoppable image module, which allows brands to add hotspots to images that showcase their product. This allows shoppers to add them to their cart directly from the images and be sure they have chosen the exact item.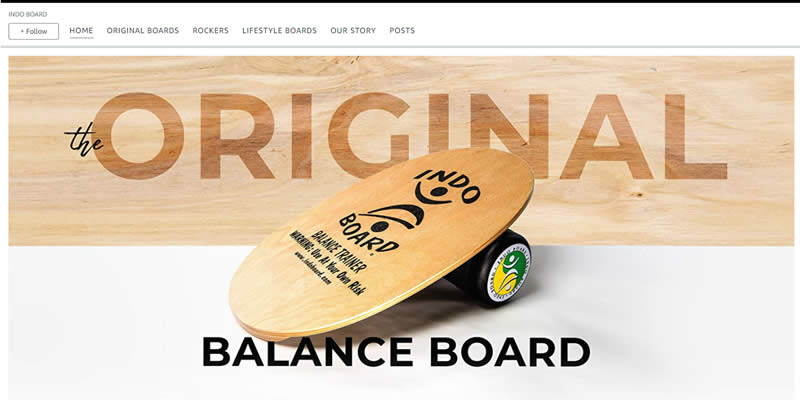 Their site features large images that highlight their latest creations. La Colombe also makes sure to accompany those beautiful images with complementary text overlay and highlighting the most important elements of each respective beverage.
Merrick in the first instance takes care to highlight their work with veterinarians, animal nutritionists, and scientists meeting your pet's nutritional needs. Instead of a video module, they use images that no human being can resist, playful puppies, and a jumping kitten. This also shows that Merrick's food is designed to keep your pets happy, healthy, and active.
The "Best Sellers" section works well for pet owners who aren't sure where to start.
More posts
I work as an independent eCommerce and Amazon consultant.
Clients
Estrella Damm, Intersport, Bella Aurora, Lladró, Textura Interiors, Nice Things Palomas, Castañer, Due-Home and many other clients.
Lecturer & Teacher
I teach and have been a speaker at: Meet Magento, Prestashop, Prestashop Day, SEMRush, Cambra de Comerç Barcelona, ​​ClinicSEO, Ecommbeers, Ecommbrunch, Ecommercetour.com, Ecommfest, EOI, ESIC-ICEMD, Foxize, Generalitat de Catalunya, Inesdi, Quondos and The Valley. In addition, I have done in-company trainings for brands such as Orange and Adidas.
Writer
I collaborate writing articles for Helium 10 blog, Shopify, SEMRush, La Vanguardia, eCommerce-news.es, Marketing4ecommerce...
Partner
Helium 10, Jungle Scout, Avask, Sellzone, Helium 10 Seller Solutions Hub Partner
Social
LinkedIn, Twitter, Wikipedia, Youtube, Quora, ISNI 0000000513224289, About Jordi Ordonez