Facebook finally has a marketplace where businesses can sell directly to consumers. And while you might think of Facebook Marketplace as just the local consumer-to-consumer marketplace, it now also helps brands and retailers sell products.
This time we'll focus on Facebook Marketplace for Business, that is, the online marketplace accessed directly from Facebook that allows users to discover and buy products directly on Facebook without being redirected off the social networking platform to a merchant's web store.
Join our newsletter and get 18 discounts
Join now!
Facebook Marketplace has become an exciting opportunity for businesses because it does not charge commissions or posting fees, and one in three Facebook users in the U.S. is already shopping through Marketplace, according to Facebook's data.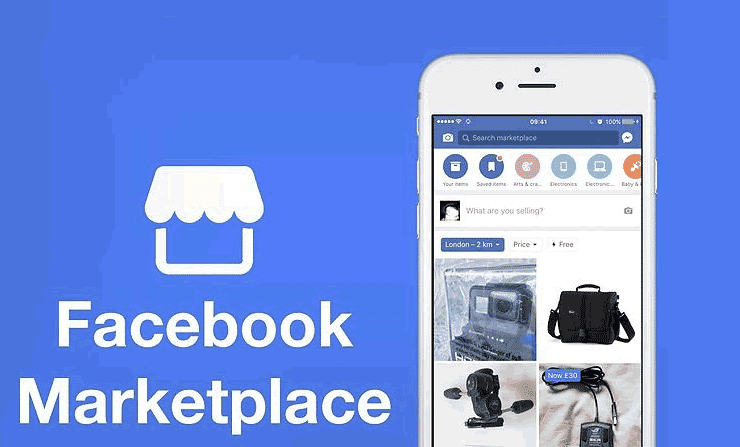 Facebook Marketplace features
The Facebook Marketplace offers retailers and brands:
A tailored experience
It displays relevant products to customers through a powerful matching algorithm, helping your business find the right customers.
Organic distribution
Products are displayed organically. If you want additional visibility, this can be possible through Facebook Ads, which is not mandatory.
No listing fees or commissions
No listing fees or sales commission. That translates into a higher margin sales channel and the ability to offer discounted pricing on Facebook Marketplace and daily deals.
Going deeper into product discovery
Normally, product data discovery, happens in 3 sites:
Amazon
Google (Search) or Baidu and Yandex in China and Russia
Social sites: dominated by social Facebook + Instagram, though we also have Pinterest, Reddit or TikTok
Unlike Amazon and Google Shopping Actions, Facebook is an exploration-based product discovery experience that provides the familiar customer-initiated product discovery experience based on search.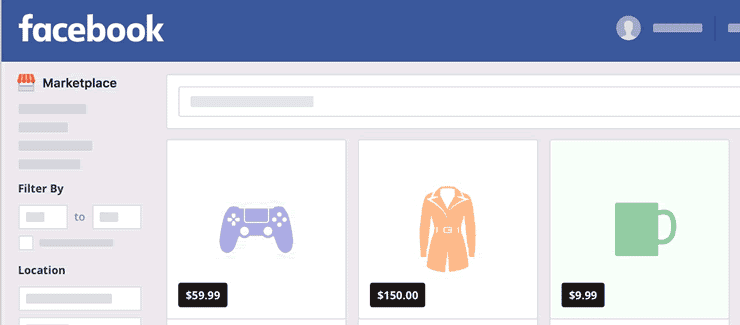 Facebook Marketplace and Daily Deals user experience
What is interesting about this experience is the nature of the process, that it is a social networking platform that offers products. What this translates to is that casual window shoppers will discover new products that they wouldn't normally have, due to both the algorithm and shopping behavior.
Once Facebook has recorded the details required for payment (shipping, billing, etc.), future purchases are made with a single click.
Who is eligible to sell on Facebook Marketplace?
If you are a seller who would like your business to be listed on the Facebook Marketplace and Daily Deals platforms, you are probably wondering what it takes to make that possible. Well, the answer couldn't be simpler as is the application process for interested brands and authorized resellers.
Approval will always be easy for you to obtain as long as you meet Facebook's requirements, which are as follows:
Own U.S.-based businesses.
Sell new goods
Accept returns within thirty days
Ship orders within three days, to be received by the customer within seven days.
To apply to sell on Facebook Marketplace, simply complete the Marketplace e-commerce Retailer Registration Form and select one of the e-commerce partners listed.
One very important thing to note is that Zentail is one of the few that currently supports a complete solution for merchants to sell on both Marketplace and the daily deals offered by Facebook.
If you do not receive approval after completing the Retailer Registration Form, you can still make your products available for purchase directly on your Facebook Store as long as your catalog is primarily new products.
How can merchants participate in Facebook Daily Deals?
To participate in the Daily Deals component on Facebook Marketplace, you as a merchant must have obtained additional whitelist approval and you must also offer a compelling discount relative to the suggested retail price on products in the following categories:
Beauty
Apparel and accessories
Bags and luggage
Baby and children
Home decoration
Consumer electronics
Home
Gift cards
Gaming
Toys and games
Clothing and accessories
Underwear and hosiery
Footwear
Sports and outdoors
Beauty
Jewelry & Watches
Will Facebook Marketplace convert better than my store?
If you think that using Facebook Marketplace is a strategy that will always work for you to drive traffic to your web store, you may be thinking small, because we are seeing dramatic improvements in conversion rate for payment that happens directly on Facebook Marketplace. After all, the experience is so natural and it becomes easier and easier to complete any transaction.
On-site payment increases conversion rates because shoppers can complete their purchases without having to leave Facebook to visit the merchant's site.
More posts
I work as an independent eCommerce and Amazon consultant.
Clients
Estrella Damm, Intersport, Bella Aurora, Lladró, Textura Interiors, Nice Things Palomas, Castañer, Due-Home and many other clients.
Lecturer & Teacher
I teach and have been a speaker at: Meet Magento, Prestashop, Prestashop Day, SEMRush, Cambra de Comerç Barcelona, ​​ClinicSEO, Ecommbeers, Ecommbrunch, Ecommercetour.com, Ecommfest, EOI, ESIC-ICEMD, Foxize, Generalitat de Catalunya, Inesdi, Quondos and The Valley. In addition, I have done in-company trainings for brands such as Orange and Adidas.
Writer
I collaborate writing articles for Helium 10 blog, Shopify, SEMRush, La Vanguardia, eCommerce-news.es, Marketing4ecommerce...
Partner
Helium 10, Jungle Scout, Avask, Sellzone, Helium 10 Seller Solutions Hub Partner
Social
LinkedIn, Twitter, Wikipedia, Youtube, Quora, ISNI 0000000513224289, About Jordi Ordonez