Quartile is a digital marketing company offering  Amazon advertising management help. It provides this help through software services. Quartile has its own software to manage and improve Amazon advertising campaigns based on artificial intelligence and machine learning.
They have 6 patented algorithms working to boost your sales 24/7.
Their figures are pretty impressive: 2,300 brands under its wing, with a $1 Billion plus sales (USD). It doesn't get better than that!
Quartile features
Quartile's advertising platform includes:
Campaign management
You will be able to create your own campaigns or let the tool auto pilot their creation. Define your top ACoS and let the software make its magic.  Quartile software works on auto-pilot once you set it up. It adjusts as per the circumstances to maximize the reach of your advertisements.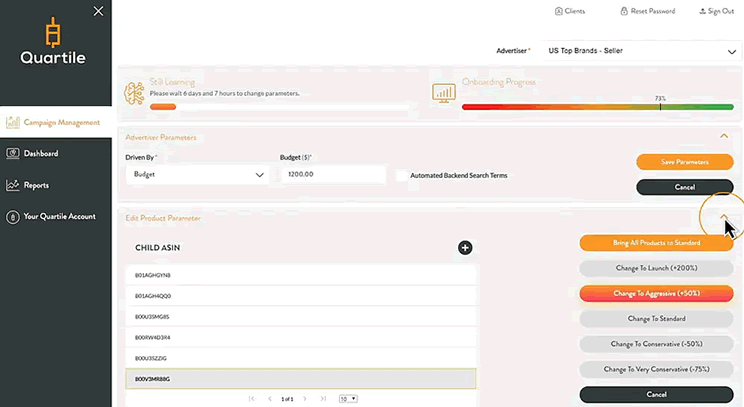 Smart Ads
Quartile's smart ads have higher conversion rates than other advertisements, thanks to their 6 patented algorithms working on smart bids and campaign optimization.
Real time reports
You'll be able to see, at a glance, how your campaigns are performing in real time taking a look at the Key Performance Indicators.
Digital marketing services
As most of the Amazon advertising software companies, Quartile offers managed services too, both in advertising and digital marketing. These services include Amazon marketing. They also feature Amazon sponsored products. It also specializes in brand launching and PPC management. Amazon AMS, Amazon DSP, Vendor Central, Seller Central, and Amazon PPC are also included.
Pricing
Quartile's pricing tier is not public but, as far as I know, they're pretty expensive, but the tool works like a charm and improves sales decreasing advertisings costs on every managed campaign.
Review
There's a  case study on Amazon of a niche coffee brand using Quartile to leverage its marketing, with great success. That, more than anything else, shows how this company can work. The Quartile website offers a link to the case study.  It reads like: small business sees its ROAS (return on advertising spent)  thanks to the power of AI. We have seen how this company excels in the area of DSP and PPC.
There are testimonies to the competence and professionalism of the Quartile team.  We're not about to disagree with any of it. Rather, we endorse it. There are rave reviews. A steady stream of 4.5 out of 5 for this service bears witness to that.. All well-deserved, no doubt.
Yet, not every client is happy. Quartile's team is busy. There have been complaints. That the personal touch goes missing from the service once the client has made a commitment. Yet, the real proof of the service is in the results. I don't get anxious if Quartile doesn't answer my email for a day or two. Once my advertising is doing well and my profits are going up, the email can wait.
Our score
Alternatives to Quartile