Selling on Amazon is a big challenge and it seems to include more and more new features and the need to add new tools like Keepa and CamelCamelCamel to your list of selling tricks.  Marketers who make use of virtual platforms, know how important it is to keep up to date with the strategies and methods that will lead you to grow your business. In this post, we will talk about two resources that can be of great help to you.
Keepa and CamelCamelCamel are Chrome extensions used to get quality products and decision-making aid for your business. The two tools are very similar. Both are catheterized in the use of color-coded graphics to convey information. But this type of information we are talking about is seldom the same. Some experienced marketers recommend the use of Keepa and CamelCamelCamel as a set of tools.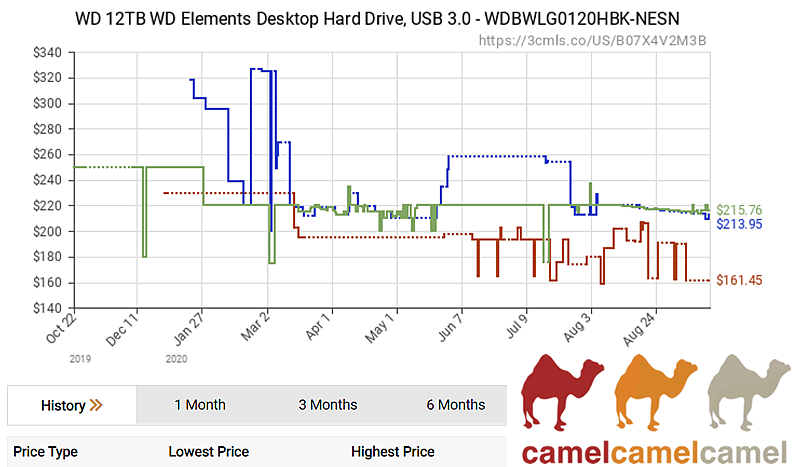 Using the Keepa Extension
If you just take a look at the Keepa charts they may seem a bit difficult to understand, but, once you know how to handle it, it becomes clear that it is an extension full of practicality and sophistication. What are the main features of this tool? We can highlight the following:
Keepa is divided into colors, Amazon carries the orange tone, and the new products that were recently launched on the market are differentiated by their Blue color, while the used items are characterized by the black color. Finally, the sales range is distinguished by green color. Pay attention to all the colors in the chart until you get used to them.
The timeframes we choose to be able to see some history of a product, need to use CamelCamelCamel, but we can do it more easily with Keepa. Instead of seeing a long list, the Keepa extension shows us more concise and to the point results. And that's not all, it gives us the option of being able to show ranges and levels, in dates like, a day, a week, a month, three months, or all the date data that we can include in a file.
When we talk about the money history of a certain product, the Keepa extension tends to gain a faster display. It focuses on showing monetary (dollar) amounts when they are low at the bottom and higher amounts at the top.
The same logistics apply to the sales rank of each product. If it is low it is positioned at the bottom and if it is high, at the top.
You can click and delete a data package to have a narrow focus. . And if you want to widen the scope, instead of deleting them, click on the data sets. Additionally, you will be able to see the history of the most in-demand items and see how many exist or are out of stock.

Using the CamelCamelCamel Extension (CCC)
The first thing you will see when you enter CCC is a price history in the form of a graph that you can configure in the settings. Once inside, you can organize the price history by month, three months, six months, one year. As a complement, we can adjust the slider bar to have access to price histories from Amazon or external sellers. All of this is already pre-selected and divided into new and used items.
If this chart does not meet your expectations, you can change it without any problem for a sales chart based on the last movements of a product in the last 3 months, six months, or the entire history of the year that has already passed.
Try not to get confused when trying to understand the graphs. See if the product you plan to invest in has had a good number of sales in the last period. Always remember: "The lower the product rank, the higher the sales rank".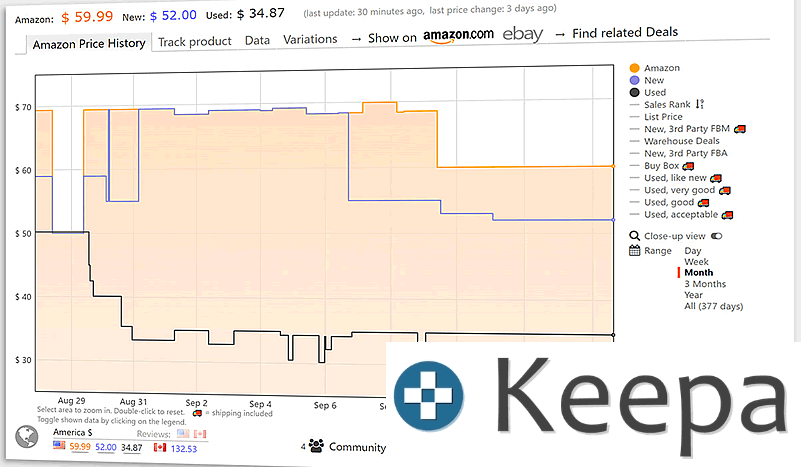 New Keepa features
Keepa recently announced some changes when it comes to tracking the prices of items moving within Amazon and sales ranges on the platform. Some features of the new updates are:
A new pink Buy Box line was implemented. There will be no more random diamonds
You can now see how many people are currently in the Buy Box rotation
Implemented a service that shows if Amazon is in available or out of stock version or if the platform has decided to share the Buy Box.
New options in Keepa to show the sales ranking.
Once you've decided which items are best for your business and after you've got your listing structured, the most exciting part begins: pricing to get a leg up on the competition. With the right tools and smart merchant moves, your path to becoming a successful entrepreneur will be increasingly obstacle-free. We hope you do super well!
More posts
I work as an independent eCommerce and Amazon consultant.
I work for: Estrella Damm, Intersport, Bella Aurora, Lladró, Textura Interiors, Nice Things Palomas, Castañer, Due-Home and many other clients.
I teach and have been a speaker at: Meet Magento, Prestashop, Prestashop Day, SEMRush, Cambra de Comerç Barcelona, ​​ClinicSEO, Ecommbeers, Ecommbrunch, Ecommercetour.com, Ecommfest, EOI, ESIC-ICEMD, Foxize, Generalitat de Catalunya, Inesdi, Quondos and The Valley.
In addition, I have done in-company trainings for brands such as Orange and Adidas.
Finally, I collaborate writing articles for Shopify, SEMRush, Prestashop´s official blog, Brainsins, La Vanguardia, eCommerce-news.es, Marketing4ecommerce and other blogs and media.