Because Amazon is a whole universe you will be able to find everything you can imagine in items and products. No matter if you are looking for a bathroom towel, a complete kit for UFO detection, Titanic's anchor or a can of unicorn meat. Everything you can think of will be available in the infinite catalog of this great company. This is not counting the countless number of items sold and managed by the retailer itself, more than two million external sellers offer many others.
You can find these individual merchants in the same way you would search for any item on the website, using Amazon's search function. Otherwise, you could try searching for the department in which the merchant's products are sold and look for the seller's name in the left sidebar.
How can I find a specific seller?
To find your favorite seller, you need to be familiar with Amazon's search features. Amazon's comprehensive search engine is located at the top of every Amazon.com page and is designed to narrow your search by a variety of general queries, including brands, colors, and merchant names.
If your desired merchant is a featured seller, their company logo will be displayed at the top of the search results and you can click to enter the brand showcase. Or if you wish, select one of the items listed and then click on the name of the seller within the list for that selected product to be redirected to the merchant's page.

How can I search for a merchant in a certain category?
If you can't remember the exact name of your favorite seller, Amazon is a step ahead here too, and shows you an alphabetical list of sellers in each department, allowing you to find specific merchants with just a general idea of the merchant's name. Yes, just by remembering the first letter of their name you will be able to find their exact location.
To find this list, click on "Shop by Department" at the top left of any page and select the desired category. If you think it is possible, you can further narrow down your query; for example, you can try diving into the "Guitars" category after navigating to the "Instruments" department. From there, all that's left for you to do is click on "See more" which is located just below the "Seller" heading in the left sidebar.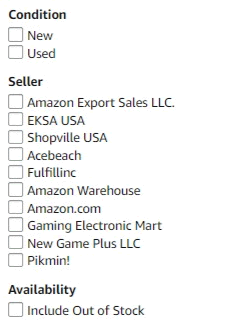 Join our newsletter and get 18 discounts
Join now!
Find the seller on an ASIN
If you're looking for the seller's name in a certain Product Detail Page or ASIN, it's pretty use. Just look for the Buy Box. The seller's name and link is usually placed under the Buy Box.
You can also find it on the description, under the "in stock" text:

You can even find all the sellers for an ASIN clicking on the "New (2) from" text, which will show all the sellers on the same ASIN and how's winning the Buy Box.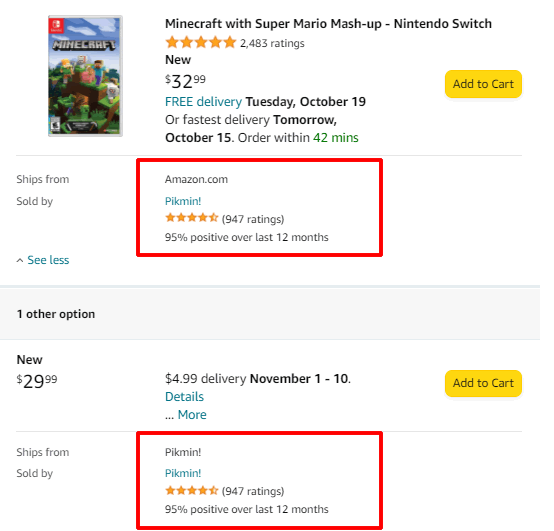 Advanced tip: find them "the SEO way"
Now this one is advanced but, if you know how Google search operators work, you can search for a specific seller name on Amazon. Simply go to Google and type "site:amazon.com" and the name of the seller + storefront.
Let's take "Pikmin!" as an example. If you want to find the seller on Amazon, go to Google and type site:amazon.com "Pikmin! storefront"
More posts
I work as an independent eCommerce and Amazon consultant.
Clients
Estrella Damm, Intersport, Bella Aurora, Lladró, Textura Interiors, Nice Things Palomas, Castañer, Due-Home and many other clients.
Lecturer & Teacher
I teach and have been a speaker at: Meet Magento, Prestashop, Prestashop Day, SEMRush, Cambra de Comerç Barcelona, ​​ClinicSEO, Ecommbeers, Ecommbrunch, Ecommercetour.com, Ecommfest, EOI, ESIC-ICEMD, Foxize, Generalitat de Catalunya, Inesdi, Quondos and The Valley. In addition, I have done in-company trainings for brands such as Orange and Adidas.
Writer
I collaborate writing articles for Helium 10 blog, Shopify, SEMRush, La Vanguardia, eCommerce-news.es, Marketing4ecommerce...
Partner
Helium 10, Jungle Scout, Avask, Sellzone, Helium 10 Seller Solutions Hub Partner
Social
LinkedIn, Twitter, Wikipedia, Youtube, Quora, ISNI 0000000513224289, About Jordi Ordonez