Not just the average Amazon inventory management tool. AutomatedFBA is not just a software, it is a warehouse and picking-shipping company as well. Sending them the products will allow you to externalize warehousing and just send to Amazon the right quantity of stock for your FBA products.
Besides that, they will take care of the packaging and FBA relabeling so you can just focus on the Amazon product research process.
Automated FBA features
I'd rather talk about the work-flow when working with the Automated FBA guys
First, you scout the products on your side, source them and getting them shipped from China, Pakistan or wherever
Send them to an AutomatedFBA warehouse by entering your products into the inventory management tool. You can import ASINs.
Then you will get the inbound shipments to send the stock and will be charged for the amount of products
Next, you'll get notified once your inventory is relabeled and ready to sent to the Amazon FBA warehouses
Automated FBA software will then let you check your inventory information in real time, so you can create your Amazon shipments and send the products to the Amazon warehouse
The vault stock tool will let you send that stock. Create an FBA shipment ID, put it on the vault and let's get things done
You will know your costs in every step of the process and will get charged by a final invoice. Of course, you can pay online using a credit card
Works on both USA's East and West coast. There's a warehouse in Connecticut and another one in California.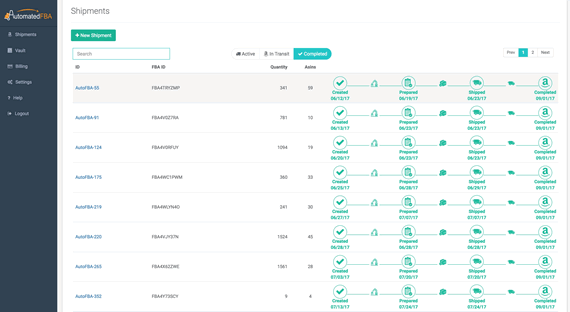 Pricing
Starting from 1 to 200 items per month  (unitil +2000), there are three pricing options:
Standard packaging: 2$
Oversize packaging: 2.30$
Bundling fee: 0.25% per item
AutomatedFBA review
Dealing with FBA can be difficult sometimes because there are lots of micro tasks like the boring relabelling which, eventually, will lead you to lose focus on the importants work: find great products and deals.. Not to mention that any mistake on the relabelling process can lead you to a monetary penalty which will significantly reduce your margin.

My advise: leave the boring tasks behind and focus on scouting and sourcing great products (and on the marketing/grow strategy). Aumated FBA will help you getting rid of these non-quality tasks by shipping your inventory to their warehouse where they will relabel your stuff and get it ready to ship to Amazon.
By storing your stocks on their place, you won't get penalized every 6 months once Amazon charges you for every item not sold and stored on their warehouses.
As you can see, this is a great service to get rid of daily tasks and focus on the quality job.
Our score
Pricing

Learning curve

Number of features

User friendly
Alternatives to Automated FBA