When we talk about e-commerce, we are talking about the buying and selling of services or goods over the Internet, and the transaction that takes place online so that any transaction is done correctly. For this, a good warehouse management system can help your e-commerce avoid many problems by automating the process and creating documents that are easy to audit, which makes warehousing a critical part of the supply chain for every e-commerce merchant.
This e-commerce warehouse management system is referred to as "physical product warehousing", this system includes the ability to store products securely and with correct tracking, have knowledge of how and when the products arrived, how long they have been in stock, and the quantity available at any given time.
That's why you need to know and understand your warehouse needs when choosing a suitable e-commerce warehouse management system for your business. The essential features you should look for in a WMS are:
Integration with advanced barcode technologies
Full back-office integration with order entry, stock control, and purchase orders
Adaptability to your company's growth
Real-time inventory updating
Web store integration and EDI B2B support
Fulfillment labeling
Advanced reporting capabilities
Automated inventory receiving and warehousing.
Depending on the level of your company, the e-commerce warehouse management system should be implemented as shown below.
Small / One person ecommerce
Small-scale businesses have a limited number of employees and a limited flow of finances and materials, so the integration of a warehouse management system that improves overall warehouse performance is necessary to give you more time to invest in growing your business. Some of the e-commerce warehouse management systems for small businesses are:
If you are a DTC brand, a one person ecommerce, a self employed guy packing orders or a one product online store, Shopify can meet your demands on term of inventory management. It also allows you to scale ad infinitum. Sky is the limit when it comes to Shopify buut you can start real small.
This hybrid manufacturing tool has key features that enable inventory control, material requirements, planning, work order management, purchase orders, and invoices. Its software features automated batch and repair jobs based on lot and serial tracking. It supports integration with e-commerce, shipping, commercial services, and CRM systems.
Is a fully integrated and customizable WMS, its functions range from sales, CRM, project management, manufacturing, inventory, accounting, and others. It helps reduce manual processes by keeping all business functions in one place, allowing teams to collaborate with other departments from a single platform. It offers a variety of modules and applications.
One of the first Amazon warehouse / inventory management tools ever, adquired by Jungle Scout. Forecastly is one of the "small" softwares you can use if you are starting your business online. Pricing starts at 80$/month for 3.000 orders.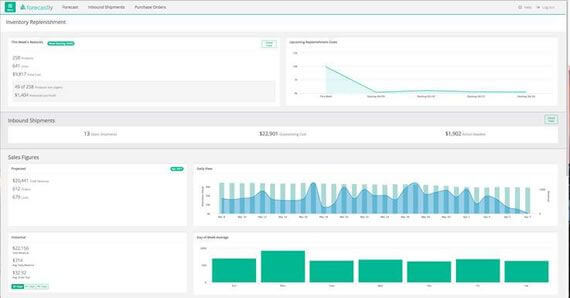 Is a cloud-based software. It features applications that enable inventory visibility of multiple warehouses, picking, packing, shipping process, and product preparation. It integrates with other e-commerce software solutions and is known for helping users ensure orders are fulfilled correctly and identify where an error has occurred during the process.
Has a simple interface and an affordable price. You don't need to know any coding language, just drag and drop components, creating beautiful online stores with its 510+ templates. The Wix help center has many articles and tutorials to help you create your online store. A FREE plan that never expires.
Is a SaaS e-commerce platform that has beautiful templates, layouts, and a large collection of themes, offers several options to edit fonts, colors, images, sidebars, and background images without any coding knowledge. The templates are rich in features covering a wide range of industries. And it possesses the ability to look quite good on mobile devices.
Is a cloud-based ERP application with the aspects of a desktop application. It offers local installation and hosted installation for full access via the Internet. It has modules for distribution and warehouse management, including 3PL, manufacturing and shop floor control, accounting, CRM, attendance, labor, e-commerce, reporting services, and QuickBooks.
Designed with an automation approach that maintains distinct messages for an unlimited number of brands, it features integrated modules for inventory management, supply chain optimization, customer service, point of sale, order management, multi-channel commerce, label printing, and more. It integrates with popular online marketplaces, advertising venues, shopping carts, carriers, etc.
Mid-tier ecommerces
Medium-scale companies are those with a minimum of 250 employees. So for them, a good WMS includes the necessary tools to automate manual processes to save time, provide centralized control and visibility of all operations. Some of the best e-commerce warehouse management systems for medium-sized companies are:
Includes everything needed to sell products online. It helps you create, design, market, and manage your store with its integrated features. It allows you to control online and offline payments, manage inventories, set delivery options, etc. It offers unlimited storage to its users, with SEO functionalities, which are continuously updated.
I'm really not a fan of this CMS, but they've been around since forever and where acquired by Shift4Shop so, I guess, it's not that bad
If you have used Shopify, Bigcommerce won't sound like a stranger. It's basically a cloud solution for ecommerce sites on the mid-large range. It has a pretty solid inventory and warehouse management tool integrated.
Getting Started with BigCommerce | BigCommerce Tutorials
Again, Shopify
As discussed before, Shopify is a CMS solution that can fit any stage of your company: small, mid or large.
Enterprise-scale e-commerce:
The well-known Enterprise has little to do with no. of employees, no. of customers served, or net revenue. An enterprise-scale business has to do much more with the structure of its business. Here are some of the WMS used by enterprise-scale e-commerce:
Ordoro manages the shipping and dropshipping orders like a charm as well as Custom Workflows and Integrations, Vendor Portals or Supplier Management-. An all in one tool which is a must for warehouse management.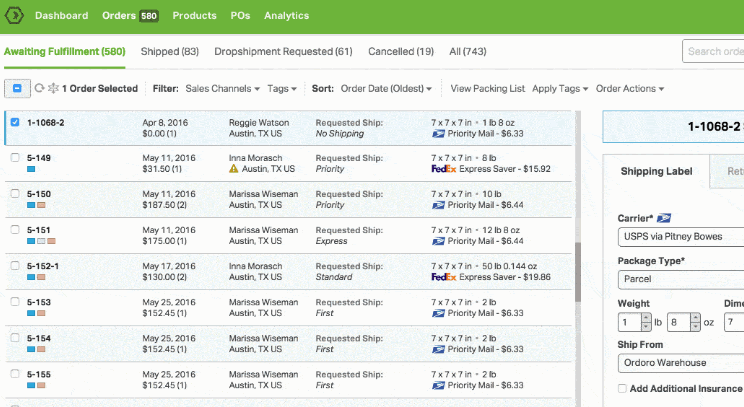 Inventory, warehouse and order management in a multi-platform level. You can connect Amazon, eBay, Etsy, Facebook, Your own ecommerce and more.
BigCommerce and Shopify
Here again! Yup, they work also for enterprise-large ecommerce.
I particularly love this guys as they've put up the first tool to integrate EVERY analytics stuff you need coming from Shopify, Amazon, eBay, Walmart… so, if you're running a serious business in +1 country and +1 sales channel, this is the tool you are looking for.
To me, this is the number 1 tool when it comes to warehouse and inventory management. Acquired by Intuit / Quickbooks, Tradegecko is a cloud-based inventory and order management  platformsoftware.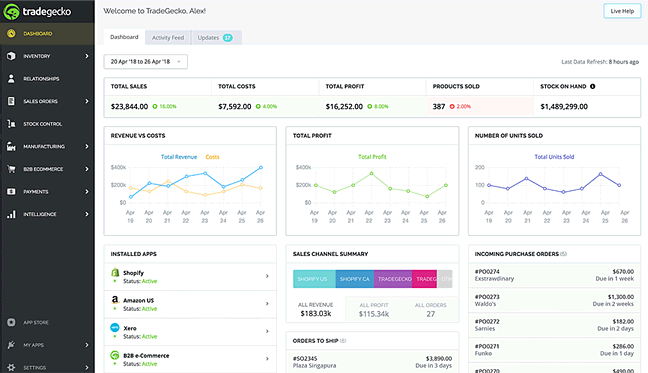 Is an open-source e-commerce platform with many exciting features and themes stored in it, making the customization possibilities endless. Coding is an integral part, you can do endless things with the help of the platform, you can even hire a good Magento development company and create a store with endless features.
When it comes to warehouse management, Magento is pretty solid. You can create 3 levels of stores and their own warehouses, share inventory, grab reports in real-time…
Conclusion
Good inventory and warehouse management for an online store help save time and money while analyzing customer expectations and expanding the business. Therefore, it is vital to know how to choose and own an e-commerce warehouse management system according to the level of business you own.
More posts
I work as an independent eCommerce and Amazon consultant.
I work for: Estrella Damm, Intersport, Bella Aurora, Lladró, Textura Interiors, Nice Things Palomas, Castañer, Due-Home and many other clients.
I teach and have been a speaker at: Meet Magento, Prestashop, Prestashop Day, SEMRush, Cambra de Comerç Barcelona, ​​ClinicSEO, Ecommbeers, Ecommbrunch, Ecommercetour.com, Ecommfest, EOI, ESIC-ICEMD, Foxize, Generalitat de Catalunya, Inesdi, Quondos and The Valley.
In addition, I have done in-company trainings for brands such as Orange and Adidas.
Finally, I collaborate writing articles for Shopify, SEMRush, Prestashop´s official blog, Brainsins, La Vanguardia, eCommerce-news.es, Marketing4ecommerce and other blogs and media.